Susanne Servin of Herzerl Tours shares her Apfelstrudel family recipe. Says Susanne: "It may seem overwhelming but believe me, it's not. In a two hour session I taught a group of my German students how to make it."
Check out her video below:
This classic recipe is usually made with freshly homemade strudel dough, but frozen phyllo dough works well too and is much quicker. You'll need: 1 pkg. frozen phyllo dough – take out of freezer and defrost for 2 hrs. – one roll of dough will give you approx eight small strudels. For the filling: 2 1/2 lb. apples (McIntosh or Golden Delicious work well), 6 oz granulated sugar, 1 tea spoon vanilla sugar, 1 teaspoon dark rum or Weinbrand, 6 oz dry raisins, 1/8 teaspoon ground cinnamon, 1 lemon (for zest and juice), 8 oz bread crumbs (unseasoned), 12 oz unsalted butter, sweet cream (one container) and powdered sugar.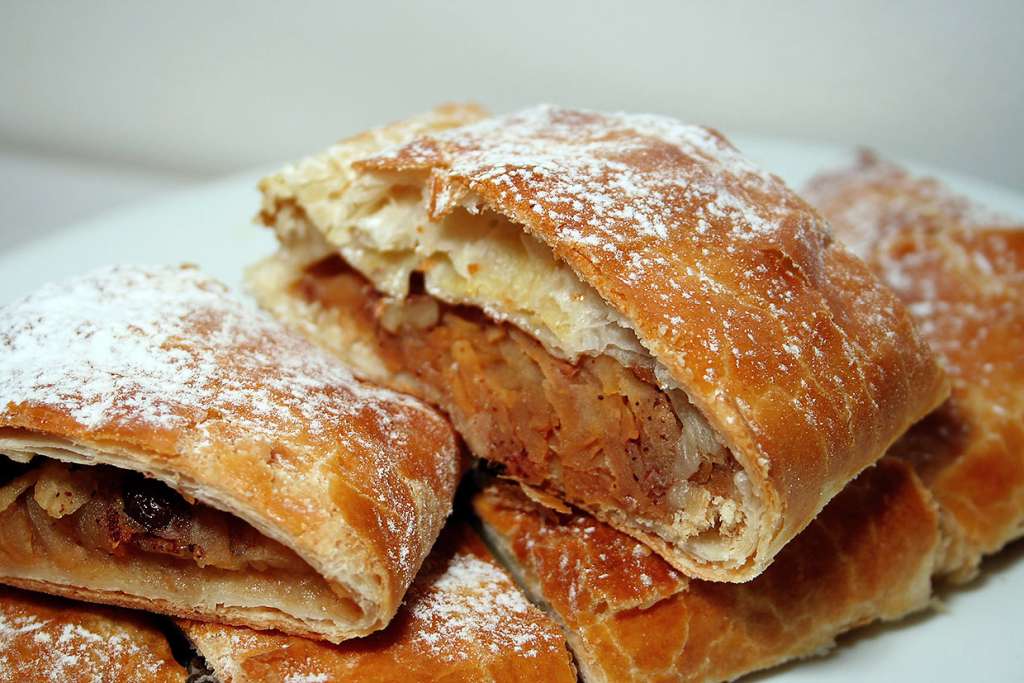 Preheat oven to 375 degrees.
Peel, core & slice apples thin; as you slice them put peeled apples in a bowl of water with a squirt of lemon juice to avoid browning.
Mix sliced apples with sugar, vanilla sugar, cinnamon, lemon zest, juice from one lemon, and rum in a bowl & blend together well.
While doing this, roast bread crumbs with a little butter in a pan.
When brown, take off flame and mix with raisins; then add to apple mix.
Melt butter over low flame.
Put five layers of Philo on white flour-dusted sheet.
Coat each layer of dough well with melted butter using a pastry brush.
Cover 1/3 of the buttered top dough sheet with the apple mixture (not too close to edges), fold edges in.
Use pastry brush and melted butter like glue to tape edges.
By picking up the two ends lift the white sheet (tablecloth) to gingerly roll the dough into a big "sausage."
Brush top of strudel well with melted butter.
Pick-up strudel carefully and place strudel on a well-oiled cookie sheet and bake in oven for about 30 to 40 minutes at 375 degrees F.
While baking whip cream to "SCHLAG" – whipped cream.
Place finished strudel to cool before dusting with powdered sugar.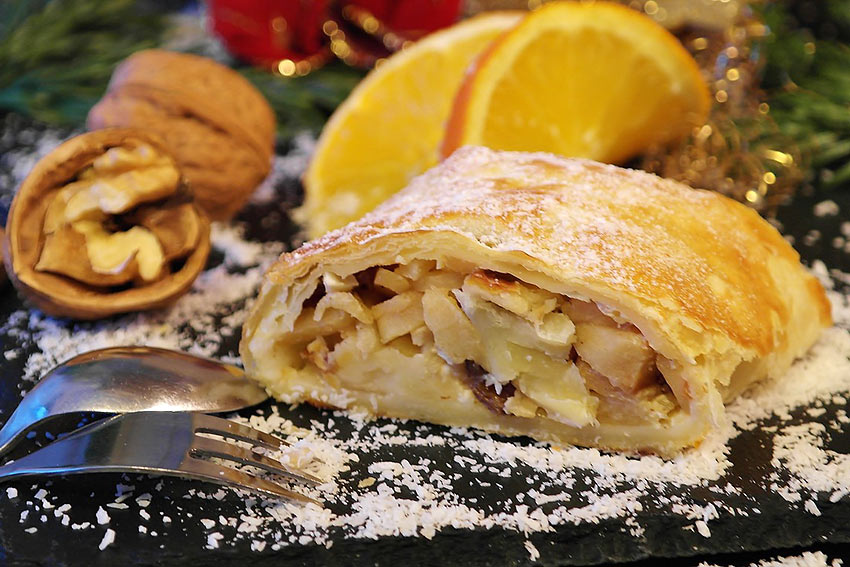 And now that you have made this wonderful Apfelstrudel I suggest you fix yourself a Hugo cocktail – a drink I just discovered in Berlin – to go with your strudel. This is how: Pour a dry Prosecco in a glass and add a glug of elderflower syrup (you can now buy this in the US). If you have fresh mint you can add a few leaves – a delicious drink!
View the list of travel recipes here.