Story and photos by Ringo Boitano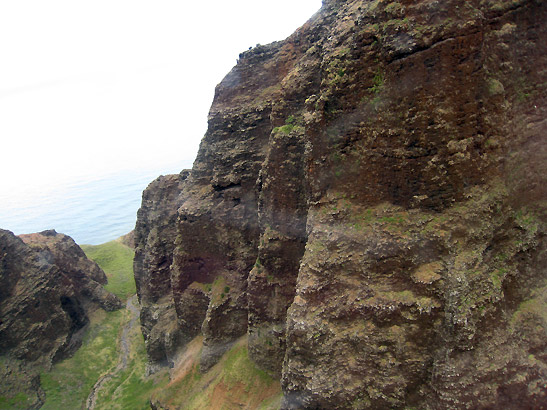 The pilot on the Jack Harter Helicopter tour glided the chopper through the lush green valley of Waimea Canyon. Coined the Grand Canyon of the Pacific, you could smell the gentle fragrance of the Kaua'i laua'e ferns, alluded to in many Hawaiian chants and traditions. From my bird's eye perspective, I was stunned by the tropical beauty of this Polynesian Garden of Eden of waterfalls, rainforests and deeply-cut valley.s.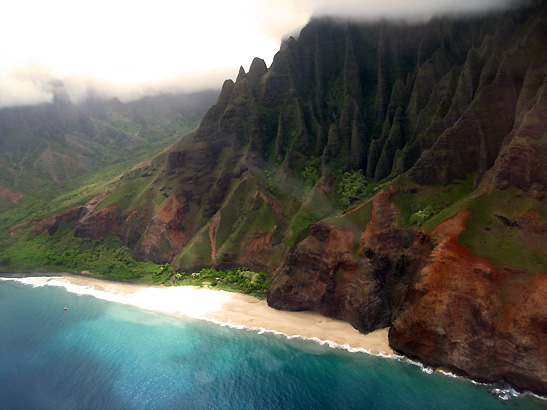 When visiting a new destination I try to start my trip by heading up to the area's' tallest structure to get a good orientation of the landscape. But this was not to be due to kapu (local law) that prohibits buildings on this rural 552 square mile island to be no taller than a coconut tree – so I opted to take a helicopter tour to reflect on what I had already seen as well as sites I had missed. After all, much of Kaua'i is inaccessible by car, plus 50% of her 111 miles of coastline are beaches.
Our pilot offered a non-stop educational narration that took the helicopter tour to even a higher level. The oldest and 4th largest of the major Hawaiian Islands, it is believed that the first humans migrated to Kaua'i from the Marquesas Islands around 500 AD.
The ingenious Polynesian explorers were ultra-sophisticated sailors, with a highly complex navigational system based on the observation of the stars, ocean swells and flight patterns of birds. Their primary vessel was a 50 to 60 feet long canoe, consisting of two hulls, connected by lashed crossbeams. A precursor to the modern catamaran, the sails were made of matting drove. Long steering paddles enabled the mariners to keep it sailing on course. The canoes could accommodate roughly two dozen people, food supplies, livestock of pigs and poi dogs, and planting materials, essential for the long expeditions and the eventual founding of new island colonies. Like athletes, they would go into vigorous training prior to voyages, even conditioning their bodies to deal with less food and water.
British captain James Cook was the first westerner to arrive in 1778, which led to the invasion of grizzled New England whalers, unflinching missionaries, and unscrupulous plantation owners from the U.S. mainland. They also brought European diseases in which native Hawaiians had no immunity, killing 90% of the population. In the Marquesas Islands alone, it is believed that 98% of its people perished due to various pandemics. It is a tragic story that existed throughout the Columbian Exchange, a tragedy which history often prefers not to mention.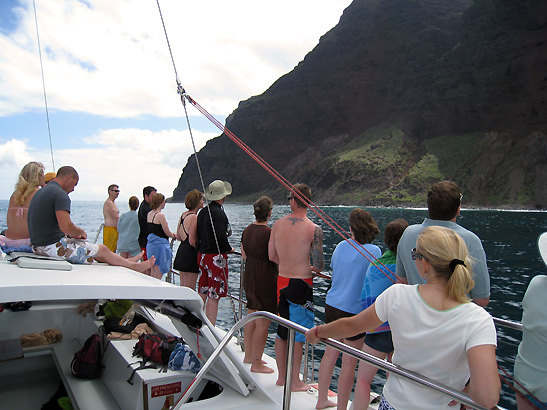 As the helicopter flew over 22 mile-long Na Pali Coast State Park, I could almost make-out some of the same hikers on the rugged 11-mile one-way coastal hike that I had spotted the day before while a guest on Capt. Andy's Sailing Adventures for a snorkeling experience. As before, most of the hikers were too busy to look-up; their eyes firmly on the ground, navigating the treacherous hike, while passing mountain springs and Hanakapi'ai Falls.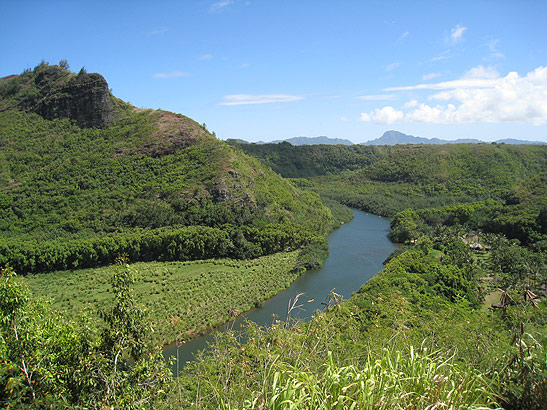 Revisiting by air, I remembered how the Waimea Canyon and Wailua River Tour offered a good overview of the island by road, with the reward of a cruise on the sacred 20 mile-long Wailua River, home to the remains of historic religious sites.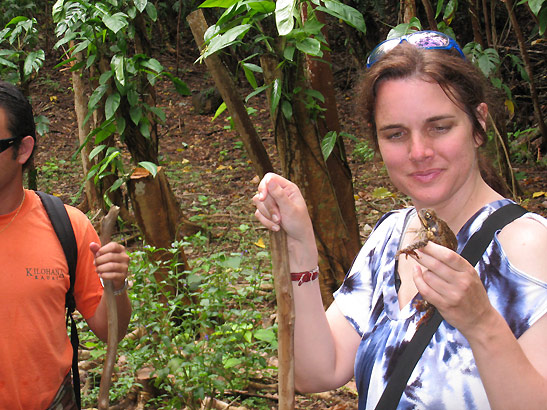 Numerous family farms came in view with orchards of pineapple, papayas, avocadoes and other exotic fruits. Cattle and sheep could be seen grazing on grassy fields. Soon we flew over North Shore of Hanalei Valley to the largest taro-producing-farm in the state.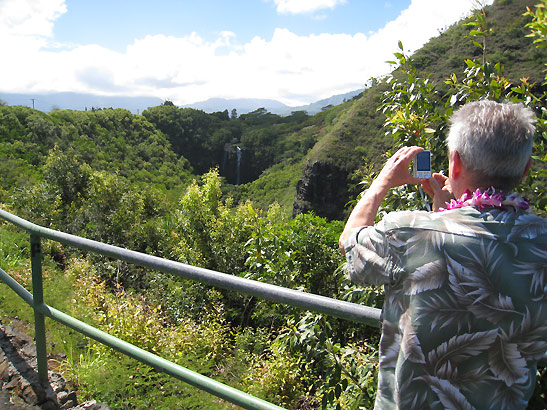 Today 90% of all food items in Kaua'i are now imported from the mainland. This includes even sugar and pineapple. Prior to the arrival of canned food brought by plantation owners and the military during WW2, there were virtually no instances of obesity. There's now a group of cutting-edge chefs on Kaua'i who are doing something about this phenomenon – by partnering with local farmers, ranchers and fishers; bringing food items directly from the source to the table. Rather than designing a menu, then trying to find the ingredients to match them, they are creating indigenous menus based on available locally-grown produce, grass-fed livestock and fresh-caught island seafood – thus showcasing the bounty of Hawaiian Region Cuisine. The food is fresh, healthy and flavorful – and helping to sustain Kaua'i's local food industry.
How does an entrée of wasabi-crusted snapper with Lilikoi Lemon Grass and Beurre Blanc sound? Well, how about ahi poke in a crispy Lumpia bowl with an Asian slaw of spicy sesame Aioli & Tobiko Caviar or a mushroom, fennel, onion and goat cheese tart with spinach and shaved red onion?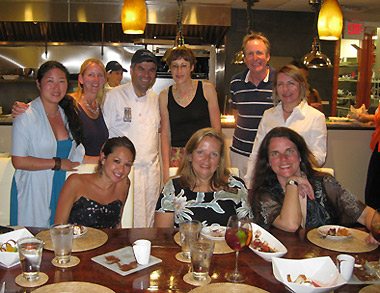 But let's still not forget about the luau (feast); after all, it is all part of Hawaiian fun and an institution in backyard celebrations.
Taro – a starch staple, generally pounded into poi, used to cut down on the more salty traditional foods
Laulau – pork or chicken and salted butter fish, steamed in taro and ti leafs
Lomi Lomi – diced salted salmon, tomatoes and onion
Sweet Potatoes – by way of the Peruvian Andes
Poke – cubed items, but primarily fresh squares of ahi/tuna
Kalua Pig – cooked whole in an imu underground oven
Hapuia Cake – made with coconut milk
Shave Ice – no, not Shaved Ice, made with secret homemade tropical syrups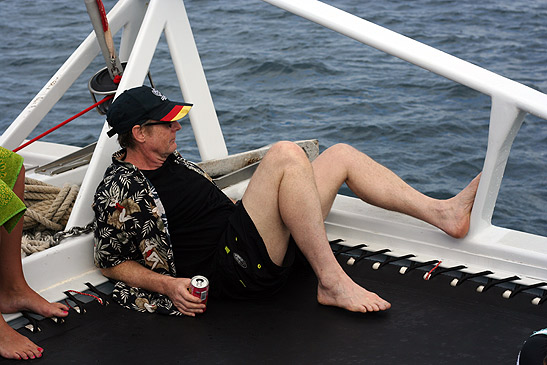 Where to Stay
Due to the small scale size of Kaua'i, virtually every property is convenient to the island's seemingly endless attractions.
Perhaps Jean-Marie Josselin, owner/chef of Josselin's Tapas Bar & Grill, said it best: The greatest pleasures of the heart are the simple ones.
For further information, log on to www.kauaidiscovery.com