OK, so here's the thing – when you go on vacation do you go to a place or county that you've been to before and loved or, do you go to a new country? Then again, would you even consider just going to an attraction that, so your friends told you, was so exciting it IS a MUST SEE attraction?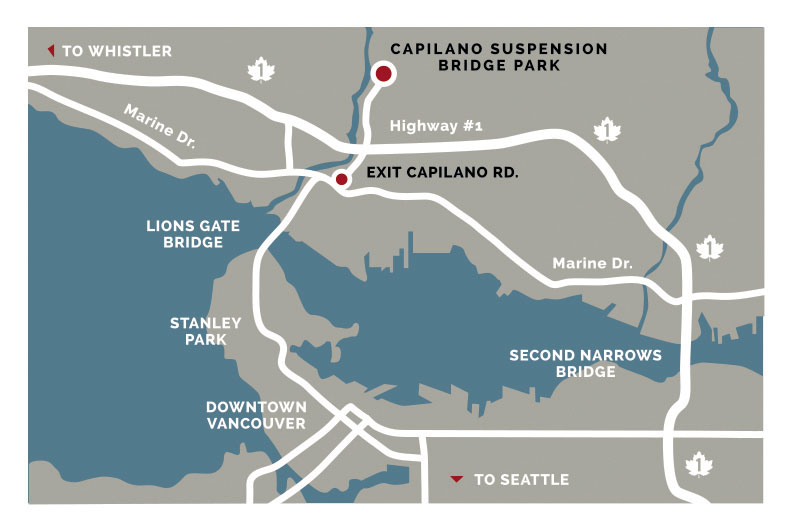 On a travel media press trip to enjoy the spectacular Rocky Mountaineer train that begins its breathtaking journey in Vancouver, Canada, our hosts told us they wanted us to also see and experience "an extraordinary bridge" a day before we boarded the train. It was, so they said, only a short 20 minute drive from Vancouver and, because I love things that are different in tourism, it sounded intriguing. But, then again, would I really want to stay a whole day in Vancouver just to see a bridge?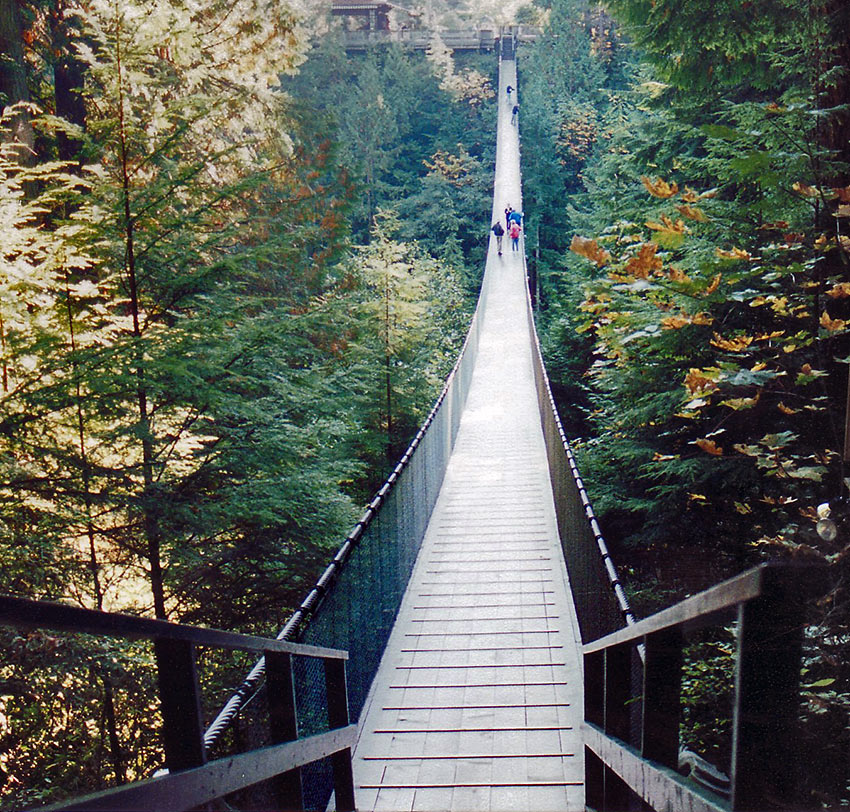 Yes, in this case I did.
We're talking here about the Capilano Suspension Bridge Walkway. As you see from the uncertain look on my face in the photo, I could not bring myself to call it a "Bridge."  I mean when I first saw it, all I could see was a very narrow, swinging, swaying bridge that convinced me that I should refer to it as the "Rock and Roll" bridge. Guides reassured me not to worry, and that it was totally rebuilt in 1956 and it IS completely safe.  But if I tell you that when I saw it, and actually thought about crossing, I was quite scared.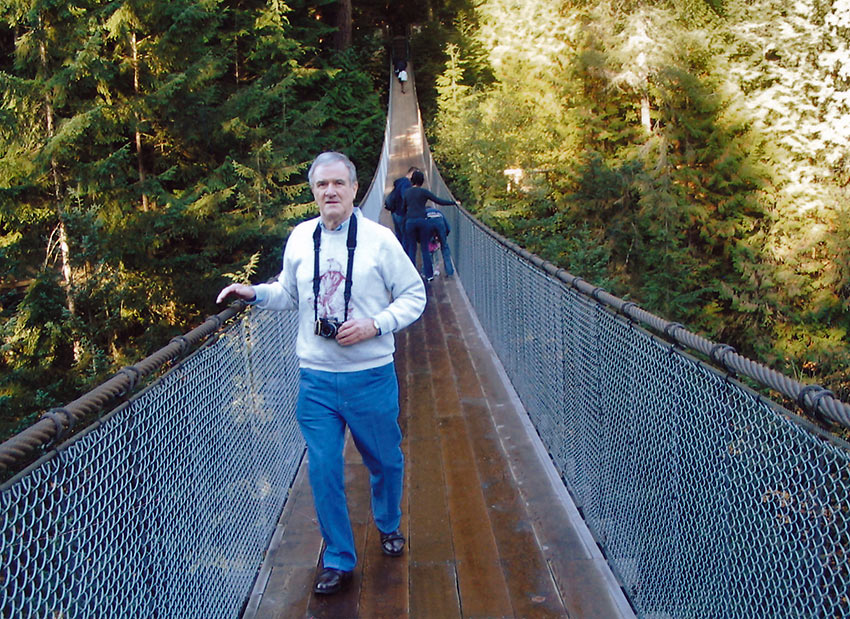 The Walkway is a dramatic eye-catching 460 feet long and (here was the possible deal breaker) as to whether I said YES or NO to going on it, it is 230 feet ABOVE a river and deep Gorge. On the other side of this Walkway is what the tourist attraction a "Treetops Adventures" that pays tribute to rain forest ecotourism, colorful gardens, and dazzling nature trails. When I eventually got to see this Treetop Adventure, I too was entranced by the beauty and awesomeness of everything. Adding to the magic of the entire adventure, was the fact that as I sampled THIS ecotourism exploration, I crossed no less than seven footbridges that were suspended (yes, this unusual attraction is all about suspension) between majestic old Douglas fir trees.
The so called "Bottom Line" for me is this: I'm very glad I did get to see it and actually do it, and to savor the awe-inspiring scenery and abundant greenery. Although crossing the Walkway is, in my view, NOT for the faint of heart, the Capilano Suspension Walkway is indeed remarkable, because 800,000 people visit every year. I know you too will enjoy it, and you'll love the fact YOU actually walked on, and across, this mesmerizing walkway. Or bridge! As it is so close to Vancouver, it is a "Bridge NOT too far away." To contact John: jdcradio@gmail.com