Captain Belinda Bennett Awarded Merchant Navy Medal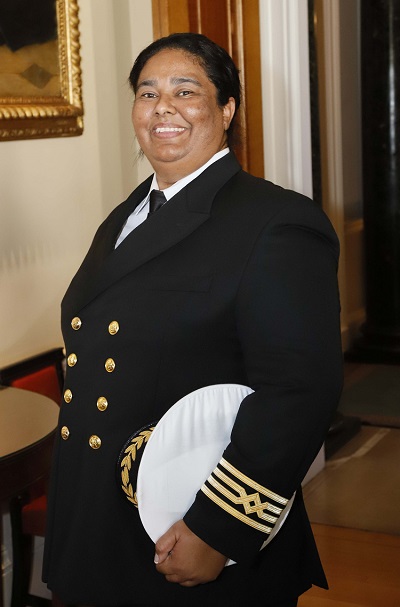 The U.K. Merchant Navy Medal for Meritorious Service has been presented to Captain Belinda Bennett of Windstar Cruises, as "the first black female captain in the commercial cruise industry."
Bennett was given the award for services to the promotion of the maritime sector under the auspices of the U.K. Department for Transport and Maritime & Coastguard Agency. Her Royal Highness Princess Anne presented the Merchant Navy Medal honor, earned by those "who have gone above and beyond in their service to the maritime industry," earlier this month at Trinity House in London.
First established in 2016, the awards marks the crucial contribution that members of the Merchant Navy make to maritime safety, seafarer welfare, training and the wider blue economy. Bennett is the second person at Windstar to receive the medal.
"It is an absolute honor to receive this medal. I hope that young people around the world will follow in my footsteps with hard work and dedication. I have to thank my family, friends and work colleagues for their support over the years, and every day we continue to learn. My career at sea has allowed me to see much of the world and its cultures of which I am thankful. This medal may be awarded to me but it belongs to all who have supported me over the last 24 years at sea," said Bennett.
Bennett has been with Windstar Cruises for more than 13 years. In January 2016, she was named Master of MSY Wind Star, a four-masted sailing ship accommodating 148 guests, 101 crew, with four decks and a gross tonnage of 5,307 GRT.
Hailing originally from one of the most remote islands in the world, St. Helena – a part of the British Overseas Territory, Bennett became immersed with life at sea, having started as a deck cadet at age 17 on her home island ship the RMS St. Helena – a cargo ship that transports vital supplies to the remote island from the African coast. Just four years later, she had climbed the ranks to Third Officer and ultimately stayed on board for an additional five years, until departing in 2003 as second officer. Following a brief stretch as chief officer for private charter yacht SS Delphine, and Isle of Man Steam Packet ferries, Bennett joined Windstar Cruises as Second Officer at the Port of Monaco in September 2005. Bennett has worked on a variety of Windstar ships over her 13-year career progressing to chief officer and now captain with the small ship line.
"We are beyond proud of Captain Bennett not only for what she represents to the cruise industry but also her determination and perseverance in the very competitive and vital maritime industry. Belinda is a great role model for our junior officers and cadets. We are happy for her success and the inspiration that is to be gained by her story," said Windstar Vice President of Operations Christopher Prelog.
Venice Bans Cruise Ships from City Center
Courtesy Daniel McCarthy, Travel Market Report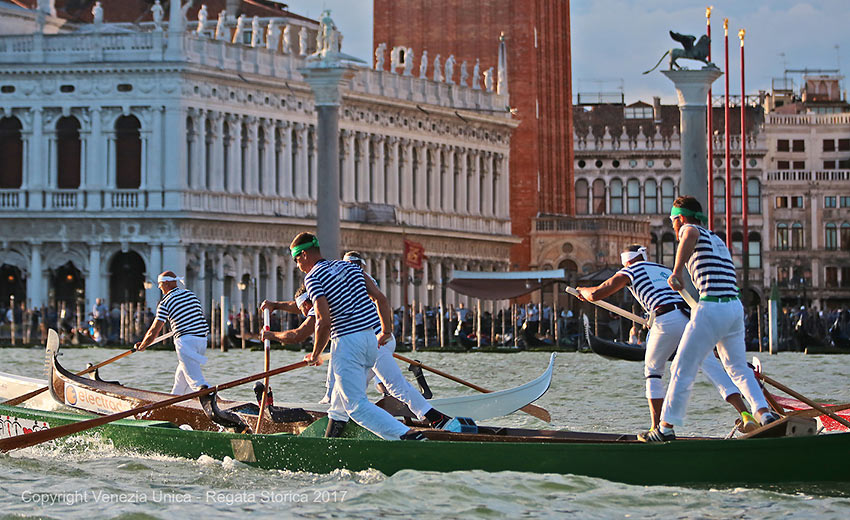 An Italian governmental committee has voted to ban large cruise ships from the water in front of Venice's St. Mark's Square.
The vote, which was made after years of protests and petitions from locals, bans all ships weighing more than 55,000 tons from the city's Giudecca Canal.
This means that all ships from Carnival Cruise Line, all from Royal Caribbean aside from Empress of the Seas, and all from Norwegian Cruise Line will be banned from the canal.
Those ships will now be forced to dock at the industrial port of Marghera, located just northwest of Venice.
The changes will reportedly take about four years to implement.
The Mayor of Venice, Luigi Brugnaro, said that the decision found the right balance between combating a city increasingly overcrowded with tourists and keeping the positive impact of cruising alive in the city's economy.
"We want it to be clear to UNESCO and to the world that we have a solution," he said.
Over 30 million people go to Venice each year to experience its historic canals and famous city sites, but UNESCO has warned that if steps are not taken to limit damage to the city, Venice could be placed on the organization's list of endangered heritage sites.