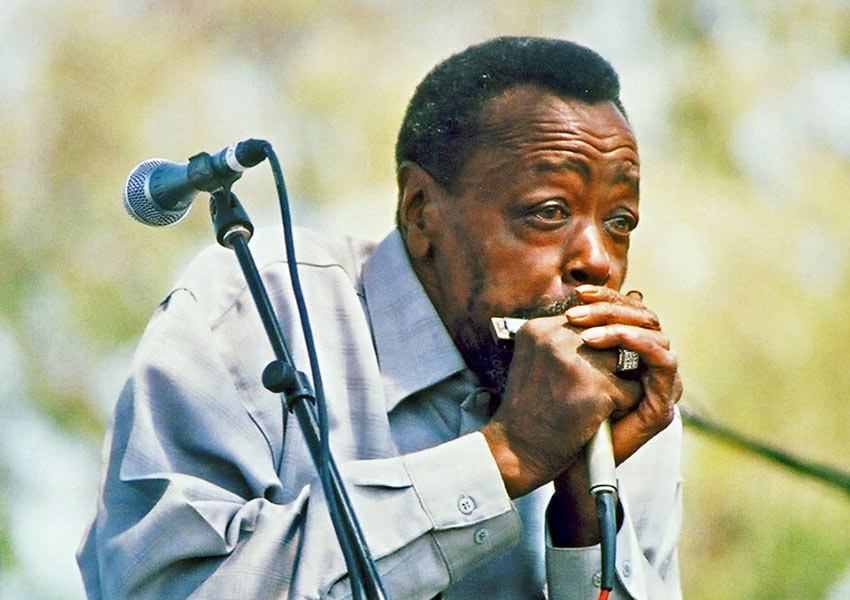 It's been almost 30 years now since I ran into Carey Bell. He was touring through Europe and was gracious enough to sit down and talk for awhile about his friends, his life in music and the road he travelled. Immediately after our conversation, in his typical workingman's approach, he stepped on stage and proceeded to blow everyone in that Italian theater against the back wall. He was a remarkable talent and genuinely funny human being.
Born in the winter of 1936 and raised on a farm in Macon, Mississippi, Carey Bell Harrington grew up working hard. He laughs, "Damn sure did!" I heard you taught yourself harmonica? "Yeah! I got one for Christmas and started blowin' on it." Your mother sang in church, do you think that was your first musical influence? "Yeah, I guess so. That's what they all say." He laughs. "I haven't the slightest idea, you know? 
What was life like for you in a small community like that? "There wasn't too much to it, I just didn't want to work on the farm, so I ran away. I learned how to play the harmonica and when I thought I was good enough, I went to Chicago."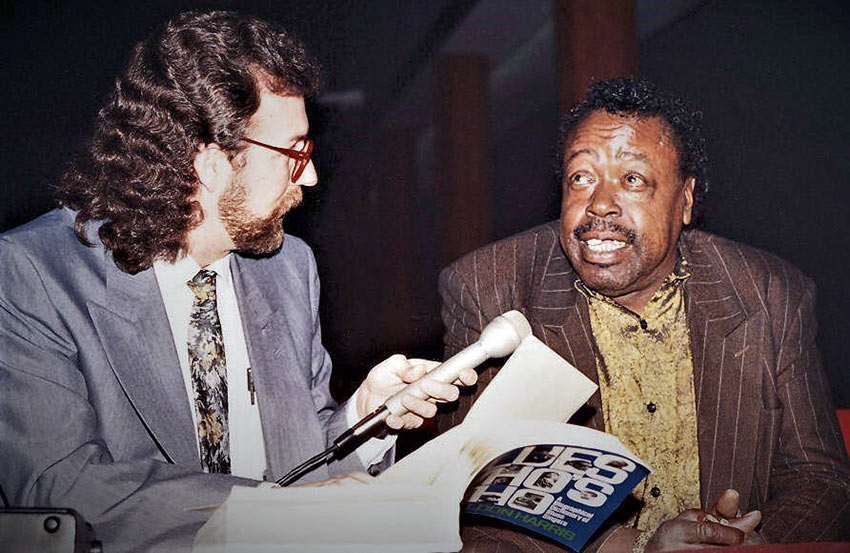 Talk a little about working in Bobby Shore's Tavern in Meridian? "Oh yeah, that was great! It was a restaurant and a tavern and I was selling bootleg, moonshine whiskey." (laughing) "But I drank too much! (laughing) Were you playing blues there? "No, Western and Country music and that was great, too! Yeah, that was the first thing I learned but after blues came along, I got into that."
You grew up around Lovie Lee. "Yeah, he's still hangin'. But working with him I felt it was too slow because I wanted to get up real fast, you know? Who were some of the people you listened to on the harmonica? "You mean the people I liked?" I nod. "Oh I listened to Sonny Boy, Big Walter, Little Walter, Sonny Terry, Jerry McCain, Junior Wells, James Cotton. They were playing way before I was…Cotton is old as Moses!" (laughing) "Junior, too!"
Like most bluesmen of the era, Bell would busk on street corners; sometimes alone, sometimes with others. "Yeah, I played with a band, Robert Nighthawk, Honeyboy Edwards… shoot, a lot of peoples."
You played in a place once called the Cadillac Baby Bar with Little Walter, what was that like? "That was okay." What did you do? "Nuthin'!" (laughing) C'mon, running with Little Walter had to be a high point in your career? "No, it wasn't." (laughing) "You see when I went to Chicago I was too young to get into the clubs, I had to go in the back door. I had to sneak around and people would sneak me in."
I had always heard that Little Walter Jacobs was a scrappy little guy and would fight anyone at the drop of a hat, but Carey set me straight. "Naw, everybody tells that same lie." Then he says. "Well, I guess he would if somebody would jump on him, but everybody have to defend themselves, you know? There was no doubt that he was an unbelievable harp player. "Yeah he was, he's gone but he's still has stuff out, it's still great stuff."
I was looking at some of the people you've played with and it's unreal. You've played with Big Walter, Earl Hooker, John Lee Hooker and Muddy Waters… and the list of venues, what was the rowdiest club or bar you've ever played? "The only place I remember was a house party in Mississippi. They got to fightin' and I went up under the house." (laughing) "Yeah, under the house, the guitar player got in his car and left. Yeah, people got beat. That was about the rowdiest."
Charlie Musselwhite and Otis Rush both told me about a place called the 'I Spy Lounge' in Chicago? "I didn't hang out in the 'I Spy' that much. I always heard about all the fights and stuff going on in there, that's one of the reasons I didn't go in there!" (laughing) You and Charlie Musselwhite are pretty good friends. "Yeah, we used to hang out together, every day almost, every Sunday playing on the street. He's crazy, though." He's settled down now a little bit, haven't you? "No!" (laughing) "I just ain't as fast as I used to be!" (laughing)
You toured a great deal with Willie Dixon's All Stars. "Yeah, he's a good friend of mine. I was his main man. We used to cook in the hotel, and we'd get busted for it." (laughing) "Hot dogs, pork chops, potatoes." You mean like a hot plate in the room? "I had one of those big, old Hoover electric frying pans and we had a good time. They told us to quit but then the hotel manager would sit down and have a bite with us. Willie was good at starting a conversation. After we finished the guy would leave and tell us, 'Well, you guys don't do it every day or just put something at the bottom of the door so the smell doesn't go all over.' You know those white potatoes and onions you could smell them a country mile…" (laughing) "And the band wouldn't help round up food with us; we'd sneak off to the grocery store and they'd be sleeping and when they'd wake up they'd smell the food and Willie would lock the door and wouldn't let them in." (laughing) "Oh, we had great fun!"
You've been on the road a long time, you ever tire of it? "Un-uh!?" Carey shakes his head. "It's my life…I love it! You know why?" He smiles. "I don't want to work!" (laughing) Isn't it tough sometimes? "It ain't like work!! Man, work would KILL me! If I had to go back to work punching a clock and here come somebody telling me, 'How come you're late? I'm docking your money. Well, you're fired!'"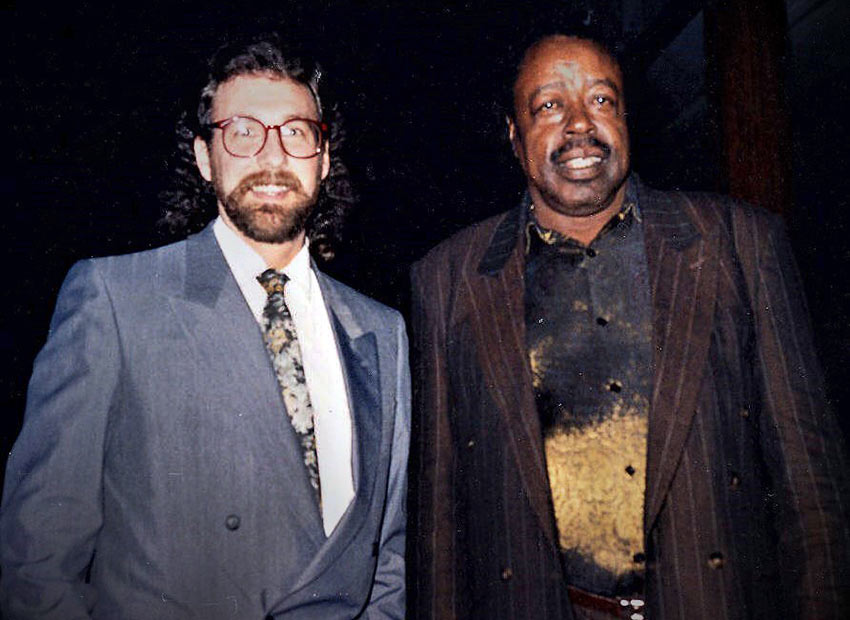 What kind of work did you do, outside of music? "Oh man, shoot. I worked in junk yards, nursing homes; washing cars…you know that work? I put on a rubber suit at 7 o'clock and wouldn't get through till 5 in the evening, keeping that yellow suit on. It was yellow. They had those little pads you stick your hands in. Man, I used to say if I ever get out of this here… man that was something else."
Describe Carey Bell's blues? "I just DID!" (laughing) "I just did!" (laughing) "The first wife I had, we moved from Mississippi to Chicago with Lovie Lee and a whole band. I didn't know the city and I had to go look for a job and at that time that had old junk carts that they pulled through the alley picking up scrap and stuff. Her mother's old man built me a wagon to pull. Now, I had been plowin' with a mule in Mississippi and man, when I get to Chicago they go and make a mule outta' me! Owww!" (laughing) "Un-Uh! They put me out! Yeah, that's when I met Honeyboy (Edwards). Honeyboy took me in. If it hadn't been for Honeyboy I'd probably woulda' been dead or something, or in jail!"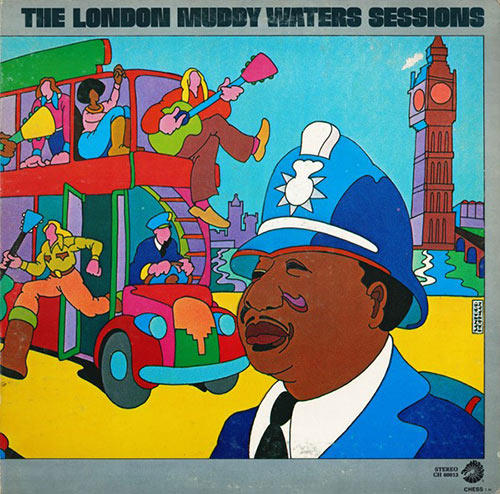 You've played with everybody, do you have a favorite session or recording that you truly enjoyed? "My favorite was with Muddy, the London sessions. Oh, we had great fun. With Sammy Lawhorn and I can't remember the other guys. Only three of us left Chicago and went to London and they had musicians there in London. They were big guys but I can't recall their names." That album was loaded with talent including Rory Gallagher, Rick Grech, Stevie Winwood, Mitch Mitchell and many more… I totally understand why it was your favorite. Other than the talent, what made it so special for you? "Muddy was funny. They didn't want to give me no whiskey. Muddy said, 'you don't give that boy no whiskey, he ain't gonna' play!" (laughing) "You better go out and get him some. It was real funny. And we'd lay up in the hotel all day and do the session at night. It took us a week. In the hotel, we'd order anything we wanted, Champagne… anything we wanted and we didn't have to pay for it."
The results speak for themselves.
We lost Carey Bell in Chicago on May 6, 2007 from heart failure. He left us with an incredible library of music. (Check him out — Carey Bell; I know you'll like it.)