Raoul's 2 Cents
Dad
When my Dad came to town my schedule went out the window. He believes these are his last years and he's come to see his children, grand children and great grandchildren for the last time.
He's staying with my sister who lives 50 miles away. So I drive through LA traffic and it takes me an hour and a half to get there. If you know me, I have a phobia for traffic so I try to go there after the morning rush and leave right before the evening rush. Like a vampire avoiding direct sunlight, I try to accomplish my tasks with him within the confines of the traffic hours. When I get back home, that's when I get to do my day job.
For the moment, I am getting all his tech stuff ready before he returns home. I already fixed his iPad and returned his laptop that he couldn't get to work properly. I helped him with his bank account. I already bought him a walker, earphones, and I plan to load some practical apps.
There was a time long ago when he was my role model. My early fond memories with him was walking to the doctor everyday for over a week to get tetanus shots after a dog had bit me. He would bring me and my bother to the barber shop where I saw him behave differently with "the guys." He was always driving the family to school, to vacation spots, to family gatherings and special occasions. He wasn't much of a talker … more of a shrewd businessman. He worked hard, was good in business, dedicated his life to my grandfather's business at the expense of his own family. He had his faults … to some people he had lots of them and he definitely has enemies. But you know what? He's still my Dad and I love him.
Dad's hard of hearing, hard of seeing and hard of walking. At times I catch myself staring at him and wondering if I'm looking at my future self. Will my kids see me any differently? Will they know how much I love them? Will my ears and my eyesight fade as well? I'd like to, but it's hard to have a meaningful conversation with him now. If I could, I'd like to know how he really feels about facing death and what will happen to him after that. Sadly, he and I do not share the same faith. He has been in my prayers forever. I wish my Dad a lot of things but there is one thing above everything else.
A song from Scott Wesley Brown
I could wish you joy and peace
To last a whole life long,
I could wish you sunshine,
Or a cheerful little song,
Or wish you all the happiness
That this life could bring
But I wish you Jesus,
But I wish you Jesus,
But I wish you Jesus,
More than anything.
I have a good relationship with my Dad and for that I am thankful. How are you and your Dad? Is he still around? Does he know how you feel about him … good or bad? Whoever your Dad is to you, realize one thing: out of all the possible Dads, God gave him to you. There must have been a reason, don't you think?
TGIF people!
Joke of the Week
Thanks to Ernie of Fresno, CA for sending this joke.

Video of the Week

Another Flight Steward Gone Viral
Sent by Don of Kelowna, B.C.
66 Year Old Body Builder Receives a Special Present
A tearjerker video. Get out your tissues!
Don's Puns
From Don's collection of puns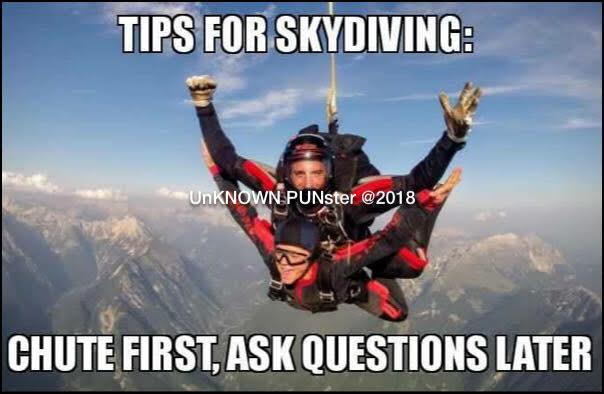 Parting Shot
Thanks to Art of Sierra Madre, CA  who shared this.