Raoul's 2 Cents
Millennials
Millennials. The very mention of that word floods people's thoughts of irresponsible, spoiled, overly promised kids who are now full grown dysfunctional members of society.
That, of course is the negative stereotype (the video this week depicts exactly what I mean) and I would say it is fairly based on reality. Sad but true. A wise man said we have raised a generation of narcissists.
Narcissists are people who live in their own world. Who are obsessed with themselves and only see things their way. No use arguing with a true narcissist. What is worst than a narcissist? A group of narcissists!  They are loyal to each other and ostracize independent thinkers. Majority thought wins.
Are you a narcissist? Do you have compassion for people and actually do something to help the less fortunate? Do you accept your mistakes, seek forgiveness and do you seek ways to improve? Do you allow others to share their ideas? If you answered NO to any of those, maybe you are a narcissist. Boy, do I need to pray for you!
I had fun talking to some Millennials today. I wouldn't say they were narcissists. After I introduced them to each other, I watched the magic of Millennial bonding unravel. They compared rings, boyfriends/spouses and Instagrams. At one point they were actually conversing and looking down at their cell phones at the same time. Of course I had to take a photo. I showed it to them. They laughed and went back to checking their phones. I was totally fascinated.
It may be true that they are all who we say they are, but I did not feel any animosity towards them. I just loved them for who they were. They reminded me of my own kids. I may not have grown up as self-absorbed as them but I must have had major character defects just like them. We all have our flaws. They're trying to find their corner in the sky just like the rest of us. As patient as my parents were to me, I will be patient with them, help them process their ideas into tangible actions … help them become the best person they could ever be. Want to join me?
"Do not be conformed to this world, but be transformed by the renewal of your mind, that by testing you may discern what is the will of God, what is good and acceptable and perfect."  — Romans  12:2
TGIF people!
Raoul
Joke of the Week
Thanks to Mike of New York  for sharing this joke.


Naomi's Puns
Sent by Naomi of North Hollywood, CA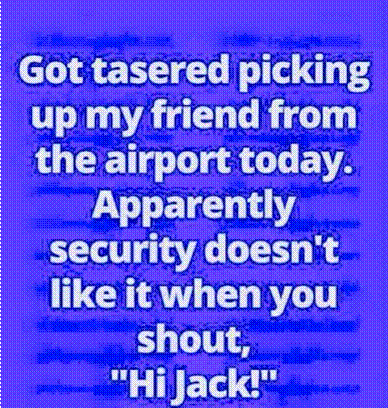 VIDEO: Funny Exaggeration
Not all Millennials are like this — thank god!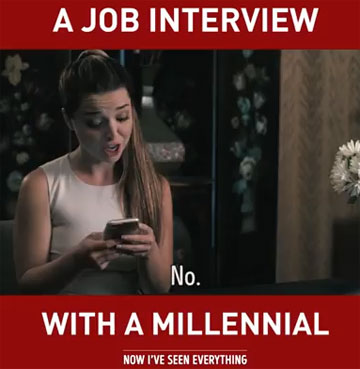 Parting Shot
Thanks to Naomi who sent this joke.