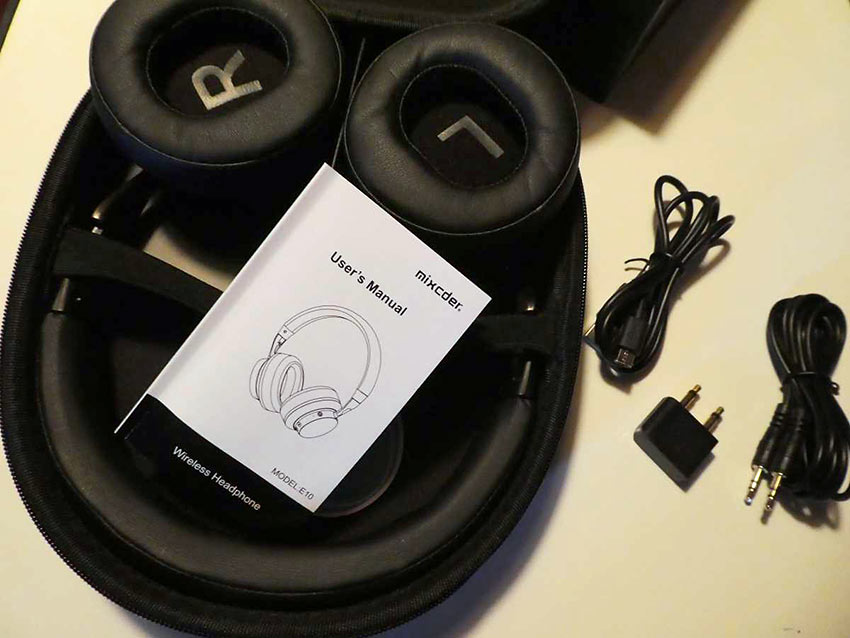 I'm not a geeky guy. I don't use much electronic gear, just the basics: camera, smartphone, e-reader and laptop. So I was surprised when I received two headsets in the mail for review. At first I thought "Two? What do I need them for? Do I have two heads?" Then I wondered why anyone thought I needed headsets at all. I've never owned a pair before, but learned a lot about them in the weeks I've had them. Now I can't imagine not owning at least one, even though I still feel like a nerd wearing it.
The fact that they are wireless is cool. Both Mixcder E7 & Mixcder E10 connect to my phone via Bluetooth. They played audio files and music easily. I switched back and forth comparing their usability, function, comfort, etc., but there is an included cable to hard wire them if the battery is low. There is also a charging cable and instruction booklet. To complete the package, the Mixcder E10 even has an airplane adapter. Both sport a protective travel case.
Pros:
Both E7 & E10 are stylish and comfortable to wear – after many hours in them my ears still felt great.
Both seem well-made, fold flat, and come with a handy carrying case.
Both played music with stereo hi-fi clarity, with the E10 slightly better. I heard new things in songs I thought I knew well.
Both have on/off buttons, noise cancelling buttons, volume control/track-changing buttons, power & recharge outlets, and indicator lights on the headset.
Both are adjustable to fit most head sizes.
Both cancel out low frequency noise very well.
Both have microphones that allowed me to easily talk on the phone.
Both can be hard wired to play music when the battery is low.
Both charge quickly and last at least all day, but the E10 at 1.5 hour initial charge (1 hour thereafter) charges about 1/3 faster than the E7.
Only the E7 has large function buttons and splits them between ear pieces.
Only the E10 has an airplane adapter that when hardwired makes them easy to use on inflight entertainment. (I can't wait to use that feature!)
Only the E10 labels the earpieces left & right.
Only the E10 has the new 2x faster Bluetooth 5.0 which has 8x the bandwidth for lower power usage and better, more stable sound transmission.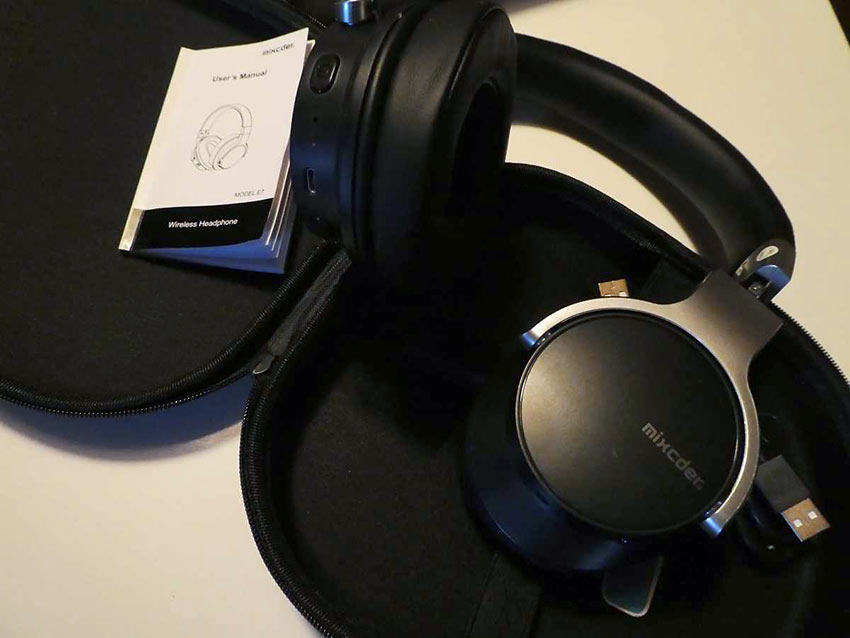 Cons:
Both E7 & E10 volume controls are piggybacked on the next & last track buttons making each difficult to use. That is, until I figured out that a quick press was volume changing, and a long press was track changing. But, because the buttons have the same shape and feel, I have to remember which is which. Triangular buttons facing away from each other would eliminate the guesswork.
Both barely muted the higher frequency sounds. Again, the E10 was slightly better at it.
Both mics don't work when used hardwired – they work only on Bluetooth.
Side-by-side, the E7 is visually the clunkier, older model – not as sleek as E10 – but still pretty on its own.
The E10 has smaller function buttons all located on the right earpiece, meaning sometimes I clicked two at once. It would definitely be better to be right-handed and small fingered for this one.
The E7 uses the older Bluetooth 4.2, which is slower and less likely to insure that the sound is synchronized with a visual performance.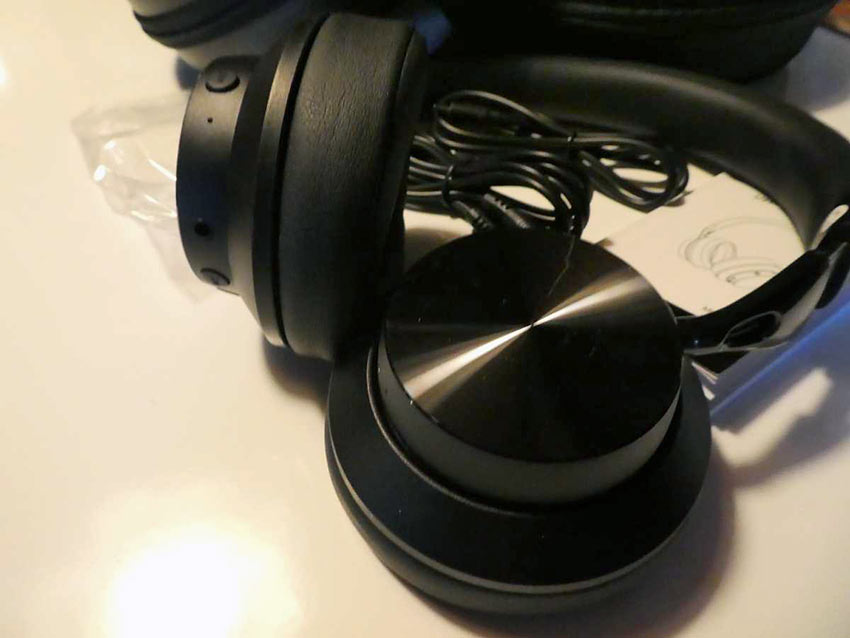 Anecdotal:
On two recent and very noisy train trips I got to compare both the E7 & E10 Mixcder headsets. I imagined my fellow passengers thought I was too fussy when I kept changing them out, but as the noises changed between stops and announcements, I got to evaluate their performance. I could hear train announcements, but they were muted. Ditto loud fellow passengers, but I could block the low background roar from the train just by clicking the ANC switch. It felt comfortingly like putting my pillow over my heard in the morning to mute my radio alarm clock. When I played music through them the background noise was further muted, making for a relaxing two hour train ride. Now I'm looking for a vibration canceling device to nullify the experience of riding in a train altogether! (Can you hear me Mixcder folks?) At home I'll have to get a Bluetooth adapter for my laptop and TV to really make the best use of Mixcder headsets.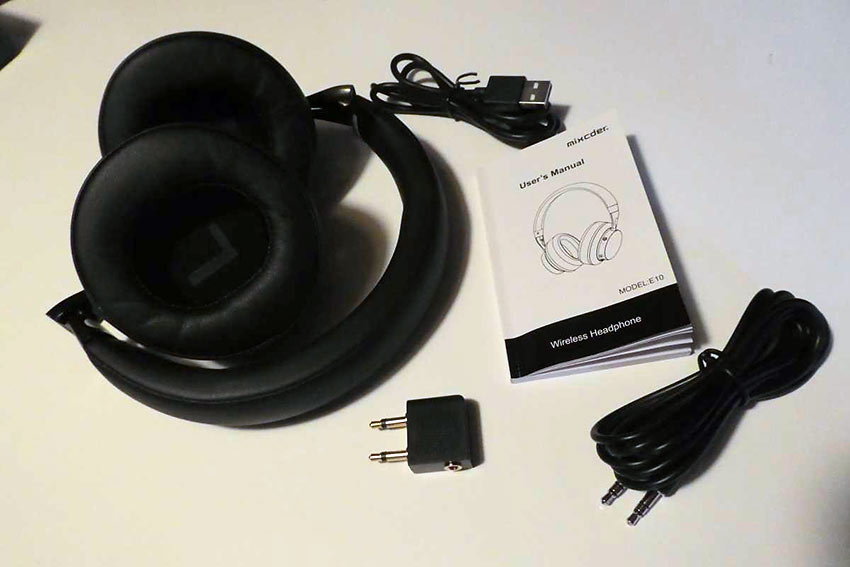 Final Evaluation:
At around $60 the E7 is a reasonably functional alternative. But the E10, with faster and more stable Bluetooth connectivity, faster charging, modestly better sound quality and noise cancellation, along with its slimmer design, make it the clear winner. For about $90 it's a steal! I don't know how I ever lived without one.
Special offers:
https://www.amazon.com/dp/B07ZHB8FSM?ref=myi_title_dp
Type code: MIXCDER10 10% off discount
https://www.amazon.com/dp/B07VSM81KS?ref=myi_title_dp
Type code: MIXCDERE7 10% off discount
DISCLAIMER: These are some of the products Richard Frisbie receives at no cost for review. Nevertheless, every effort was made to present an unbiased, objective and fair assessment of the capabilities and value.  Richard does not receive any revenue from manufacturers or a retailer of products reviewed, nor is he paid for this review.
Was this review helpful? Please rate it in the comment section below.
See more PRODUCT REVIEWS from Richard Frisbie