After our hop-on, hop-off orientation ride along the blue line of Moscow's squeaky-clean metro system, with its museumesque stations, I — a guest photojournalist invited by Insight Vacations (Insight) to experience its Easy Pace Russia journey — re-board the motor coach with my 22 travel mates and continue our Moscow-by-day spin towards Red Square.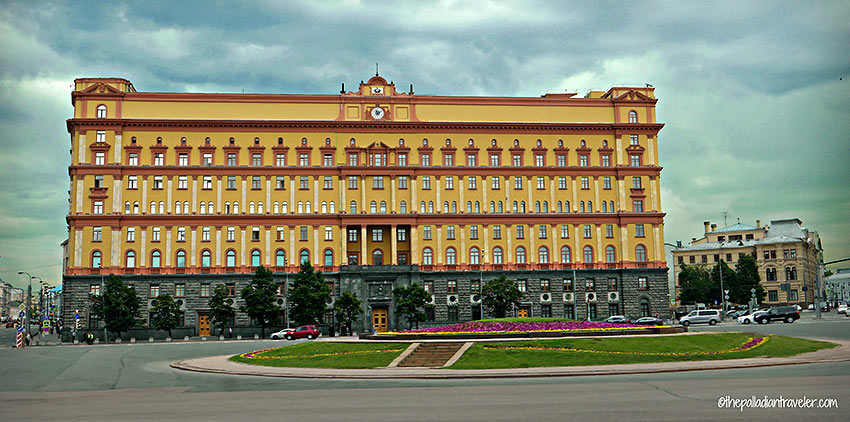 Barely out of first gear, the mood gets serious, but only for a moment, as our Mercedes coach, with business class-legroom seating, passes by Lubyanka Square and the former headquarters building of the Komitet Gosudarstvennoj Bezopasnosti (Committee for State Security), better known as the KGB. It was here that erstwhile Soviet spies received their marching orders, then went out in the cold dressed in trench coats (collars up), fedoras (brims turned down) and sunglasses (the darker, the better).
What a difference a day makes, actually 12 hours to be precise. That's how long, or short, it's been since we meandered about the nearly deserted cobblestone and admired for the very first time the beauty that is Red Square, the very heart of Moscow, in the waning light at sunset. It's daytime now, and Krasnaya Ploshchad — the Beautiful, but not Red, Square — is packed with Muscovites and tourists alike.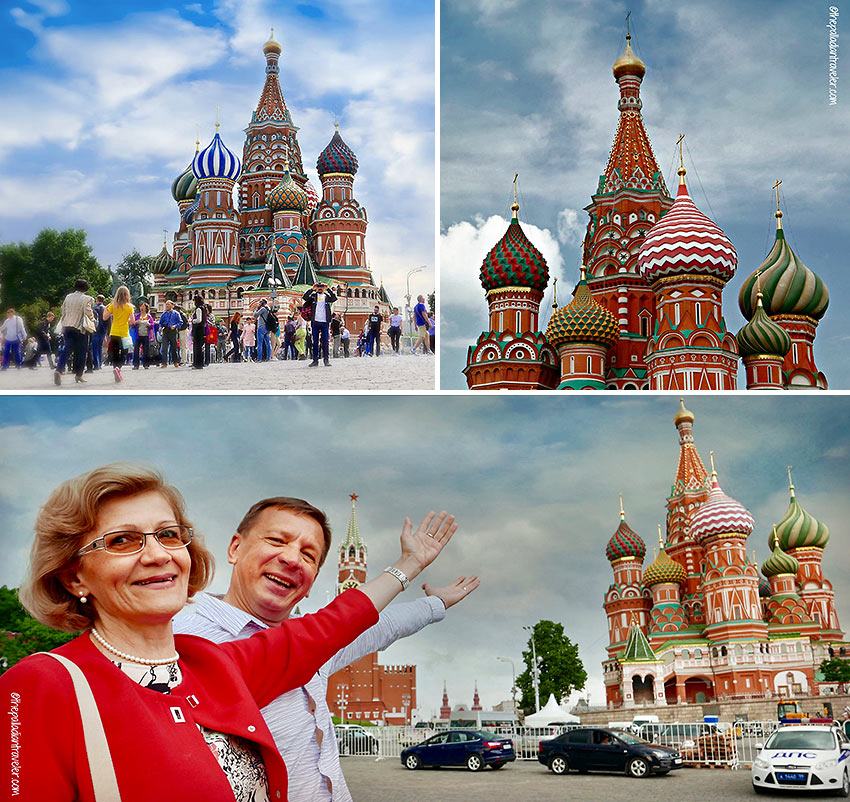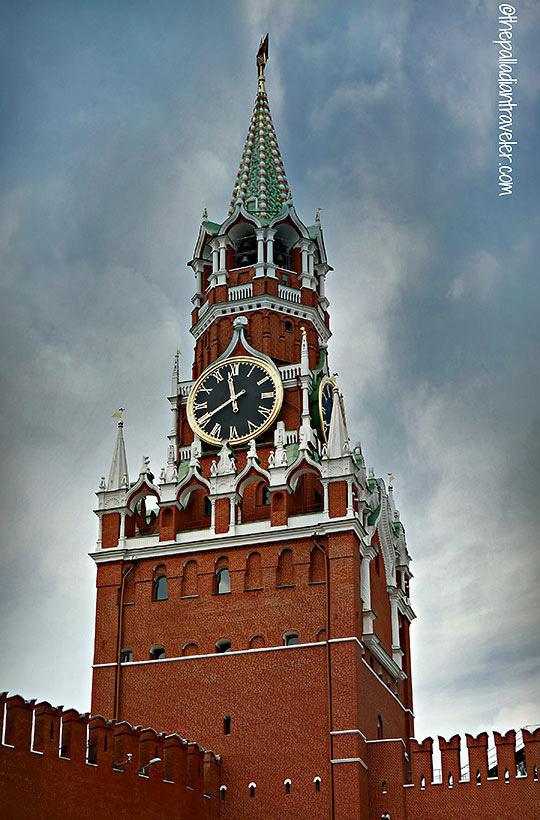 Following close behind Vera, our Moscow expert, and Gennady, our GQ-worthy tour director, we arrive at center stage of Red Square, a UNESCO World Heritage Site since 1990, and bask in the beauty of St. Basil's Cathedral, commissioned by Tsar Ivan IV, aka Ivan the Terrible, with its colorful, iconic rounded domes.
Over to our left is the 71m-tall Spasskaya (Savior) Tower with its Kremlin chimes that remind us all of the official time in Moscow every quarter hour. And, just behind those red-brick walls is where President Vladimir Putin governs and where we'll be this afternoon.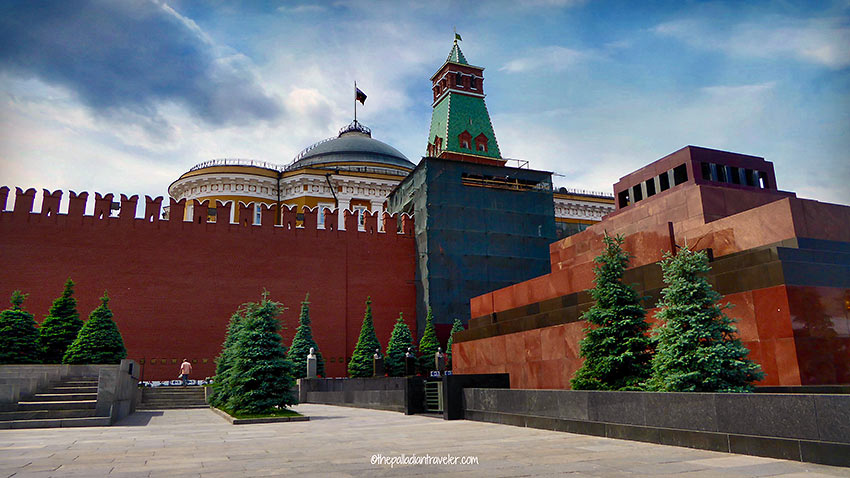 Further along are the remains of former Soviet leaders buried in the Kremlin Wall Necropolis, including Joseph Stalin, while the embalmed body of Vladimir Ilyich Ulyanov, better known as Lenin, the "Father of the Revolution," lies inside a pyramid-shaped mausoleum made of red, gray and black granite that fronts the cemetery.

In the far north corner of the square sits the State Historical Museum. Underneath its twin spires are 4.3 million pieces of Russian history, including the country's largest coin collection.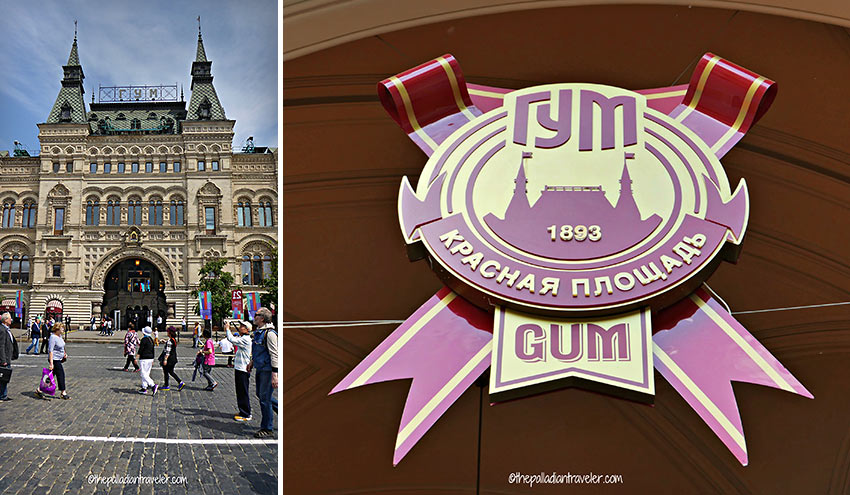 And, on the east side of the square where the Upper Trading Rows once occupied the space — a massive trade center of 1,200 shops commissioned in the early part of the 18th century by Empress Catherine the Great and designed by Giacomo Quarenghi, an Italian neoclassical architect — stands Moscow's swankiest enclosed shopping mall: GUM.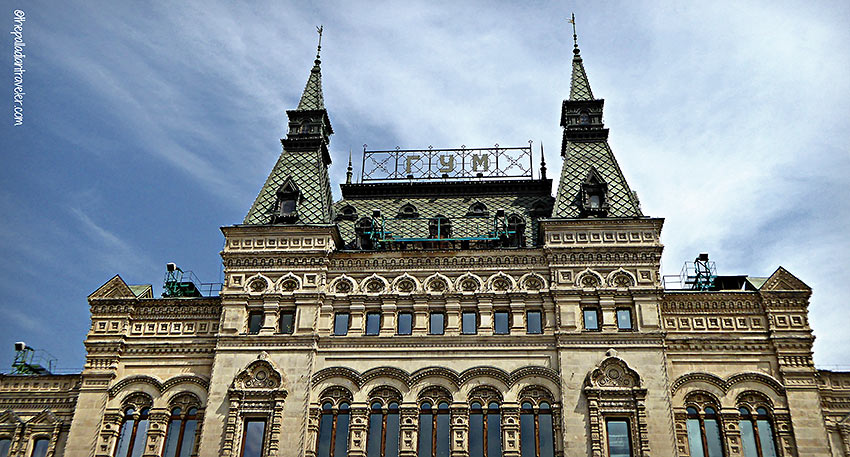 The ornate 240m-long (794 ft) facade, built in the 1890s, is a bright and open shopping gallery with hundreds of upscale stores and white tablecloth restaurants. Enclosed in a steel framed skylight of some 22k pieces of glass — designed by Vladimir Shukhov, an architectural engineer, to resemble the roofs of the great Victorian railway stations of London and to also support the heavy weight of snow during Moscow's frigid winters — GUM, with its three-level arcades, wows the visitor with its spectacular interior.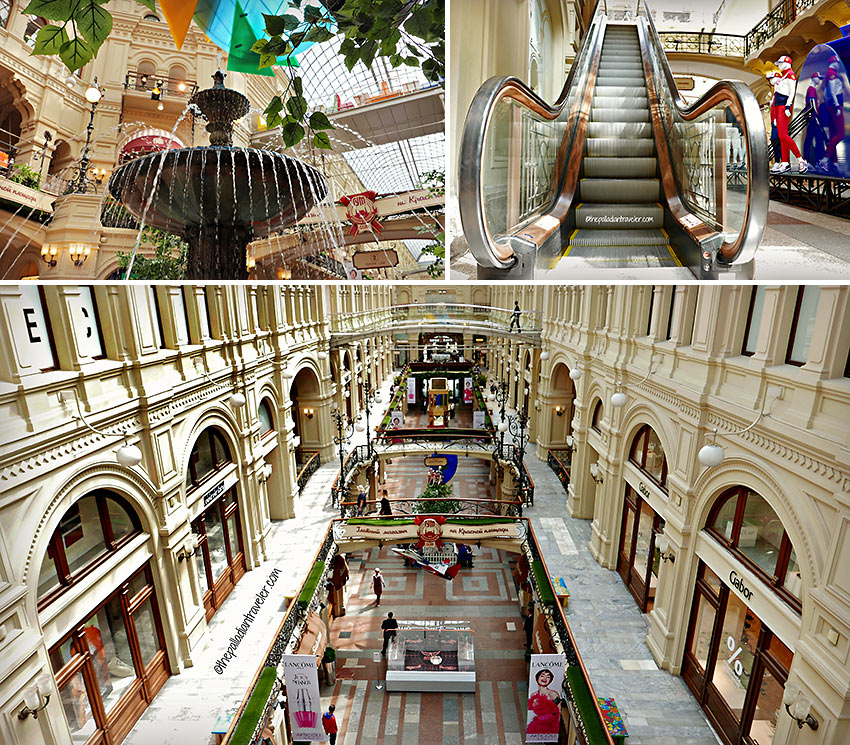 "Nationalized following the Russian Revolution of 1917, GUM, which stood for Glávnyj Universáĺnyj Magazine or State Department Store, now National Department Store," intones Vera, Insight's local area expert, through our earbuds, "operated as a model retail enterprise for consumers regardless of class, gender, and ethnicity."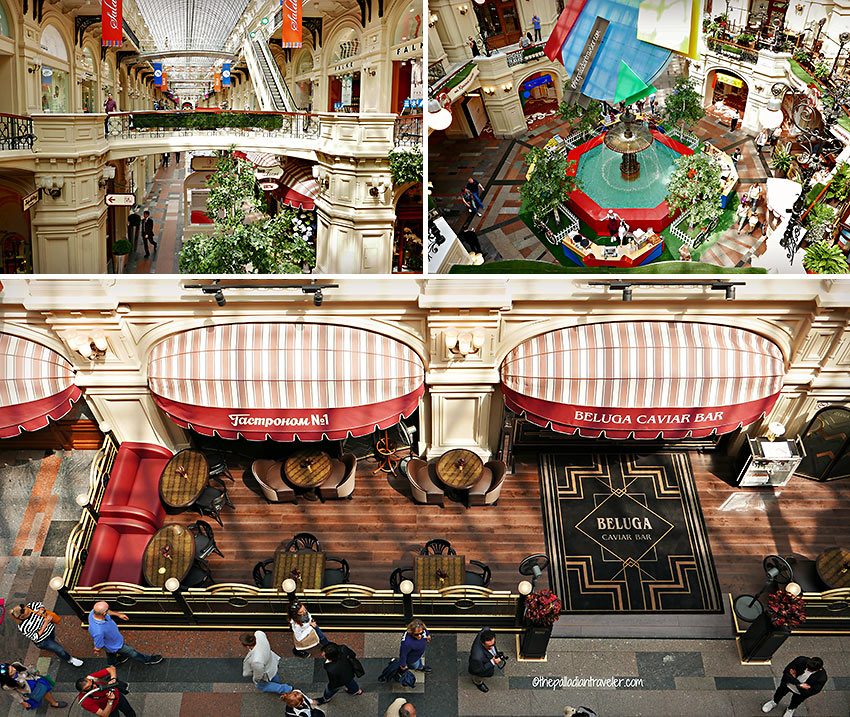 Over the decades, GUM has morphed into and out of more characters than the late Lon Chaney, Hollywood's "Man of a Thousand Faces." First, it was a large block of state-run and tightly controlled shops followed by government office space. Then, in 1932, GUM was used briefly to display the body of Premier Joseph Stalin's deceased wife, Nadezhda. After World War II, it returned to being a state-run trade center which then gave way to partial privatization. And, in 2005, GUM became wholly privatized and is now under the watchful, bottom-line eyes of Bosco di Ciliegi, a Russian luxury-goods distributor and boutique operator.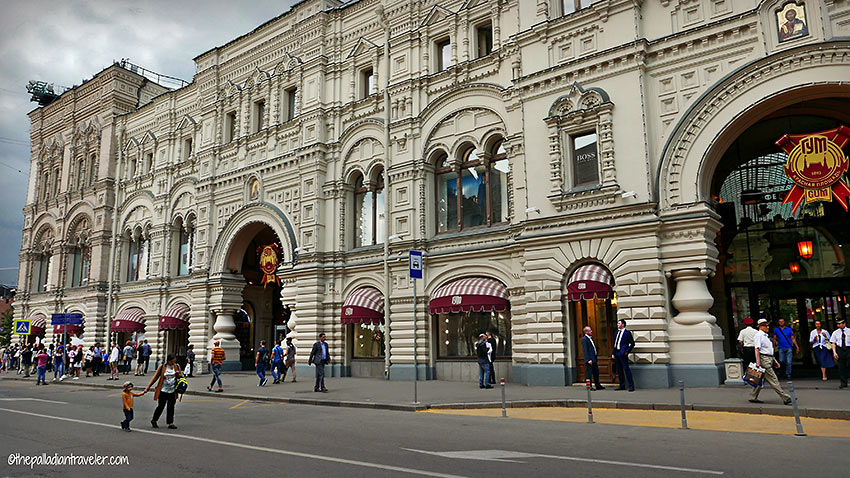 GUM, a "Who's Who" of international brands elegantly laid out underneath its revolutionary arched glass roof, is one of the most popular shopping venues in Moscow, especially for rich and influential oligarchs packing a by-invitation-only black credit card in their wallets. And, that's probably why I'm here just window shopping.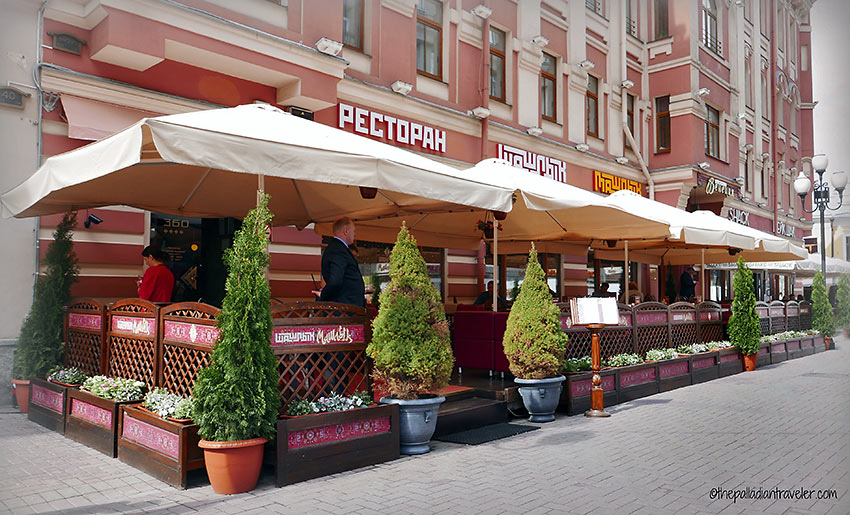 An afternoon walking tour inside the walls of the Kremlin will be Insight's treat, but lunch is on my own ruble as I grab a table inside Shashlik-Mashlyk, a pectopah (restaurant) on the ground floor of an elegant, rose-colored, neoclassic apartment building along pedestrian-only Arbat Street, an affluent zip code in the heart of Moscow's historic center.

Serving up some of the city's most authentic Georgian, Ukrainian and Russian dishes, I study the leather-bound menu, over a glass of chilled Chilean Chardonnay, and decide to keep it light. Well, as light as I can.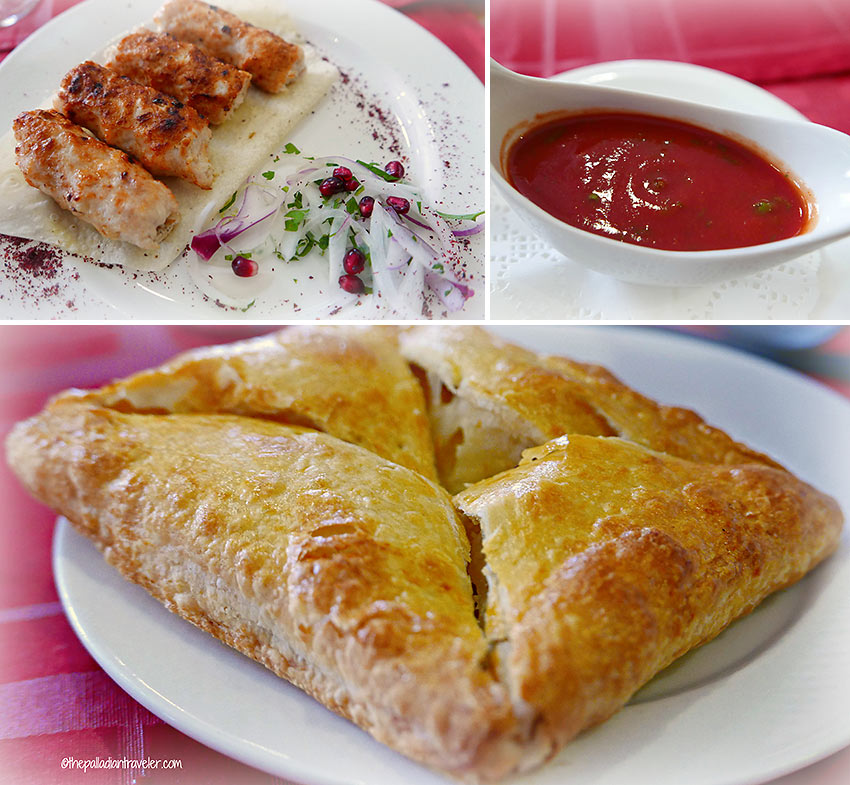 With only an hour on the clock to consume (read, devour), I order a plate of succulent, marinated chicken kebabs, stuffed with herbs and spices and plated with sliced red onions and pomegranate seeds, along with a khachapuri, a piping-hot Ukranian cheese bread shaped like a turnover with a spicy tomato-based dipping sauce. Mmm.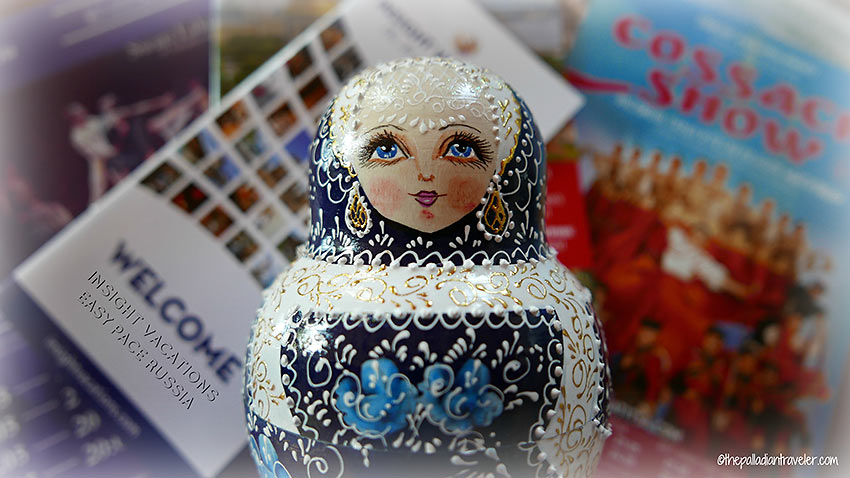 Go here for detailed information on Insight's six journeys to Russia, as well as more than 100 other premium and luxury-escorted itineraries around Europe, or call toll free (888) 680-1241, or contact your travel agent.