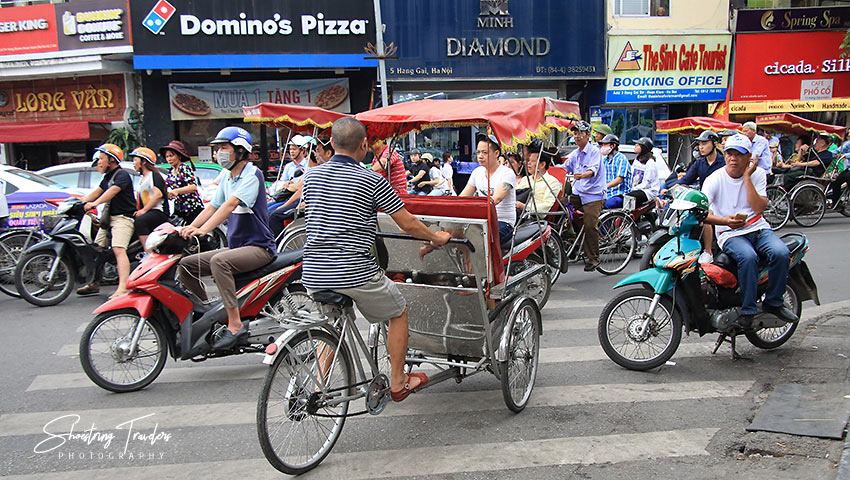 Throughout our travels the past several years we've often tended to wander towards off-the-beaten path nature destinations, shying away from crowded locations as much as we can. But there's something beguiling about the busy and chaotic setting that is Hanoi, Vietnam and its celebrated Old Quarter. Crossing a street with hundreds of scooters, bicycles, cyclos and cars headed off in different directions all at once can be overwhelming and even terrifying to the average tourist but it was strangely inviting to us.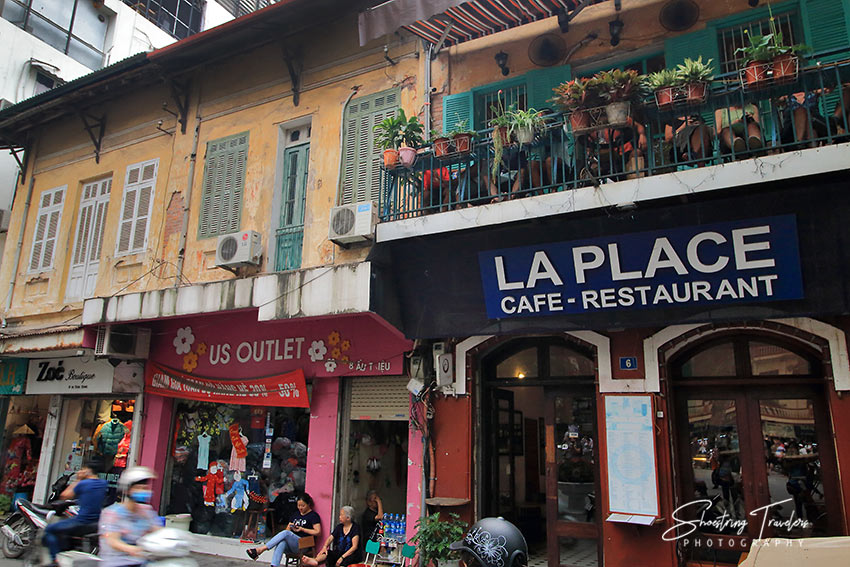 We've been to Vietnam numerous times in the late 1990's and early 2000's and Leo had visited Hanoi and its Old Quarter – the city's historic urban core and its former commercial and residential center – twice before so the helter-skelter traffic isn't something new. But a lot has changed since then as tourists descended in droves on a more commercially vibrant Hanoi. Despite this the Old Quarter manages to retain its charm, with shops, restaurants and cafes sheltering in French colonial buildings. On our most recent tour we got to immerse ourselves in the Old Quarter's history and culture much more than in past visits.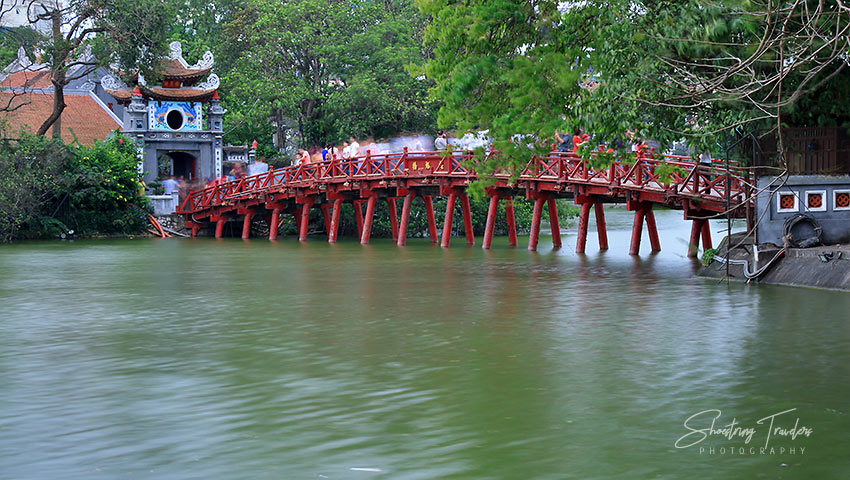 Just walking distance from our hotel on Hang Bon Street, Hoan Kiem Lake is the center of city life and a place where locals gather to rest, eat, play or simply stroll around. We spent a good deal of our time walking around the perimeter of the lake, savoring the scenery and enjoying a respite from the crowded streets.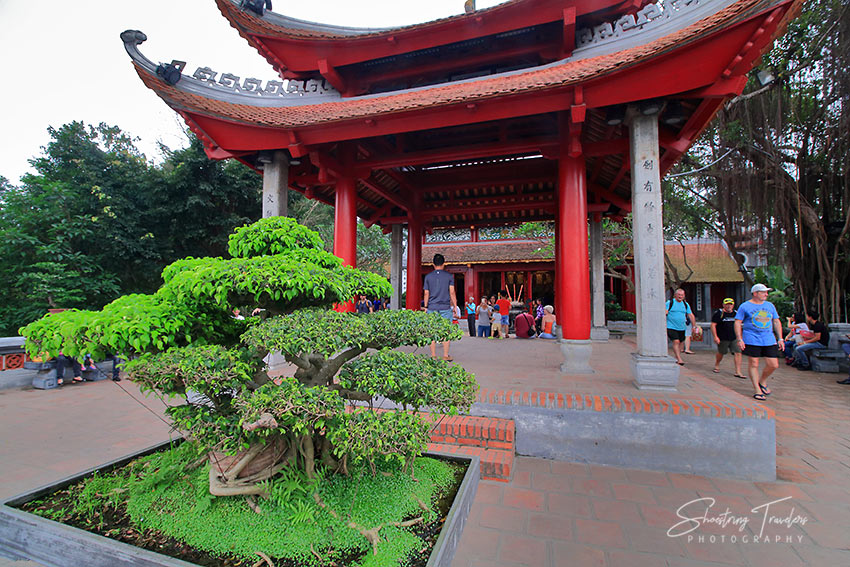 Sitting on an island in the northern section of the lake is Ngoc Son, an 18th century Buddhist temple dedicated to Tran Hung Dao, a brilliant military strategist responsible for repulsing two Mongol invasions in the 13th century. The main attraction in Hoan Kiem, the temple is accessible via an elegant red bridge. An interesting resident of the temple is an embalmed huge soft-shell tortoise, believed to be the last of the reptiles that used to populate the lake. This particular tortoise died in 2016.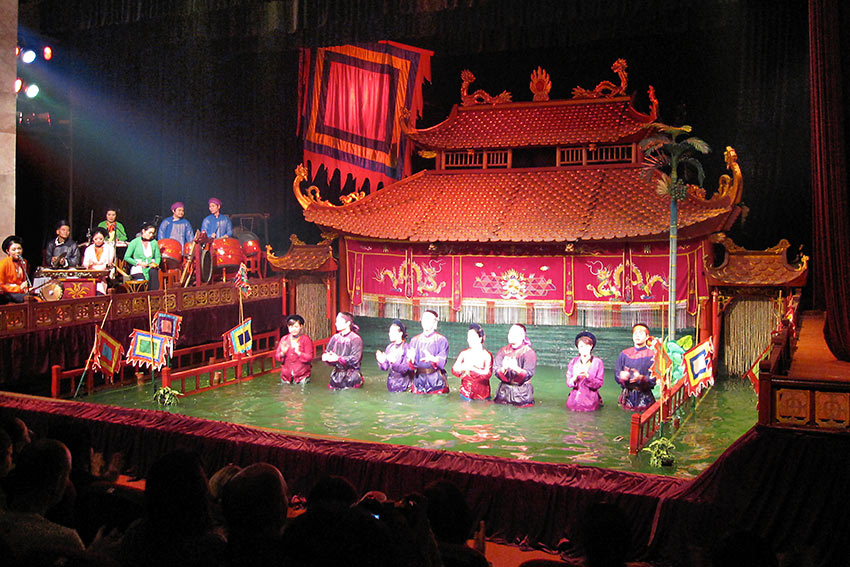 Located just off Hoan Kiem Lake's northeastern corner is the acclaimed Thang Long Water Puppet Theater. Originating from the 11th century, water puppets were a form of rural entertainment in which villagers used rods under the water in rice paddies to manipulate puppets, giving them the impression of moving across the water. At Thang Long a water pool is used as a stage with puppeteers concealed behind a screen. Accompanying music is provided by live bands playing traditional Vietnamese instruments on both sides of the pool.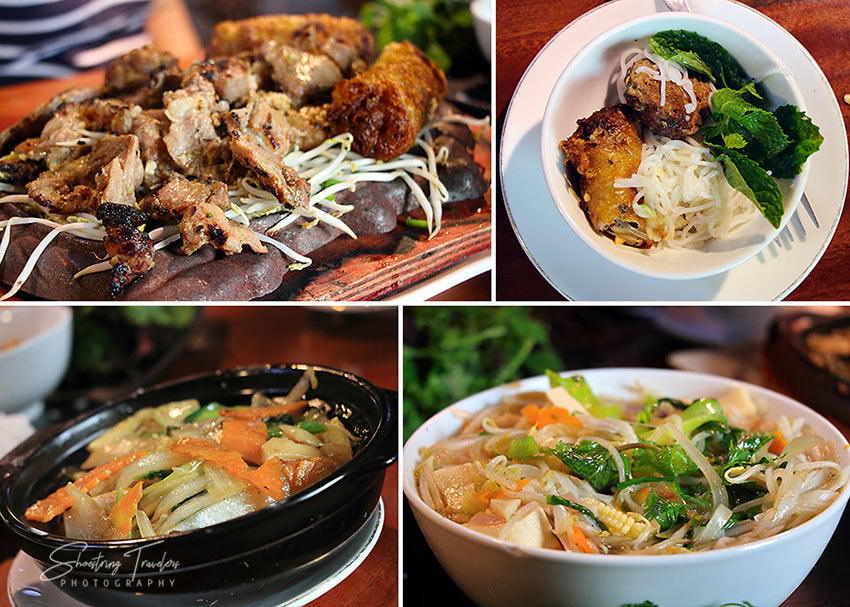 The Old Quarter is best explored on foot – something that could be exasperating to the first-time visitor as the sidewalks have either become parking lots for motorbikes or al fresco dining settings for food stalls. When we got tired from all the walking, however, we would just check in at any of the numerous cafes and restaurants scattered all over this part of Hanoi.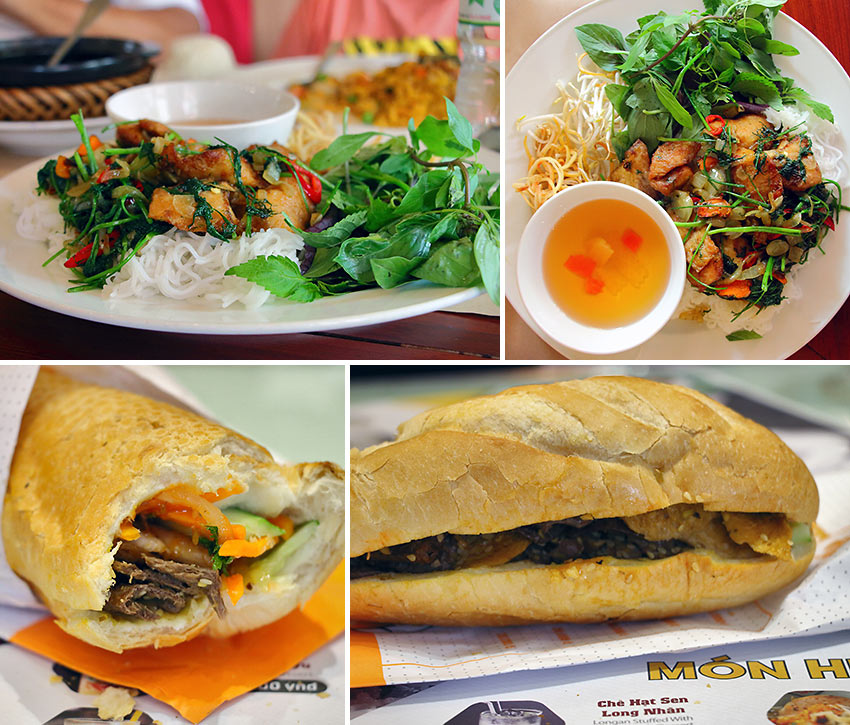 A stroll along any of the streets at the Old Quarter is like a virtual food tour – or a shopping expedition (more on that below). Vietnamese cuisine is one of our favorites and we welcome any visit to Vietnam if only to dine on local fare. As the former capital of French Indochina and because of its proximity to China, Hanoi's cuisine (and northern Vietnam's as well) is significantly influenced by French and Chinese cooking.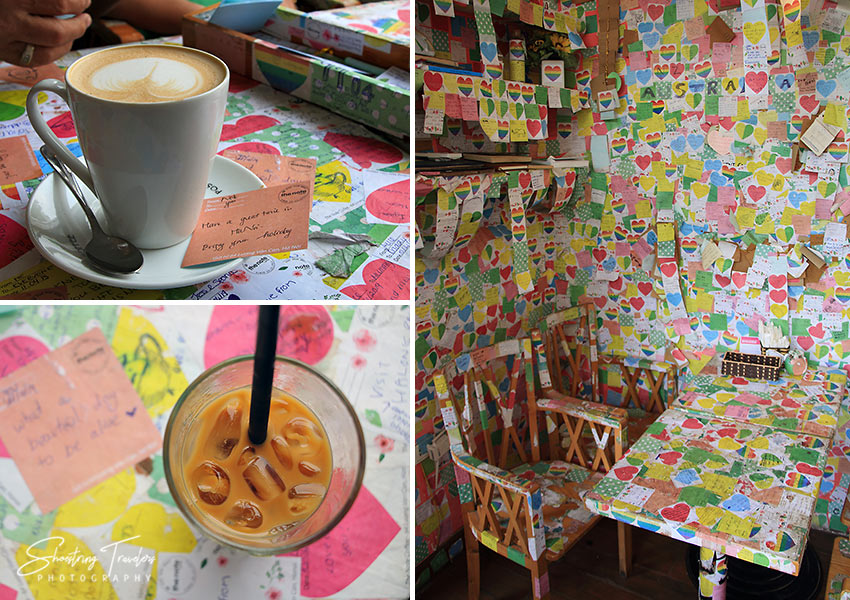 We're also raving fans of Vietnamese coffee. In the past we craved their iced coffee (cafe sua da) made using a strong brew poured over a tall glass of ice and with plenty of condensed milk. Nowadays we go for variants using little or no sweetening but on this tour we tried out the egg coffee and coconut latte which our tour guide in Ha Long Bay recommended. A particularly interesting café located along the northern shores of Hoan Kiem Lake, The Note Coffee offers both coffee variants. The café is named for colorful post-it notes that patrons stamp on the café's walls and table tops. We weren't able to sample the notorious and expensive but exquisite civet coffee, however.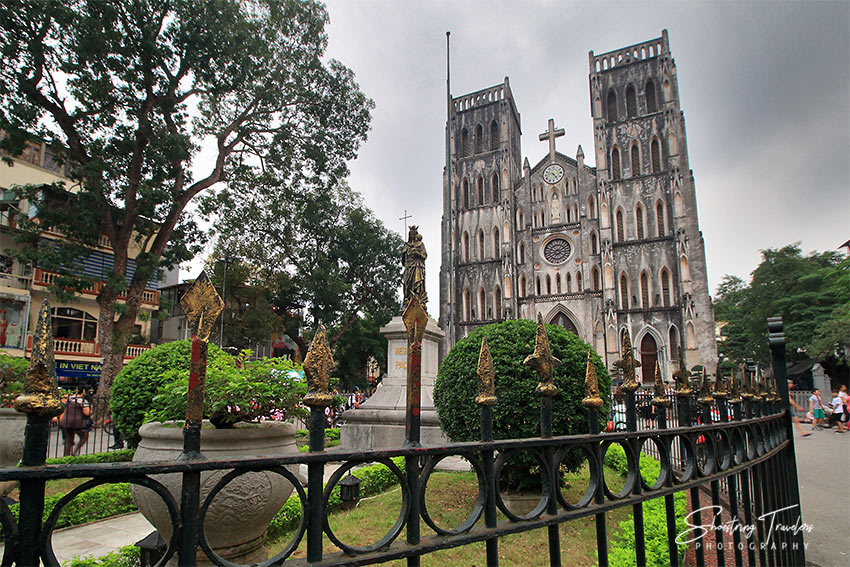 Besides the colonial buildings, another remnant of French colonial rule in the Old Quarter is St. Joseph's Cathedral, actually one of the first buildings constructed by the French colonial government in Vietnam. The Neo-Gothic style cathedral is one of the more recognizable landmarks in the city and was an easy walk from our hotel.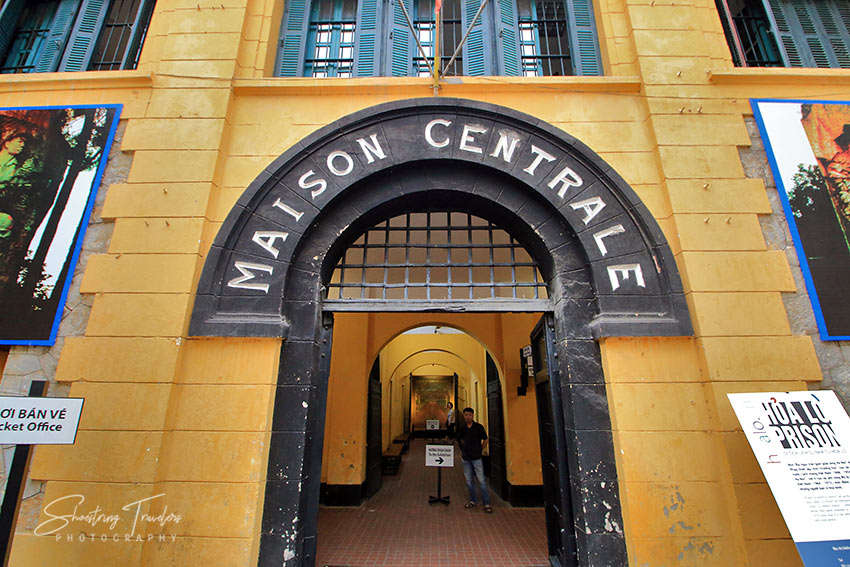 A little bit farther away and east of the southern end of Hoan Kiem Lake is a more notorious reminder of French colonial rule – the Hoa Loa Prison Museum. The museum is a surviving section of a 19th century prison that the French built to detain Vietnamese revolutionary firebrands up to the 1950s. The Vietnam War brought a different dynamic to Hoa Loa when the North Vietnamese used it to incarcerate downed American pilots, including the late Sen. John McCain. (This prison is the famous Hanoi Hilton of the Vietnam War.)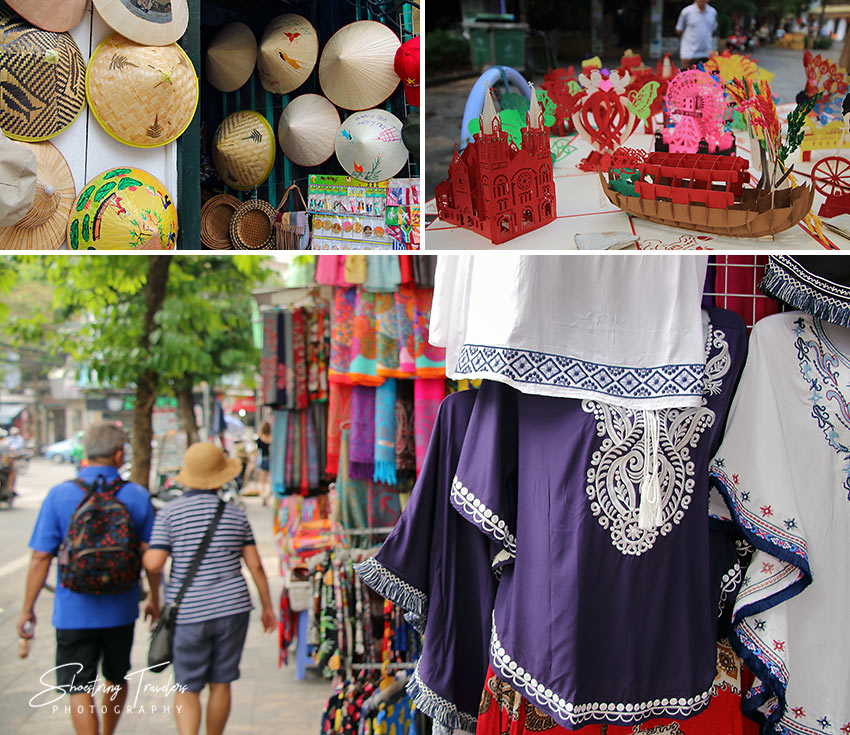 Centuries ago, streets and alleyways thriving with hawker stalls at the Old Quarter have been named for specific trades. Some shops and stalls plying these trades are still there. However, Hanoi has become more of a tourist shopping mecca in recent years, selling practically everything under the sun. At the labyrinth of shops and stalls souvenirs may be found side by side with local products and export overruns at bargain prices. Some of the streets around Hoan Kiem Lake are closed off to traffic during Friday evenings and weekends which allowed us to do more shopping and sample more local street food. (In Vietnam street food can be as good as or even better than food in restaurants.)
Many writers will tell you that a visit to the Old Quarter is a must for any first-time visitor to Hanoi. We would say it's a must for any first-time visitor to Vietnam.