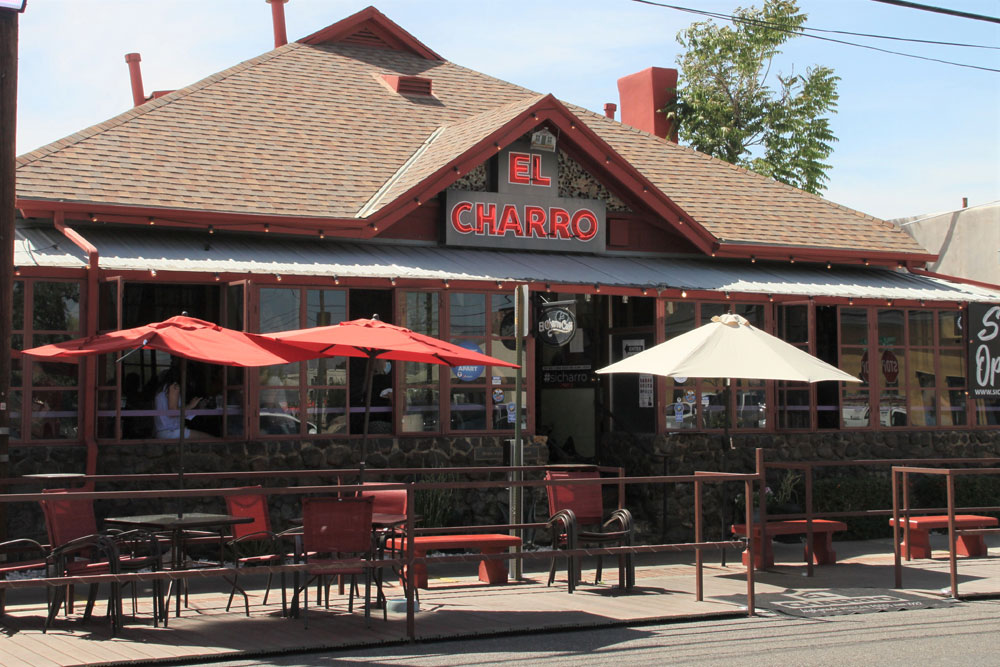 El Charro Cafe has existed in Tucson since its founding in 1922. Photo courtesy of Deb Roskamp.
Owner Marques Flores marched around our table pointing out historic dishes on El Charro Café's menu. "Order these three items and it will be like eating at my own home." Who was I to disagree for authentic is what I desired, and the café was already overwhelmed with tantalizing fragrances of the day's cooking. Mr. Flores is the great grandnephew of El Charro Café founder, Monica Flin. Known among friends and families as Tia Monica, she established the iconic El Charro Café in 1922, making it the oldest Mexican restaurant in continuous operation by the same family in the U.S.
I should add, the style of cooking is actually referred to as Arizona-Sonoran Cuisine with a Tucson interpretation. Tucson itself; the first city in the U.S. to be honored with the Capital of Gastronomy designation by UNESCO Creative Cities.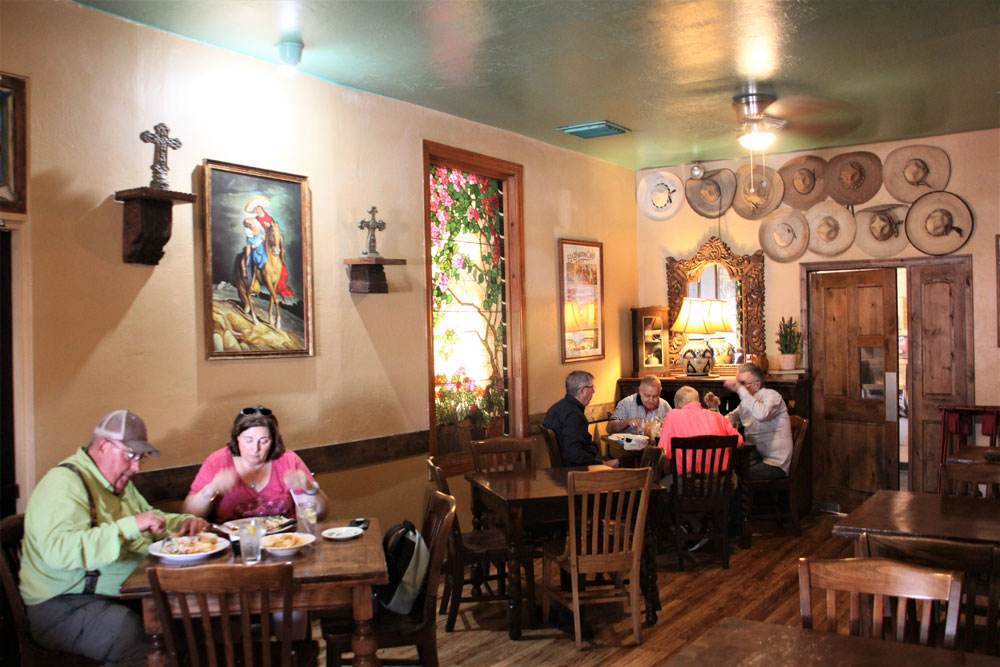 Happy diners at El Charro Cafe, a mix of tourists and locals. Photo courtesy of Deb Roskamp.
But why Tucson? Jonathan Mabry, historic preservation officer for the City of Tucson, thinks he may have the answer.
"It all starts with our deep and multicultural food history. There's so much innovation in all parts of our food system, including sustainable agriculture and ranching, plus the development of an innovative urban agriculture scene. For example, Tucson amended our land use code to make it easier to do agriculture within city limits and to sell those products."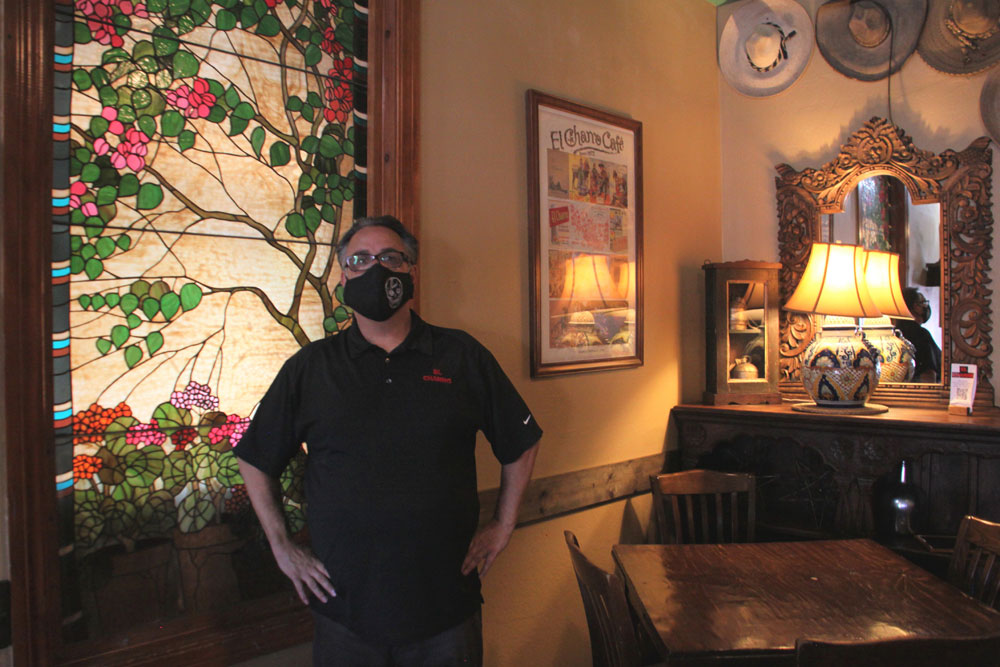 Owner Marques Flores, the great grandson of Tia Monica. Photo courtesy of Deb Roskamp.
The story of El Charro Café
Tia Monica arrived in Tucson via France in the 1800s, when her father Jules, a famous stone mason, was commissioned to build the city's pristine St. Aug ustine Cathedral. Jules, whose signature work can be seen throughout Tucson's Historic District, also built the family's residence in 1896, which is where the original downtown El Charro Café first sat. Today, the flagship El Charro Café rest across the street from the Presidio San Agustín del Tucsón, the original fortress built by Spanish soldiers during the 18th century, the founding structure of what became the city of Tucson. It's an essential stop before or after lunch at El Charro Café.
Our lunch was soon on our wooden table in the warmly decorated dining room, surrounded by family photographs, paintings, colorful hats, and historic fixtures. The diners consisted of in-the-know Tucsonan locals and tourists alike.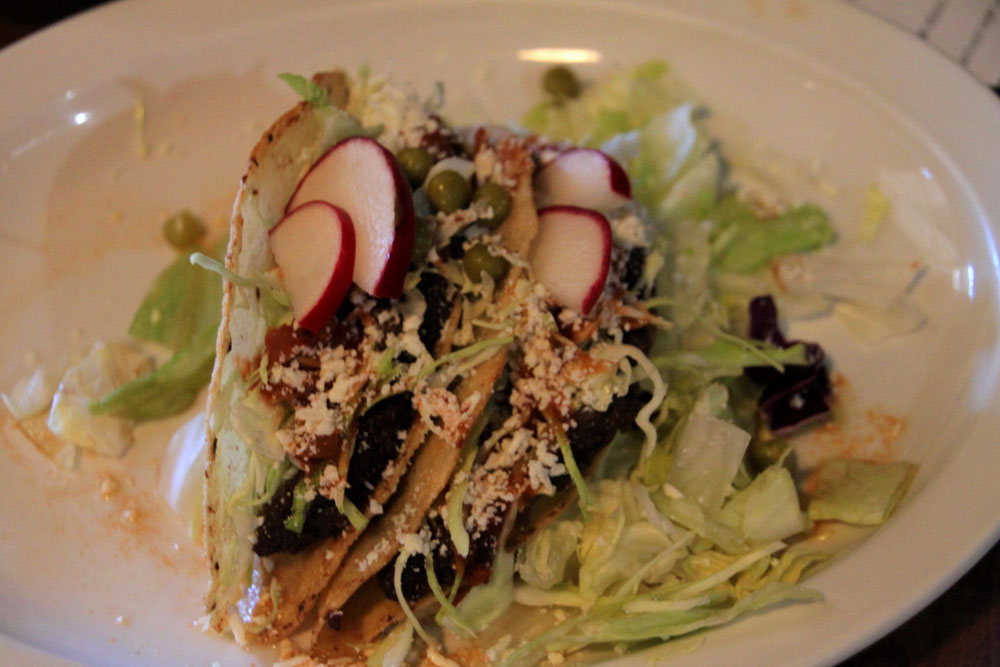 El Charro Taco. Photo courtesy of Deb Roskamp.
First up: ORIGINAL "CHARRO STYLE" BEEF TACO
In 1922, when Tia Mónica started, there was only one way to make a taco: form a carne seca beef patty, fold it in a tortilla and fry it in a pan, garnish with peas, radishes, and Mexican cheese.
Carne seca ("dried meat" in Spanish) is akin to jerky, where drying strips of venison and buffalo was a common preservation method in the arid borderlands before the arrival of the Spanish. But the new settlers brought their own similar technology along with domesticated cattle. To keep beef beyond the day of butchering, the Tucson pioneers dehydrated it in thin slices, which they then brought back to life by boiling, dry-baking and pulverizing. The carne seca tacos served at our table had a bit of snap, crackle and pop, which my tablemates did not appreciate. For me, it was divine.
Carne Seca Recipe
Serves: 8 to 10
Ingredients
3-pound eye of round or boneless shoulder chuck roast
3 tablespoons vinegar, preferably white
1 tablespoon salt
2 teaspoons fresh-ground black pepper
10 garlic doves, sliced
1 tablespoon ground dried mild red chile, preferably ancho, New Mexican, or Anaheim
8 cups water
Juice of 2 limes
1 tablespoon ground dried mild red chile, preferably ancho, New Mexican, or Anaheim
1 teaspoon salt
1 teaspoon fresh-ground black pepper
¼ cup vegetable oil
1 medium onion, chopped
¾ cup chopped roasted mild green chiles, preferably poblano, New Mexican, or Anaheim, fresh or frozen
2 small tomatoes, preferably Roma or Italian plum, chopped
4 garlic cloves, minced
1 teaspoon dried oregano, preferably Mexican
Salt to taste (optional)
Lime wedges, for garnish
Gourmet Magazine named El Charro Café, "One of America's 21 Most Legendary Restaurants."
BIRTHPLACE OF THE CHIMICHANGA
No city wants to be more associated with the Chimichanga than Tucson. The city's tourism office actually published an ad in the nationally circulated Food & Wine magazine, inviting Americans to visit Tucson, "home of the chimichanga."
Chimichanga, or "chimi," has achieved cult-like status in Tucson where residents take their chimis very seriously and prefer large, overstuffed versions. Every restaurant and eatery have its own version of this favorite dish. But many consider El Charro Café's the best and most authentic. – Source: Food Timeline.
Family legend says that Monica Flin in 1928 accidentally dropped a stuffed beef burrito in a pot of boiling oil. She immediately shouted some profane expletives, but noticed younger family members in the kitchen, and abruptly changed the swear word to "chimichanga," the Spanish equivalent of "thingamagig."
There is no doubt that Tia Monica knew how to tap into her own creativity and quickly adapt in the kitchen. It was those skills that propelled the success of subsequent family owners. I've noticed many famous dishes were created by mistake, i.e., dried cornflakes, crepes suzette and even popsicles.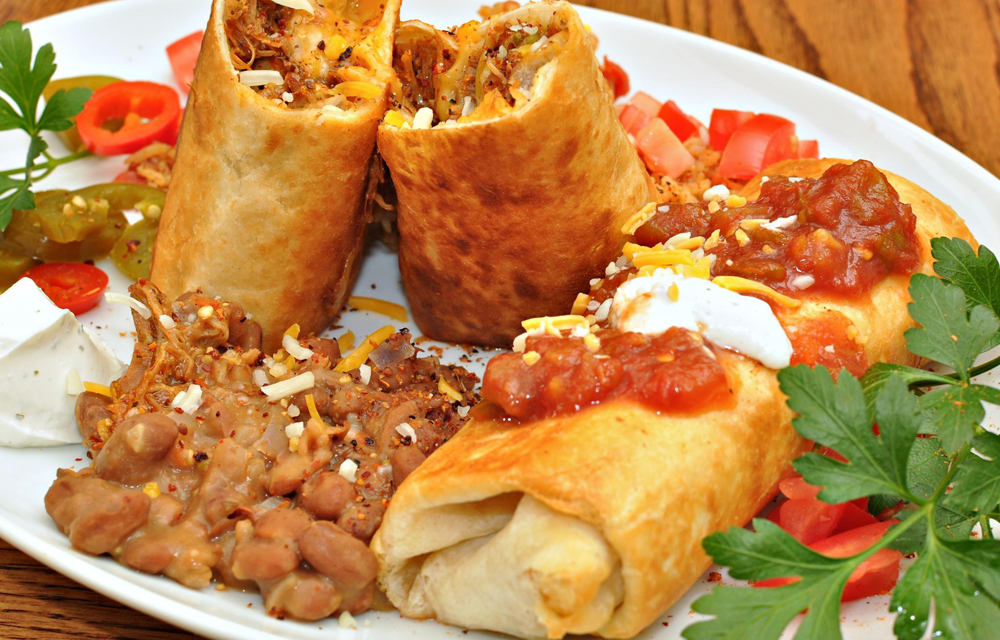 Chimichanga. Photo courtesy Wikimedia Commons
El Charro Café's Chimichanga Recipe
Serves 6
Ingredients
Tortillas
6 flour tortillas (12 to 14 inches)
Filling
About 1 1/2 quarts salad oil
2 firm-ripe avocados (about 1/2 pound each)
2 tablespoons lime juice
1 (16 ounce) can red chili or enchilada sauce
3 cups shredded lettuce (iceberg and/or romaine) and/or red cabbage
2 cups (about 1/2 pound) shredded jack and/or Cheddar cheese
Sour cream
Tomato or fruit salsa
Instructions
Lay 1 tortilla flat. Fold 1/3 up over center. Spoon 1/6 of the filling across the doubled portion, leaving a 2-inch border at each end. Roll tortilla once, fold in ends, then roll snugly to enclose filling. Secure seam with toothpicks. Repeat to fill remaining tortillas.
In a 5- to 6-quart pan (at least 10 inches wide) or 14-inch wok over high heat, bring about 1 inch oil to 360 degrees, adjust heat to maintain temperature.
Using a wide metal spatula, lower 1 chimichanga at a time into hot oil, filling pan without crowding. Fry until golden on all sides, turning occasionally, 6 to 8 minutes total per chimi. Transfer to a towel-lined 10- x 15-inch pan. Keep warm in a 225 degree F oven. Repeat to fry remaining chimichangas.
Meanwhile, peel, pit, and thinly slice avocados. Moisten slices with lime juice. In a 1- to 11/2-quart pan over medium heat, warm chili sauce; pour into a small bowl.
Line a platter or plates with lettuce. Remove toothpicks from chimis and place, seam down, on lettuce. Sprinkle chimis evenly with 1 cup cheese and garnish with avocado. Serve with remaining cheese and the chili sauce, sour cream, and salsa, to taste.
As we finished our meal, Marques Flores explained that Tia Monica was the coolest, strongest person in the family. If there were obstacles, she conquered it. She demonstrated courage, determination, and a love of food. All these characteristics have been inherited and perfected by the three generations of her family, making El Charro Café a mandatory food-heaven pilgrimage when visiting Tucson.
Visit El Charro Café – Regular Menu