Raoul's 2 Cents
Events That Led to Good Friday
(If you are not into spiritual things, I don't want to offend you so please skip this article. I'll see you next week.)
As it often happens, a familiar passage in the Bible gave me profound new understanding. The first letter of the apostle John teaches about authentic love. And this kind of love (even for one's enemies) comes from Jesus Christ. Near the end of the chapter John shared the main reason for his letter in Chapter 5, verse 13. The passage contains these words: "so that you will know."
I AM HE
Why did John need to explain? Wasn't it obvious? Then it dawned on me. There had/has been so much confusion regarding Jesus (then and now) and John wanted to set the record straight about his eye witness testimony. John wrote that letter so that we, who read his words, will know that Jesus is the Son of God. If you think about it, Jesus had the darndest time explaining who he was throughout his earthly life.
His virgin birth, was done in secret. Only Mary (not even Jospeh) knew for sure that she had never slept with any man when she was pregnant with Jesus. Later, throughout his ministry, Jesus openly explained he was the son of God. He demonstrated miracles to prove it. Yet even Judas who had witnessed the miracles along with the 11 other disciples did not believe. Belief does not come easy.
PARABLE OF THE VINEYARD
Jesus told the parable of the owner of a vineyard who rented out his land to tenants in Luke 20:9. When it was harvest time, he sent servants to collect his share. However, one by one the tenants beat the slaves who returned empty handed. Finally the owner decided to send his precious son "for surely the tenants will respect him." Instead, the tenants, not only tortured, but murdered the son.
The Pharisees, like Judas, had witnessed many miracles but when they heard that parable, they wanted to kill Jesus that very moment because they knew Jesus was talking about them. I'm sure you know of people like this.
BLOODY FRIDAY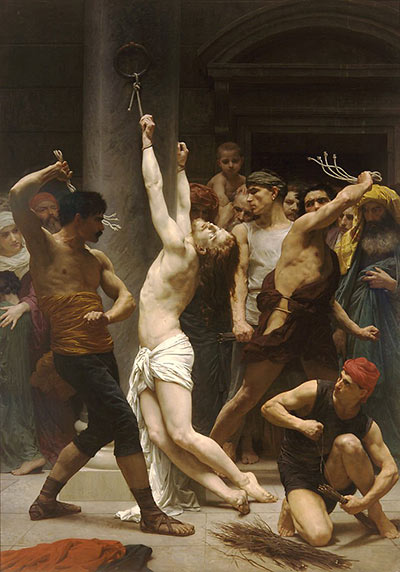 Good Friday is a solemn day for Christiandom. It was on this day more than 2,000 years ago in the Middle East that Jesus was arrested in the early morning. The Roman guards thrusted needle-sharp thorns on his head, mocked him, beat him up, made him carry his own cross while the muscles on his back were exposed after being whiped 39 times with the infamous "cat of nine tails." The Roman goons hammered him down to his cross (completely naked) with three nails and there he bled for 6 long and painful hours. The Pharisees (the politicians of that day) were pleased. History will blame the Romans, movie posters will show the evil Romans… but not the real masterminds.
That horrific day, the downcast believers doubted Jesus was the son of God. They grossly underestimated the power of the Creator of the galaxy of stars. But that all changed 3 days later Jesus resurrected from the grave and walked beside them and stayed with them for several days.
Sadly … predictably, even after the Resurrection, the Pharisees refused to think beyond their power and wealth and instructed the guards of the empty tomb to spread fake news (Mattew 28:13). "Start spreading word that the disciples stole the body," they commanded.
CONCLUSION
Present as many hard evidence as you like, but there are people who will never believe. After all, it isn't proof but the Holy Spirit who changes people. Who is Jesus to you? Why do you believe in historical records yet choose to dismiss the Bible which has more external evidence than any of the historical books? Is it unreliable because it was penned by human hands? Is it too simple? Too complex? What's your excuse? Do you say you believe in the Bible yet have only read excerpts of it? How do you expect to sort fact from fiction? You're missing out on a many blessings if you've never read the Bible. If you find it confusing, visit a Bible believing church. Or you can ask me and I will see if I can help.
Thank God for Good Friday. We call it "Good" because it was the day Jesus completed his mission to open a path to salvation successfully. This is what I believe but of course this is just me.
"These things I have written to you who believe in the name of the Son of God [which represents all that Jesus Christ is and does], so that you will know [with settled and absolute knowledge] that you [already] have eternal life.."
— 1 John 5:13
EXPLANATION FOR YOUR MISSING EDITION LAST WEEK
I apologize for skipping last week's TGIF Joke. I was very sick. A temporary doctor had prescribed 4x my usual medication. I got so weak and nauseous that my wife had to drive me the hospital where I went through a battery of tests. The ER doctor realized the mistake and gave me a new prescription. I'm still weak but feeling so much better. I know full well why they call their work a PRACTICE and why I am called to be PATIENT.
Please pray for a full recovery. Thank you.