Your Guide to Experiencing Oktoberfest and Its Historical Roots, One Stein at a Time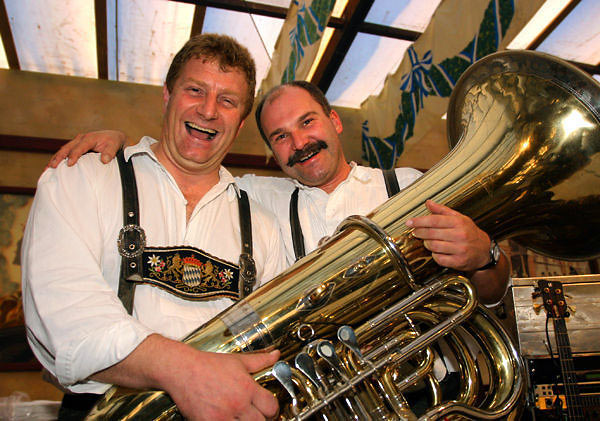 Oktoberfest is celebrated around the world, but only in Germany can you return to the original source of the world's largest Volkfest. You've travelled for the live music, traditional costumes, parades and sheer joy of festival revelers. But after the Oktoberfest festival running from September 16 – October 3, it is possible to trace the festival's historical roots while exploring Munich, and a side-trip to majestic Berchtesgaden, where the festival is very much an important part of Bavarian culture and heritage.
When in Munich
Celebrate Oktoberfest in style and get into your best traditional costume. The Bavarian wear is identified as "Tracht." For women, the Bavarian dress is known as a dirndl and for a man you can outfit yourself in a pair of lederhosen. Our recommended shop in Munich, is the Angermaier, in business for over 60 years and specializing in traditional Bavarian costumes.
After enjoying the German Oompah at Oktoberfest in your traditional costumes, visit the Bavarian National Museum to learn about art, history, theatre and more. The museum is divided into two main groups: the art historical collection and the folklore collection.
Travel to the southern suburbs of Munich and find the must-see beer garden, the Waldwirtschaft (a.k.a WA-WI). Here you can find an outdoor space in the jazz beer garden and traditional food stalls to enjoy.
Where to stay
Hotel Vier Jahreszeiten Kempinski Munich, centrally located in the heart of Munich, is the ideal place to stay to make the most of the vibrant city during Oktoberfest. The hotel offers guests a range of luxury room and suite types. Guests can indulge in the luxury spa, a swimming pool as well as the breathtaking view over the rooftops of Munich.
Unwind at hotel's Old-World lobby bar that offers calm, intimacy and elegance. The refuge sits outside the chic Maximilianstrasse, one of the city's four royal avenues.  (source: www.boldmagainze.com)
Not to be missed
There is a saying that sausages should not be allowed to hear the chime of the church bells. The infamous Weisswurst (literally white sausage) are prepared in the morning and eaten as a snack between breakfast and lunch, a.k.a "the morning sausage."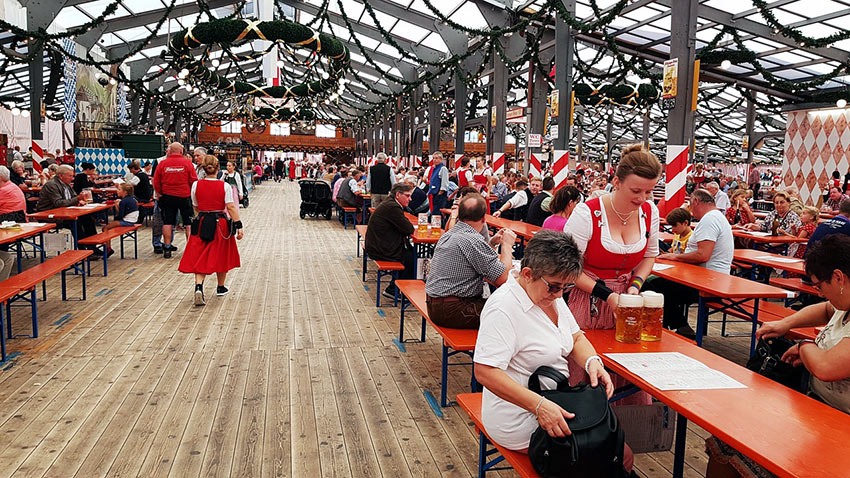 Oktoberfest beer facts
Bavaria's purity requirements, a regulation since the 16th century, decreed by Duke William IV. In 1516 deemed only water, hops and barley should be used in Bavarian beer.
The six breweries are Paulaner, Spaten, Löwenbräu, Augustiner, Hofbräu and Hacker-Pschorr.
The oldest Munich brewery is Augustiner, founded in 1328.
The festival has served about 7.3 million litres of beer; that is enough to fill almost three Olympic-size pools.
About 500-600 passports are routinely lost at the festival.
When in the Berchtesgaden
Pack your lederhosens and leave the German Oompah behind for the Bavarian Alps. The spirit of Oktoberfest can be felt in all corners of Germany. This is the place to retreat from the crowds and experience alpine towns, stunning mountains and beautiful vistas.
Enjoy lunch at the not-as-crowded Bier Hall, Hofbräuhaus Berchtesgaden. The Bier Hall was founded in 1645, by Fustpropst Ferdinand, Duke of Bavaria.
The unmatched view from the Eagle's nest, now a beer garden that was Hitler's 50th birthday present.
Where to stay
Kempinski Hotel Berchtesgaden. A unique blend of five-star luxury, Bavarian style, warmth and recreational activities make the property one of the most special locations in the Bavarian locations in the Bavarian Alps. Here, 1000 m high in the mountains, guests can relax, unwind and enjoy being close to nature.
Not to be missed tips from Manuel Huber, Activity Concierge at the Kempinski Hotel Berchtesgaden
Within a few minute's drive, guests at Kempinski Hotel Berchtesgaden can reach the crystal-clear, emerald green Königssee lake surrounded by its fairy-tale mountain scenery.
A hiking tour from Maria Gern to the Kneifelspitze.
The festivities centred around the Markletplatz (market square) in Berchtesgaden during Oktoberfest.
How to See San Francisco Without Spending a Fortune
It's important to visit San Francisco on a budget. As with most tourist meccas, San Francisco offers plenty of easy ways to pay big money for things that won't really enhance your experience. Consider some budget travel planning tips.
"The coldest winter I ever spent was a summer in San Francisco" is a quote attributed erroneously to Mark Twain.
Cliche? Yes.
Completely false? Not really. A common saying is that San Francisco has three seasons: winter, summer and fog. August days are frequently chilly and foggy. Even Independence Day fireworks are sometimes obscured in cloud cover. The incredible variety of terrain in this region makes for "micro climates" that can literally make major differences within a few miles of one another. Autumn is a nice time to visit, and winters are mild. No matter when you visit, pack a jacket or sweater. Many first-timers misjudge the climactic challenges — one of eight common mistakes made by San Francisco visitors.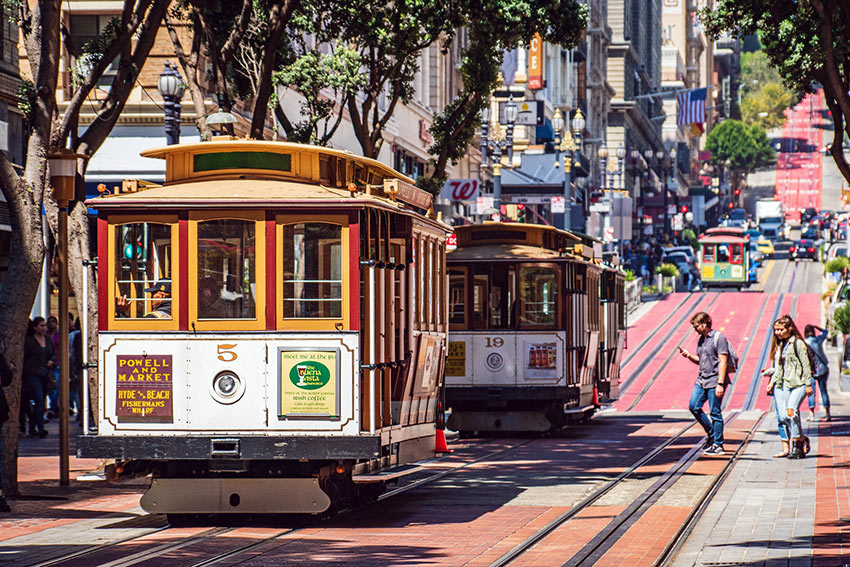 Where to Eat:
San Francisco offers quite a few budget menus and moderately priced eateries to its visitors. Go to SFGate.com and check out their Top 100 restaurants. About 20 of those selections are budget-oriented eateries. General advice: Chinese food is very good here, and tends to be less expensive than other choices.
For a splurge, consider Pesce, a romantic restaurant at 2223 Market Street. Despite the fact that it is considered one of the city's best restaurants, entrees are under $20 here.
Where to Stay:
This has long been a city that attracted younger visitors, and it has a network of hostels. Beds typically cost $25-$35/night and sometimes include breakfast.
If you seek a hotel room, there are also great budget properties where you can quickly find convenient connections to mass transit and area attractions.
Four-star hotel worth checking for specials: Argonaut Hotel at Fisherman's Wharf frequently is too costly for a budget visit, but they bundle travel products and sometimes offer lower rates than you might expect for such a prime location.
Airbnb.com offers some accommodation in the city, but sometimes provides a wider variety of choices outside of San Francisco in places like Sausalito in Marin County to the north, or Berkeley, home of the University of California. Both of these places are also fine locations for some on-foot exploration if you need a break from the city.
Getting Around:
From the airport, connect with Air Train for connections into San Francisco or San Jose. Bay Area Rapid Transit (known as BART) covers the region. Tickets act like debit cards and fares are based on distance traveled. Unfortunately, that means BART does not sell all-day, unlimited travel passes as you find in other large cities. But they do offer some huge discounts. For example: persons with disabilities, Medicare cardholders and those 5 to 12 years or over 65 pay far less than the standard fares.
Look for the Red and Green Ticket options. Children under 4 ride free. You can plan your travel and budget for the cost with an online calculator. BART provides service to both San Francisco (SFO) and Oakland (OAK) airports.
Bay Area Attractions:
San Francisco Walking Tours provides free guides for exploring more than 70 areas. Although free, please tip your guide at the end of the tour and help support this non-profit organization. A City Pass allows admissions, cable car rides and bay cruises.
The former island prison known as Alcatraz is the single most popular attraction here. There is no admission fee (Alcatraz is operated by the National Park Service) but getting to the island involves buying a ferry ticket. The Union Square and Fisherman's Wharf areas are also visitor favorites. Shop carefully for Alcatraz excursions: There are a variety of companies that offer this tour, and many will combine it with Muir Woods, Angel Island, or any number of other places at a variety of prices.
Beyond the Bay:
Muir Woods National Monument just north of the city features a stand of coastal redwood trees. Admission is free for those under 16 years of age, and modest for everyone else. Further north, the Napa and Sonoma valleys are renowned for their wine industries. To the south of the bay, Monterrey and Carmel offer scenic coastal views such as the 17-mile drive. Further afield, you can visit Yosemite National Park in less than a day's drive, but it's probably better to stop there on your way in or out of the Bay Area. Day trips from San Francisco can be rushed and expensive.
Unique San Francisco Experiences not to be Missed:
First visit? Don't miss taking a cable car ride. Here's an experience that's vintage San Francisco and relatively inexpensive. Tickets can be purchased on board or at street kiosks. To avoid long waits in the summer, try the the California St. line, which runs east-west from Market and California to Van Ness Ave.
The best view of San Francisco could be at Twin Peaks: From 17th and Clayton Streets, go south on Clayton and then veer to the right at Twin Peaks Blvd. You can also pick up northbound Twin Peaks from Portola Drive. Follow it upward and you'll get a sweeping view. It is often breezy and cool here, and summer fog can obscure the great view. But when it's clear, it's a free attraction!
Jazz and Japanese food: sound like an unlikely combination? Not at Yoshi's on Oakland's Jack London Square. Many single show tickets are less than $30. Some reviewers say this is the best jazz on the West Coast.
How about a walk across the Golden Gate Bridge? Only fog can spoil the magnificent views from the deck of this engineering masterpiece. Many people drive across the bridge without being able to savor the views. Board buses #28 or #29, either of which stops right at the bridge toll plaza.
More about walking: As with all great cities, San Francisco has some fascinating neighborhoods that are best explored on foot. Best months: May and October.
Discounts and Savings Opportunities:
If you'll be spending several days here, consider the purchase of a GO San Francisco Card: This is a card you buy prior to your trip and then activate on first use. You can buy from one- to five-day cards (cost: $69-$155) good for free admission at dozens of local attractions. Design your itinerary before you consider a Go San Francisco purchase, to determine if the investment will save you money on admissions.
Two ways to buy discount theater tickets: Through TheatreBayArea.Org you can order discounted seats online for a variety of shows. You can also visit their Union Square office. Some shows are only available online while others are only available at Union Square. Some can be bought either place.