Abroad with Beverly Cohn
PART 1:  DAYS 1-2
Question:  How many trips should a travel writer take to Ireland?
Answer:  As many as you're lucky enough to receive.  Just as though I carried around a four-leaf clover in my wallet, I was invited by Tourism Ireland to participate in my fourth press trip to the Emerald Isle, this time to explore Ireland's Ancient East, an area that I had not covered before.
Flying to Ireland is now much easier as you fly directly to Dublin from LAX whereas before the gateway city was New York which meant flying out of JFK.  You had to disembark, retrieve your luggage, put it on a conveyer belt, and then catch the connecting flight. That route was stressful as there was always the possibility of missing your connection.  Now it's as easy as drinking a glass of their famous Guinness. The Aer Lingus flight crew couldn't be more cheerful, making the flight quite comfortable. The meeting place at Dublin Airport was in front of a large Yellow Sculpture in Terminal 2 Arrivals Hall.  Because of its imposing size, one simply could not miss the rendezvous point.  As is the Irish character, I was met by a smiling young man who whisked me away to the O'Callaghan Hotel, St. Stephens Green where I was able to get a good night's sleep before the official start of the press trip the next day.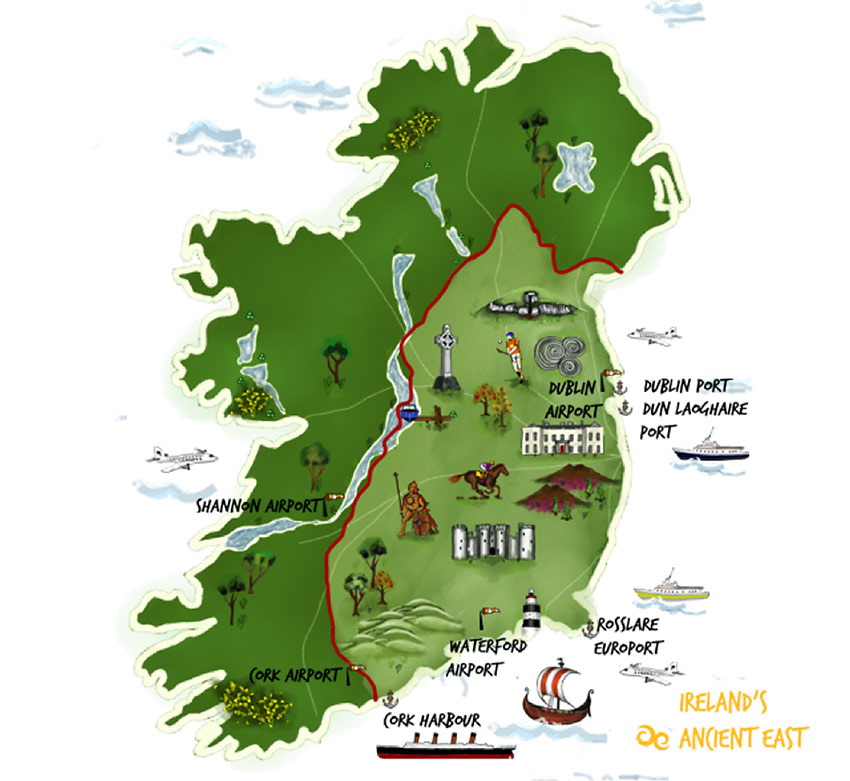 The theme of this trip was Great Houses, Castles and Gardens of Ireland's Ancient East, which stretches from County Monaghan, to the east of County Cork, excluding Dublin. It is the land where Stone Age astronomers harnessed the sun, where saints lived and died, where Vikings built cities, and Norman knights defended their castles.  Lords and Ladies lived in opulent splendor, while hardship forced many to flee or die.  Over the next few days we would visit historic sites and learn about seminal moments in Irish history.
DAY 1:  Bright and early the next morning, journalists from around the world converged in the hotel lobby to begin our adventure.  The countries represented included, Austria, The Netherlands, Germany, India, Denmark, Gulf States, Belgium, and Spain. I wanted to avoid discussing the dismal state of American politics, but Trump was the focus of many discussions.  "How could someone like that be elected president of the United States and leader of the Free World?"  All I could say that I was as dismayed as they were and begged them not to judge Americans harshly, reminding them that Hillary Clinton won the majority of votes.  Luckily, since there were so many astonishing experiences over the next few days, those discussions began to taper off and conversations centered on our experience du jour.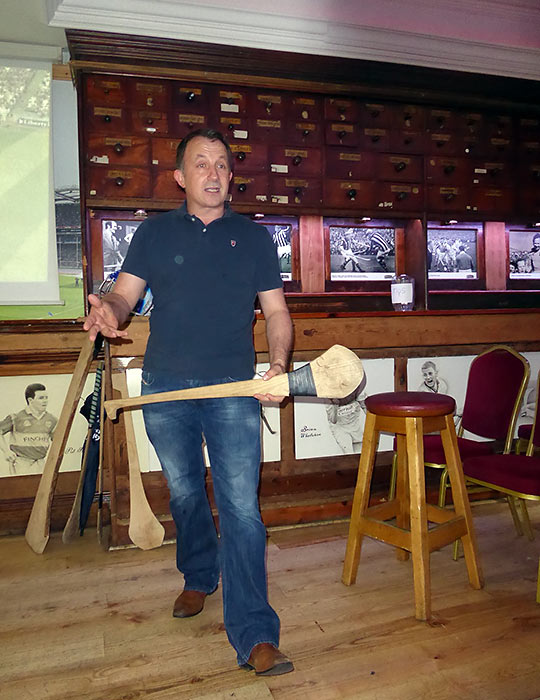 With Tanya and Rory as our guides, we were off in our van to Kilkenny.
During the drives from one destination to the next, Tanya would regale us with interesting factoids and Irish words such as "sláinte," which means cheers, or "craic" which means fun.  The official language is Irish so all government documents are in both Irish and English.  There is a reason the Irish countryside is so lush and that's because it rains a great deal but instead of referring to it as "rain," it is dubbed "liquid sunshine," a much more poetic definition.  Driving through the cities or countryside, one similarity is the sparkling windows and delicate lace curtains peeking through the shining windows.  It reminded me to call in a window washer as soon as I returned to California.
Our first stop was for lunch at the famous The Marble Bar but before food was served, P.J. Lanigan regaled us with stories about Ireland's national sport Hurling, an outdoor team game of ancient Gaelic and Irish origin.  Older than the recorded history of Ireland the game is thought to predate Christianity. The sport came to Ireland with the Celts and has been an Irish pastime for at least 2000 years, but has been legal only since 1984.  P.J., who is a member of the most successful team in Ireland, explained that every town and village has a Hurling Club and that you play where you were born. The game is overseen by the GAA (Gaelic Athletic Association,) which has a membership of 2,000 clubs. There is a similar game for women called Camogie.  Lanigan explained that Hurling is an international sport with 34 Hurling teams in New York and several in Santa Monica. With the sport being part of the Irish DNA, by age four, children are given baby Hurleys with which to begin to practice. Apparently, talks on Hurling are very popular tourist attractions so put The Marble Bar on your travel itinerary.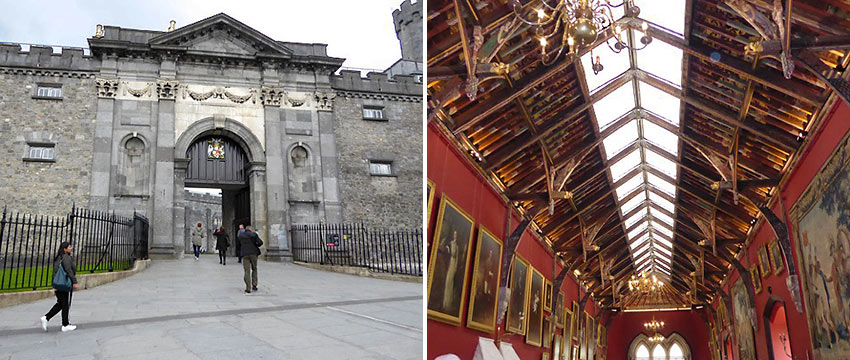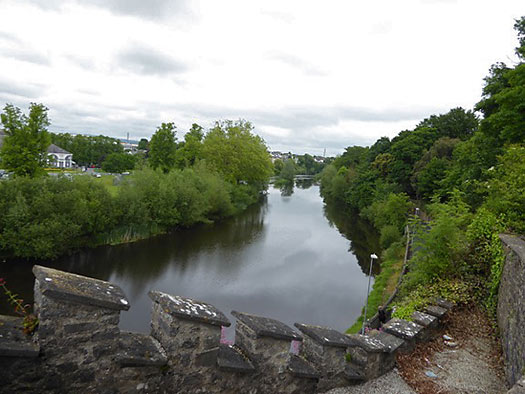 After a traditional Irish lunch, we were off to explore Kilkenny, once the medieval capital of Ireland and home to a collection of historic landmarks.  We were to see the sights of Kilkenny's Medieval Mile, beginning with Kilkenny Castle.  The original Anglo-Norman stone castle was built during the first decade of the 13th century.   Later, it became the principal Irish residence of the powerful Butler family for almost 600 years when in 1967 Arthur, 6th Marquess of Ormonde gave it to the people of Kilkenny for a token payment of (£)50.  The grounds are quite spectacular and offer perfect photo opportunities.  This sign of the times was posted:  Please Note:  The Use of Drones is Not Permitted at Kilkenny Castle.
To discover more of this city's hidden treasures, buy a Medieval Mile Pass for only €39. This will give you access to many sites and buried secrets in its 800-year history. Some of those sights include Kilkenny Castle, Rothe House, Medieval Mile Museum, and Smithwick's Experience. Also available is the Kilkenny Ghost Tour, which will introduce you to the resident ghosts or if you enjoy sight seeing by train, there is the Kilkenny Road Train Tours starting at only (£)8.  For you athletes, there is Golf, Footgolf, and Rugby Golf at Pockocke Golf Center.
Our day had been a fascinating one and much to our delight our next stop was to visit Smithwick's Ale Experience Visitor Centre.  This is the original site where beer was brewed from the 1700s until 2014.  Some of the original rooms involved in the brewing process has a hologram of a person giving pointers on the different aspects of the brewing process, ranging from grains, hops, yeast, water, fermentation, and equipment used in producing a "pint."  At the end of the tour, we were treated to a variety of beers all with distinctly different flavors.
Our exciting day was capped off by an equally exciting evening of music and dinner. Kyteler's Inn, Kilkenny's oldest pub, is famous for having its guests play the traditional Irish drum called the "Bodhran."  Those of us who were brave volunteered to be in the drum circle and before we started banging way in guided  patterns, it was explained to us that the legend of drumming dates back to the Celts, who would drum before going into battle.  This is a fun experience you definitely want to put on your Ireland vacation. Following drumming, dinner, lively conversations and a ton of "craic," we headed to The River Court Hotel where we would spend the night.  Tomorrow promised to be another packed day of adventures and a good night's sleep was of the utmost of importance.
DAY 2:  After a good night's rest and a delicious buffet breakfast, we were off to Jerpoint Park – Lost Town of St. Nicholas – located outside Thomastown, County Kilkenny.  Founded in the 12th century, this was once a bustling town, access to which was a toll bridge on the River Nore, the fastest running river in Europe.  The town was thought to have fourteen taverns, more than enough to quench the thirst of the inhabitants who lived in the 27 homes.  Power was generated by two water wheels servicing the courthouse, woolen mill, a tannery and a brewery.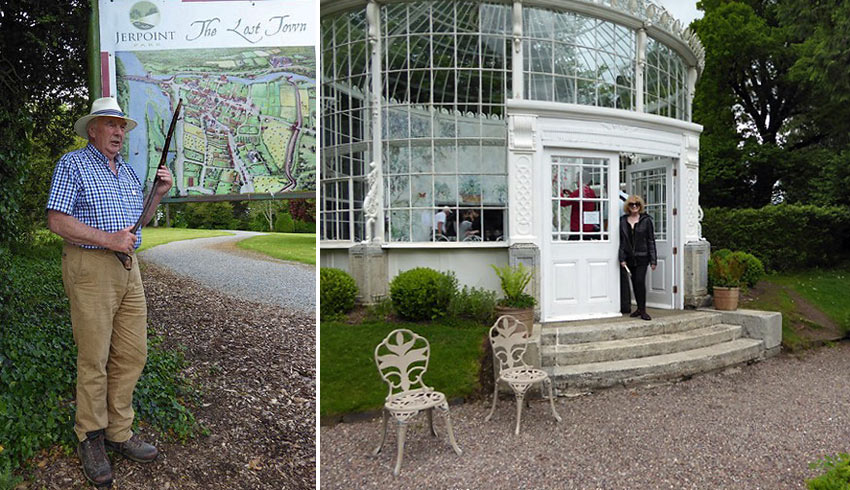 This historic site is managed by Maeve and her husband, a most entertaining 73-year-old Joe O'Connell, who served as our guide.  He had retired from his business but decided he didn't like not being busy, so he bought this property not knowing the hidden historic treasures he would eventually unearth.  As we wandered through the grounds, he regaled us with fascinating stories about the past. Aided in his walking with the use of a stick called a Shillelagh, he took us through the ancient cemetery pointing out the various graves where St. Nicholas, known as the patron saint of prostitutes, might be buried.  Joe also explained that for easy identification, the shape of each headstone was particular to each family.  This informative walk back in time was capped off by a fascinating demonstration of his award-winning sheep herding.  Joe's Sheepdog, a highly intelligent Border Collie, is trained to herd sheep and geese and understands Joe's multiple hand signals telling him which way to move the flock.  It's quite amazing to see how precisely in tune they are with each other.
After a sinfully sugary snack, we were off again, this time to Woodstock Gardens and Aboretum, in Kilkenny's Inistioge County.  The gardens date back to 1840 and have been almost totally restored to reflect that period.  Head gardener John Delaney walked us through this idyllic setting where we saw a walled garden, terraced garden, yew walk, Monkey Puzzle and Noble Fir Avenues, named for the plants and trees growing in those locations.  With a sudden downpour, it was fun to take refuge in one of the gardeners' sheds where the fragrant aromas from the plants and trees delighted our sense of smell.  When the rain finally subsided, we headed to the tearoom for a delicious snack and were off again.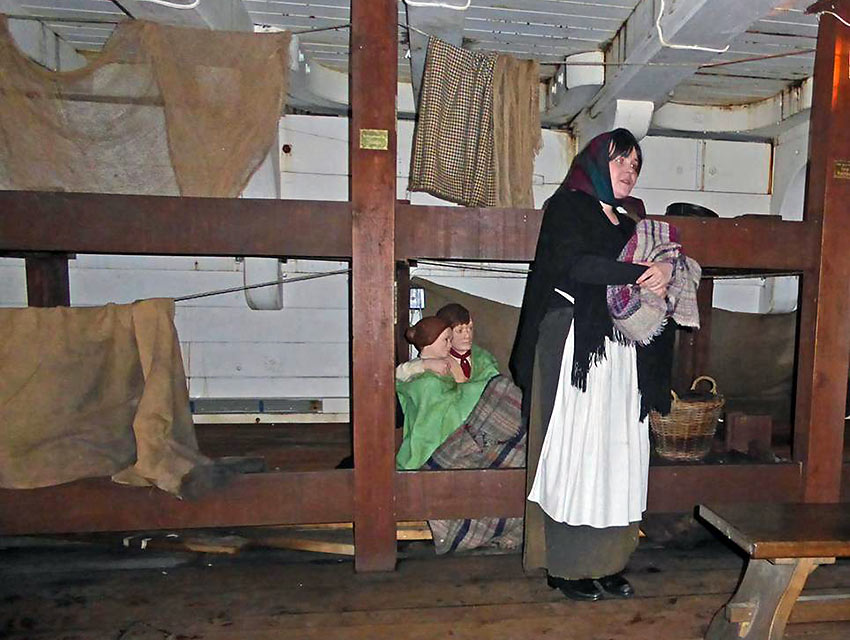 After a short drive, we arrived in New Ross, in County Wexford for our visit to the reconstructed Dunbrody Famine Ship or The Irish Emigrant Experience.  The cramped living quarters were difficult on the senses as it was damp with an unpleasant dank odor.  It was hard to imagine that about 200 people, filling 40 bunk beds, lived under those conditions for six to eight weeks. They were allowed topside only to cook and received three quarts of drinking water daily.  Many people died during the crossing due to the oppressive unsanitary conditions. The heart-breaking stories of famine were re-enacted by actors dressed in period costumes.  It did give one a sensory taste of what these people endured to get to America.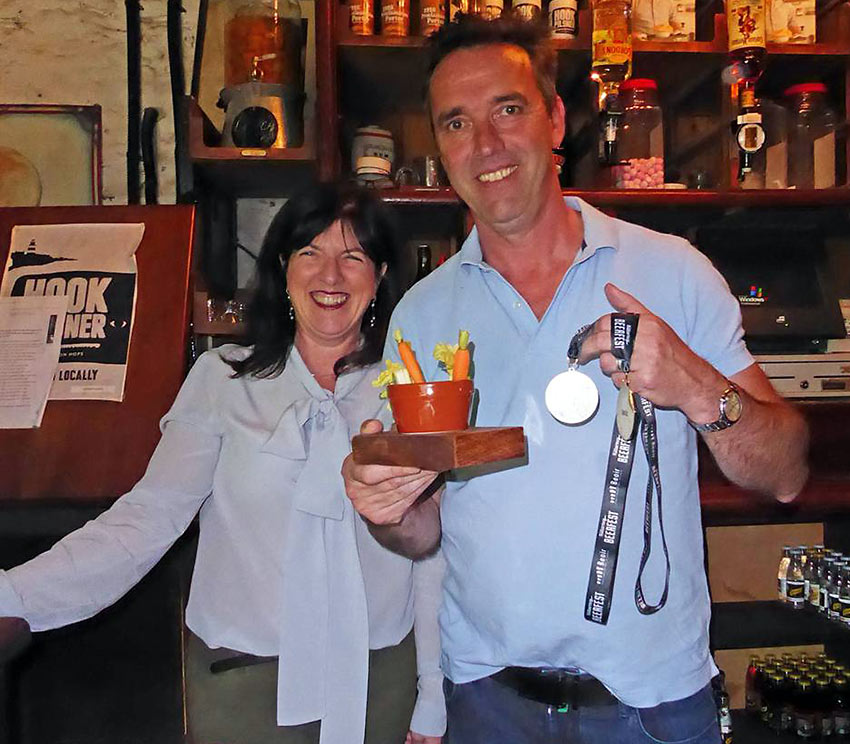 Life is about balance so we went from the tragically difficult to the wonderfully sublime as we were to have dinner at the luxurious 1830's Dunbrody Country House Hotel & Restaurant located in Dunbrody Park.  It is owned by Catherine and Celebrity MasterChef Kevin Dundon, who also runs the Dunbrody Cookery School.  The property is nestled on 300 acres of parklands on the Hook Peninsula.  Kevin is one of Ireland's most famous chefs and has been a guest on many television food shows around the world.  He prepared an outstanding meal for us consisting of pan-fried Kilmore Quay Scallops with citrus salad and garden herbs; roasted Rosé Veal Rib; and Braised Shoulder with port sauce with gratin dauphinois.  The meal was topped off with a garden rhubarb and vanilla rice pudding.  We ate, drank and were very merry and looked forward to the next day which promised more exciting adventures and more of Ireland's famous exquisite cuisine.
Stay tuned for Part 2 for more Ireland adventures including a visit to the famous Hook Lighthouse, two stunning gardens, and surprise revelations.