To travel in Mexico with Marina Aguirre de Samaniego, is to travel with a Google encyclopedia, a passionate, well-connected insider, and a caring mother hen. Marina in Mexico, the name of her seven-year-old specialty touring company, is a treasure and revelation in every way. Her knowledge and enthusiasm as your personal expert as well as her organizational skills as a near-personal tour operator are melded seamlessly into the half-dozen or so small-scale (and extremely value-oriented) tours she designs and leads.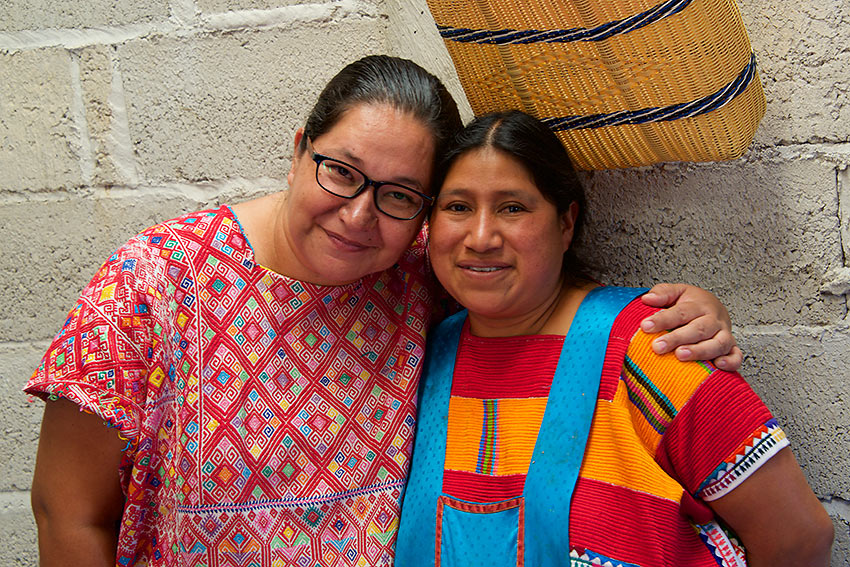 A highly educated ethno-historian and archaeologist, she received her Bachelor in Business Administration from the Instituto Tecnológico de Estudios Superiores de Monterrey; she first worked as a banker, before her true calling caused her to leave the business world.  She pursued a second Bachelor's in Anthropology with a specialty in Archaeology and also took her Master's in Ethnohistory, both from the Universidad Autónoma de Yucatán; ultimately, she got her Doctorate in History, awarded by the Centro de Investigación de Estudios Superiores en Antropología Social.
Marina's true love and her gift lay in the cultures of her native country and she revels in finding a way to share them with the world. Her contagious fervor for history and culture may well have filtered down to her from her grandfather, Porfirio Aguirre Dircio, a renowned archaeologist, who made the discovery of a remarkable turquoise-encrusted funeral mask, which was acquired by the Museo Nacional de Antropología in Mexico City; some dozen years ago, a scientific study was performed on the artifact and it was determined that the mask itself was likely from 300 AD and the decorative turquoise stones were likely added in 900 AD, cementing the validity of his find and his name.
Among other inspirations, it was her grandfather's appetite for knowledge regarding the Spanish traditions of 19th century Mexico and its history and culture that imbued her with her fervor; it was because of his influence, she says, that as a child, she painted her bedroom with a cosmos reflecting pre-Colombian art. She is quick to point out on her guided tours, the abundant, colorful murals, painted by artists who may not even be able to read. She underscores that their fiery spirit is entrenched in their artistic output and she tries to convey that zealousness to her groups. "It is very important to me to share this vibrant artwork, in these magical villages.  Art lives in people as well as in artifacts and I want to convey that concept on my tours — by experiencing historic city or village centers, going to charming restaurants, visiting private studios and artists' ateliers, and in every way we can, soaking up the local culture."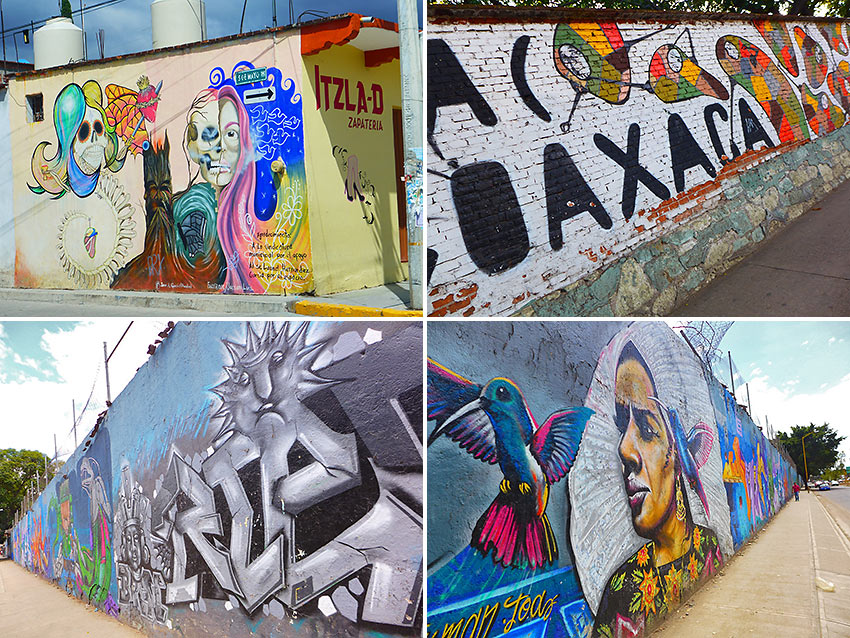 Marina says she has had hundreds of participants on her tours, and many, many are repeat customers, so enthralled are they with her insider-y and informative excursions and by her infectious warmth and kindness. With the tour size restricted to 16 (so that the group fits comfortably in a minivan, which is about as a large a vehicle as she and her driver like to take into small towns with narrow streets), the groups are intimate and collegial. And her journeys are priced extraordinarily reasonably, always including centrally located hotels (with breakfast—and the amenities that she knows are vital today, including Wifi) and some additional meals, transfers, museum admissions, and so on. Participants are free to dine most evenings on their own and, of course, gratuities and incidentals are not included.
"Wherever we went, Marina knew all the locals, even the mayor, and so you share a very welcoming experience, and you also travel to places where you are the only tourists!" So remarked Anne Frej, a veteran — along with her husband, Bill — of several of Marina's tours; the Frejs are seasoned global citizens, having lived overseas for nearly 30 years, while Bill was a diplomat working for the US Agency for International Development. As a veteran traveler, Anne's comments are all the more weighty, as she acknowledges what a special experience it is to travel with Marina. "Needless to say, in any foreign country, it's always best to travel with a native. Because Marina is both an anthropologist and a historian, and is knowledgeable and passionate about the cultures of Mexico, her commentary is rich and detailed. Additionally, she puts an enormous amount of effort into her trips, picking out ideally situated hotels, making perfect suggestions for restaurants, and taking the group to interesting artists' and craftsmen's workshops."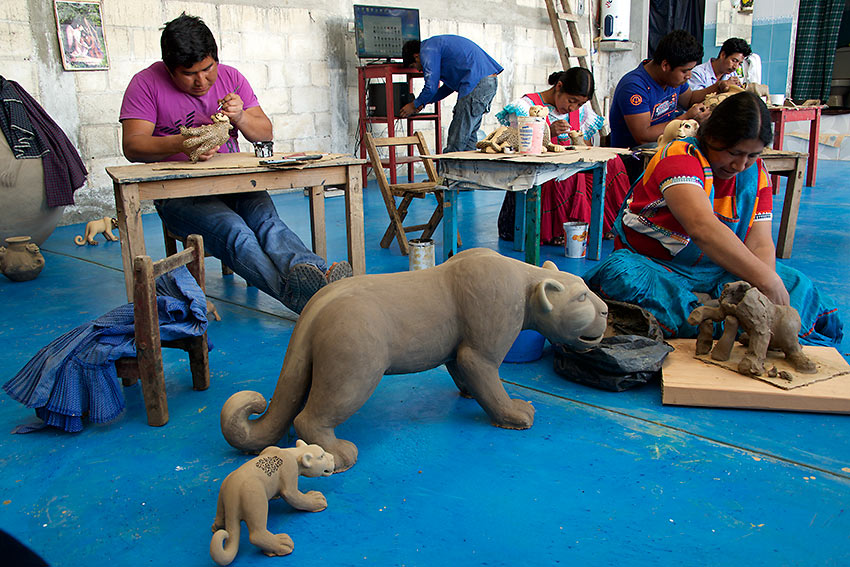 The Frejs will be taking off again with Marina in the fall, when she leads a trip specifically designed for the Museum of International Folk Art in Santa Fe, which is offering a singular journey, México Mágico: Magical Mexico City, created specifically for the Friends of the Folk Art. This is but one of Marina's custom-crafted excursions which she designs for groups with very particular interests — in addition to her regular offerings — working closely with an organization and catering to its members' unique interests. (Marina also does private tours for as few as four, or even two, people.) One such recent trip was for the Spanish Colonial Arts Society, which focused on architecture and church design.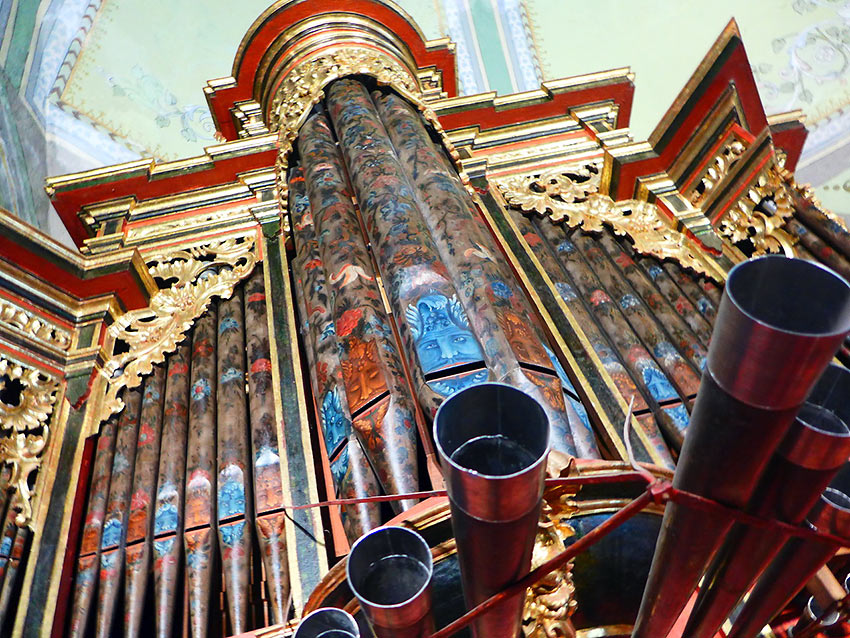 Monroe Warshaw, a New York City-based drawings dealer, recently did back-to-back trips with Marina and has signed up for yet another this fall. "Marina manages to time her trips to take in so many interesting, fascinating local festivals — like the Day of the Dead (Día de los Muertos) — in Oaxaca. It is a spectacular event, with the entire town remembering deceased loved ones, and characterized by joy, not sadness." Indeed, the Day of the Dead is a colorful, carnival-like happening, with residents preparing for it weeks ahead of time — with all of the town creating souvenirs, costumes, masks, and religious artifacts, for use in the festival parade, for sale, for show.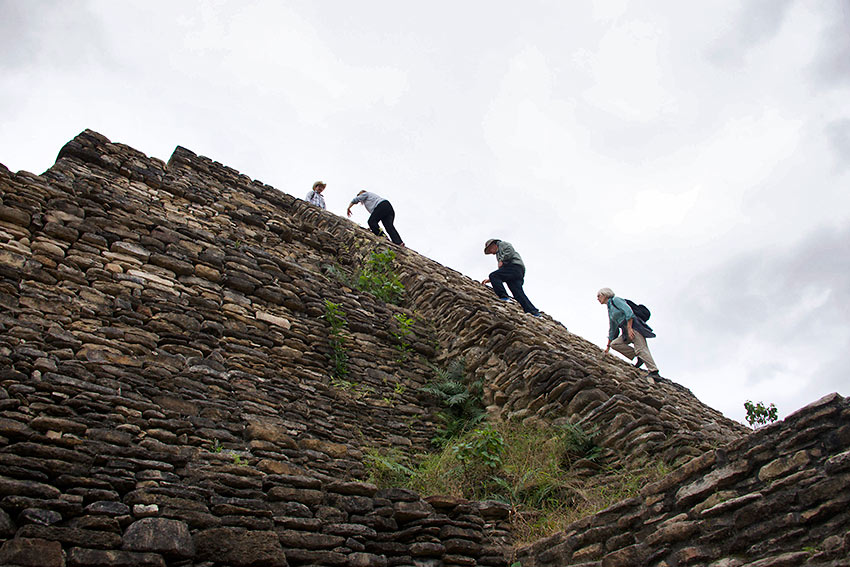 Among Marina's upcoming journeys for the fall and into 2018 are the following:
Querétaro & San Luis Potosí (Sept 28-Oct 6)
This tour, which Marina refers to as "nine mystical days," focuses on the magic of the indigenous people in Mexico's ancestral culture. Tequisquiapan, a mere two hours from Mexico City, is becoming a popular weekend getaway destination.  It features architecture that is an unusual blend of colonial and indigenous styles and its cobble-stone streets are dotted with interesting shops offering native jewelry, various wicker-work items, and folk art. Home to Bernal's Peak, the largest monolith in México (and the third largest in the world), is the Pueblo Magico, Villa de San Bernal, which also has charming shops selling dolls and handsome woolen products. Xilitla, surrounded by an exquisite rainforest landscape, is home to the Nahuatl and the Teenek, both indigenous peoples who still practice many of their traditional ways; it is also home to the 80-acre Las Pozas sculpture garden. San Luis Potosí, steeped in history, played a seminal role in the Mexican Revolution, and is rife with exquisite colonial architecture, parks, and an active cultural scene. Real de Catorce, once a thriving silver mining town in the high desert, is now a "'ghost town" with a population of around 1,000; it continues to be a pilgrimage site for the Huicholes and is thought to be a place of power with a spiritual energy.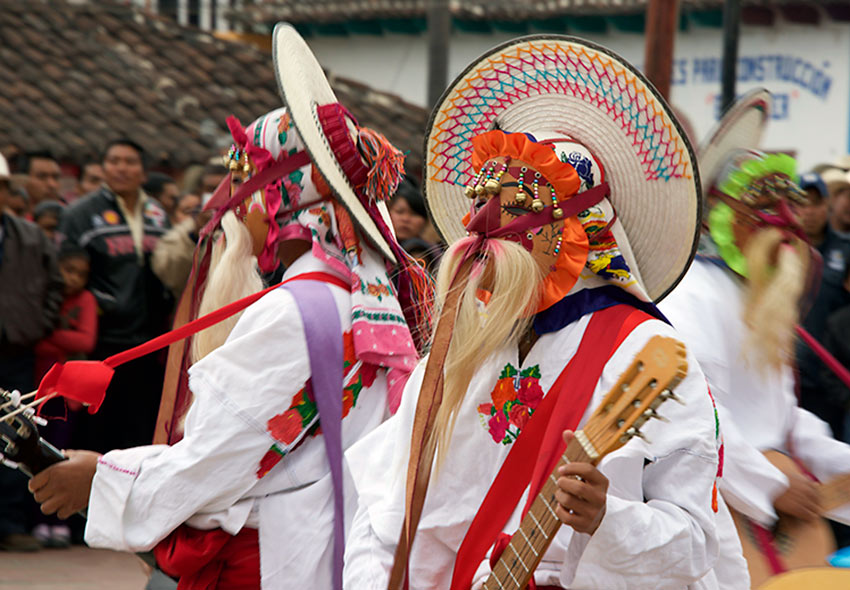 Oaxaca and Puebla for Day of the Dead (Oct 27-Nov 4)
Oaxaca is a unique, lively colonial city where two major cultures come together, the Mixtec and the Zapotec, both inspirational.  Oaxaca is rich in the native alebrijes, fanciful, colorful creatures, traditionally papier-maché, but here, they are carved from wood.  The city is rich in flavored mezcal and heady with the aroma of chocolate. The local markets sell brightly-hued textiles and the shops and pushcarts will feature countless artifacts and trinkets relating to the Day of the Dead… even black-and-white marshmallow-like candies. The trip also includes visits to some remarkable architectural sites.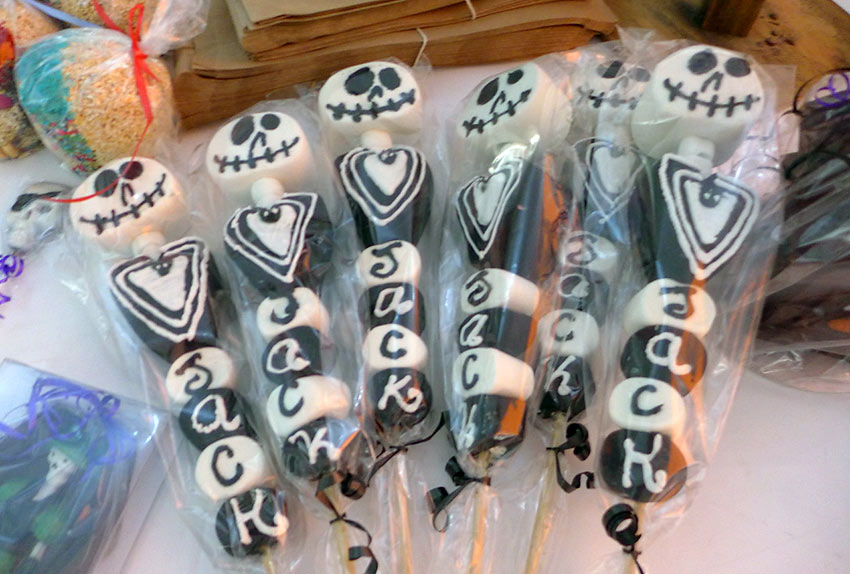 Carnival in Chiapas (February 6-14, 2018)
Chiapas is alive with rainbows of pigment everywhere — and it pulsates spirituality and culturally, and is graced with wonderfully warm citizens. "The first time I visited Chiapas, I fell in love with it," comments Marina. "Since then, I have been showing all the unique places in the area to my tour participants.  I love sharing this region." The tour takes in four archaeological sites with incomparable beauty: Edzná, Palenque, Bonampak, and Yaxchilán. Carnival is experienced in four indigenous villages: Zinacantán, Huixtán, Tenejapa, and San Juan Chamula. In addition, there are museums to visit that specialize in textiles, traditional medicine, archaeology, and history. Among other highlights is the city of San Cristóbal de las Casas, a stunning colonial city, as well as a visit with a family in the Lacandona jungle, providing an opportunity to learn about lives that are likely diametrically unlike yours.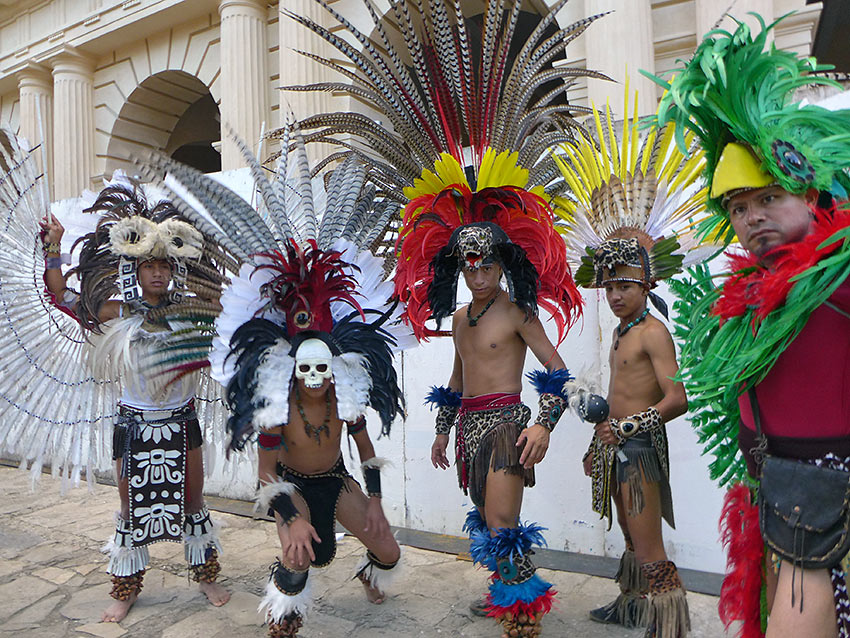 The Monarchs (Feb 24-Mar 4, 2018)
This is perhaps Marina's most popular trip—and it is not about kings and queens. In early fall, each year, millions upon millions of Monarch butterflies leave southern Canada and the United States and head to the central highlands of Mexico, traveling well over 2,500 miles.  After their November arrival, they winter in Mexico and turn around in March, and return north by July.  In order to protect the butterflies, the region in Mexico that the Monarchs call home for several months has been designated a UNESCO World Heritage Site. Four generations of Monarchs are involved in a round-trip migration.  This trip includes a visit to three different sanctuaries at the famed Monarch Butterfly Biosphere Reserve, a trip to the colonial city of Morelia, visits to five pueblos mágicos, experiencing their architecture, textiles, and flavors.  There are also visits to Lake Pátzcuaro, the Paricutin Volcano, and to local folk artists.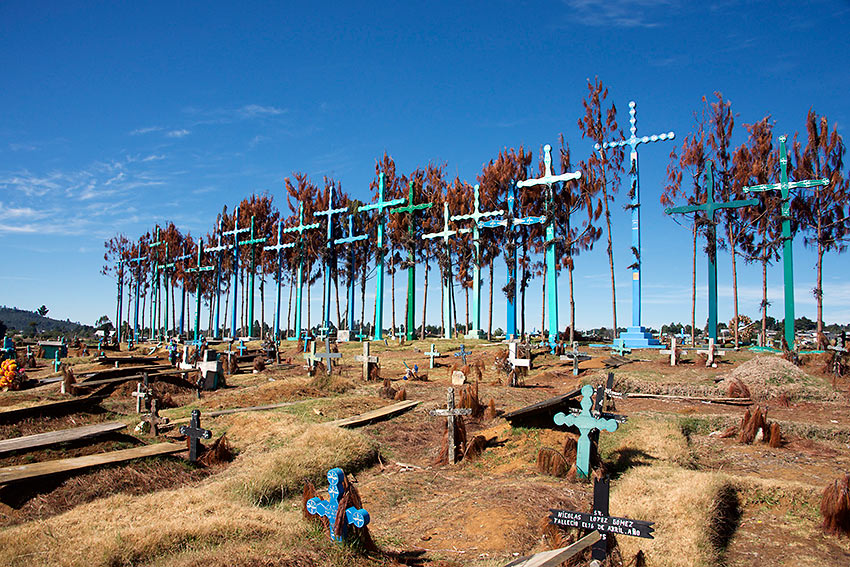 The Textiles of Oaxaca & Chiapas / Reflections in Diversity: Exploring Culture through Textiles (June 16-26 and July 14-24, 2018)
Due to an anticipated high demand for this new experience, Marina is offering two tours next year with a focus on clothing and textiles. Both include visits to Oaxaca and Chiapas; the visits to these two cities will be similar, save that the festivals experienced with each tour will be different.  There will be marketplace and gallery visits, trips to two distinctly different colonial cities, with a focus on textiles, dyes, spinning, and weaving styles — and each visit will include a hands-on experience, so that participants will have an opportunity to actually weave a personal textile. Villages that are but a few miles apart often have vastly diverse and very particular cultures, reflected in the colors and styles of their clothing and textiles. And on the other hand, as Marina points out, "Although they live hundreds of miles apart and belong to two different cultures, Zapotec and Mayan, have many similarities in their textiles; the differences will be in the way they create their own worlds through their designs."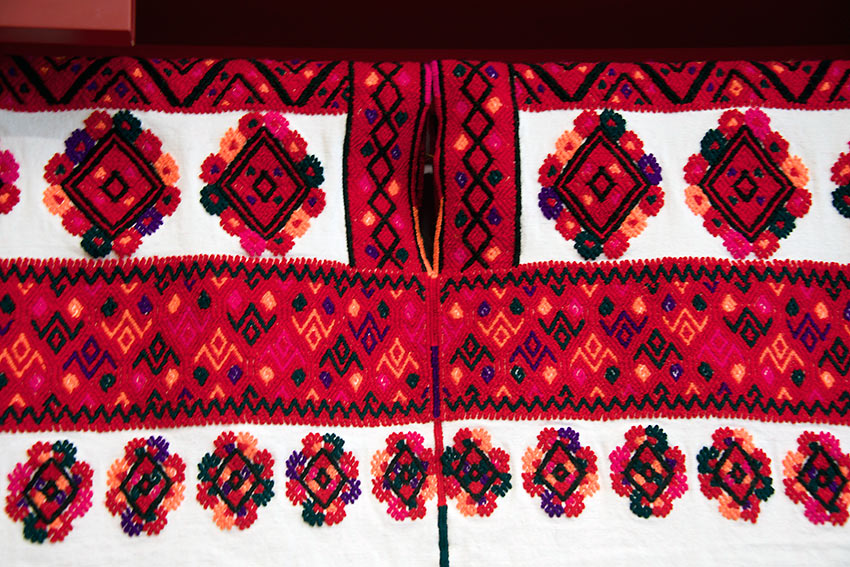 In Marina's words: "Even though the women spend hours and hours working at home weaving masterpieces of high quality and sublime beauty, most of these pieces are sold for almost nothing. Your valuing the pieces and the time it takes to weave them is a great opportunity to give to the ladies hope and strength. They will be able to continue to preserve a treasure that has been in danger for generations."
THE DETAILS:  marinainmexico.com; 011 52 (999) 923 0870; maguirresa@hotmail.com
Marina Aguirre de Samaniego
Calle 74 A no. 484 B between 55 and 57 / Col. Centro, Mérida, Yucatán / México
The very reasonably priced Marina in Mexico Tours are usually nine to eleven days; they range in approximate price from US $1,300 to $2,000 and include all lodging (based on double occupancy); breakfast in the hotel; transfers to and from the airport; in-tour transportation; and some meals.  However, participants should plan on the additional cost of most meals, gratuities, laundry, phone calls, and miscellaneous.
© Ruth J. Katz 2017  All Rights Reserved