How is it that women sporting scarlet frocks seem to get songs written about them?  Cuban-born crooner and bandleader Desi Arnaz told us that "The fellas are crazy for the lady in red…" and that she was "the toast of the town." And much more recently, Argentine-born, UK-raised Chris deBurgh, gave us his hit "The Lady in Red," in which he intoned, "I've never seen so many people want to be there by your side."  Indeed.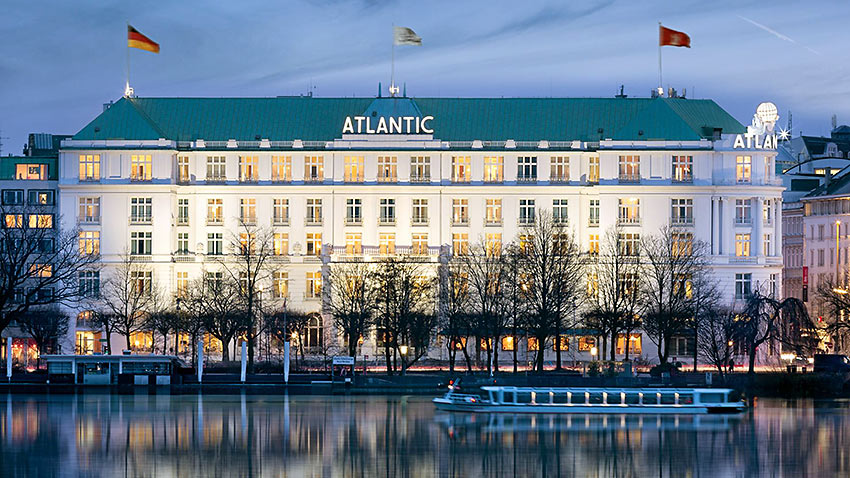 If you spend any time at a one of Kempinski's more than 75 hotels worldwide, you might become enamored of this hotel group's famous Ladies in Red, also — and be by their side a good deal, too — as each one of them can solve just about any problem you bring her; they are the fixers, the organizers, and the fonts of knowledge you'll appreciate, as you navigate your way around a foreign city. From Bratislava to Ishtar at the Dead Sea, these Kempinski magicians ply their léger de main to give guests a seamless, optimal experience.  A service concept that was created in 2009, the Ladies have become an institution in a short time.  And while their diverse city ensembles reflect the flavor of the local culture and its innate traditions, the red never wavers.
I have taken advantage of the encyclopedic knowledge of a Lady in Red in a few of Kempinski's hotels — in the stunning Adlon Kempinski in Berlin, the exotic property in Dubai at the Mall of the Emirates, and most recently, in Hamburg, a city that has rapidly become a favorite. Hotel Atlantic Kempinski Hamburg is a splendid property, perched on the edge of Lake Alster, a short walk from the city center.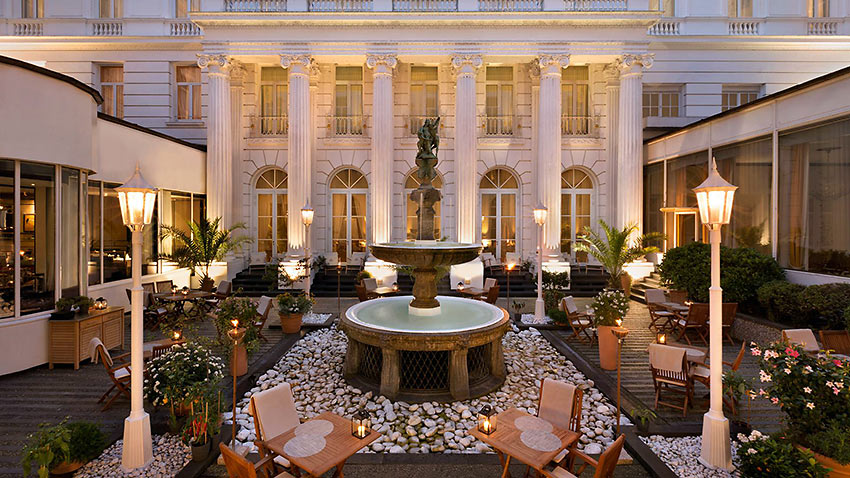 In 1909, after two years of construction, the hotel opened, having cost 14 million gold marks, a princely sum then. Targeting primarily elite guests from the grand ocean liners that docked in Hamburg, the hotel was fully booked the first Friday after opening. (Today, Cunard's Queen Mary 2 docks here several times during her season of crossings.)
This stately hotel never seemed to falter even in tough times:  The New Year's Eve menu in 1940, during wartime, boasted cold lobster with mayonnaise, kangaroo tail soup, roast hare or turkey with accoutrements, and vanilla ice cream with fresh strawberries.  However, in 1942, the following caveat was added to the menu: "The possibility of an air raid warning forces us to kindly ask our honoured guests for immediate payment."  After the war, the British occupied the hotel for five years, but when management reclaimed her, and business resumed, the Atlantic reassumed her position as a premier hotel, staffed by loyal employees.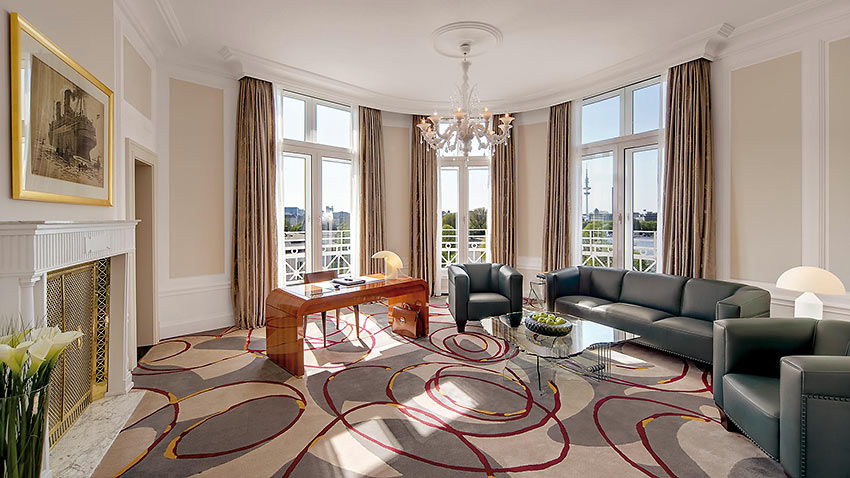 For 36 years, until 1968, she was under the helm of hotel director Oskar H. Geyer, who passed the reins to Karl Theodor Walterspiel, whose uncle Alfred had been the hotel's chef when she opened, underscoring the loyalty of the staff and the high level of service expected.  Over the years, countless celebrities have stayed there, including Michael Jackson, Rod Stewart, Pierce Brosnan, and the Rolling Stones, and not incidentally, the hotel was a backdrop for the James Bond film "Tomorrow Never Dies."  Since that 1909 opening, the hotel has been renovated many times (most recently in 2012) and during one refurbishment of the lobby, a portrait of Emperor Wilhelm II, painted onto Majolica tiles, was discovered and is now displayed in the hotel.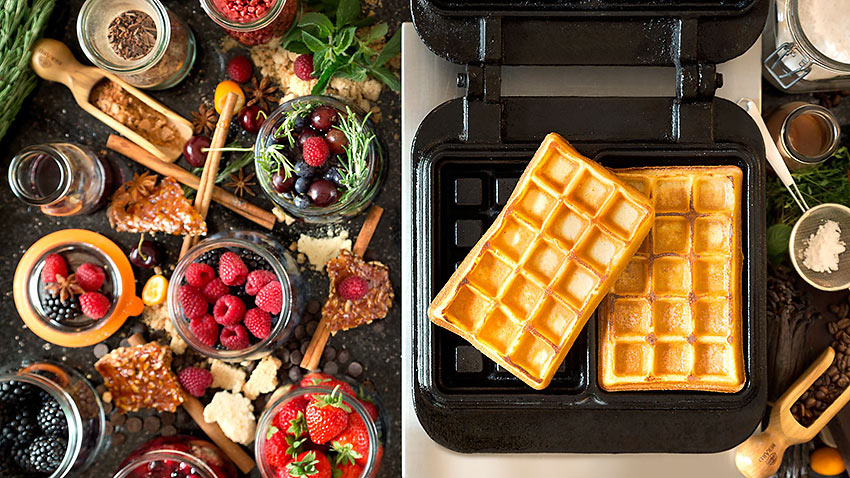 The daily breakfast buffet will amaze even the most jaded jet-setter.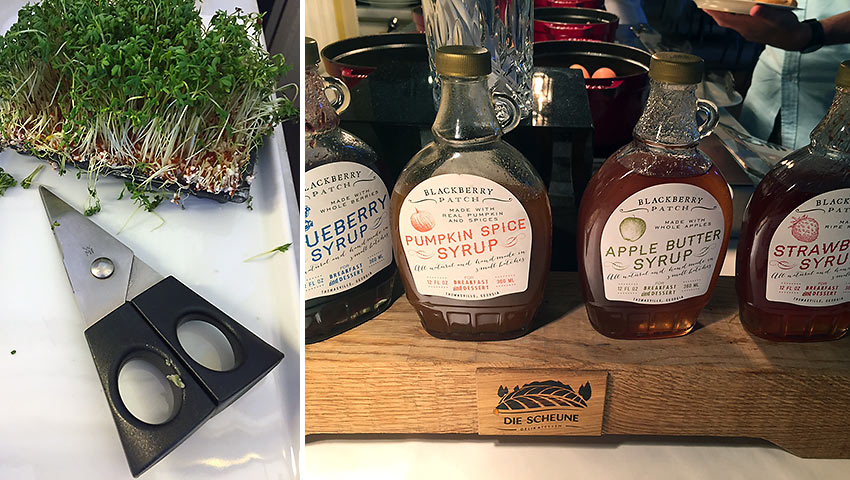 Nowhere around the world have I ever seen a breakfast spread offer up fresh herbs and sprouts, along with a little cutting scissors.  And the assortment of syrups for waffles and pancakes?  In addition to mundane maple, there is a selection that includes blueberry, pumpkin spice, apple butter, and strawberry syrups.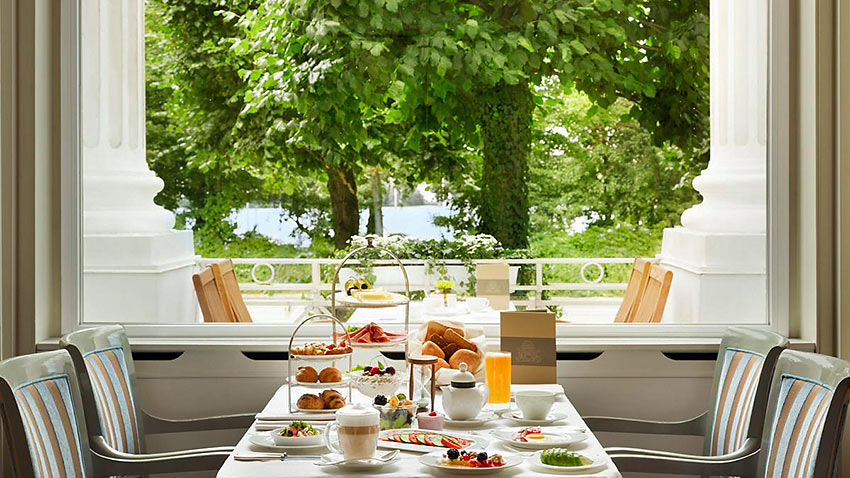 While there are plenty of comforts to keep you in your room (the Nespresso machine is one of them along with video-on-demand and the rain-head shower), you may still want to venture to the lobby downstairs and ask to book the intimate, eight-seat theater for a private screening. The chef will happily accommodate with nachos and popcorn.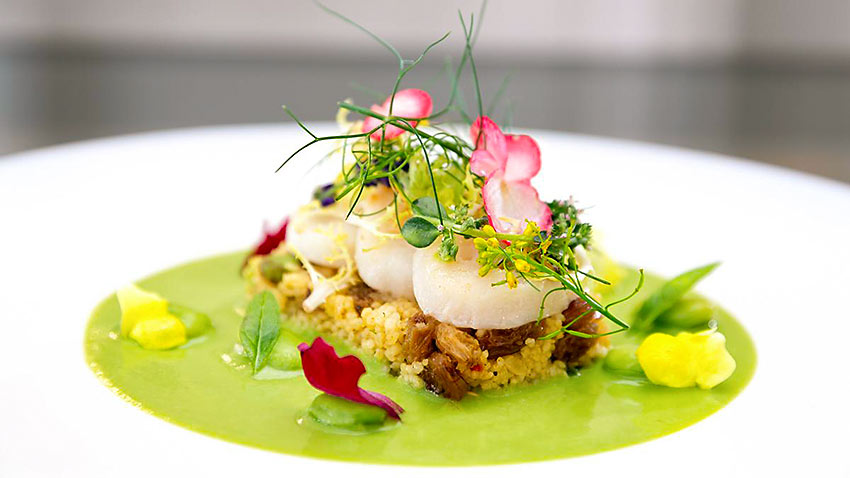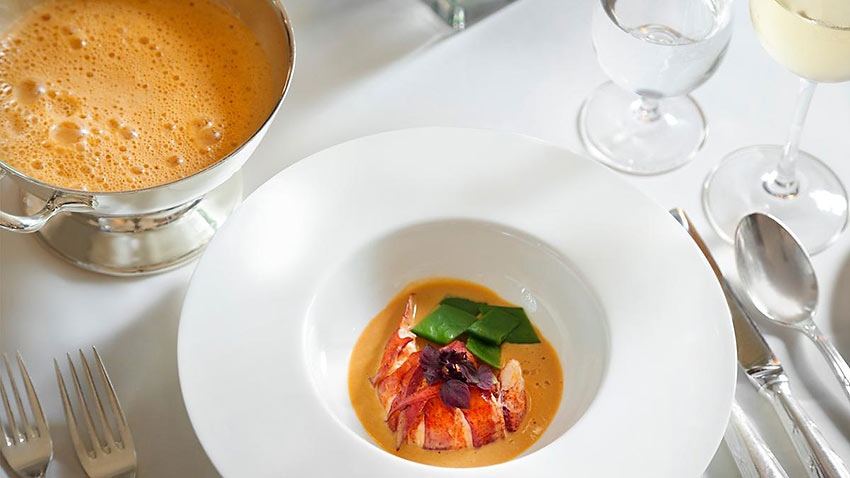 Dining is a rich experience in the hotel, a cut above that popcorn. The elegant Atlantic restaurant offers up, in addition to a well thought out vegetarian menu, hotel classics, like lobster bisque, beef tartar and sole meunière. In addition, there is a tempting menu of seafood and regional specialties. Chef André Trojanowski, who has worked in some of the finest kitchens around the world, sets the bar high and diners will not be disappointed. The Art Deco Atlantic Bar offers up tasty tidbits, as well as more filling meals, and of course, salads, soups, and burgers, in a casual atmosphere. But there is nothing "casual" about the scrumptiousness of the fare and about the excellent service. The inner courtyard of the hotel, the Atrium, is also a welcoming destination where you can savor a light meal, coffee, cocktails, or simply a glass of Champagne, under a canopy of foliage and blue skies.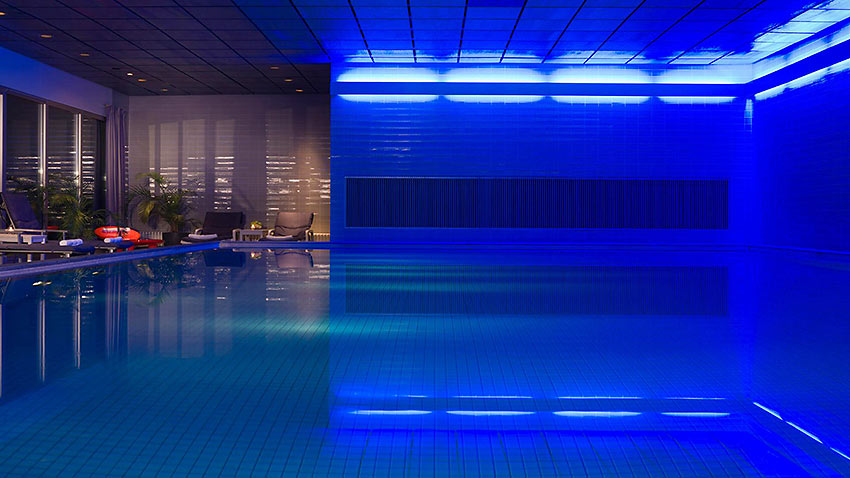 For an even better escape, the hotel's Energy Clinic and Spa, offers relaxing and invigorating treatments, massages, and rejuvenation programs. Its wellness concept is based upon twenty years of science and combines ancient Chinese philosophy with modern techniques.  The Energy Clinic includes an indoor pool, sauna, solarium as well as a small gym.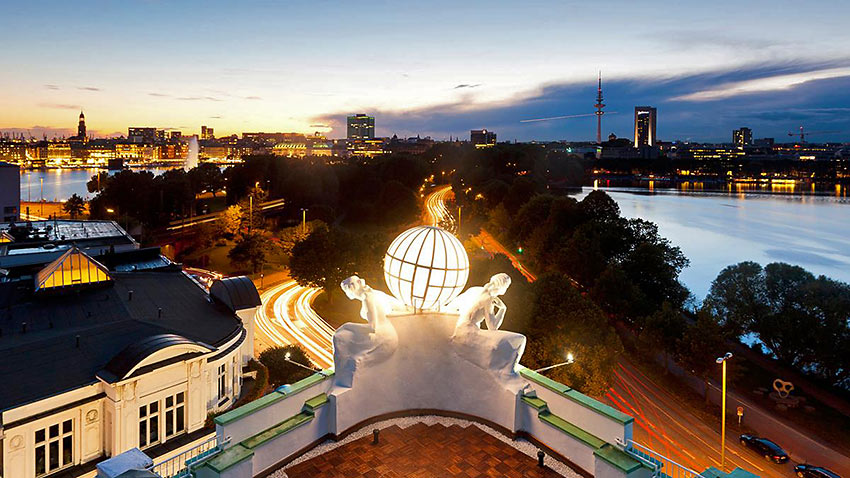 After exploring the hotel, sampling its cuisine, and energizing at the gym, ask one of those genius Ladies in Red to help you deign a few city outings, because, after all, Hamburg is a surprisingly wondrous city, and one that you should discover and appreciate.
© 2018 Ruth J. Katz   All Rights Reserved