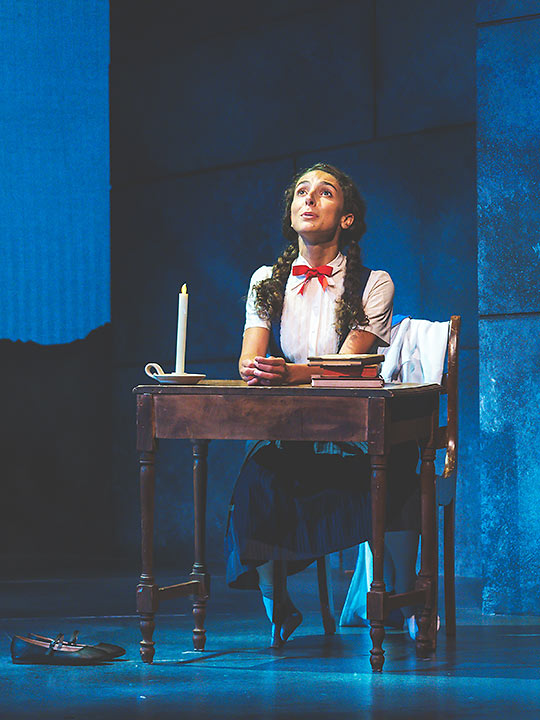 A young, precocious girl who has just started to think in a different light about what used to be the enemy — boys! — tells us that her future dreamboat will have many, very specific qualities, and among them, he will speak three languages!  She is wise beyond her years, a bit of a loner, highly expressive, spending hours, it would seem, with her diary — writing poetry, songs, and mentally meandering all over the globe, yearning for and seeking what is out there, beyond her reach at the moment. She searches for meaning in life, even at her tender age.
She is Hannah Senesh, and she will become the Hannah Senesh, a Jewish martyr to the cause of freedom during World War II. Senesh was one of many Jews who escaped from Axis-allied Hungary to the safety of British Mandate Palestine. There she joined Haganah and then bravely volunteered for a daring Special Operations mission to parachute back into Europe to save Jews from the Nazi extermination machine. She was ultimately caught by Nazi forces, tortured (as she refused to betray her companions), and executed at the age of 22.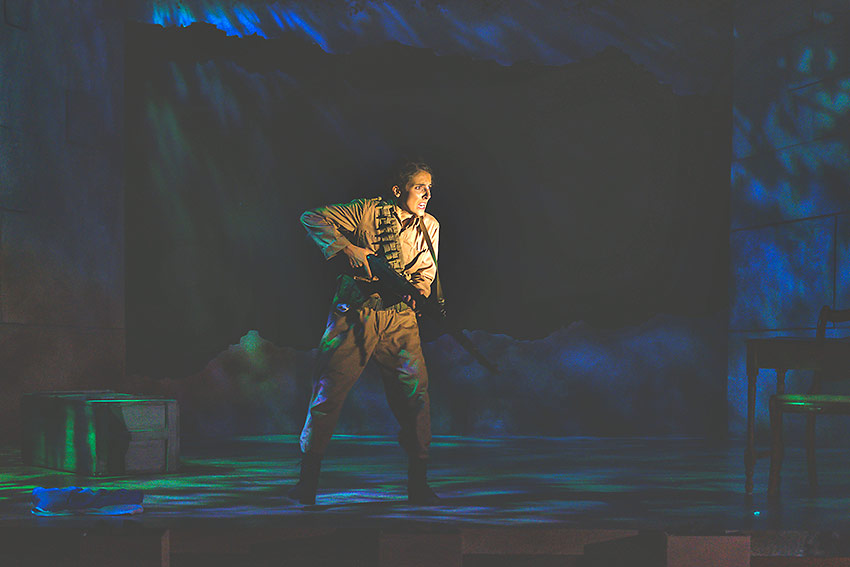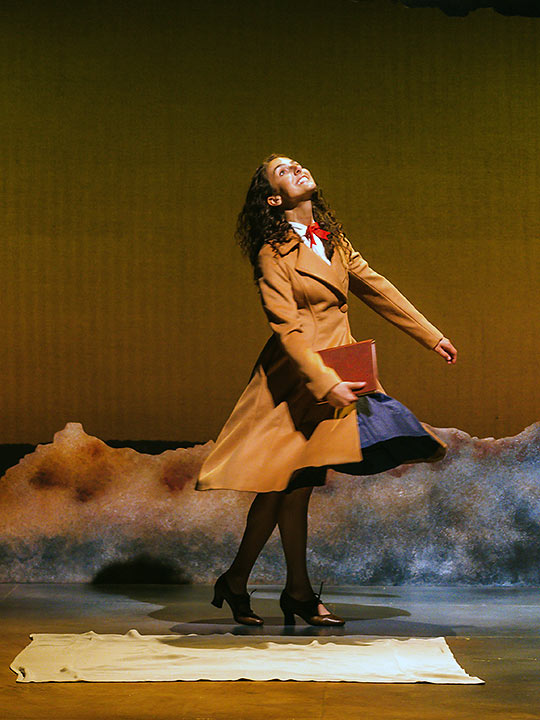 We meet Hannah in an extraordinary one-woman show currently being presented by the National Yiddish Theatre Folksbiene (NYTF) at the Museum of Jewish Heritage — A Living Memorial to the Holocaust through August 18th. The award-winning play, based on Hannah's own diaries and poems (translated by Marta Cohn and Peter Hay) was written and directed by David Schechter. It was originally developed in collaboration with Lori Wilner, the actress who first played Hannah onstage in 1984 (and subsequently portrayed her in nearly 2,000 performances).
Embodied currently by Lexi Rabadi, an Honors graduate of Pace University's BFA musical theater program, Hannah is curious, idealistic, and determined. We watch her grow from a young girl in pigtails to an adolescent in work clothes suitable for kibbutz chores, to a young adult in a military paratrooper's jumpsuit.  Rabadi can convey a mood with the arch of an eyebrow, the swirling gesture of a hand, or a slump of her shoulders. We grow up with Hannah and suffer her pain, when she discovers, that despite winning the popular vote for a school office, she cannot assume the role — a Jew may not hold school office.  We slowly start to feel the effects of the anti-Jewish legislation gradually creeping into her native Hungary.  We wonder, as she does, "Where will I be in ten years?"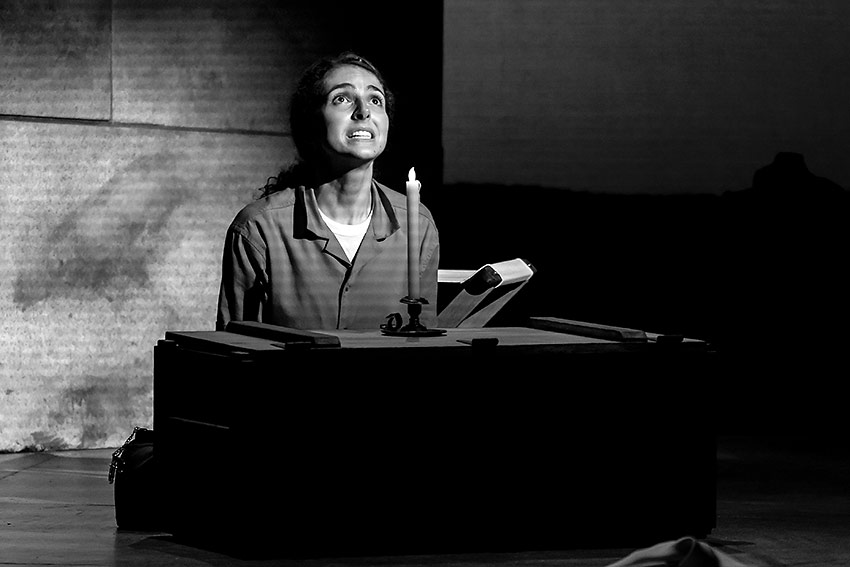 Hannah's story and indomitable spirit, experienced through her evocative diary and poetry, serve as an enduring inspiration to people everywhere standing up to the powers of hatred and oppression. The performance is part of NYTF's season of "Spiritual Resistance," which features artistic and theatrical works that explore themes of struggle against oppression. The programming provides artistic expression concurrent with the Museum's exhibition Auschwitz. Not long ago. Not far away. being presented through January 2, and which was originally mounted in Spain to record-breaking crowds.
"This astonishing true story is a testament to the resilience of the human spirit," notes NYTF artistic director, Zalmen Mlotek. "I can think of no better work to embody our current season's theme of Spiritual Resistance."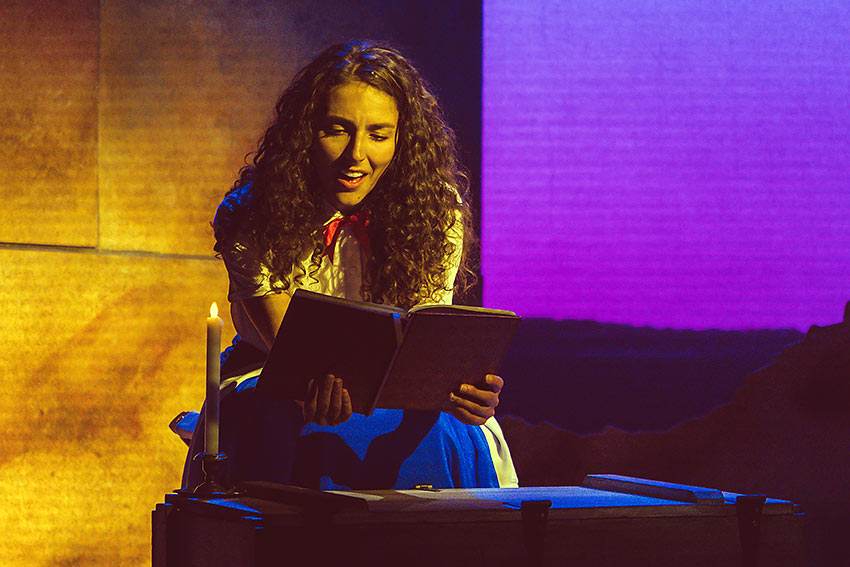 It is worth noting that the NYTF is responsible for staging the blockbuster production of "Fiddler on the Roof," in Yiddish, at the Museum last season; that show, after a six-month run downtown, moved uptown, Off-Broadway, and is currently a sell-out smash.  "Fiddler" won a Drama Desk Award, an Outer Critics Circle Award, and a New York Drama Critics' Circle Award special citation, and has been nominated for Lucille Lortel Awards, Drama League Awards, a Chita Rivera Award, and an Off-Broadway Alliance Award.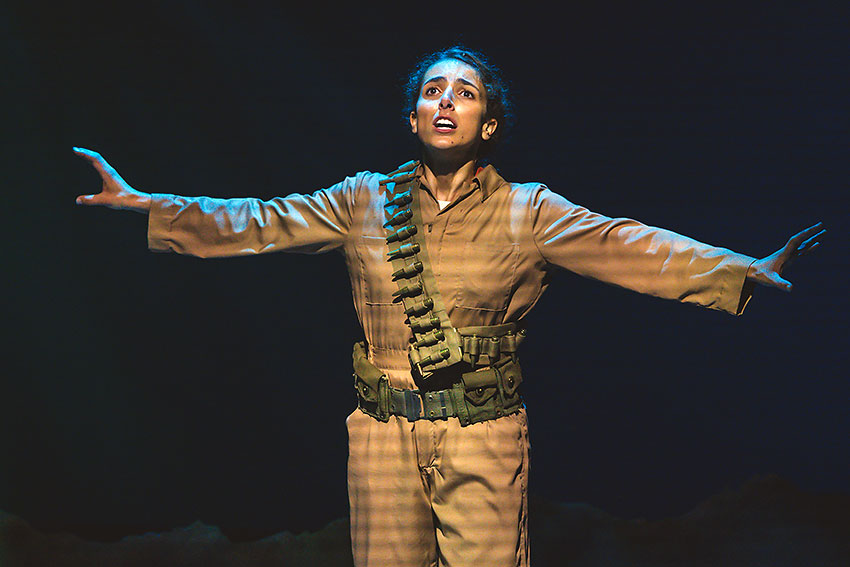 Now celebrating its 105th season, Tony Award-nominated and Drama Desk Award-winning National Yiddish Theatre Folksbiene is the longest consecutively producing theatre in the US and the world's oldest continuously operating Yiddish theatre company. NYTF is in residence at the Museum of Jewish Heritage – A Living Memorial to the Holocaust. Under the artistic direction of Mlotek, NYTF is dedicated to creating a living legacy through the arts, connecting generations, and bridging communities. NYTF aims to bring history to life by reviving and restoring lost and forgotten works, commissioning new work, and adapting pre-existing work for the 21st century. Serving a diverse audience comprised of performing arts patrons, cultural enthusiasts, Yiddish-language aficionados, and the public, the company presents plays, musicals, concerts, lectures, interactive educational workshops, and community-building activities in English and Yiddish, with English and Russian supertitles accompanying performances. NYTF provides access to a century-old cultural legacy and inspires the imaginations of the next generation to contribute to this valuable body of work.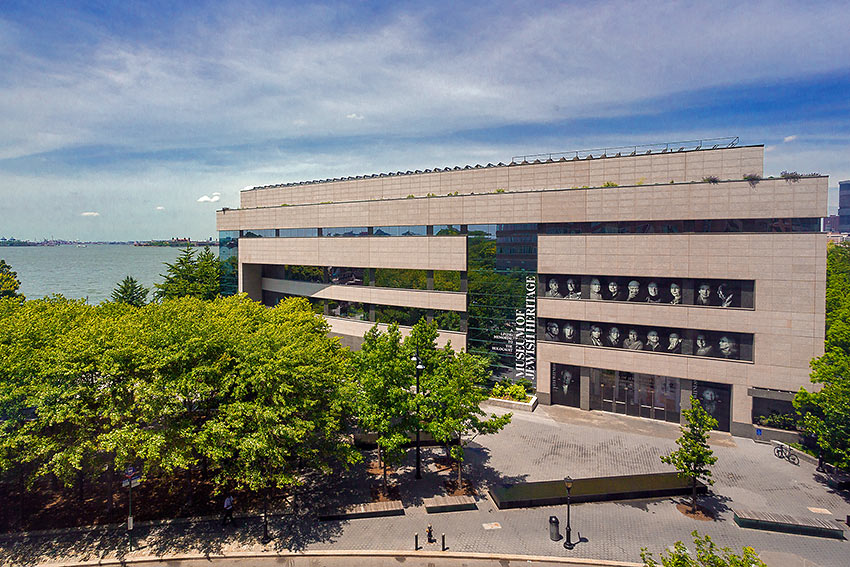 The creative team for "Hannah Senesh" includes Court Watson, scenic designer; Izzy Fields, costume designer; Vivien Leone, lighting designer; Kenneth Goodwin, sound designer; Stephanie Gonzalez, prop master; Jamibeth Margolis, CSA, casting director/general manager; Emily Paige Ballou, AEA stage manage; Britni Serrano, production manager.
Tickets for "Hannah Senesh," starting at $49, are available at nytf.org
For information on the Folksbiene visit, nytf.org or call 212-213-2120, ext. 200
For information and tickets for the Auschwitz show at the Museum, visit auschwitz.nyc
To read further about the Auschwitz show by TravelingBoy's contributor Ruth J. Katz, click here. https://www.nycitywoman.com/auschwitz-not-long-ago-not-far-away/
©2019  Ruth J. Katz  All Rights Reserved