From the vantage point of the open-air terrace, I could just make out Maui's iconic Pu'u Keka'a. Illuminated by the Hawaiian moon, it is the spot where Kahekili II would demonstrate his bravery by jumping 400 feet into the sea. He called it lele kawa, which means leaping off high cliffs and entering the water feet first without a splash. Said to be seven foot tall and 300 pounds, his massive physicality made his splash-less dive even more remarkable. In the 1700s, as the king of Maui, Kahekili II selected Kāʻanapali's pristine stretch of sands and lush gardens as a retreat for Hawaiian royalty and training ground for his warriors.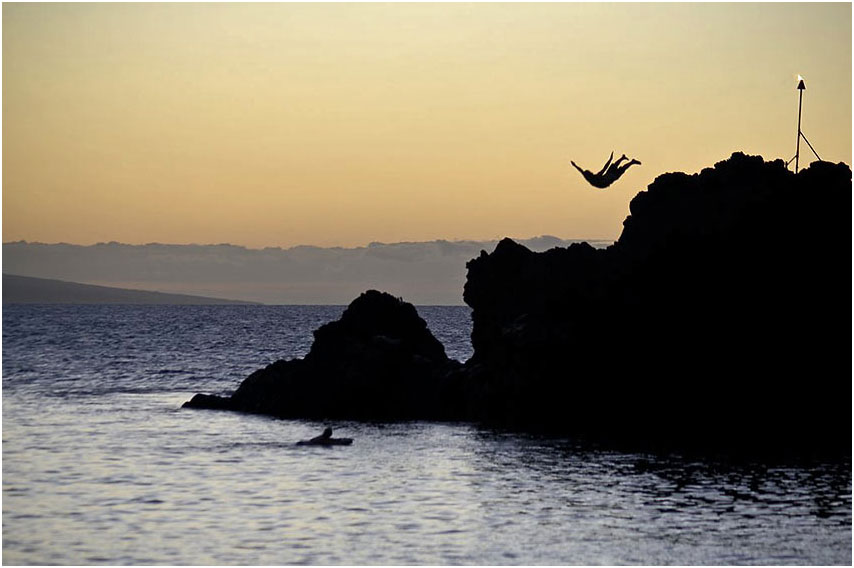 My charming tablemate, Shelley Kekuna, Executive Director of the Kāʻanapali Beach Resort Association, explained that Kahekili II actually jumped from around the corner of where the evening dive is performed today as it was Pu'u Keka'a's highest point. Indicative of Hawai'i embracing its past and still emulating the Islands' culture of the present, the contemporary Kāʻanapali Beach Resort diver stands at the top of the cliff each evening at sunset, recites a Hawaiian chant, offers a torch and lei to the ocean, then leaps into the sea. Kahekili's feat of legend has spread throughout the globe for lele kawa is now a world-wide sport. This was only the beginning of what would prove to be an enchanting evening at Huihui, the Kāʻanapali Beach Hotel's new beachfront open-air restaurant.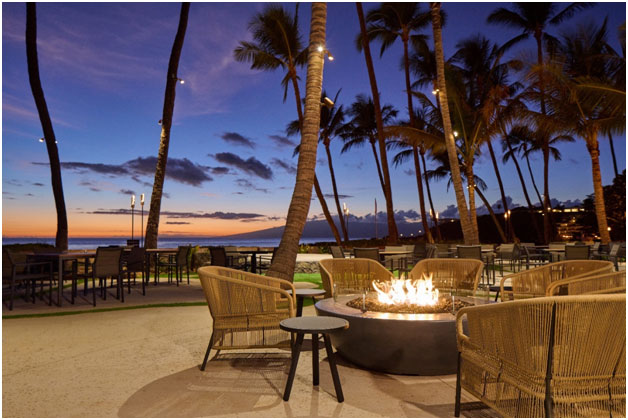 As I sipped Huihui's Navigator cocktail, local Maui musicians gently serenaded us in the background. The waitstaff carefully pointed out its signature dishes and ingredients on the menu, but never too busy to throw in a bit of history. I was impressed how the restaurant embraced traditional Hawaiian food items of the past to a fusion of healthy recipes of the present.
The menu was orchestrated by Chef Tom Muromoto, Huihui's award-winning executive chef at Kāʻanapali Beach Hotel. Born and raised in Hawai'i, Chef Muromoto developed a lifelong understanding of the islands' ethnic diversity, ultimately combining Hawaiian culture and Native Hawaiian diet, creating a style of Hawai'i Regional Cuisine that is uniquely his own. When designing his new dishes, he looked back to when traditional Hawaiian foods were simple, natural, and never overdoing it. His mission is lofty, where Huihui's signature items reflect the practice of Polynesian navigation and migration, using ingredients of the sea, ingredients used to sustain themselves on their brave voyages from the Marquesas Islands, approximately 300 to 600 AD, with a second wave 400-years later, by way of Tahiti.
The ingenious Polynesian explorers were ultra-sophisticated sailors, with a highly complex navigational system based on the observation of the stars, ocean swells and flight patterns of birds. Their primary vessel was a 50 to 60 feet long canoe, consisting of two hulls, connected by lashed crossbeams.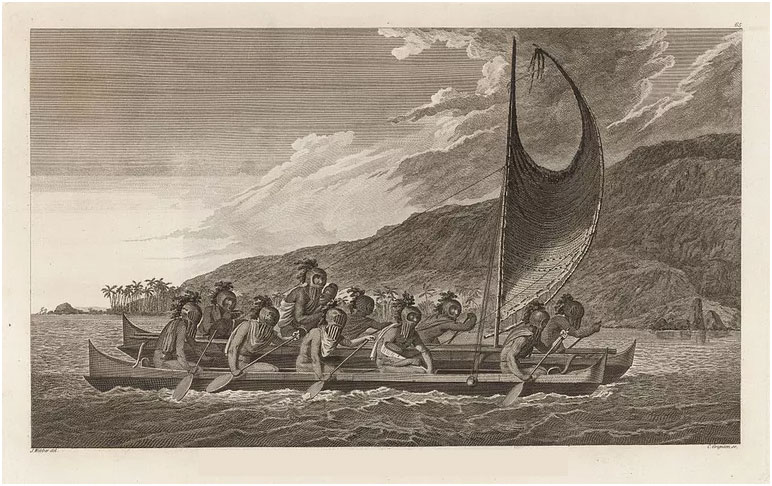 A precursor to the modern catamaran, the sails were made of matting drove. Long steering paddles enabled the mariners to keep it sailing on course. The canoes could accommodate roughly two dozen people, food supplies, livestock of pigs and poi dogs, and planting materials, essential for the long expeditions and the eventual founding of new island colonies. Like athletes, they would go into vigorous training prior to voyages, even conditioning their bodies to deal with less food and water.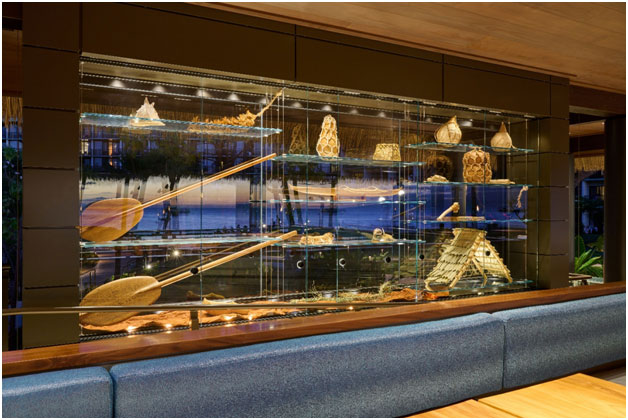 Moanaku'inamoku Voyaging Academy
Huihui also functions as a sailing academy dedicated to the ancient Hawaiian art of voyaging. The new Moanaku'inamoku Voyaging Academy expresses the theme that the ocean that connects islands together, which provides an authentic experience of Hawaiian wayfinding for guests and community members.
WHAT WAS ON THE TABLE
Navigator Cocktail: Fid Street Gin (Hāli'imaile Distillery), Blue Curacao, Ali'i Kula Lavender reduction spray, Maui Bees Honey, fresh squeezed lemon juice, topped with sparkling tonic water.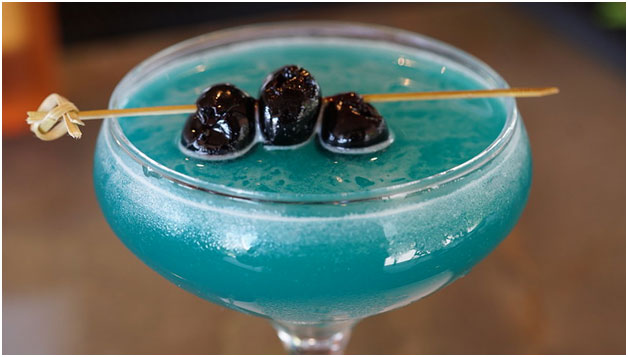 Today, many associate tropical drinks with Hawai'i. But the Piña Colada from Puerto Rico and the Mai Tai, invented in 1944 at Oakland, CA's Trader Vic's, are both made from Caribbean rum. The Mai Tai (Maita'i means good in Tahitian) was such a success in mainland North America that Trader Vic's introduced it to the Hawaiian Islands. Orange and pineapple juice was added to the cocktail constituting the birth of the Royal Hawaiian Mai Tai. The Ka'anapali Beach Hotel boasts the Hawaiian version, but also Huihui's refreshing Navigator, made with Maui produced gin and additional Maui products.
Molokai Venison Poke: Smoked and wok seared venison fresh from Molokai, pickled ogo (seaweed) & onions, scallions, tomato, nīoi (Hawaiian chili pepper) lemon soy dressing.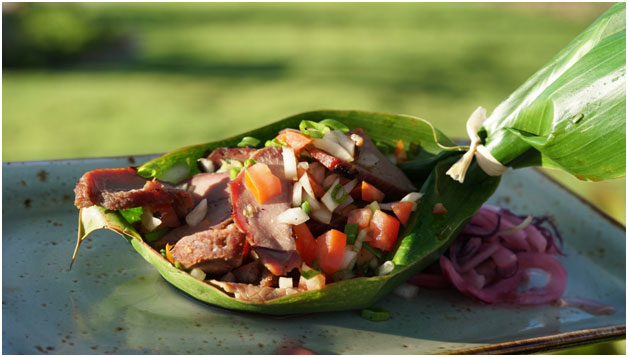 Poke (poh-kay) is a dish generally made with chopped sashimi, commonly fresh cubes of ahi/tuna, marinated in soy sauce and sesame oil, and mixed with Kula Onions. But, you'll find many variations around Hawai'i, which include venison from Axis deer, brought to Moloka´i in 1868 from India as a gift to King Kamehameha V. In 1959, the deer was introduced to Maui, where it has caused a problem due to overpopulation — so don't feel bad upon devouring a few bites.
Kula Onions: Fried thinly sliced onions, seasoned flour, nīoi (Hawaiian chili pepper) aioli, furikake.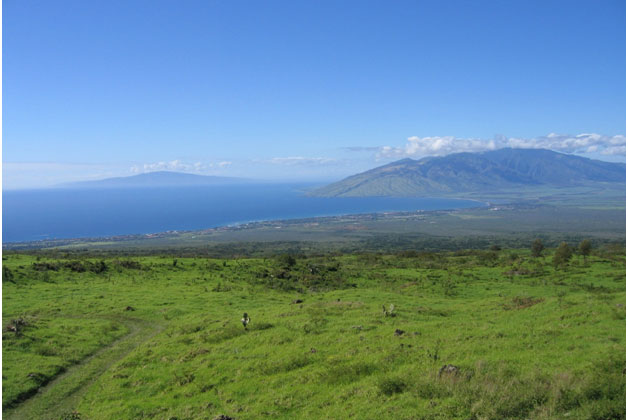 Also known as the Maui Onion, this sweet onion is named for the growing region of Kula, (sometimes referred to as Upcountry). Nestled on the green upper slopes of Haleakala's dormant volcano, Kula Onions are one of the first spring onions to appear and are considered one of the sweetest varieties in the world. Kula is also endowed with colorful flower farms, botanical gardens, expansive farmland and ranches with grazing cattle. And all this with views of Pacific in the distance.
Lāwalu: Traditional lāwalu (wrapped in ti leaf and grilled) is a cooking method of grilled banana leaf wrapped daily i'a (fish), creamy abalone sauce, cilantro, pohole (fiddle fern) & ogo (seaweed) relish.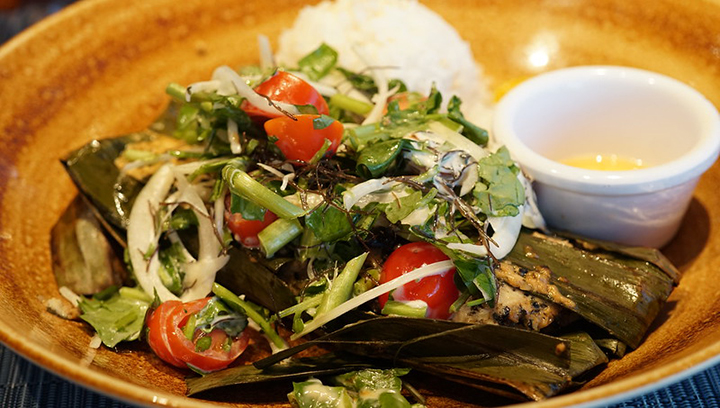 Traditional Hawaiian llāwalu are ingredients bound in ti leaves for cooking. The ti plant, an emblem of high rank and divine power, is referred to as a canoe crop, brought to the Islands by the early Polynesians. Considered sacred to the Hawaiian god, Lono, and to the goddess of the hula, Laka; the plants are often planted around homes to ward off evil and bring good fortune.
Koala Lamb Chops: Marinated lamb, inspired by the traditional kō'ala (barbeque) cooking method, seasonal papaya or mango mint relish.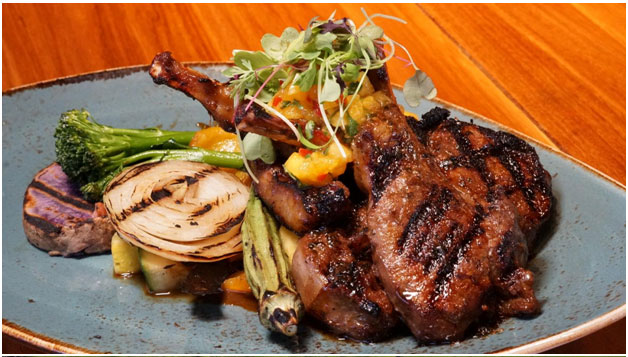 Sheep, goats, and cattle were introduced to Hawai'i in the late-1700s by European explorers. Pryor to that there were no grazing or browsing mammals anywhere in the islands.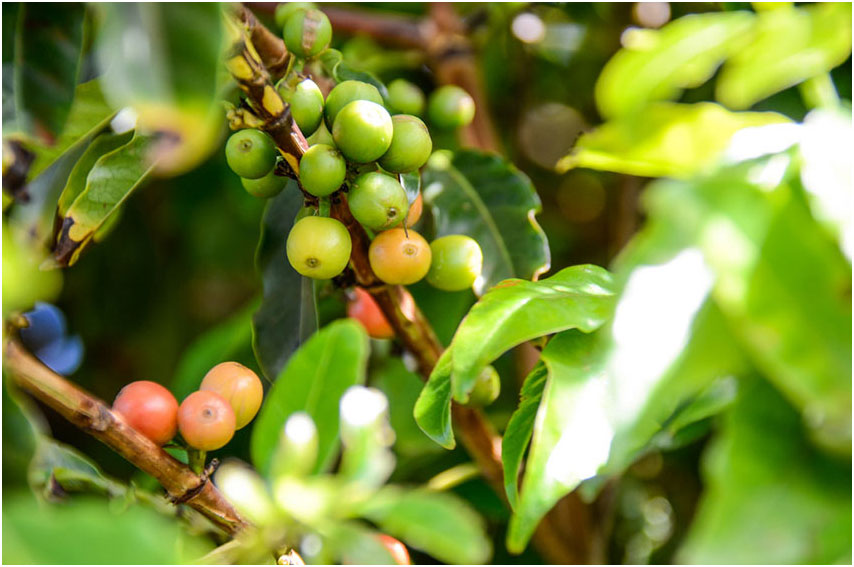 The Big Island of Hawai'i is world-renowned for its Kona coffee, but today Kāʻanapali Coffee, grown in the West Maui Mountains, is the largest commercial coffee production in the United States. The variety of Arabica coffee beans seduce your scenes and demand a second cup. West Maui has more than 50 coffee estates just a short drive away from the Kāʻanapali Beach Resort.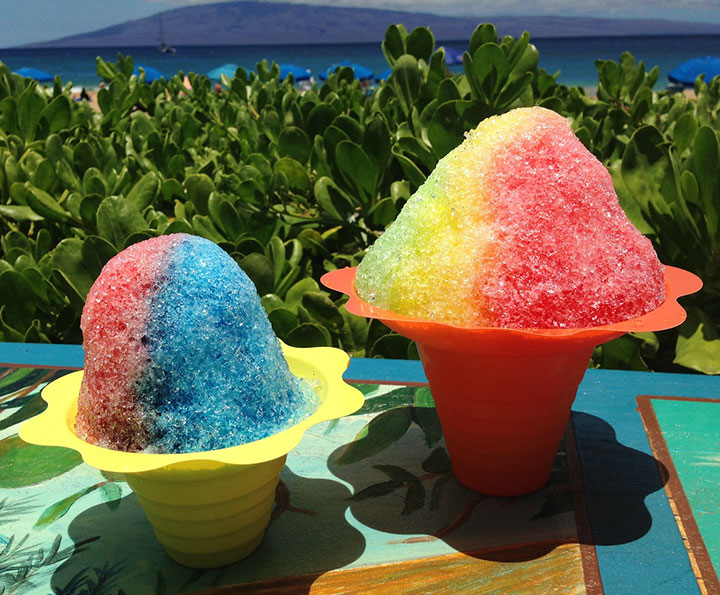 The following hot, but pleasant afternoon, I strolled through the Ka'anapali Beach Resort, and noticed a small structure serving shave ice. Yes, shave, not shaved. The line was long, but well worth the wait for shave ice has long been my favorite refreshing snack throughout Hawai'i. Connected to Hawai'i's agricultural past with the advent of plantations, workers used to have only Sundays off from a week of labor, and would carry blocks of ice, sweetened with pineapples and sugar canes syrups from which they had planted.
More on Hawaiian History, Food and Culture
"In Hawai'i our diversity defines us, rather than divides us."
— Former Governor Neil Abercrombie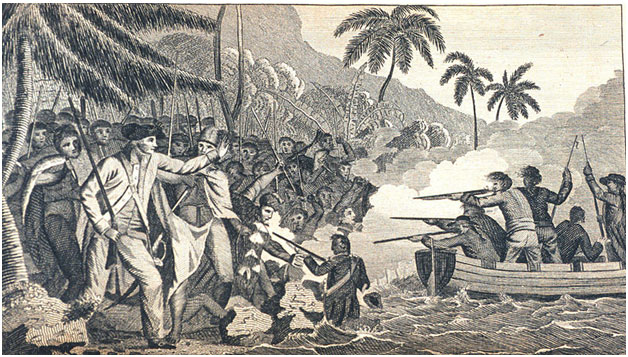 When British Captain James Cook and crew first arrived in what is today's Hawaiian Islands (circa 1778) he found a civilization of strong, healthy, and statuesque people; a population believed to have typical life spans as high as 70 or 80-years-old, with the British only making it to 40 or 50. Cook noted that he came in contact with the oldest people he had ever seen, some thought to be around 100-years-old. According to archaeological research by Dr. George Kanahele: The traditional Hawaiian diet was one of the best in the world. It was a simple, high starch, high fiber, low saturated fat, low sodium and low cholesterol diet which focused on taro, poi, yams, breadfruit, greens, seaweed, fruit, and small amounts of fish.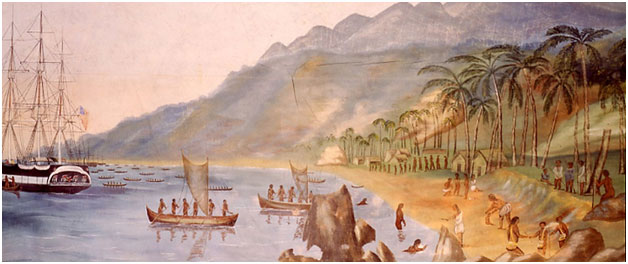 In a past culinary press trip to Hawai'i, I recall a representative from Kaua'i informing me that there was virtually no indication of obesity prior to the British and Euro-American invasions. But obesity would soon arrive by way of food items from grizzled New England whalers, strict protestant missionaries and unscrupulous plantation owners. They also brought European diseases in which native Hawaiians had no immunity, killing 90% of the population. In the Marquesas Islands alone, it is believed that 98% of its people perished due to various pandemics. It is a tragic story that existed throughout the New World's Columbian Exchange, a tragedy which history often prefers not to mention.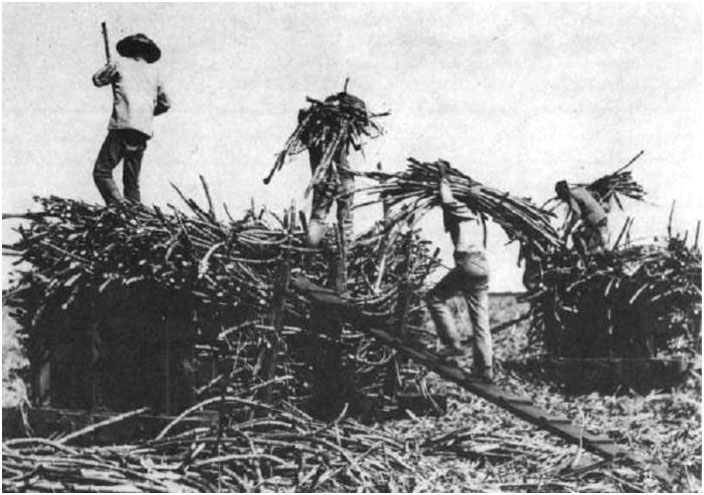 As foreign plantation owners began building their own empires with factories for sugar cane and pineapples — both imported today — the population had been decimated to such an extreme that the money-mad owners scoured the globe for much needed workers. And the new workers migrated by the thousands, primarily from Japan, China, the Philippines and Korea. Portuguese paniolos (cowboys) arrived in the islands after Captain George Vancouver — one of Cooks' first mates on his final voyage, along with William Bligh of HMS Bounty fame — gifted six cows and a bull to King Kamehameha I in 1798. Kamehameha created a 400-acre pasture and issued a kapu (forbidden) on killing cattle so that they could grow in numbers, leading to approximately 25,000 wild cattle. The experienced Portuguese paniolos taught Hawaiians how to run a ranch, and also introduced the Malasada donut to the islanders.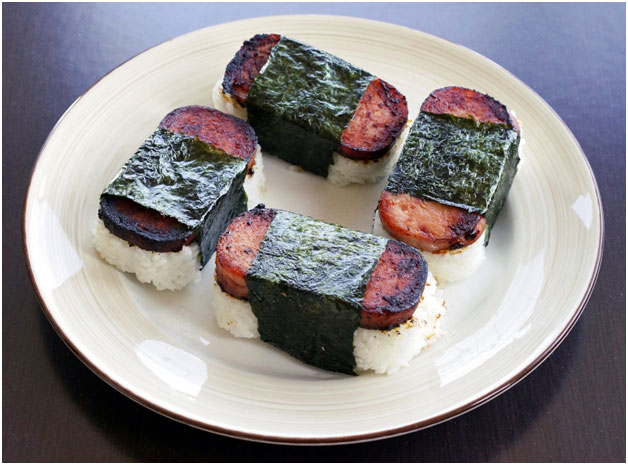 A new class of the Hawaiian impoverished was created, as in the North American mainland, who consumed easy to find, often inexpensive, fattening canned foods, with spam the most popular. (Curiously, 90% of all spam produced in the U.S. today is eaten in Hawai'i). Fast food restaurants would soon follow, where the Golden Arches offered their own twist on the Hawai'i menu with saimin noodles (inspired by Japanese ramen, Chinese mian, and Filipino pancit) and McTeri Delux (a teriyaki burger made with a Japanese marinade). Yet, today, with supreme gratitude to Huihui's Chef Muromoto, forward-thinking Hawaiians and many of the Kāʻanapali Beach Resorts' restaurants, Hawai'i is the second least obese state in the U.S., after Colorado and before Massachusetts.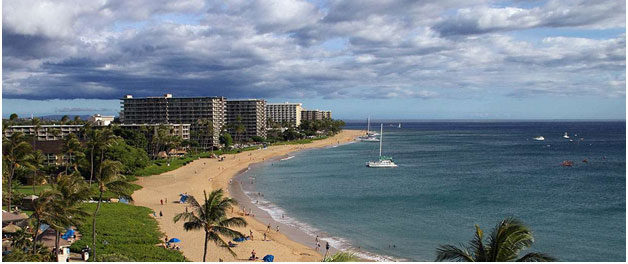 Kāʻanapali Beach Resort Association
Kāʻanapali's three-mile stretch of white sand beach has long been touted as one of the best beaches in the world. Nestled at the foot of the West Maui Mountains on Maui's southwest coast, Kāʻanapali Beach Resort was established in 1963 as Hawai'i's first master-planned destination resort. After it was developed, it became the benchmark for all other self-contained resort destinations. The Kāʻanapali Resort is dotted by six oceanfront luxury hotels and five condos and vacation club resorts resting on expansive tropical lawns thanks to the Maui sun and freshwater springs flowing from the mountains. Education is paramount at the resort with many properties offering cultural classes to learn more about Hawaiian history, spirituality and intense devotion to the land and sea.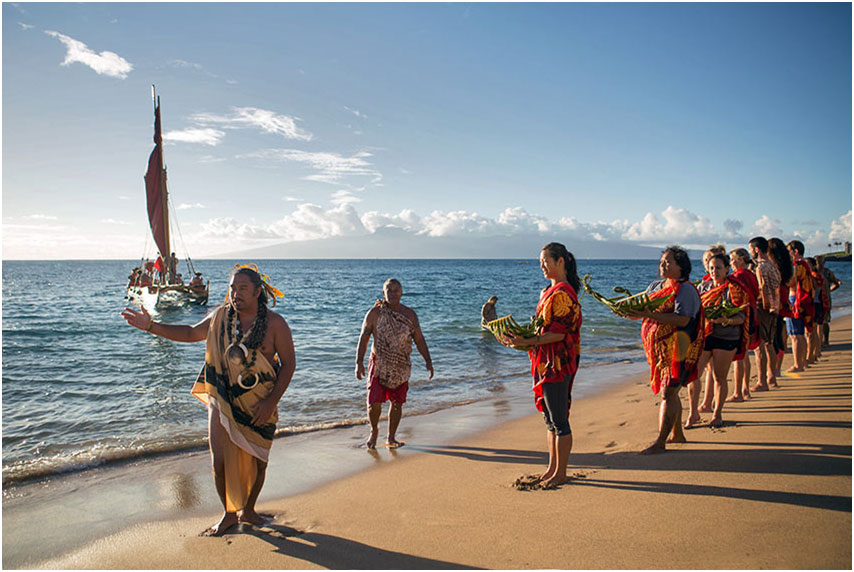 Kāʻanapali's diverse destination can appeal to any kind of active traveler. The beach lends itself to snorkeling, paddling canoe or stand-up paddle, surfing (Hawai'i its birthplace), parasailing and jet skiing, Humpback Whales watching, and dinner and twilight cruising, all easily accessed from the shoreline.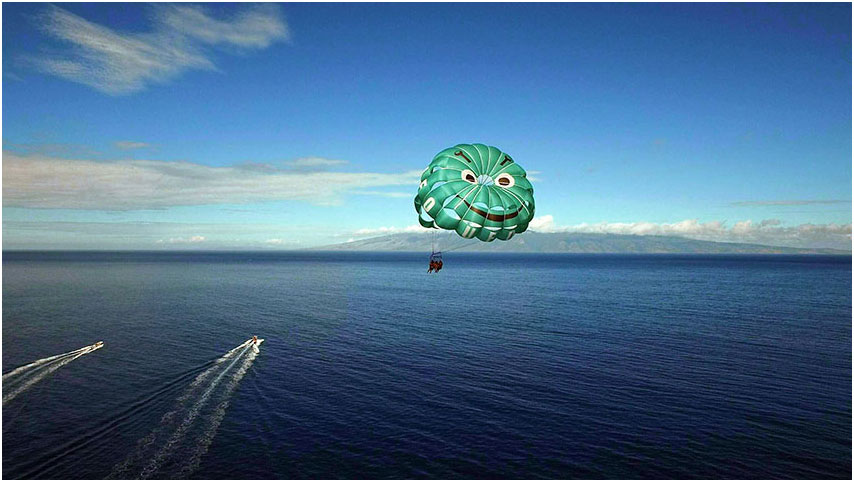 And the mountains behind the resort are also rich in activities with zip lining, quad riding and hiking, including the historical Trail in Kāʻanapali; an easy 4.40 mile out-and-back trail, paved with history and oceanviews, best to experience during sunset or early morning to avoid the strength of the Maui sun. Yes, there is so much more to put on my Kāʻanapali checklist upon my return, including a revisit to the innovative Huihui restaurant at the Kāʻanapali Beach Hotel.