As I entered Hotel d'Angleterre on the regal Kongens Nytorv Square in Copenhagen, I remember thinking, "Did I just time-travel into Floral Narnia?" I have been to some pretty snazzy hotels with bedecked public spaces, showing off some pretty amazing floral arrangements (the Corinthia Hotel, London, comes to mind, where By Appointment Only Design — with a boutique on-premises — transforms Mother Nature's opulent flora into va-va-va-voom visions), but the fleurs in the d'Angleterre's lobby were in a class by themselves. It's not as if the arrangements walk up to you and clobber you over the head with their gorgeousness; rather, it's their simple, quiet sophistication that is so striking. The blossoms dramatically enhance and refreshingly transform the surroundings: They glow against the muted, neutral, grayish and aubergine palette of the mohair furnishings and marble-clad foyer and lobby. Sky-blue pink bursts of color from voluptuous peonies are combined with soft-blush tones of more exotic buds, both accented by staccato notes of the intense lavender of lisianthus. Stunning.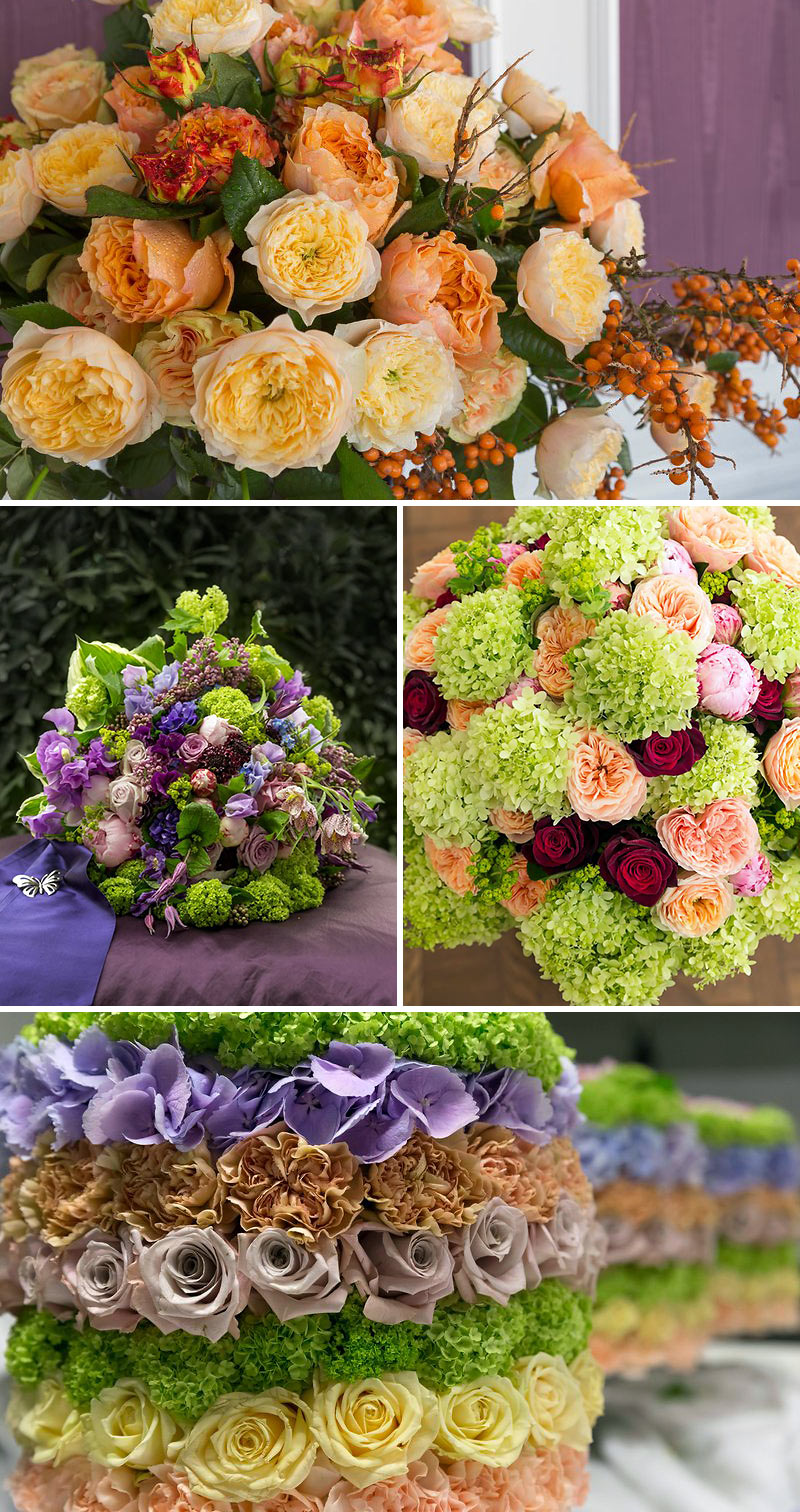 I learned later that the hotel (like the Corinthia) has its own in-house design operation, Creations Studio, with a jewel-box boutique in the hotel, where it vends exquisite floral arrangements as well as carefully curated merchandise (opulent coffee table books, flower boxes, cashmere throws, table knickknacks, and so on).  Creations Studio is also the go-to design source for the many weddings and corporate events held at this pillar of old-world Copenhagen.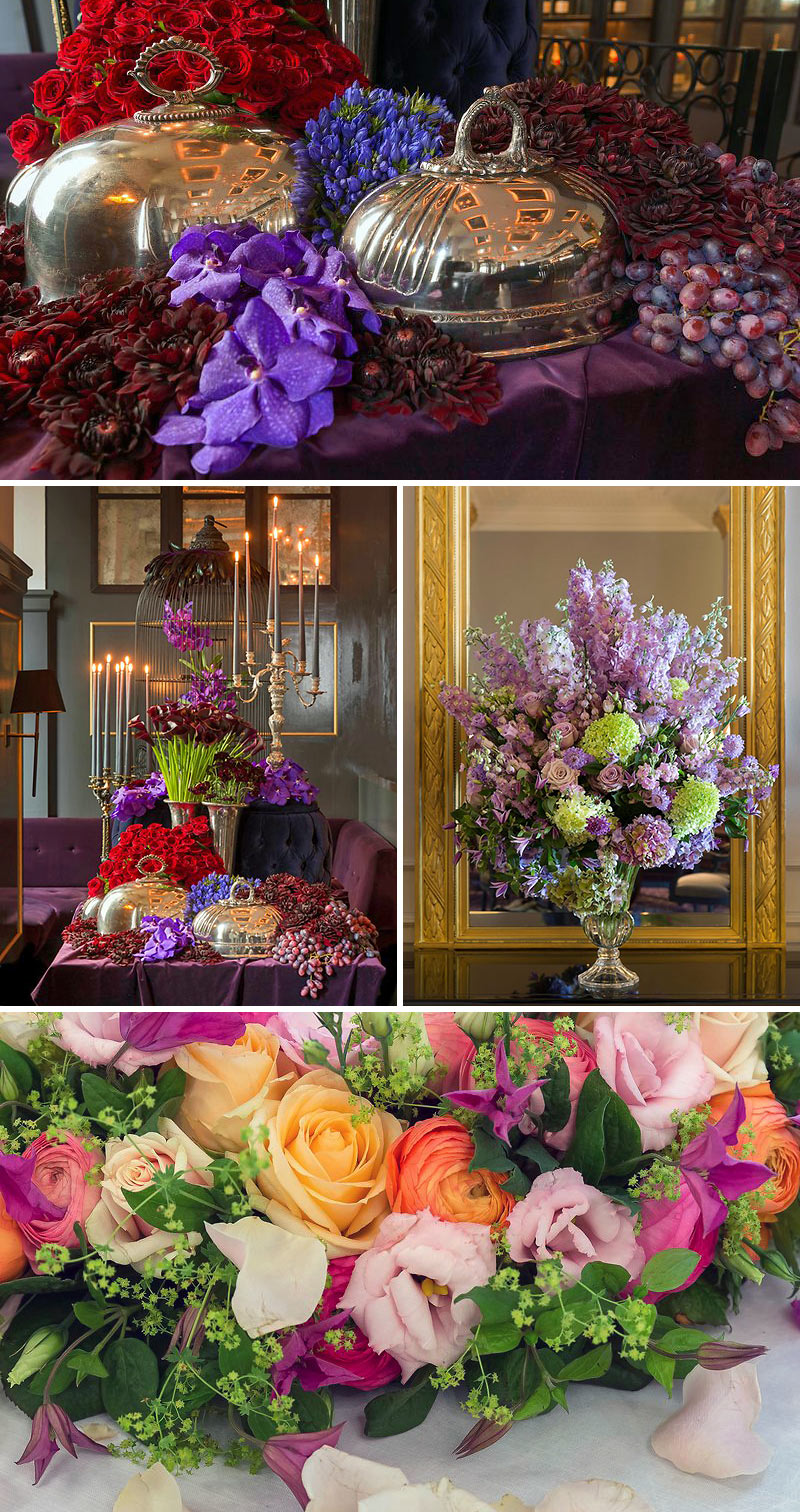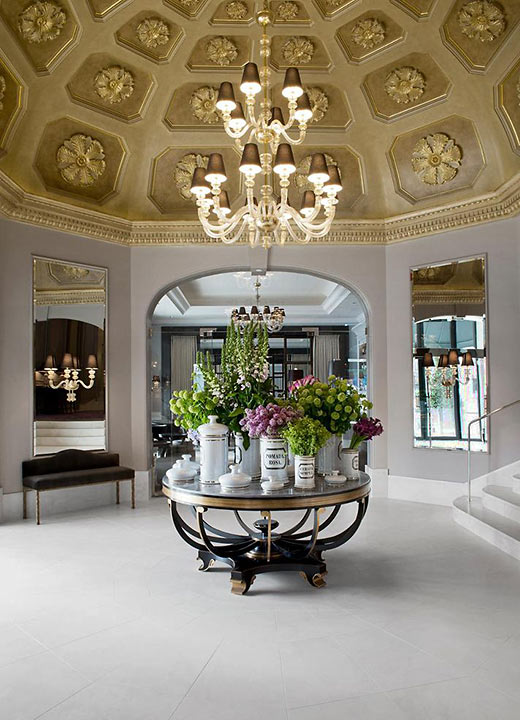 Indeed, the hotel has noteworthy, weighty history, assuring its proper place as a bastion of Denmark's formidable landscape. Its pedigree is one of amour, which only adds to the glamour and mystique of the property. In the middle of the 1700s, Jean Marchal, a French servant, and Maria Coppy, the daughter of the Danish royal family's chef, were both pierced by Cupid's arrows. She was a veritable magician in the kitchen and he was a maître of the required skills to not merely satisfy, but to please, the aristocracy. This match-made-in-Copenhagen forms the roots of the storied d'Angleterre. The couple opened a restaurant and later moved that eatery to the Kongens Nytorv (King's New Square) and then transformed it into an auberge. It took on its official name some 30 years later, in 1787, and now, 260 years after that, the illustrious hotel is still home to royalty, A-listers, and civilians with discerning palates and an eye for tasteful living.
Which brings us to Marchal, the hotel's Michelin-starred restaurant. I was in transit for merely one day, but had time to stroll the square and settle in for a divine luncheon at Marchal. The city's square at the doorstep of the hotel had been under renovation for a full 20 years (!) and the day I was there, it was being prepped for the following day's official celebration marking the completion of this never-ending urban project.
It is an imperial plaza, newly planted with double rows of 80 linden trees; it features freshly cobbled walkways and a new Krinsen (circle) Garden. There is an equestrian statue of King Christian V, who ruled Denmark when the platz was created. Slightly asymmetric, it is the central meeting point for le tout Copenhagen. Warm-weather exhibits, wintertime ice-skating, and countless events are staged here, as it is truly the focal point of the metropolis. Other significant edifices dot its perimeter — the Royal Danish Theater, the Charlottenborg Palace (now the Royal Danish Academy of Fine Arts), the Thott Palace (now the French Embassy), and the Magasin du Nord (a major department store).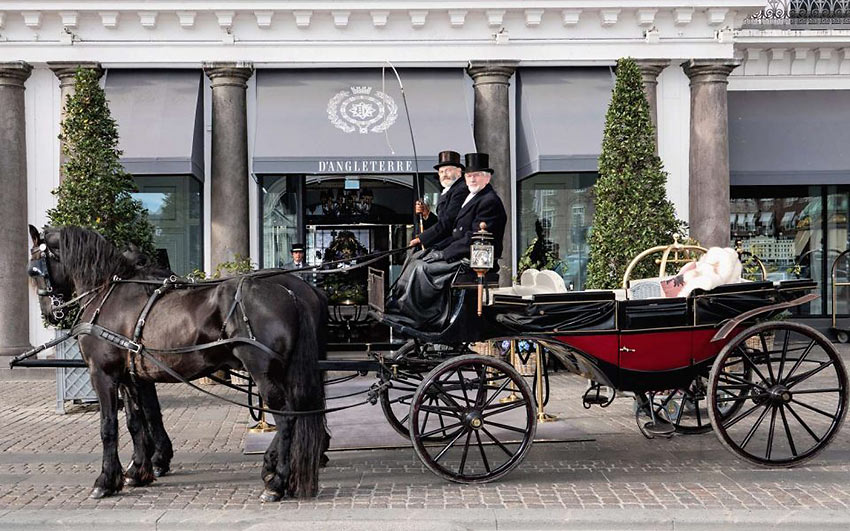 Marchal features a warm and welcoming dining room, with an open, spic-and-span kitchen and a massive wall, housing the wine cellar, behind glass. There is a glassed-in terrace, as well, and in summertime, a sidewalk café.  Inside, the delicate mauve and lavender of the velvet- and damask-swathed banquettes and dining chairs provide a quiet landscape, appointed with burnished wood and gleaming marble. But the soothing interior design is not the key draw; that is reserved for the fare from Executive Chef Andrea Bagh, who formerly worked at Kong Hans Kælder, another renowned Copenhagen restaurant. Chef Bagh has invigorated a menu with rich echoes of classic French, new-age Danish, and worldly flavors, and has rightly earned a Michelin star not too far into his reign.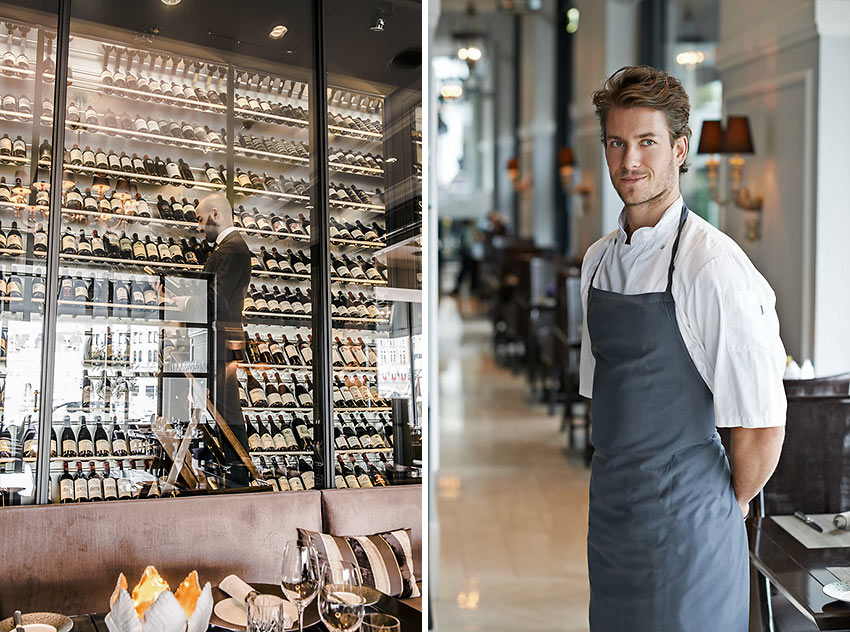 There is an abundance of oysters and  caviar on the menu, if that is your fancy — Gillardeau oysters with wasabi, finger lime, and ginger oil; succulent perle blanche oysters "Bloody Mary" with piment juice, celery, and Tabasco.  As for the caviar, there are at least five different kinds, served graciously with all the expected accoutrements, including the de rigueur blinis and egg whites and yokes; and, my favorite — heavenly, melt-in-your-mouth sturgeon.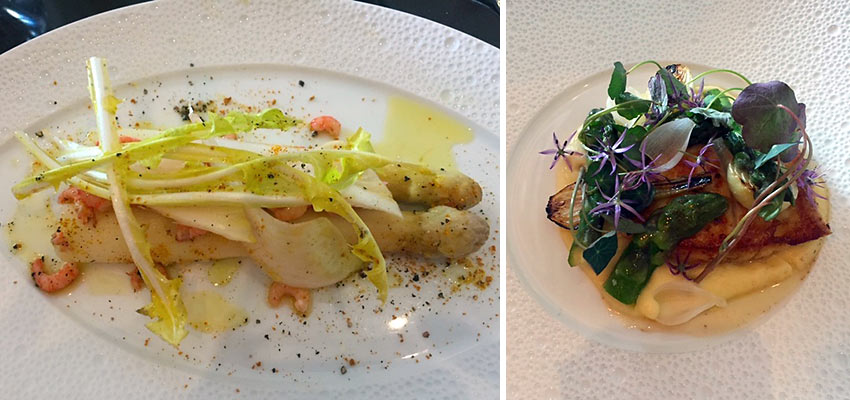 The menu is rife with seafood, from Norwegian scallops, to baked sole, to grilled lobster (with pumpkin and saffron).  The chef's signature turbot and canard are both served for two and are skillfully and artistically plated and presented — and it is worth noting, the restaurant uses one of my all-time favorite china patterns, Bernardaud's Ecume, in custom-crafted, burnished gold and deep plum, as well as in the traditional snow-white.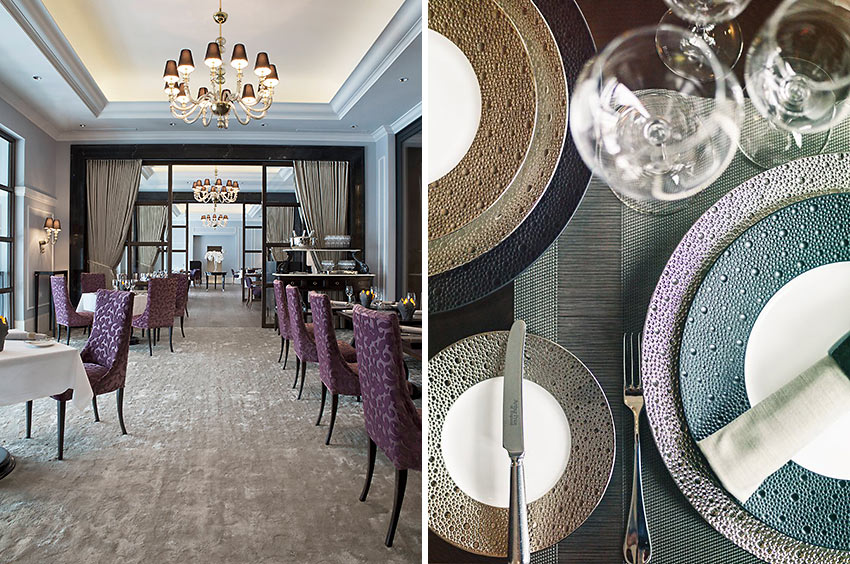 Desserts include an assortment of hard-to-find cheeses; panna cotta with bergamot and citrus salads; a lusciously rich chocolate mousse with caramel, candied almonds, and Calvados ice cream. Pastry chef Nicoline Julie Hjort Jørgensen's offering of post-prandial miniardises is toothsome and tempting. Save a little room.
Hote d'Angelterre, Kongens Nytorv 34, Copenhagen, K 1050, Denmark
NOTE: Marchal serves a delightful and tasty afternoon tea and will also be offering a festive, six-course holiday meal, starting November 18 through December 26.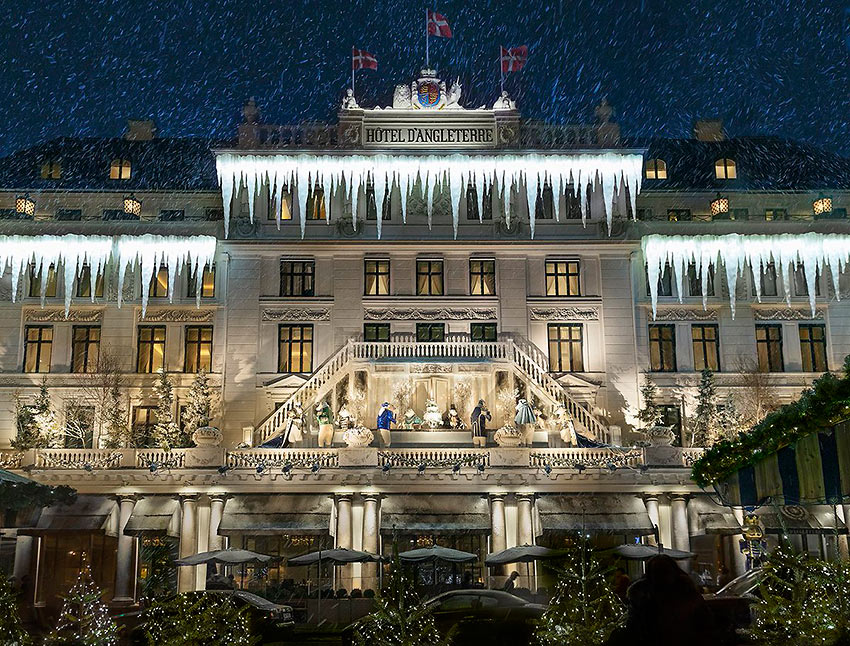 © Ruth J. Katz 2019  All Rights Reserved