Heroes Among Us
Last week, 60 Minutes featured an American who responded to an unsolicited email from a "Liberian scammer." What started as a mischievous game by the American to outwit the scammer, turned into a real friendship and a start of a business that benefited a poor Liberian village. It turned a Zero into a Hero.
Great story, huh? But you know what's even better? Knowing that there are many more stories like that that never make it to prime time news. I am actually surrounded by many friends whose generosity and good deeds go unnoticed.  I see it in church, in the streets, in restaurants, business establishments … I see it a lot in non-profit organizations. Most (if not all) of them do it out of genuine concern for others. It's the HUMBLE ones who are the really GREAT ones. A few of my generous friends passed away early this year. In their lifetime, they wouldn't want to be honored but I feel I should thank them for their legacy just the same.
I think of Ray Carlson (I mentioned him a few months ago in this TGIF forum) who dedicated his life to promoting entrepreneurship for decades. When I heard he was gone, the picture that flashed in my mind was Ray dancing with Joy, his lifetime sweetheart, who departed 5 years earlier. I miss him pestering me to create flyers and arrange meetings for his entrepreneur program.
I think of Ambassador Vic Lecaros of the Philippines. I always remembered Vic taking leadership positions since College. I have not seen him for decades … only hearing about his good deeds. He was the anti-politician who was a man of integrity. He never enriched himself through his position. When I met the current Philippine Consul a few months ago, I asked if he knew Vic. The Consul looked at me in bewilderment and asked me a question in return — "You mean, Vic, my BOSS?"
I remember Bob Caparas, one of College chums (who I also  talked about in one of my TGIF emails in the beginning of the year). He was a gentle spirit and I knew he had a lofty position at the VA Department of Transportation but I only realized how respected he was when the State of Virginia flew their flags half mast in his honor when he passed away. Bob never bragged about what he did.
In each of their deaths, a feeling of loss overcame me. The world somehow feels incomplete without them. I'm sure you can share similar stories about your own friends … especially the silent heroes.
Thank God for the heroes among us. While we still are able, wouldn't it be nice if we send them a note of appreciation? (Hint! Hint!) Our words of encouragement may be just the little push they need to keep their spirits going.
"It is not the honor that you take with you, but the heritage you leave behind."
— Branch Rickey
TGIF people!
Missing Ex-Wife
Shared by Tom of Pasadena, CA
The day after his ex-wife disappeared in a kayaking accident, Mr. Frykenberg answered his door to find two grim-faced State Troopers.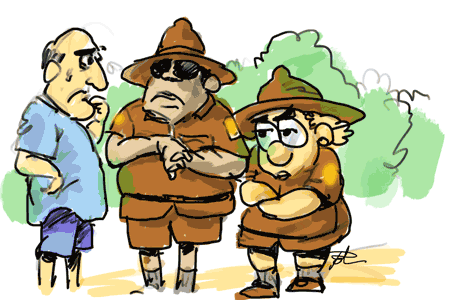 "We're sorry Mr. Frykenberg, but we have some information about your ex-wife," said one of the officers.
"Tell me! Did you find her?!" Frykenberg asked.
The troopers looked at each other.
One said, "We have some bad news, some good news, and some REALLY GREAT news. Which would you like to hear first?"
Fearing the worst, Mr. Frykenberg said, "Give me the bad news first."
The Trooper said, "I'm sorry to tell you, sir, but this morning we found your ex-wife's body in the bay."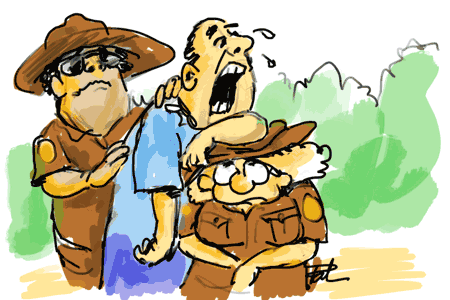 "Noooo!! Why?! Why?!!" exclaimed Frykenberg. Swallowing hard, he asked, "What could possibly be the good news?"
The officer continued, "When we pulled her up, she had 12 of the best looking Atlantic lobsters that you have ever seen clinging to her. Haven't seen lobsters like that since the 1960's, and we feel you are entitled to a share in the catch."
Stunned, Mr. Frykenberg demanded, "If that's the good news, then what's the GREAT NEWS?"
The Trooper replied, "We're gonna pull her up again tomorrow."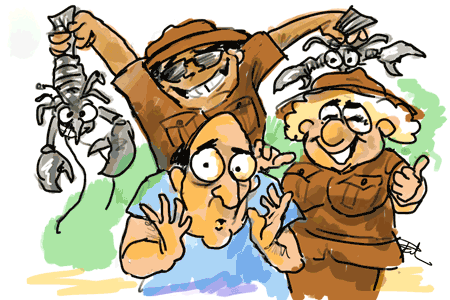 Exploding Purse Prank
Sent by Rodney of Manitoba, B.C.
What would you do if someone left her purse? Would you give it back? Watch!

What Cats Do for Whiskey
Sent by Sent by Charlie of New Jersey
Cute guy doing the impossible just to get his liquor.
Don's Puns
Don from Kelowna, B.C. has consistently been sending me puns so I think he deserves his own section.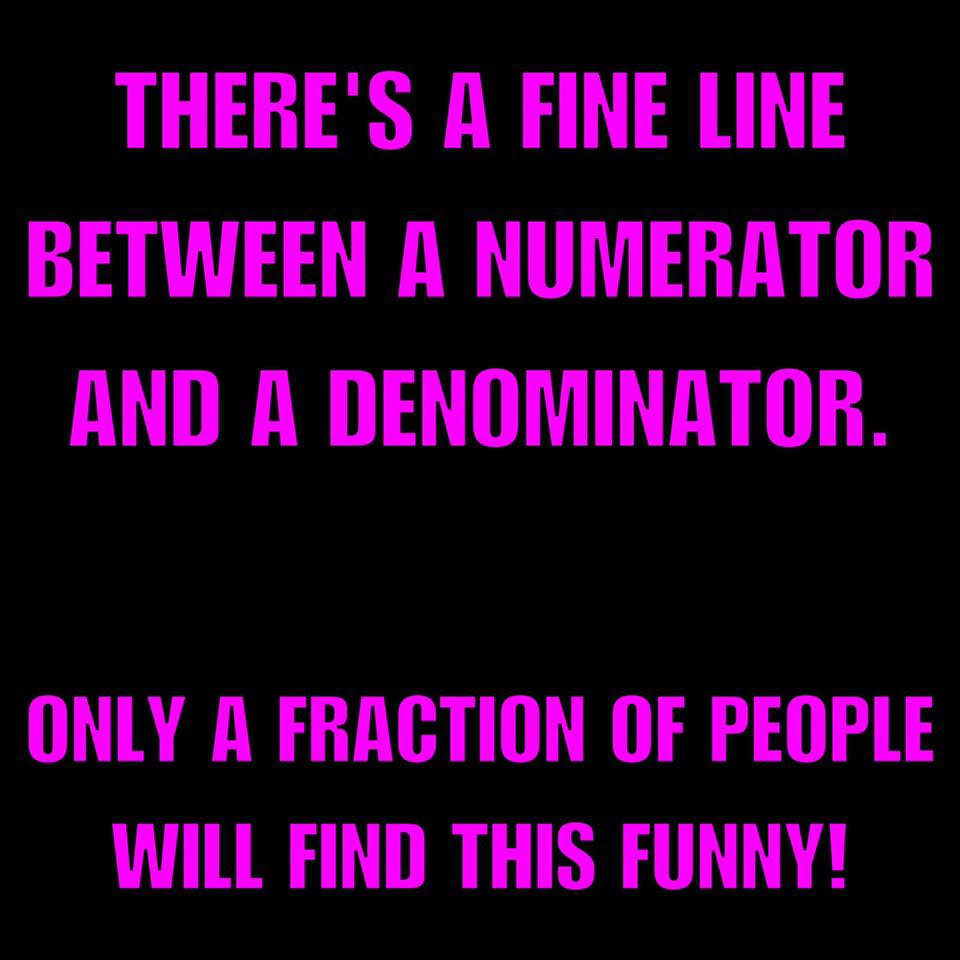 Parting Shot
Thanks to Mel of Washington DC who shared this photo