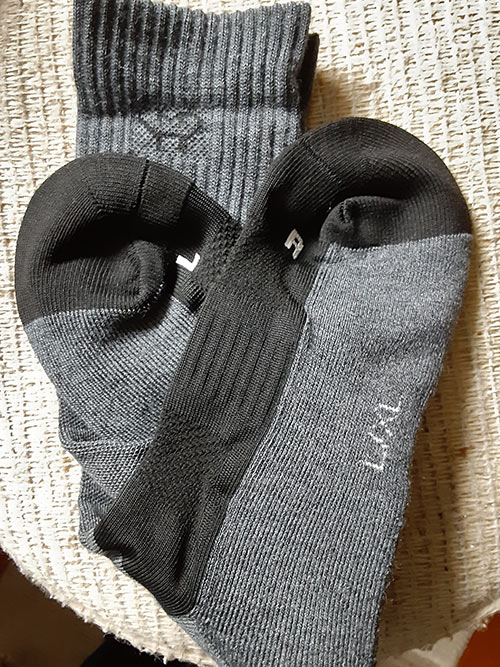 When I agreed to review another pair of socks here for Travelingboy, I did not know they were from the same people who produced the socks for my last review. Not that it would have stopped me, but they'd have to be different to warrant another attempt. Well, I was surprised but not disappointed by my new MP Magic Socks.
First, these were described as their new merino wool sock that that would be great for hiking but would do double duty as a suitable-for-the-office sock.  One of my most comfortable pairs of socks is Wigwam's Merino wool blend, so I was definitely interested in trying these "new" socks.  Then I was assured that the size was L-XL, so I knew they'd fit my feet in my size 45 Ecco boots which I wear every day. I decided they were worth a look and I'm glad I did.
I have long complained that sock designers ignore the fact that feet are different shapes. What fits on my left foot, with its big toe on the right, doesn't always fit on my right foot with the big toe on the opposite side. Yet manufacturers always make the sock toe the same shape, ignoring the differences in anatomy.
Finally, the folks at Magic Socks got it right. My socks came labeled "L" for the left foot and "R" for the right foot, and they fit the designated foot! Why hasn't anyone done that sooner? No more stretching a "lefty" into a "righty" – thank you! And they are odorless and antibacterial, too.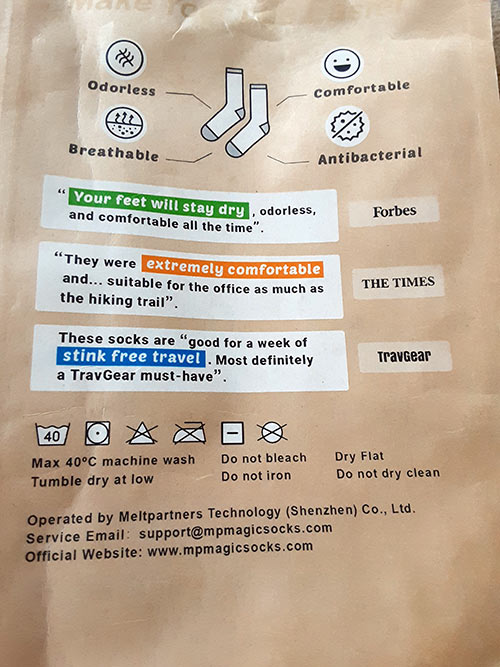 L & R socks may sound like a minor thing, but this is especially useful when the socks are designed to be worn more than once between washing.  Yes, much to my surprise, this heavier gauged hiking sock is another five day sock. But I was not surprised it worked as well as the last pair I tested! I wore these socks a full five days. Two of the days, after working outside stacking firewood and raking leaves, they were damp with sweat when I removed them. Each time I thought I could not possibly wear them in the morning, and each time they were dry, pliant, and odor-free when I dressed the next day. After five days they looked as if they had been worn once, and smelled that way too.
My new Magic Socks also have special ribbing for cushioning, and separate, more open weaving to make them more breathable. They are still only in black and grey, but the other two of my three "cons" in my original review – too thin a material and too small a size – have been addressed. They listened to me! I hope you do too. Just give these socks a try. I think you'll like them.
MP Magic 37.5 Tech Merino Wool Socks: Stay Warm & Dry
DISCLAIMER: While Richard Frisbie sometimes receives products and/or services at no cost for review, every effort is made to present an unbiased, objective and fair assessment of their capabilities and value. He does not get paid or receive any revenue from manufacturers or retailers of products reviewed, nor is he paid for this review.
Was this review helpful? Please rate it in the comment section below.
See more PRODUCT REVIEWS from Richard Frisbie