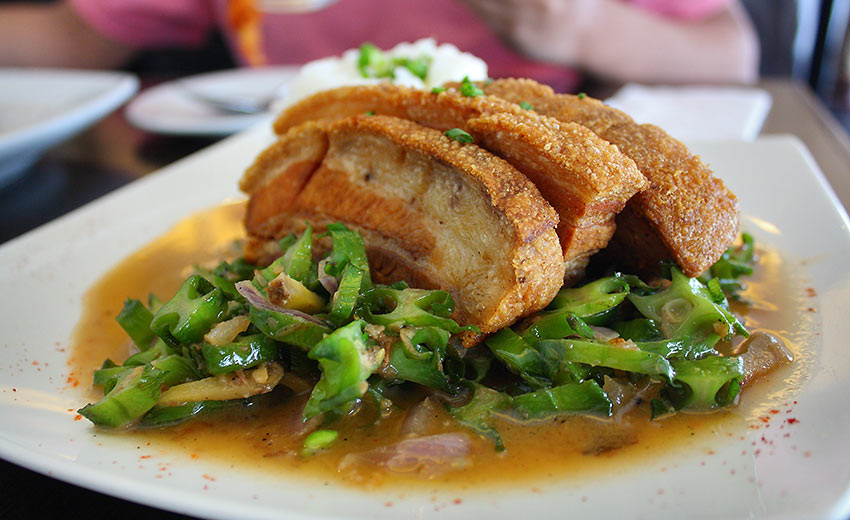 What is Filipino food really? This was a question posed by a Filipino-American who grew up in New York as he traveled to his native Philippines with the late Anthony Bourdain in the latter's food and travel show No Reservations. Growing up in America, this guy knew for sure what Chinese, Japanese, Thai and Korean cuisine is. But Filipino? As we somehow expected their travel to the Philippines did not yield any satisfactory answers. But in this case some questions are better left unanswered.
The Philippines' 7,000 islands and multiple ethnicities have made its cuisine very diverse. Add the influence of the Malays, Spanish, Chinese, Indian, American and contemporary fusion trends and you will be as confused as that guy on No Reservations was. But such kind of influence has made many Filipino tourists and overseas workers adapt to foreign dishes with ease.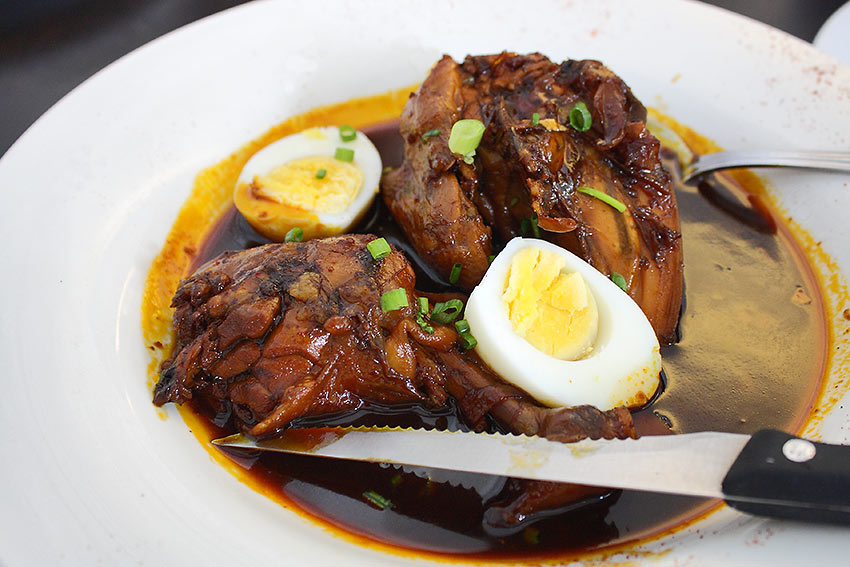 Perhaps, this is a major reason why Filipino cuisine is not so well-known internationally even if millions of Filipinos live and work outside their home country. Individuals of the Filipino diaspora tend to assimilate into the surrounding culture and try not to stand out; consequently Filipino food never went beyond their house kitchens and dining rooms. (That, however, is beginning to change as second and third generation Pinoys – an informal term for Filipinos – on a search for their ethnic identity are beginning to promote Pinoy cuisine where they are.)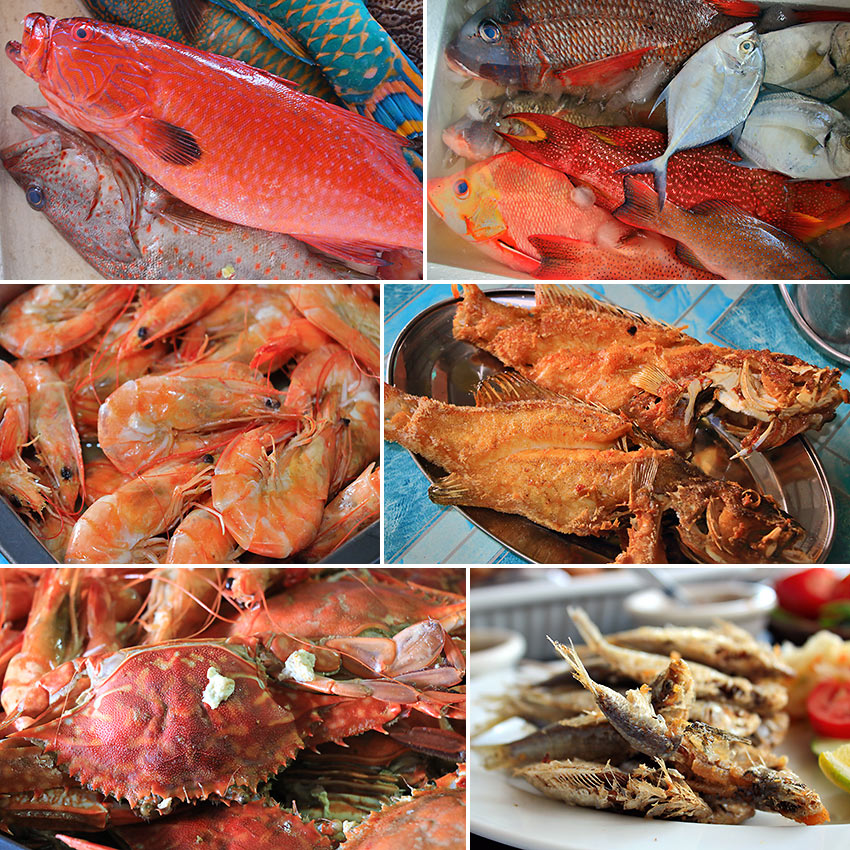 Like any other cultural component, food is influenced by the geography of a place. Because the Philippines is a tropical archipelago lying in the apex of the Coral Triangle, seafood is a staple of local cuisine. Most of the seafood we have enjoyed at our beach and island-hopping forays are simply fried, grilled, broiled or steamed without much fancy but often very fresh (taken straight from or very close to the source). At other times they might be included in a soup dish (tinola or sinigang) or cooked in creamy coconut milk.
As with most cuisines of the world Filipino food is constantly evolving, having been shaped by history and by many unique and affluent cultures. Influences from China, India and Arabia are evident in Filipino food and culture due to economic trade over time. Influences from Spain (actually more from Mexico from which Spain ruled the Philippines) and America may be observed throughout the country's colonial history.
Each region is known for specialty dishes and in many cases these are also the result of their geography and consequently their farm produce (or lack thereof).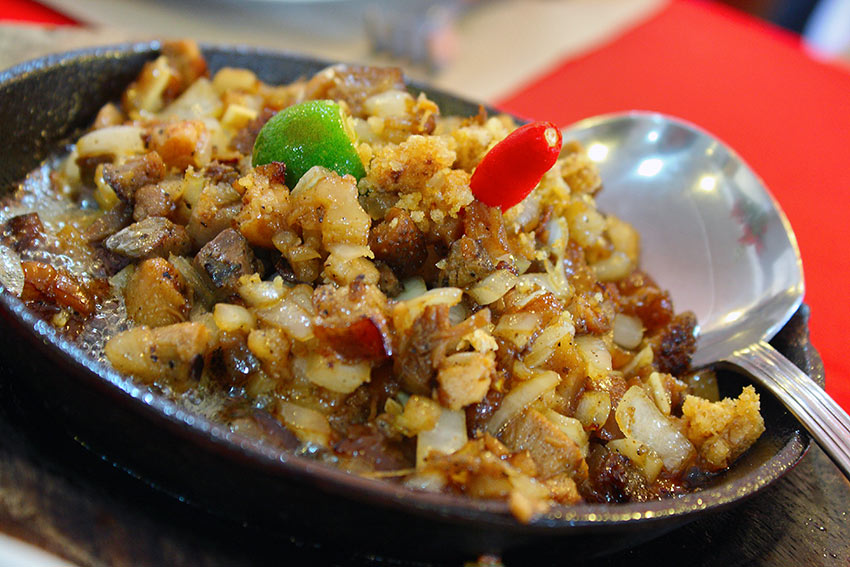 Pampanga, home of great Filipino chefs, is known as the food capital of the country. There is a dizzying array of Kapampangan food available but the ones that have been adopted by the rest of the country include sisig, tocino, kare-kare, morcon and bringhe (kind of similar to biryani from South Asia).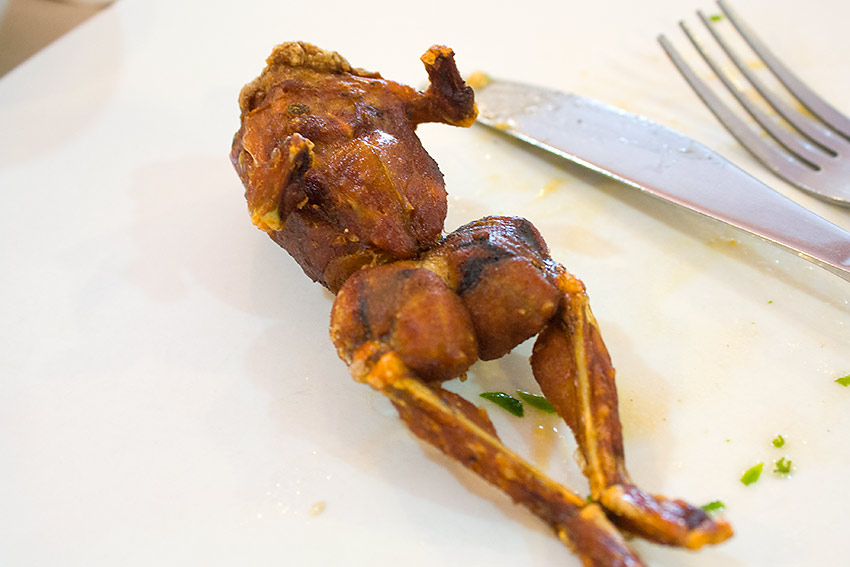 There are exotic Kapampangan dishes too such as betute tugak (stuffed frog), camaru (deep fried, adobo-style mole crickets) and balo-balo or buro (mudfish fermented in rice) most of which may look intimidating to the fainthearted but which we did try and enjoyed.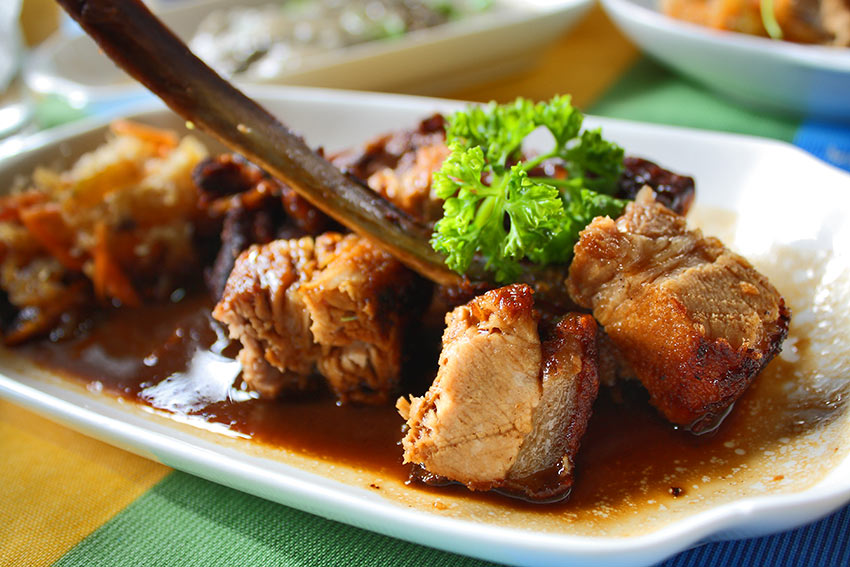 Humba is a popular dish from the Visayas group of island provinces that has been adopted elsewhere in the country. The Visayas are known for fish dishes, no doubt because of the abundance of water in the region. But they have also developed their own specialties besides: the La Paz batchoy (a noodle soup made with pork offal, crushed pork cracklings, chicken stock, beef loin and round noodles), chicken inasal (grilled chicken marinated in a mixture of calamansi, pepper, coconut vinegar and annatto), and pansit molo (a pork dumpling soup using wonton wrappers) of the Ilonggos, a people group of the western Visayas.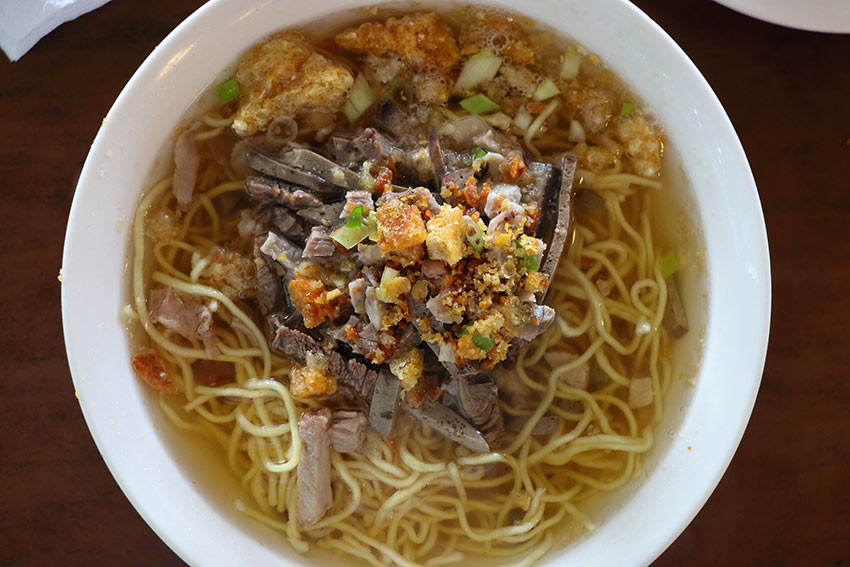 Although you'll find lechon or roasted pork all over the Philippines in different versions, Cebu province in the central Visayas is famous for their version of this dish. Lechon is a Spanish word that originally refers to a roasted suckling pig, hence the obvious Spanish influence. Often the preferred lechon – the lechon de leche – is a suckling pig whose meat is tender and whose skin is super crispy. How good is the Filipino lechon? Anthony Bourdain once said it's the best pork he's ever had. The "Lechon Diva," Dedet de Leon, and her Truffle Rice Stuffed de Leche was awarded in London as the Tastiest Dish in Asia for 2015.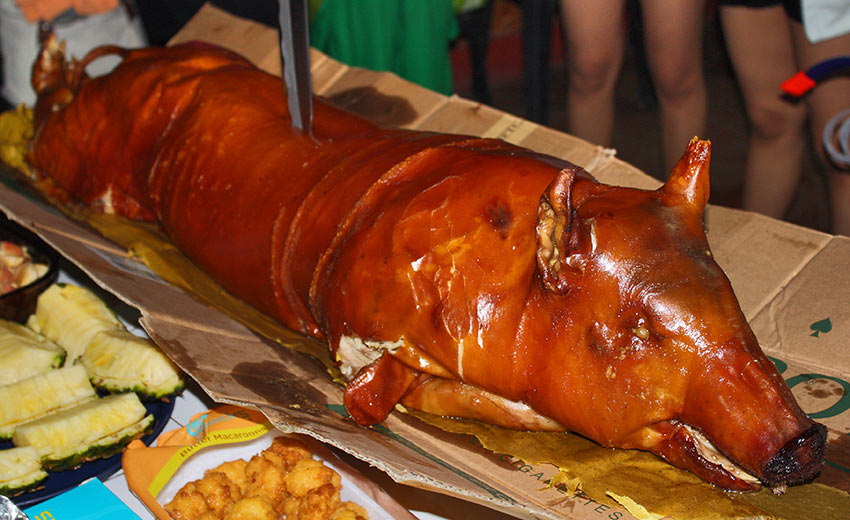 (See food vlogger Mark Wiens' video of the Lechon Diva's specialty lechon and other Pinoy dishes here, get an idea of what Filipino boodle food fight is and hear the crispy crack of the lechon skin as it is cut and devoured.)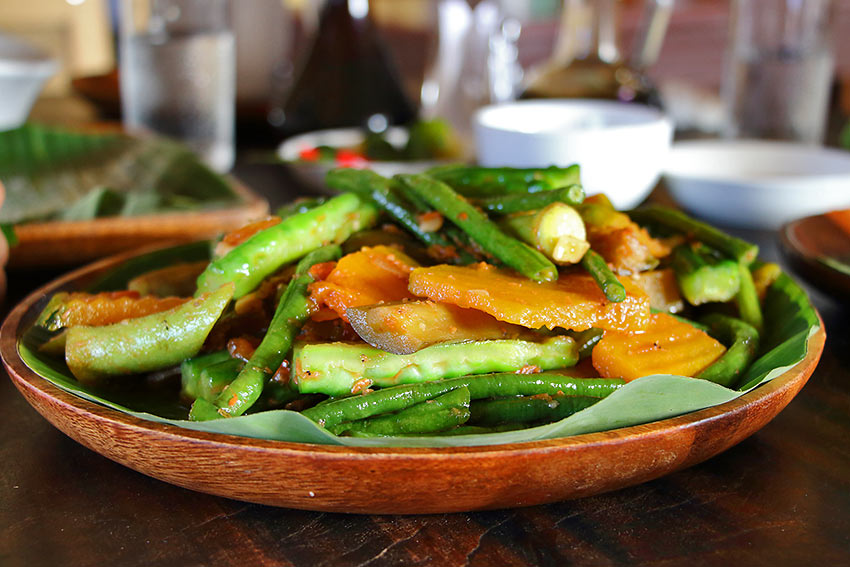 From the Ilocos region in Luzon comes the mixed vegetable dish pinakbet, yet another crispy pork dish called bagnet and empanada. Some towns like Batac and Vigan have their own specialty empanada, a deep fried rice wrapper filled with various meat, egg and vegetable ingredients. (We should also mention the dried espada or beltfish from La Union that is so crispy good when fried that a Malaysian-American friend and mentor calls it the "Philippine bacon.")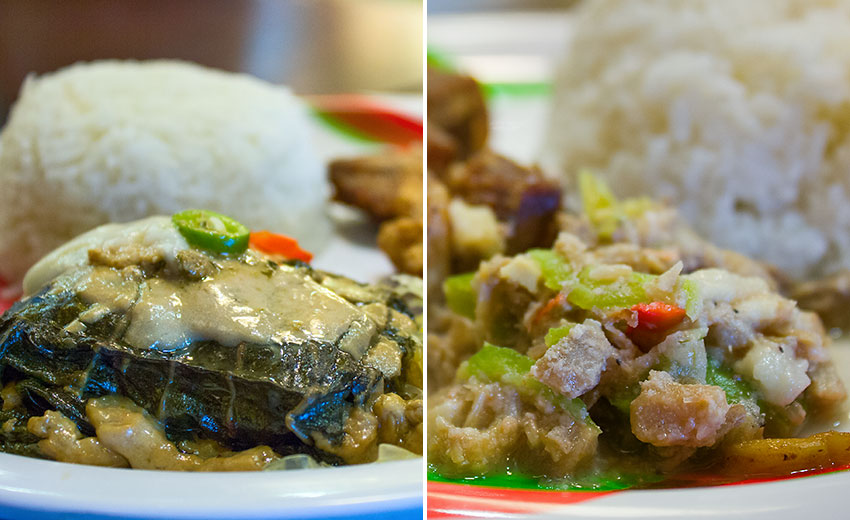 We've also come to enjoy the fresh vegetables and coffee beans from the mountain provinces of Northern Luzon and still try to get a supply whenever we can even if we no longer live there. Farther down south in Luzon, the abundance of coconuts in Bicol and the Bicolanos' love of chili peppers have resulted in spicy dishes cooked in coconut milk such as laing. The Bicol Express, originally from the Malate district of Manila, is inspired by Bicolano cuisine. This stew is made from chili peppers, coconut milk, shrimp paste, pork, ginger, garlic and onions.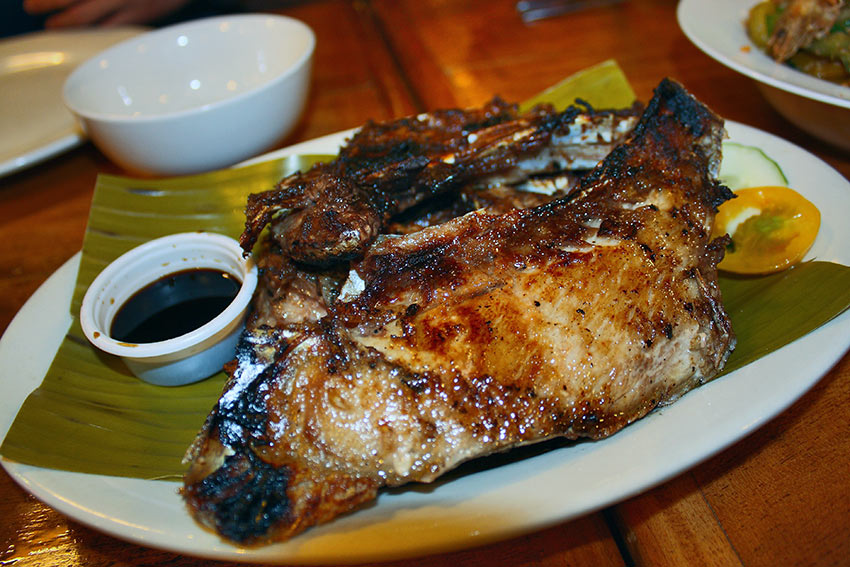 Mindanao, because it is closest to Indonesia and Malaysia, shares a lot in common with the culture and cuisine of these countries. The rich, pungent-smelling, fleshy durian from Davao and nearby provinces is a favorite of ours. And then of course, the inihaw na panga ng tuna (grilled yellowfin tuna jaw) is something that we always try to get every time we visit Davao, that is until we became plant-based eaters. In the past Visayan settlers have migrated here bringing with them their cuisine which has evolved over time to fuse with local fare. The food of our Muslim countrymen in western Mindanao though is something we still have to try.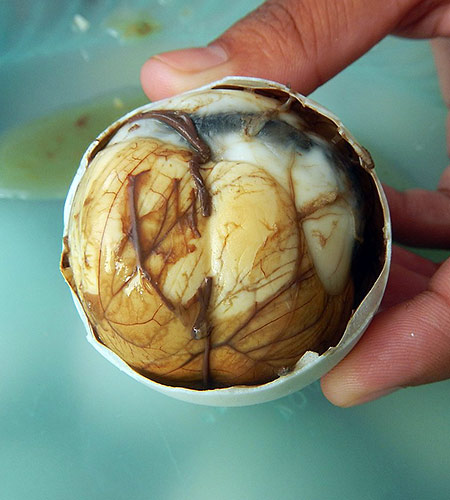 Finally no one talks about Pinoy food without mentioning the internationally famous (or infamous) balut, originally from Leo's hometown of Pateros. A not-so-well known fact is that this fertilized developing duck egg embryo (boiled before consuming) has its beginnings from China. Leo's Chinese ancestors were said to have brought it with them to the country sometime in the 18th century. After some more research we later discovered that while balut originated from Pateros, its creation was accidental. A Chinese immigrant named Lao Chuy who had married a Filipina settled in Pateros in the 18th century. While trying to hatch duck eggs by heating them over charcoal, he ended up cooking them instead. When he tried them he found the cooked embryo delicious and started to produce and sell them. The original balut soon became a hit among locals. Surprisingly most Chinese-Filipinos never became fond of the balut. It is not unique to the country, however. There are similar eggs in Vietnam, Laos and Cambodia which we encountered during our visits to these countries.
Our travels are not just about enjoying the beauty of the places we visit. Even when just traveling to other places in the Philippines we have always appreciated and relished the diversity of the people, their culture and their cuisine – all of which contribute to the richness of our travel experiences.