We Remember Joe
It's been a very long week. I'm so tired and I have yet so much to do for my loyal clients. Love you guys. Tired but I'm happy.
It's almost midnight (the time I should launch this email) and I have yet to put my thoughts together. I want to honor some people today. Here goes.
The enemy was in Joe's sight. Hunched down to avoid detection, his disheveled foe is a trigger away from death. The man tinkers with his pouch for something. And then he freezes … as if he is suddenly aware of Joe's presence. He turns around. Their eyes meet. Time stands still.
Since he was a kid, Joe watched action-packed movies about war. His parents bought him plastic soldiers that he would position in different parts of his backyard mountain. Then he would use his BB rifle and shoot each soldier down. He had guns of different shapes and colors and bullets made of sponges and plastic balls. His favorite cloth pattern? Camouflage. His favorite footwear? Army boots. Favorite haircut? Buzz. When he got older he would join his Dad to campfires in the wilderness and hunt deer. When they finally gunned one down, his Dad showed him how to carve the venison to preserve the trophy skin back to Mom in the city. By all accounts, little Joe was preparing for a career in the military.
Those days of pretend are over. Tucked in the shadows of the bushes in the evening forest, Joe now holds a stranger's destiny in his hands. Does he pull the trigger? Does he grant him life? "Don't do it. Don't reach for your gun," Joe pleads under his breath. But his foe instinctively pulls out the pistol from his pouch. Joe has no choice. A single shot blasts in the darkness. A body drops to the ground. Silence. Joe weeps for a life he has stolen. He steps out of his cover to look at his fallen adversary. Another shot rings out. Joe's knees buckle. His lips kiss the dirt. His vision slowly fades. There is no pain only blood. And then there is darkness.
How many Joes have left us too soon?  How many parents will never know the story of their lost sons and daughters? An idealistic slogan labeled World War I as the "war that would end all wars" but no wishing star could grant this. As long as there are differences in the details of achieving happiness, fulfillment, and fairness, we will depend on our children to defend our freedom … knowing full well that they will be facing other children on the opposite side.
"Too long have I lived among those who hate peace. I am for peace; but when I speak, they are for war."
— Psalm 120: 6-7
Monday is Memorial Day where we in America, honor our deployed soldiers who didn't make it back home. Thank God for all the Joes who defended our Land of the Free. Thank you, thank you, thank you.
TGIF people!
Redneck Procedure
Shared by Tom of Pasadena

This joke is dedicated to my friend Jerry who got "fixed" last Wednesday. — Raoul

Candid Camera: Sitting Too Close for Comfort
Sent by Art of Sierra Madre, CA
Did you ever have an intimate conversation in a restaurant while a curious stranger beside you heard every word? Awkward.

Africa: The Music
Sent by Charlie of New Jersey
Toto's popular song "Africa" rendered by Peter Bence — a one-man-band doing the piano and percussion in a pretty cool electronic way.

'Be Thou My Vision' by Kaoma Chende
Sent by Don of Kelowna, B.C.
Another one-man-band. This time he is from Zambia. CLICK HERE to read his story.
Don's Puns
From Don's collection of puns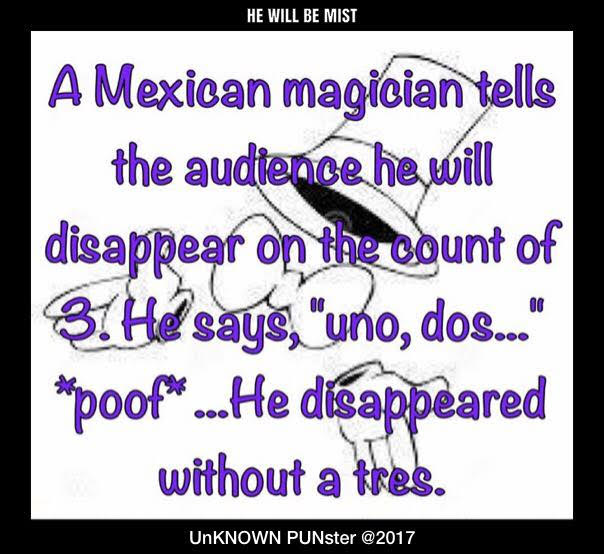 Parting Shots
Thanks to Debbie of Moreno Valley who shared this photo