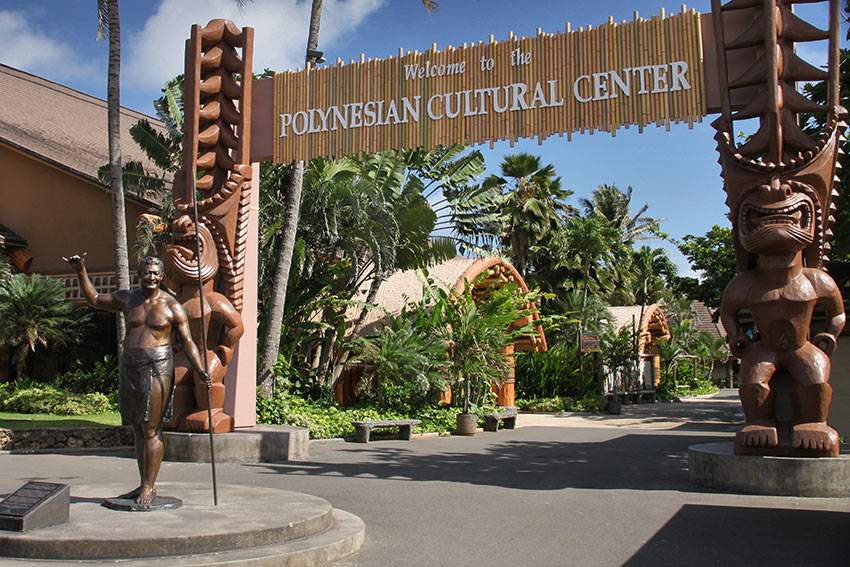 Hamana Kalili was there to greet me, his right hand extended in the gentle shaka wave of welcome. His statue stands at the entrance of the Polynesian Cultural Center on the North Shore of the Hawaiian island of Oahu. A descendant of Hawaiian ali'i (chiefs), Kalili (1882-1958) lost the middle, index and ring fingers of his right hand in an accident at a sugar mill. Reassigned to oversee train safety, he would wave his right hand with the middle three fingers missing, indicating to the train conductor that all is clear and the train is ready to go. For this, Kalili is considered the originator of the iconic shaka. Hawaiian children and surfers would emulate the shaka, and soon the whole world seemed to be doing it. His statue was not there on my last visit to the PCC, and I was excited to see more of the other enthralling changes at the Center.
Back Story — Polynesia and the Polynesian Cultural Center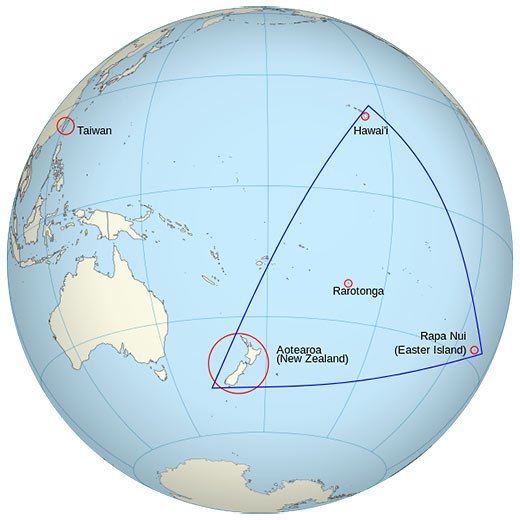 Polynesia (many islands) covers a triangular-shaped geographical area of the Pacific Ocean, known as the Polynesian Triangle, which consists of Aotearoa (New Zealand), Rapa Nui (Easter Island) and Hawaii, with the islands of the Marquesas, Samoa, Tahiti, Tonga and Fiji in between. All of the island cultures share similar traditions, arts and religion. In the mid-1800s, the village of Laie on the North Shore of Oahu became a place of refuge for villagers who had broken the laws of the king of Hawaii. The lifeblood of the community was the Hukilau, a form of net fishing invented by the ancient Hawaiians. This evolved into a festival, open to everyone. In 1865, the Church of Latter Day Saints purchased the land, making it a "gathering place" for all. As settlers from other Polynesian islands arrived, a church and relief society was created, where inhabitants grew food and made handicrafts. In 1963 the Church of LDS and the adjacent Brigham Young University-Hawaii established the 42-acre Polynesian Cultural Center to keep alive the rich history and traditions of the indigenous island cultures of Polynesia. The Center also helps defray educational expenses by providing work experience for BYU-Hawaii students who are employed as tour guides and docents.
What's New at the Polynesian Cultural Center
After I returned Kalili's shaka wave, I decided to wander around the entrance's new 119,000-square-foot Hukilau Marketplace that features restaurants, food tucks, bakeries, and venues that offer Polynesian arts and crafts – many of which almost doubling as mini museums. Sticking to the theme of a "gathering place," I was impressed that it was not at all touristic, and that prices are kept low so that it can be enjoyed by locals as well.
I soon passed though the entrance gate which depicts a carved presentation of Kupe, who Maori oral history christened the name Aotearoa, or what Europeans later renamed New Zealand. A few yards further there was another statue; this one a life-size bronze statue of Laie's Joseph Kekuku, inventor of the Hawaiian steel guitar. His mission was to share the steel guitar's distinctive sound around globe. As history goes, once while practicing on the mainland, a nail fell onto his electric guitar and the sound was born.
First stop was the Samoan Village whose activity consisted of our group participating in making lunch for the day. The most popular event at the Center, we learned how to create fire by rubbing two sticks together, peeling unripe bananas, and wrapping taro roots and kalua pig (soaked in coconut milk) in leaves. We then made our own plates by braiding coconut leaves together. The Samoans refer to the coconut tree as the tree of life. The food items are placed on top of hot rocks (they do not bury the ingredients as in the imu-style) then cover them with coconut leaves. It was great fun, but it was painfully obvious that I would never make it as a cast member on Survivor. After we returned from touring another village our lunch was ready.
The drums were pounding at the Aotearoa Village and so was my heart. Two tattooed Maori warriors worked in unison as they commenced in the pulsating beat of the Haka war dance. The tattooed men were powerful; not tall, but compactly built and intimidating. If I were a NFL quarterback I would want them on my offensive line. Members of the crowd were asked to join them on the stage. Later we learned the symbolism of their intricately carved meeting house and unique facial tattoos. We soon tested our dexterity by twirling balls and playing tititorea, a Maori stick game designed to develop hand-eye coordination.
Our schedule was tight, but somehow I manage to get a quick overview of other villages that included the islands of Tahiti, Tonga, Hawaii, and Fiji (though technically part of Melanesia, Fiji is included due to a strong Polynesian influence).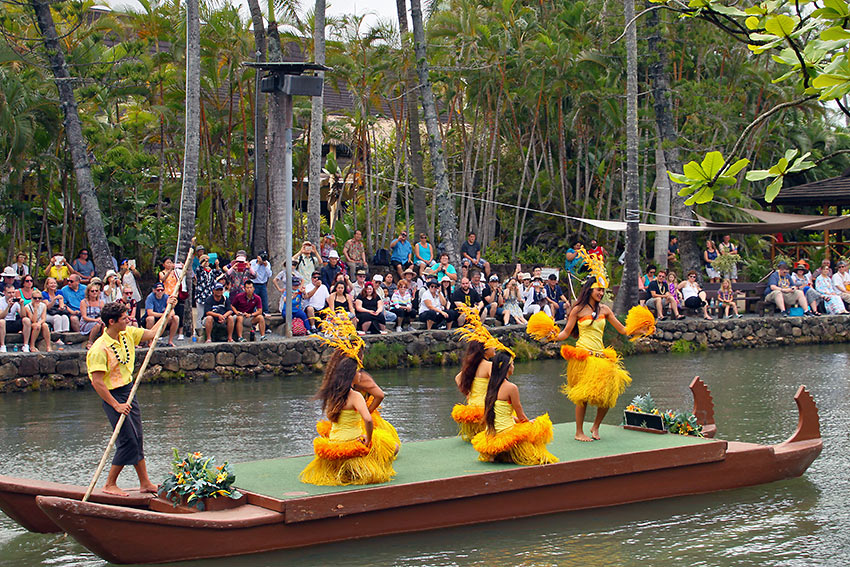 A must-see event is the Rainbows of Paradise canoe pageant, where traditionally clad Polynesians float down the Center's tropical lagoon atop double-hulled canoes, showcasing traditional dances and music. Later our group paddled around the lagoon in our own native-style outrigger canoes.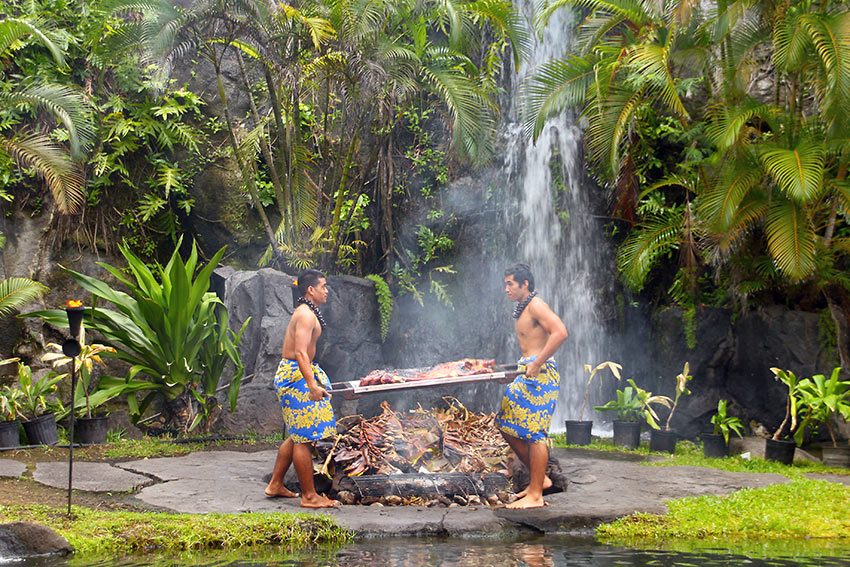 Our evening was spent enjoying the Center's arena-size luau. Despite its massive scope, the food was fresh and delectable, and featured Kalua Pig (cooked whole in an 'imU' underground oven), Mahi Mahi, Lomi Lomi Salmon (cold diced salmon, tomatoes and onion), sweet potatoes, Poke (generally fresh cubes of ahi/tuna), Taro Dinner Rolls, Hapuia (a coconut flavored desert) and, of course, Poi (a thick, purple-colored paste made by pounding taro roots, now used more to absorb the saltiness in some dishes as opposed to a staple).
The luau was followed by Oahu's largest evening show spectacle — Ha: Breath of Life — which covers the entire circle of life of a Polynesian family.
Once again I was reminded why the Polynesian Cultural Center is the number-one paid attraction in Oahu. It's a family-friendly venue, with an opportunity to teach children (and adults) about geography, culture, ethnic diversity and tolerance. My heart began to pound again as I thought about my next trip to the PCC; where I'll have an opportunity to enjoy more time to experience the other remarkable, culturally vibrant transitions at the villages.
Where to Stay
For many, the iconic Turtle Bay Hotel is the North Shore of Oahu. Nestled on 880 ocean-front acres, the 5 star, full-service luxury property offers spacious rooms with views, balconies and beaches on both sides. Guests enjoy kayaking amongst sea turtles, keiki water adventures (surfing, canoe surfing, etc), snorkeling, hiking trails as well as large kid friendly pool area.