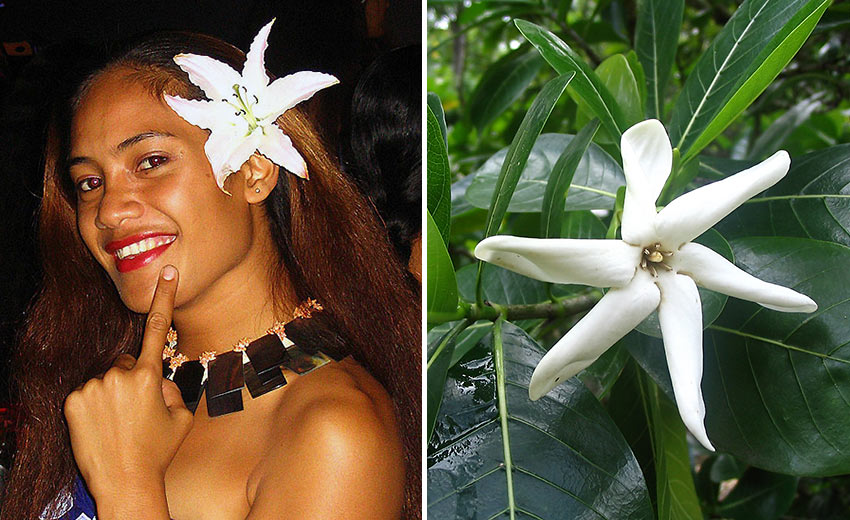 The first thing you notice is the fragrance; where the intoxicating perfume of the tiare flower announces to your senses that you are in a magical place, overflowing with tropical vegetation and soothing trade winds. It is the same fragrance that the English seamen on the HMS Bounty first encountered; but they came not for flowers, but for breadfruit, intended as a new food staple for their African slaves in the West Indies. But that was another time and another emotional place. Today, Papeete, located on Tahiti Nui ("Big"), is Tahiti's vibrant capital city and gateway to her islands. Roughly one-half of all of the Tahitian islands' population live in this city. Papeete bustles with world-class resorts, restaurants, nightclubs and endless shopping.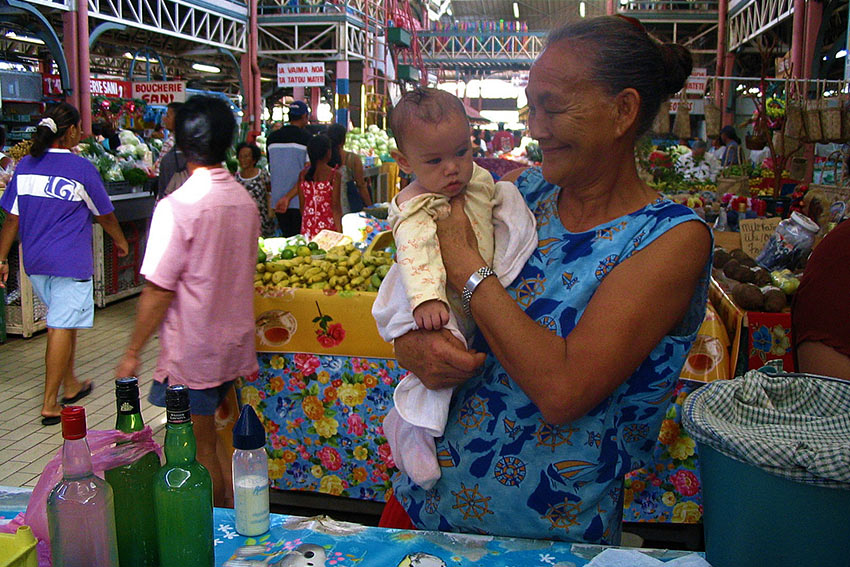 Marche de Papeete
Spread over an entire city block, the two story Marche de Papeete has occupied the same location in the commercial center since 1869. It is a must-see for every visitor. The first floor features fruit, flowers and souvenirs to fresh seafood, produce and takeaway meals. I found that hand-painted pareus (sarong) — worn by women and men alike — make an inexpensive gift to friends. Upstairs, shoppers will find larger retailers selling Tahitian pearls, ranging from inexpensive to the opposite. Most importantly, it is the ideal venue to kick back with a tropical smoothie, and watch merchants and local shoppers laugh, gossip and converse. There is no better place to enjoy the pulse of Tahitian life.
Back Story
Like many of the Pacific Islands, it's a widely accepted theory that around three to four thousand years ago, there was a great migration from southeast Asia which led to the settlement of many Polynesian islands. The Museum of Tahiti and Her Islands offers a good overview of the island's history. The English were the first Europeans to arrive, stripping the islanders of much of their heritage. In 1842, the French took over, and today the islands' inhabitants possess full French citizenship, but the Gallic texture is evident only on the surface. Yes, the police keep the islands safe, but have learned to never enter a home when there's a family disputes or even violence. Often times when a local commits an egregious crime, justice is handled the tribal way, where the offender might 'accidentally' fall from the top of a mountain or mysteriously drown while fishing.
Feats of Courage
The pōpao is the Tongan outrigger canoe, one of the smaller vessels of Polynesia. The canoe's hull is carved out of a tree trunk and sticks (sometimes bamboo) and are often used as crossbeams that connect the outrigger or smaller hull. Tahitian outrigger canoes first arrived in Hawai'i around 200 AD, some large enough to hold up to 80 people. The pōpaos were filled with essential items like edible plants and water to ensure a safe voyages in search of new lands to colonize. Prior to long ocean voyages, the wayfarers would train like athletes, building strength and limiting water consumption. The navigational voyages — voyages of spectacular feats of courage, strength and skill — are still widely admired today. Numerous canoeists attempt to emulate the Polynesian voyages; but with the backup of small motors, compasses and enhancing food items, and certainly not a voyage into the unknown.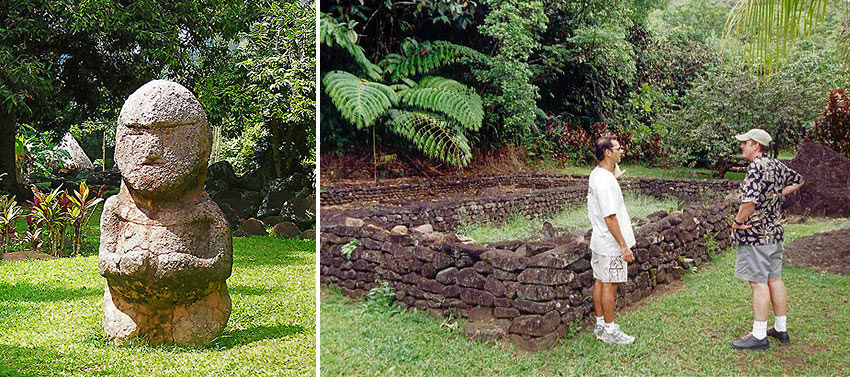 Arahurahu Marae, the islands' only completely reconstructed marae, is an open-air place of worship and ceremony. The sacred temple is constructed of tiers of stones where the Tahitian elite made sacrifices. Yes, sometimes even human. Only the royalty are allowed inside, while commoners risk death by entering. My guide informed me that he had never once stepped into a marae. Somehow, I survived.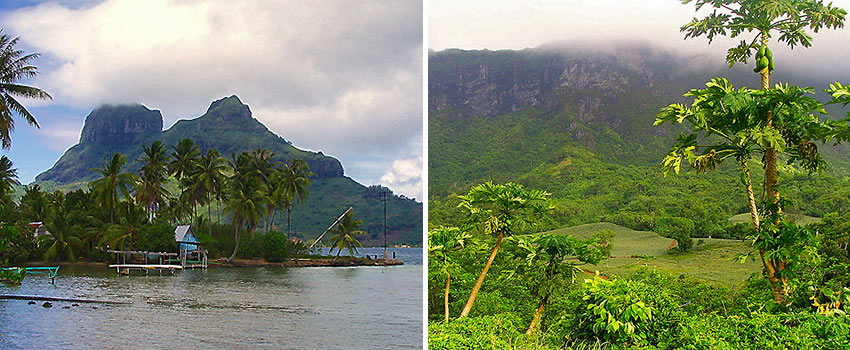 Put an inland safari on your list, too. My jeep tour was deep into the mountainous valley of Papenoo; a true Garden of Eden with fertile displays of ginger, vanilla, taro, noni and breadfruit. The medicinal and cosmetic benefits of the pants and flowers are well utilized by the Tahitians, renowned for their health, physical beauty and spiritual serenity.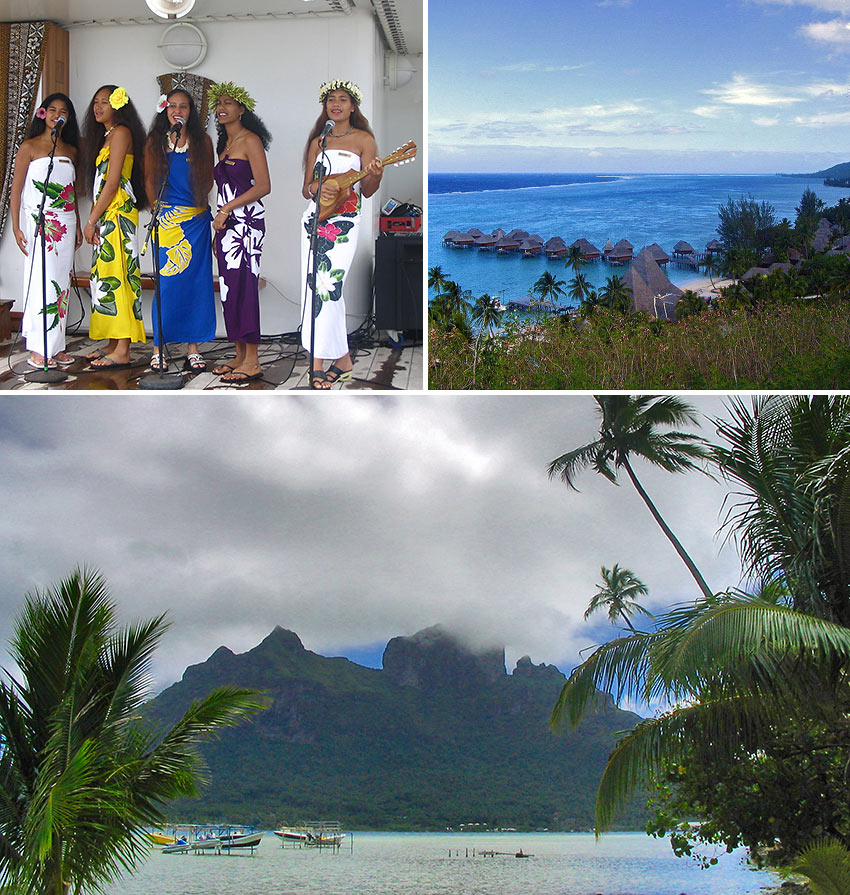 Tahiti Nui has much to offer, but locals also proudly tout the outlying, less-populated islands for their beauty and tranquility. Like southeast Alaska, exploring the other Tahitian islands is best accomplished by booking an excursion on a cruise ship. You get to see more islands and it's less expensive.
Bora Bora — The Romantic Island
With its alluring blue lagoons, lush tropical slopes and Mount Otemanu looming in the distance, this enchanting island is synonymous with romance. Bora Bora is ideal for a bike ride around the island, a leisurely hike, or to simply disappear by a refreshing lagoon. The history buff will enjoy seeing remnants of cannons manned by American servicemen during World War II. Until 1942, there were no roads and no vehicles on Bora Bora. Now tourism is well on the rise, with scores of over-the-water bungalows dotting the seascape, but to North Americans, this is still paradise found.
Moorea — The Magical Island
Moorea is the very essence of a South Seas island paradise, and it comes as no surprise that it is a favorite of many Tahitians. The beauty of the island, with its jagged green mountains and palm-draped beaches, is astounding. James Michener called it Bali Hai, Herman Melville based his novel Omoo on it, and Captain Cook spoke passionately of its landscapes and the beauty of the people. Moorea is unique among the Tahitian Islands in having magnificent expanses of both white and black beaches, while in most islands it is the pristine lagoon that illustrates much of their beauty. High in Moorea's interior mountains, Polynesian royalty practiced their archery and constructed maraes hidden in rainforests. On a hilltop lookout between shark-tooth Mount Rotui and towering Mount Tohivea, there is an once-in-a-lifetime view once reserved only for the gods.
Raiatea — The Sacred Island
Raiatea (faraway heaven) was the cultural, religious and royal heart of Polynesia — the birthplace of the gods. The second largest Tahitian isle, and where entire clans canoed  off to find new homes on other islands. Today, you can paddle around Faaroa Bay and discover why the island was a favorite of Captain Cook.
Taha'a — The Vanilla Island
Taha'a offers a glimpse of the traditional tranquil life of the Tahitians. The flower-shaped island is surrounded by tiny motus (small islands) and in its fertile valleys farmers grow watermelon and vanilla — first cultivated in Mexico, but with a stronger flavor.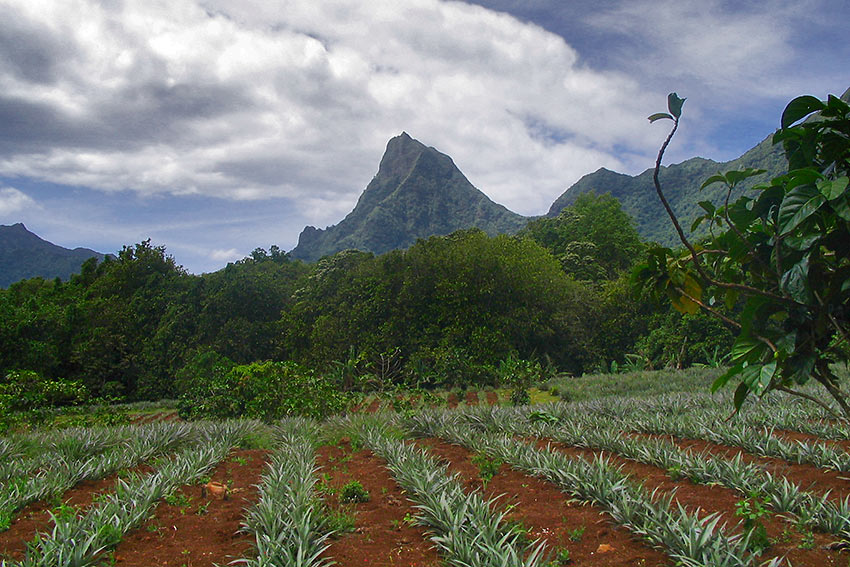 The Foods of Tahiti
Indigenous Tahitian cuisine uses what's available from the land and from the sea, and is abundant in fish and fruit. The word, 'fresh' is essential. The taro root (more flavorful than the Hawaiian version), breadfruit, sweet potatoes, and plantains offer typical starch fare. Mangoes, bananas, watermelon, pineapple, papaya, guava, soursop and pummelo are in abundance. From the lagoons come parrotfish, perch, and mullet; from the open sea, fresh tuna, bonito, wahoo, scad and mahi mahi. Coconut milk and vanilla are incorporated into many of the dishes. With Poisson Cru, a French interpretation of tuna cured in limejuice with chopped green onions, cucumbers and tomatoes; and Fafa, a chicken stew with spinach-like taro leaves; you'll find your taste buds assaulted with remarkable new flavors.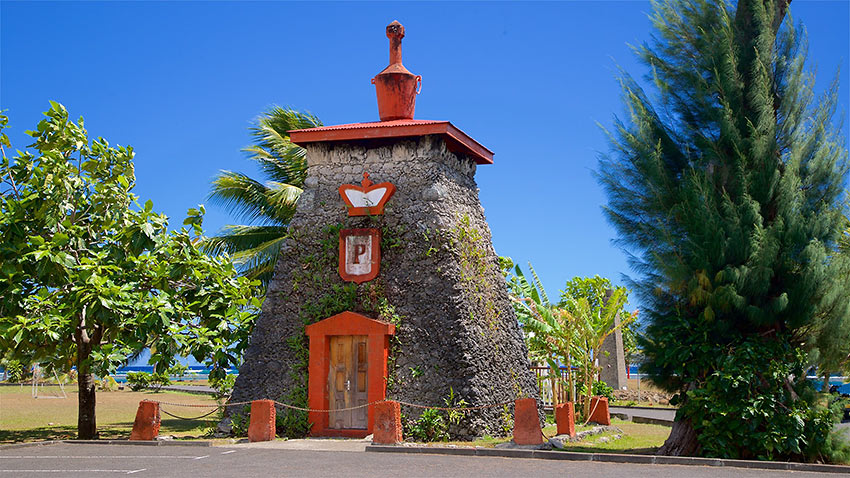 Tahiti & Her Islands: The C-19 Pandemic
Upon check-in at the airport, your airline will require proof of a negative COVID-19 test. The government of French Polynesia accepts an Antigen Test administered withing 48 hours of departure, or an "RT-PCR" Test administered within 72 hours of your international departure.
Today, Tahiti & Her Islands remains the definition of an enchanting island paradise, with the warmth and openness of its people the very essence of its charm and beauty.
For further information, visit Tahiti Tourisme.