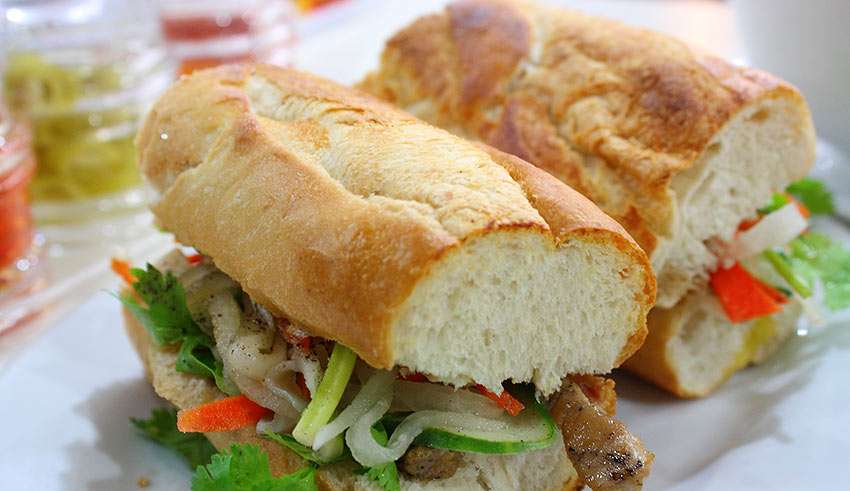 Photo courtesy of Leo & Nina Castillo
This article comes to me by the esteemed Traveling Boy writers, Leo & Nina Castillo from the Philippines. We are fortunate to have them part of the T-Boy family of contributors.
Their article struck a personal chord for me of the flight of the gallant Vietnamese immigrant – often simply referred to as the Boat People – as they staked out a new life in my home state of Washington. Seattle, in particular, came to the aid of thousands of Vietnamese refugees fleeing violence and persecution in their own country well-over forty five-years ago. Today, we are blessed to have a Vietnamese ethnic group that is now nearly 70,000 strong in Seattle, and their success is traced back to Gov. Dan Evans. His exceptional leadership established a lasting legacy of the state helping the world's oppressed seeking refuge. Today, most Vietnamese residents of Seattle are clustered around what is known as Little Saigon, just east of the International District. The strong presence of Vietnamese food in Seattle is marked by the ubiquitous pho restaurants all around the city. But there are many types of Vietnamese soup noodles beyond that well-loved bowl, as well as banh mi sandwiches, dry noodle dishes, plates of rice, and even esoteric preparations of various beasts. Seattle has always been considered the gateway to the Orient, and my hometown continues to be of our nation's greatest culinary centers due to the rich tapestry of the immigrant experience. There's a number of recipes in Leo and Nina's article that still haven't made it to the shores of the Pacific Northwest, and I am hungry and curious to give them a try. – Audrey
Healthy, Balanced and Tasty: Vietnamese Cuisine
Ever since we've shifted to a plant-based diet our dining options have considerably narrowed. But there's one particular cuisine that only suffered a minor hit with this change. We've always enjoyed Vietnamese food and with our adoption of a plant-based regimen we discovered we still had a lot of options to choose from. For omnivorous diners, Vietnamese cuisine offers a tasty yet healthy alternative.
Vietnamese food is considered one of the healthiest worldwide due to a minimal use of oil and dairy products and a heavy reliance on herbs and vegetables. During our initial visits to this country we would often spot locals sitting beside heaps of green veges plus a variety of herbs while dining. Vietnamese cuisine is also characterized by an excellent balance of aromatics, heat, sweetness, saltiness and sourness.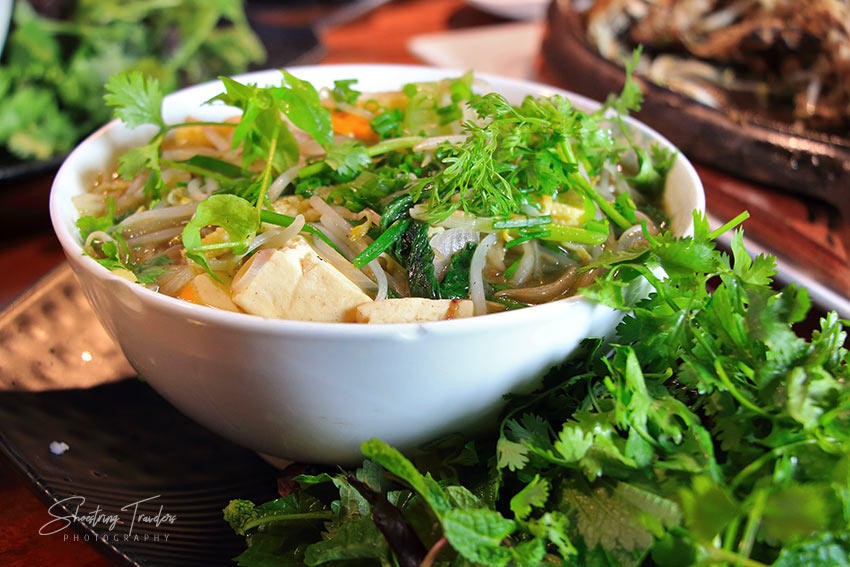 Vietnamese cuisine is one of our top 5 favorite international fares and is now one of the most popular around the planet. While we no longer travel to Vietnam as often as before, a good number of authentic Vietnamese restaurants in the Philippines have allowed us to continue savoring Vietnamese fare. (What we do miss, however, is Vietnamese street food, one of the true highlights of traveling in Southeast Asia.) The following are some of the dishes we have sampled.
Pho (Phở)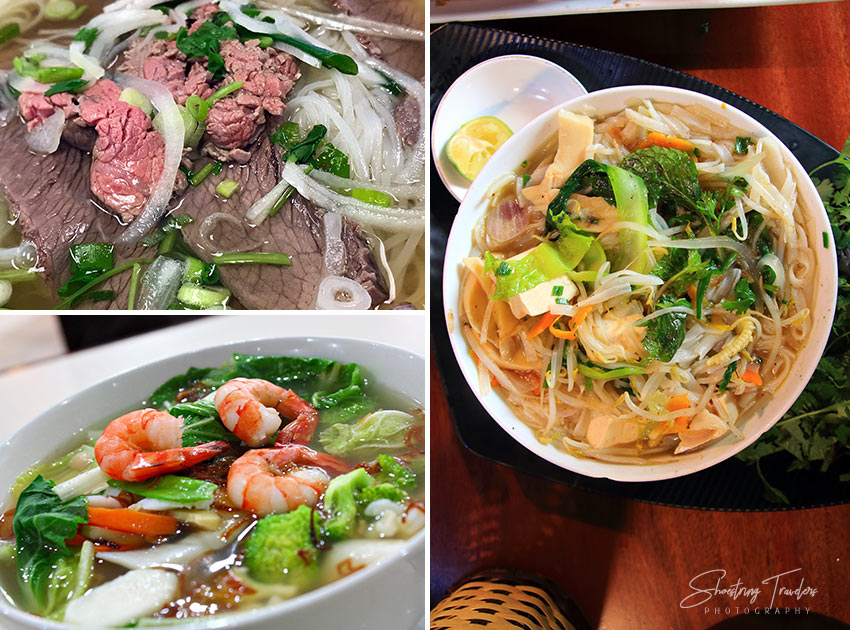 Pho is easily the most popular Vietnamese food globally. A French-influenced noodle soup originating from Hanoi in the early 20th century, pho is made with flat rice noodles, herbs (mint, coriander and others), meat (typically beef or chicken) and tasty broth. Pho is also topped with bean sprouts and other vegetables. We often add Hoisin and chili sauce to the mix for more pep. Our transition to a whole-foods, plant-based diet did not stop us from enjoying this noodle soup since vegan pho may be found in almost any Vietnamese restaurant in Manila.
Banh Mi (Bánh mì)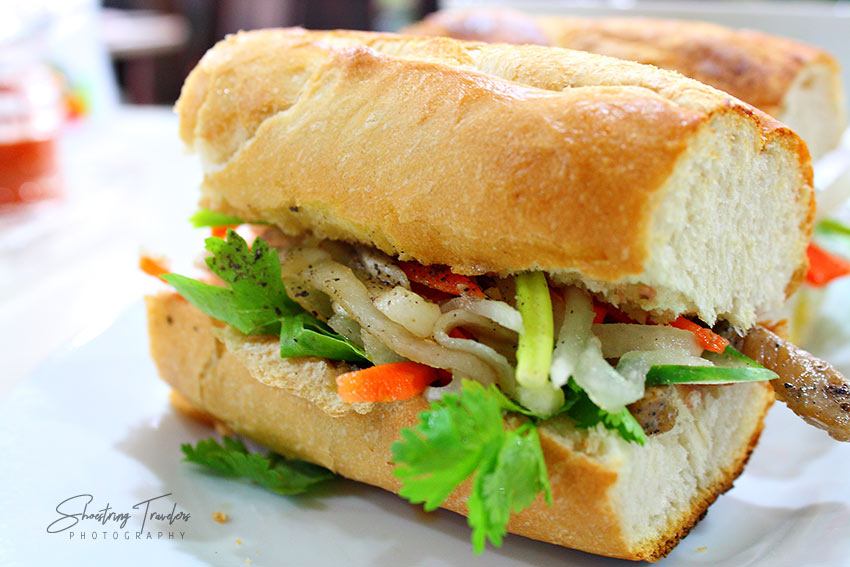 It's almost as popular as pho worldwide and perhaps the most conspicuous proof of French influence on Vietnamese cuisine. Originating from Vietnam's southern regions, banh mi is a crusty baguette filled with layers of meat (traditionally pork but also with myriad variations of other meats), radish and carrot pickles, cucumbers, cilantro, pate and mayonnaise. This might be head-scratching but in about 10 trips to Vietnam before last year only Nina ever got to sample a banh mi once – at a street cart in Da Nang. Leo got his first taste of banh mi at a Vietnamese sandwich shop in Linda Vista, San Diego and fell in love with it instantly. Our shift to a plant-based diet wasn't a deterrence since vegan banh mi is sold in many Vietnamese restaurants here in the Philippines.
Bun Cha (Bún chả)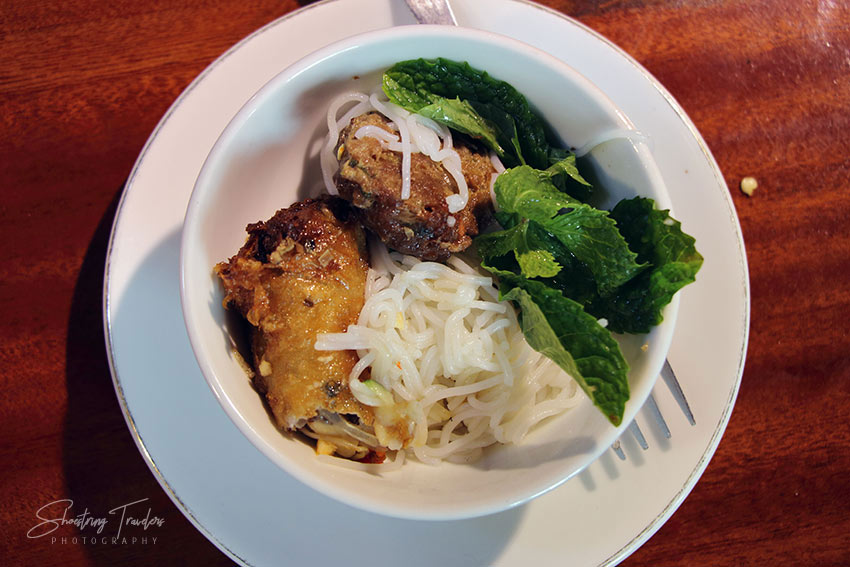 This is a dish we encountered fairly recently on a trip to Hanoi where it is believed to have originated. Bun cha is charcoal-grilled pork served over a plate of vermicelli noodles, herbs and green leafy veges such as lettuce, perilla, cilantro and mint. It's also eaten with a side of deep-fried crab spring rolls and a dipping sauce.
Banh Xeo (Bánh xèo)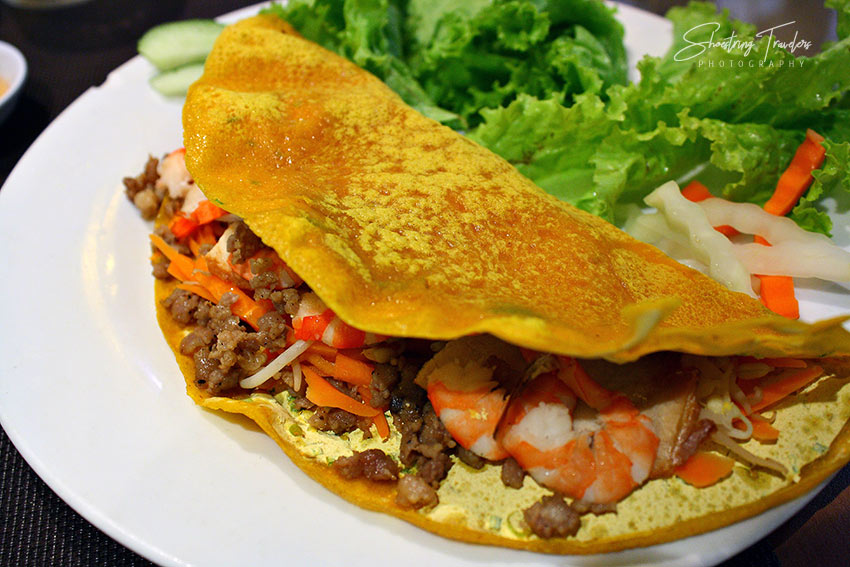 Another French-influenced dish, banh xeo is a crispy, savory crepe made with fried rice flour batter stuffed with pork belly slices, shrimp, green onions and bean sprouts. Our first encounter with banh xeo was at our old office in Baguio City where visiting Vietnamese colleagues prepared several of them. We liked it so much we each consumed 3-4 pieces. However, our Vietnamese friends looked at us in disappointment and asked us if we didn't enjoy it. Later we understood why. When it was their turn to eat, each one polished off 10 of the savory crepes. That they could eat this way and yet remain svelte and slim was a source of envy for us.
Goi Cuon (Gỏi cuốn)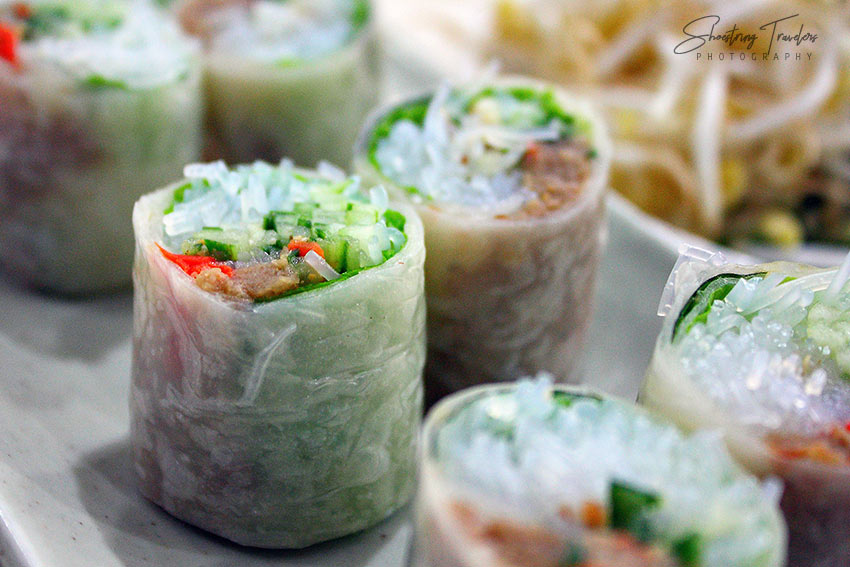 Our favorite Vietnamese salad is perhaps their pomelo and shrimp salad (goi tom buoi) but what we often order as appetizers is goi cuon. Known as fresh summer rolls goi cuon is shrimp, pork, herbs, rice vermicelli and other ingredients wrapped up in rice paper. It is usually dipped in a rich peanut sauce although an optional dip is light fish sauce with spices.
Cha Gio (Chả giò)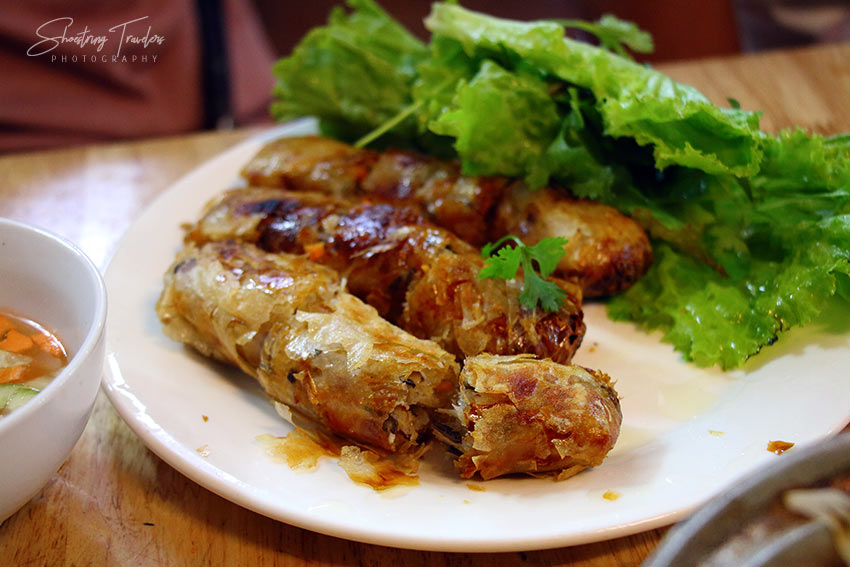 This is the deep fried version of goi cuon and is often referred to in English as fried spring rolls or egg rolls. It's among the first dishes we've tasted in Vietnamese restaurants in the Philippines and it very much resembles a local version. Goi cuon is usually made up of minced pork, veges and spices wrapped in rice paper and deep fried to a crisp.
Cha Ca La Vong (Chả cá Lã Vọng)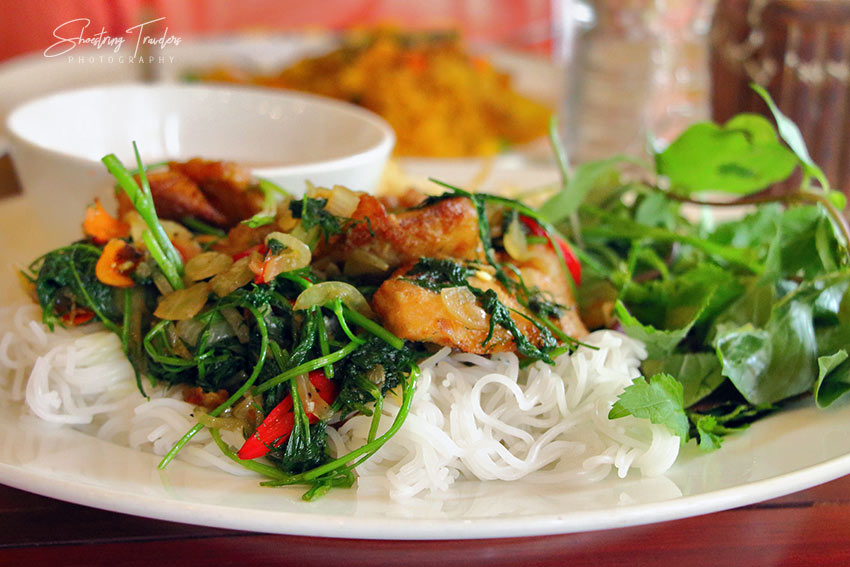 Another dish from Hanoi, cha ca la vong is a grilled catfish or snakehead fish cut into nuggets and served with rice vermicelli, roasted peanuts, spring onions and herbs. The fish is marinated in galangal and turmeric giving it a caramelized coating after grilling. A dipping sauce made up of fish sauce, vinegar and garlic adds to its flavor. Some folks will also add a bit of shrimp paste with lime juice. We had this in a restaurant at the Old Quarter in Hanoi but a cousin said it's best eaten at the market close by.
Kho Tộ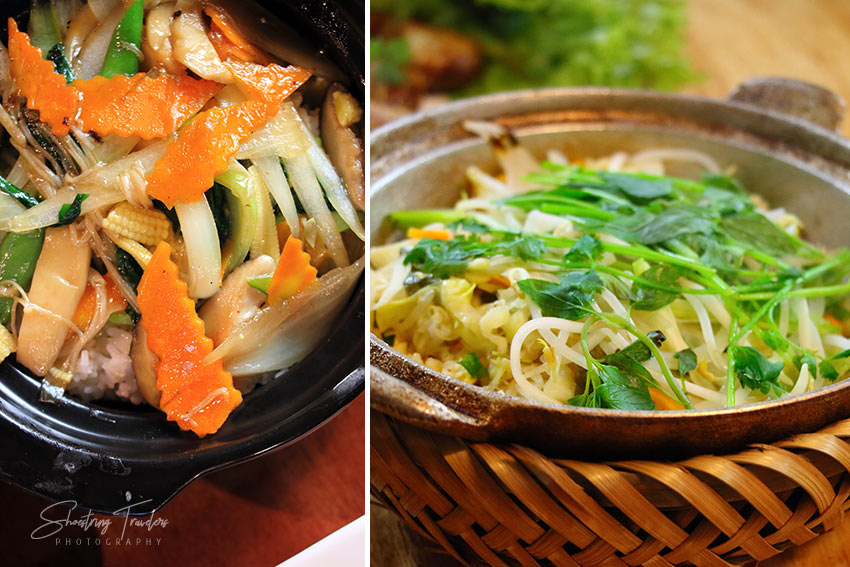 During our trip to Hanoi last year we ordered vegetable claypot rice on a number of occasions. Claypot rice is originally a Chinese/Southeast Asian dish of pre-soaked or sometimes partially cooked rice finished in a clay pot with other ingredients. The rice develops a tasty crust in the process.
Rice Plates and Veges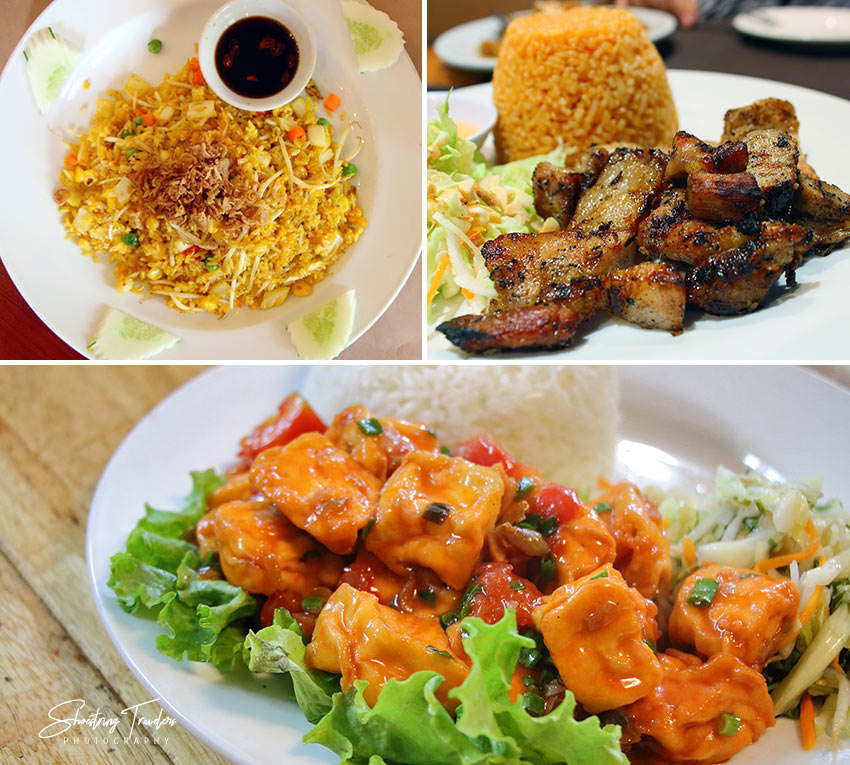 Rice plates served with meat or vegetables or a combination of both is a staple in Vietnamese cuisine as in other Southeast Asian countries. One such dish that we encountered in Ho Chi Minh City is com tam. This dish originated among poor farmers who utilized broken rice fragments damaged during the milling process. During the mid-20th century enterprising South Vietnamese adapted it to cater to foreign visitors, even serving it on plates with a fork instead of in bowls with chop sticks. The com tam of today is usually a bed of rice with greens and different types of meat with grilled pork as the most common.
Vietnamese Iced Coffee (cà phê sua dá)
A beverage with French influence, is cà phê sua dá or Vietnamese iced coffee. This is strong coffee served with a generous serving of crushed ice and sweetened with condensed milk. We've tried this in restaurants outside Vietnam but have ended up disappointed for the most part. The best cà phê sua dá we've had is still to be found – no surprises here – inside Vietnam itself.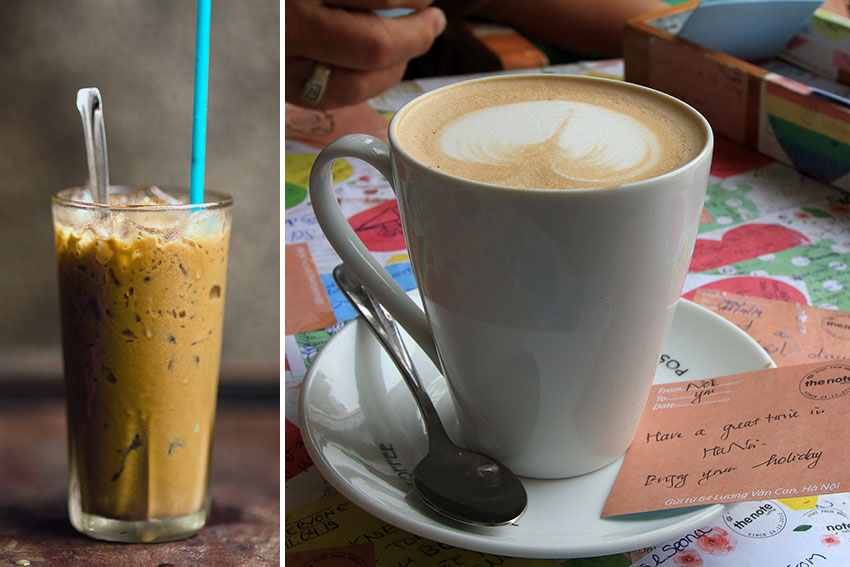 Egg Coffee (Cà Phê Trứng)
This is a relatively new concoction made with egg yolks, sugar and condensed milk. Some people will tell you it's the best coffee in Vietnam. We've tried this just once along with coconut coffee in Hanoi. A more exotic coffee is civet or weasel coffee, an increasingly popular coffee in Southeast Asia and said to be the most expensive of its kind in the world. We didn't try this in Vietnam but bought a few packets of ground coffee to take home but are now regretting this purchase. We learned later that while civet coffee was initially made by collecting coffee beans eaten by civets in the wild, many countries have turned to using civet cats held captive in deplorable conditions due to the high demand.
With several Vietnamese restos here in the Philippines hardly a month passes by that we don't visit one, especially since Leo needs to have his banh mi fix at least every month. Even with the quarantine imposed due to Covid19 these restaurants can deliver dishes right at our doorstep ensuring that Vietnamese cuisine won't be leaving our palates in a long while.