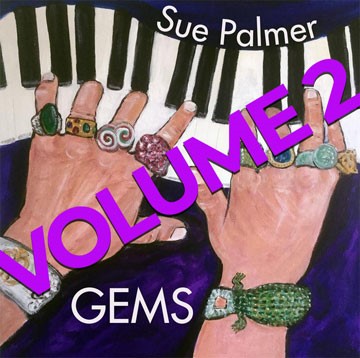 Its 2020, so it should be perfectly clear to you there is simply no better way to start the decade than with a new project from Sue Palmer. She continues to mine her four decade, freakishly large catalog of music in order to provide us with Gems: Volume 2. Palmer, widely known as the Queen of Boogie Woogie, and without doubt she most certainly is, but don't let titles fool you. There is so much depth in her art, layers to her musical career, and variety of style and presentation, it's easy to understand why you may have been distracted.
Gems: Volume 2 is composed of what Sue refers to as "personal favorites" recorded by several of her bands dating back to the 1980's. The most recent track recorded just this past summer with old friends and special guests at the Thunderbird Analog Recording Studio. It's a wealth of material that truly reflects her lifetime in music. So I asked if putting together this project made her a little nostalgic. "Yes." Sue says. "Most of the time, over the last 70 years really, I was always looking forward to the next project. I'm still like that now, but I guess I'm old enough to want to write my memoirs, musically speaking. I find it interesting to figure out why I came to be playing a certain way. They say everything you do is just preparation for the rest of your life, forever preparing. I have found that everything I have done musically, I have eventually used."  
Time and space prevent a complete description of the total project, but to whet the appetite let's examine a few nuggets. Songs that jump out at you… "Anytime, Anyplace, Anywhere" is a beautiful and loving homage to Hadda Brooks. Vocalist Deejha Marie spells it out and the lushness of the Motel Swing Orchestra adds so much texture, its music you can feel.
"Freak Lover" is a little different, reminiscent of the Prohibition/Speakeasy era, with Candye Kane at her bawdy best. 'Come and see about me, Daddy!' The violin of Eric Hokkanen gives you some Papa John Creach attitude in this uptempo romp.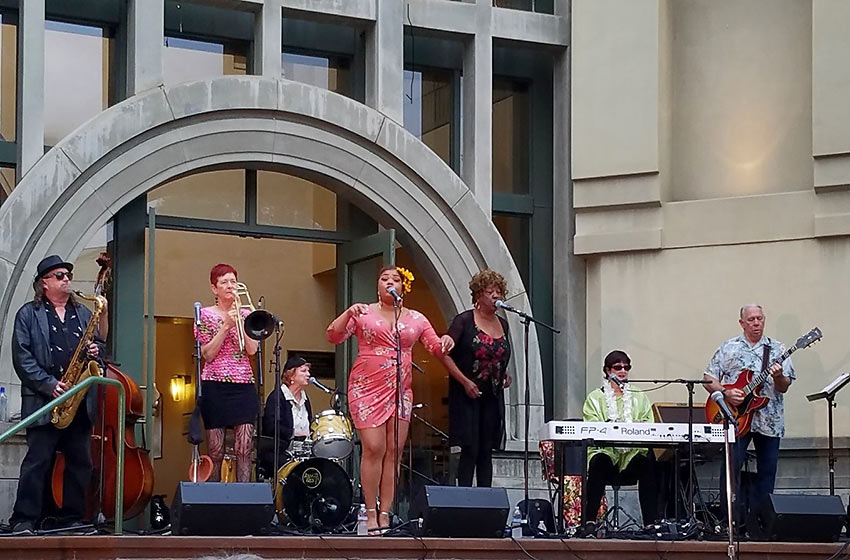 No big band can call itself a 'big band' without some Ellington and this fresh take on "East St. Louis Toodle-oo" from 2015 is ageless. The muted brass of Phil Shopoff and April West make Sue's piano shine all that much brighter. It's like stepping back in time. Speaking of which "Fish for Supper" is my absolute favorite track. The legendary Preston Coleman has that Louis Armstrong growl as he laments over his gastronomical woes. Watch out for bones!
"Ladies Shoes" is a slow blues where once again, vocalist Deejha Marie takes it to the street. The track also features the unrelenting and masterful blues guitar of Steve Wilcox. Add the rest of the orchestra and you grasp the true meaning of 'smoke-filled room!'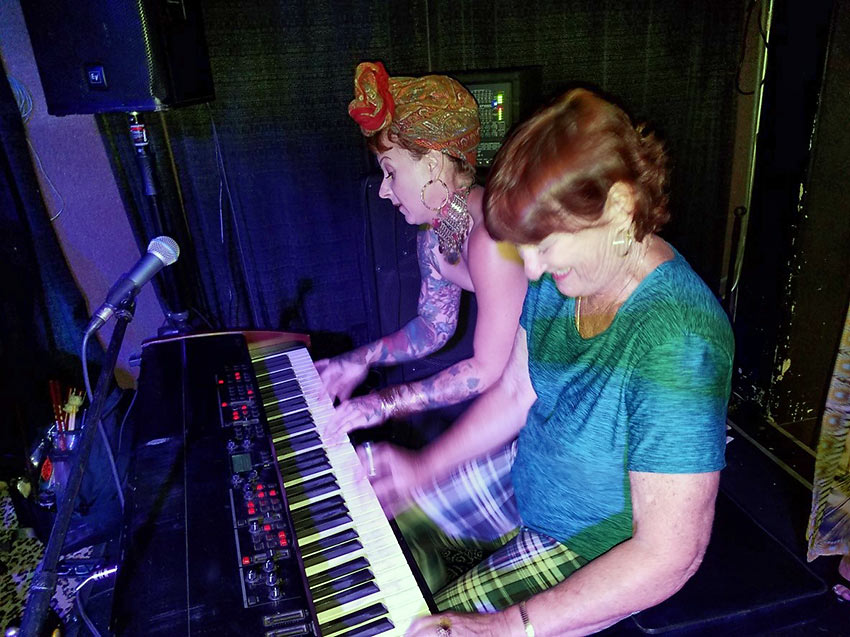 That's just five of the 20 tracks available on this star-studded album. Sue says, "I have played with some wonderfully talented and charismatic people over the years… Preston Coleman and Candye Kane definitely among them! AND I still do!!" An incredible rotating cast of musicians but a long-time core rhythm section of side players like sax man, Jonny Viau and rock solid time keeper and drummer, Sharon Shufelt. Vocalists Deejha Marie and daughter, Sharifah add even more depth and emotion to the big band songbook. Bass player Pete Harrison, guitarist Steve Wilcox and the trombone of April West round out the current lineup and all have been instrumental in Sue Palmer's musical journey. And Sue is the first to recognize it. "I always remember that Duke Ellington considered his orchestra his instrument… and I feel like that too. If one has a wonderful band, you want to highlight them!!!"
Sue will highlight her entire Motel Swing Orchestra with guest vocalists, Sharifah Muhammad and Laura Jane Willcock at her upcoming 'Gems: Volume 2' release party January 7, 2020 at Tio Leos, 5302 Napa St. San Diego. More info is as close as www.suepalmer.com