The most depressing place on the planet is the month of January in my hometown of Seattle. The December holidays are over with January's grim back-to-realty winter looking us straight in the face. In Seattle that generally means endless light showers and a sun that has completely disappeared. But leave it to the Canadians (French: "Canadiens") who embrace the long winter months of ice and snow with celebrations that warm both the heart and soul.
Every February, Ottawa, Canada's capital city, is host to Winterlude; three weekends of excitement and activity that celebrates Canada's winter climate and culture. The festival includes spectacular ice sculptures, ingenious ice slides, Rideau Canal Skateway, the children's Snowflake Kingdom, ice mazes, food and music. Winterlude starts off on February 2nd and lasts until February 19th of 2019!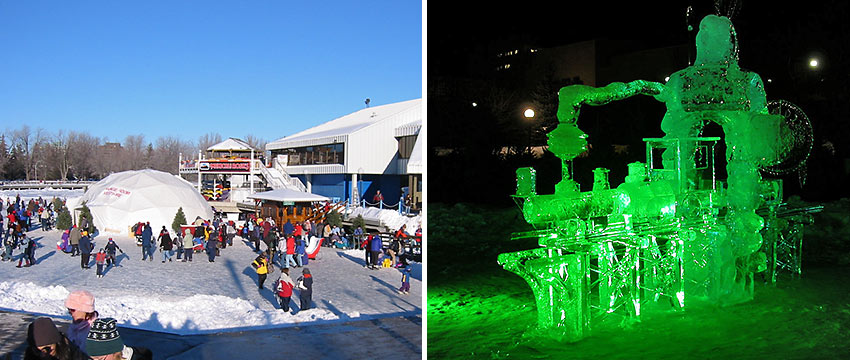 Where does Ottawa Winterlude take place?
Winterlude sites hosting the events are located at the Rideau Canal Skateway, the Snowflake Kingdom at Jacques Cartier Park, and the Crystal Garden in Confederation Park. Most Winterlude activities are free of charge, but registration and admission fees may apply to certain events.

The frozen 4.8-mile-long Rideau Canal is transformed into the world's longest skating rink. Located in the heart of Ottawa, between Parliament Hill and the Fairmont Château Laurier, seeing business people skating to work with backpacks and briefcases in hand is a sight that I will never forget. And I know that children on skates will never forget seeing a clumsy, terrified journalist trying to negotiate the ice.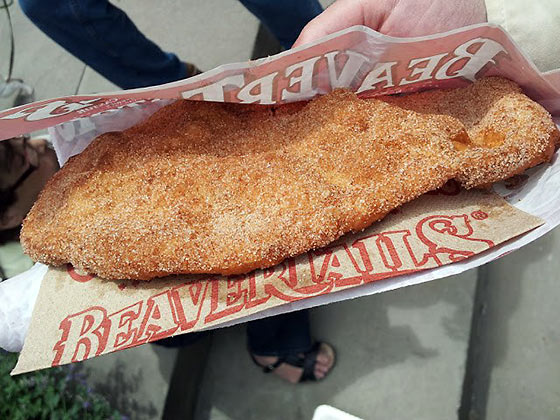 Signature Winterlude Snack: BeaverTails are named after the shape of one of Canada's national symbols – the beaver. Made with fried whole wheat pastry, then tossed in a bowl of cinnamon and sugar, they are a popular treat when taking a break at one of the booths along the Rideau Canal. They can also be made with toppings of garlic, cheese, jam or chocolate sauce.
Situated on the border of the provinces of Ontario and Québec in central Canada, the Ottawa area is one of Canada's most bilingual places with nearly half a million people speaking both English and French. As Canada's capital, it boasts endless tourist attractions and rates a visit regardless of the season. Your tour should begin with a trip to the observation deck of the Peace Tower on Parliament Hill, which offers sweeping views of this world-class city. If you're lucky, you may watch the proceedings of the Senate or House of Commons from the public galleries. Other attractions include vibrant neighborhoods, the Canadian Museum of Civilization, the National Gallery of Canada and the Canadian War Museum, which shows Canada's history of war from the perspective of an average person.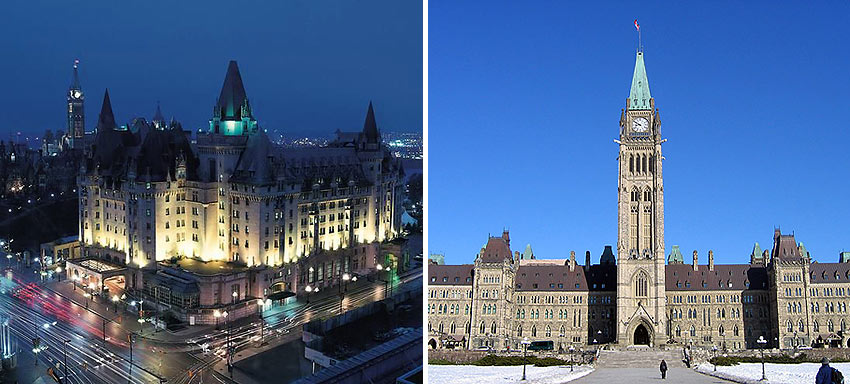 When in Ottawa, why not go the distance and stay in the legendary Fairmont Château Laurier. This palatial limestone structure with turrets is modeled after a French château and is located in the heart of the city, across the river from the Parliament Buildings. It makes a great place for warming après-snow enjoyment after a day in the cold.
Nestled on the banks of Old Québec City, Carnaval de Québec is the biggest winter carnival in the world. Sixty-four years of history is reflected in this two-week festival that includes snow sculptures, an Ice Tower, night parades, concerts, giant football game, ice fishing, skating and other activities based on Québecois folkloric traditions. Carnaval's 2019 events commence February 8-17.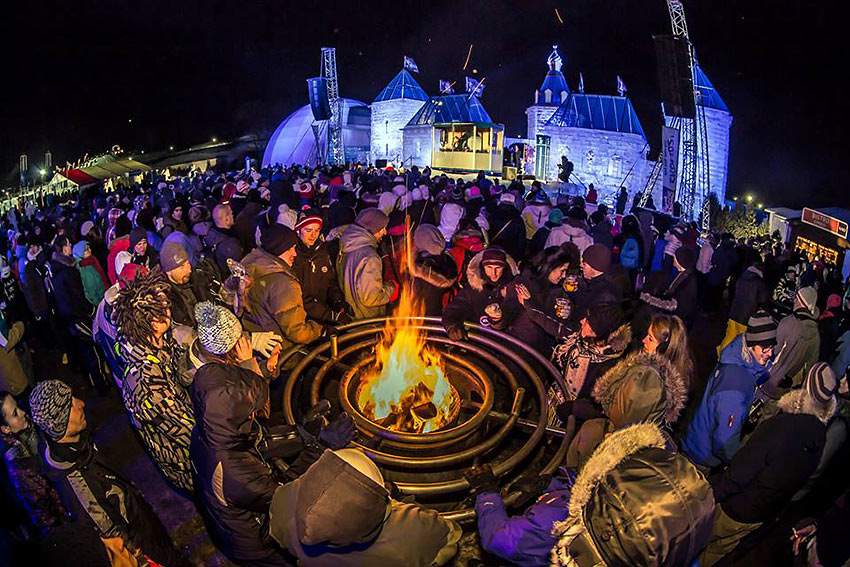 Where does Carnaval de Québec take place?
The Royal Court, the centerpiece of the reimagined festivities, offers a treasure trove of experiences for all age groups. Meet Bonhomme inside his very own Loto-Québec Royal Court! With bountilful lights, interaction, games and wonders, the Royal Court is bound to delight your every sense!

Located just a short drive out of the city (10 minutes) is the Hôtel de Glace, the only ice hotel in the Americas. Entirely made out of snow and ice, this magical man-made palace features rooms and suites, exteriors spas and sauna, a bar, a café, an exhibition room, a chapel for weddings and an ice slide. Guided daily tours are also available.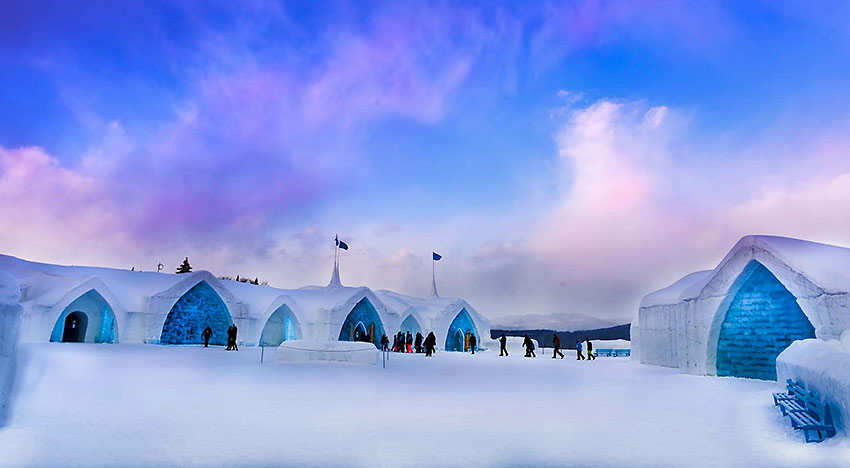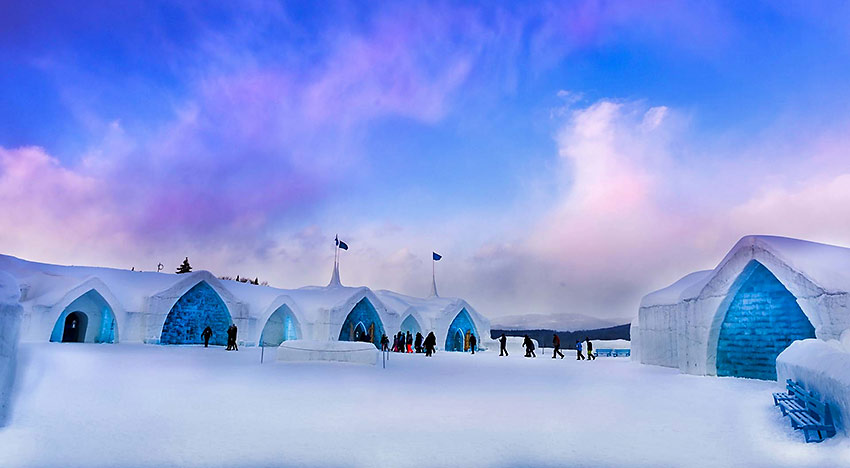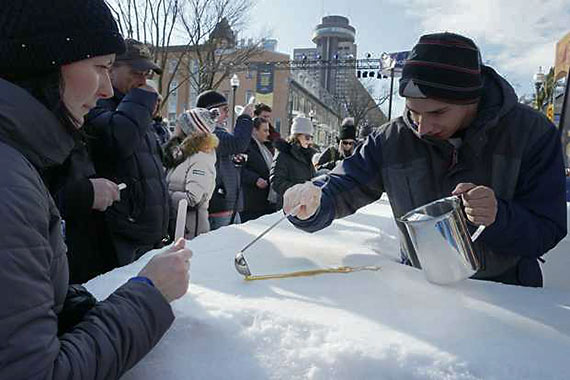 Signature Carnaval Snack: Maple Taffy ("tire d'erable") is made by pouring hot, thick maple syrup onto a board of fresh snow. When it begins to harden, you grab a popsicle stick and pick up the taffy in a rolling motion, wrapping it around the stick. Maple syrup is a staple of Québecois cuisine, reflecting the natural taste of the countryside, where "sugar shacks" in maple groves are used to boil maple.
Québec City was named a UNESCO World Heritage Site in 1985 and is the only walled city in North America. The best way to explore this historic city is to stroll its narrow, cobblestone streets lined with stone houses, cathedrals and cafes. The city itself is nothing less than a living museum. Québec City has embraced its history, which is reflected with more than 32 museums, exhibition halls and interpretation centers. Pedestrian streets are populated with local artisans and musicians in this city were 95% of the residents are French-speaking. A quick journey down the funicular leads you to Lower Québec, the birthplace of the city. A ferry ride on the St. Lawrence River is mandatory for stunning photo opportunities.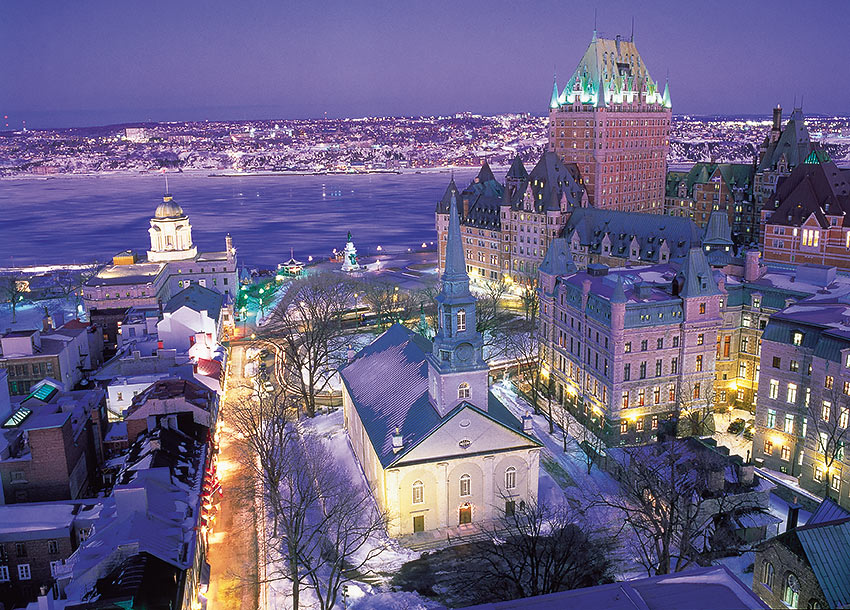 Towering over the St. Lawrence River, Fairmont Le Château Frontenac is more than a hotel – it is quite literally the symbol of Old Québec. The castle-like property, with its majestic towers and turrets, evokes an era of time-gone-by, yet still serves as a center for what is Québec today. With the boardwalk to its front and the city to its rear, it offers easy walking access to Carnaval de Québec and Québec City's countless attractions.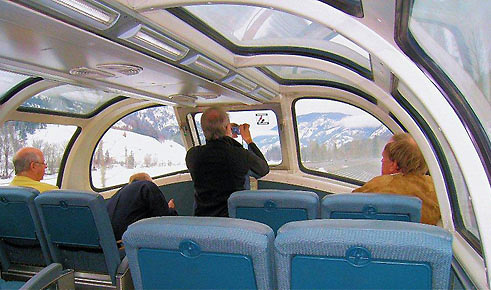 Let's see, two winter festivals in two different cities, two weekends and five mid-week days in between. Well, here's how I did it: Fly Air Canada to Ottawa, on a Friday for Winterlude's opening ceremonies. Then, on Wednesday hop aboard VIA Rail Canada for an eight-hour train trip to Québec City. You'll discover, as I did, that this is more than a mode of transportation for Via Rail is an experience unto itself. Between cities, you'll watch the Province of Québec's snowy scenery roll past your window and discover the rich land that drew the first settlers there. VIA Rail's first-class service offers plush seats, regional cuisine and an attentive staff who never seems too busy to answer questions about your journey. Make sure you order a Caesar, Canada's answer to the Bloody Mary. On your journey, there's also a short stopover in the main Montreal train station, which will allow you time for a self-guided madcap A Hard Day's Night-style one-hour tour of this premier city. You will arrive in Québec City in the evening for Carnaval de Québec, then fly back at your convenience after your stay.