Raoul's 2 Cents
Back From My Mission
Did you miss me? My apologies for not sending my TGIF joke to you these past 2 weeks. I was in a far flung area in Southern Philippines caring for my Dad. As you probably know, I requested prayers for his faith in Jesus. To my delight, my wife led him to receive Christ in his heart a few minutes before we started our trip to the airport. In fact, it was my Dad who started the conversation. My wife merely went along with his flow of ideas. So, even before my great Father-Son adventure, God had already answered my request. Words cannot express my gratitude.
Dad almost died on the plane. The air was too thin for him and he ran out of his meds. He was already hallucinating. The only reason he fought so hard to survive was because he didn't want to die in the "friendly skies." When we got back he didn't want to go to the hospital but I'm glad that we did because he had pneumonia. The lines were so long because there was a diarrhea and dengue fever epidemic. He's settled now and he is back to normal. I miss him.
Some people wonder what this strange Christian ritual about "accepting Jesus" is all about. First of all, nobody earns "brownie points" for leading someone to Christ. There is no quota that needs to be filled. Genuine Christians share their faith because their own lives have been changed for the better and they want others to experience the same truth of the kindness, the love, the grace (a gift they do not deserve)  that they enjoy. If you were a slave and were set free, wouldn't you want to set others free as well?
Some may question whether conversions are real. Only God can answer that. No one can truly say if anyone truly accepted Christ. The Bible says "by their fruit, you shall know them." — ie. by their changed lives, you will know if the transformation is real. Ours is not to question but to share the good news. Our words may fall on deaf ears but that does not matter. We still share — just as the good news was shared to us.
My Dad, in his 90s, is a baby in Christ. How I wish I could be with him and help him to walk in his new faith. He has so many questions. But I have to trust that God will fill in the gaps where I cannot. In all this I am thankful that even if something were to happen to him now, I know he prayed to receive Christ. The world has this concept that one has to work for salvation … that one has to do good works, go to church, give to the poor, sacrifice, pay for indulgences … but that isn't true. These are man-made rules. Perfection and "brownie points" are not necessary to enter heaven — for it is by grace alone (paid for by Christ by his suffering, death and resurrection) that we are saved.
But of course, this is just me.
"God saved you by his grace when you believed. And you can't take credit for this; it is a gift from God."  — Ephesians 2:8
TGIF people!
Joke of the Week
Thanks to Peter Paul of S Pasadena, CA for sending this joke.

Video of the Week

Funny Boxing Stare Downs
Sent by Naomi of Peter Paul of S Pasadena, CA
Don's Puns
From Don's collection of puns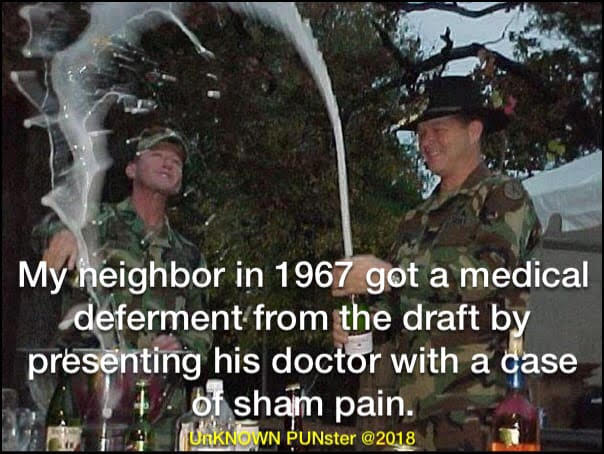 Parting Shot
Thanks to Don of Kelowna, B.C. who shared this.