Enjoying a cruise today is noticeably different than those my wife and I did some 25 years ago. That reality was dramatically in evidence when we took a Princess cruise earlier this year, and the memories we experienced "back then," still color my thoughts today. In the 1970s research shows that about 500,000 people took a cruise every year. In the cruise industry today (2019) the cruise business has grown considerably, as cruise industry organizations like CLIA (Cruise Line International Association) indicates that 20 million now take a cruise every year. While that IS an impressive figure, the FACT remains that only 20% of the US population have taken a cruise.  Additional research shows that part of the reason for this 20% figure, is that vast (yes, VAST!) numbers of people are still not sure WHAT a cruise is all about. Thus the following article of mine is crafted and written to colorfully enlighten — and clarify — what a typical cruise is all about. It also touches on cruising in general, and gives our readers a sampling of what a wonderful and very relaxing experience is to be had, and enjoyed, by taking a cruise. I hope by reading it, you'll plan and schedule a cruise in your life within the next 12 months.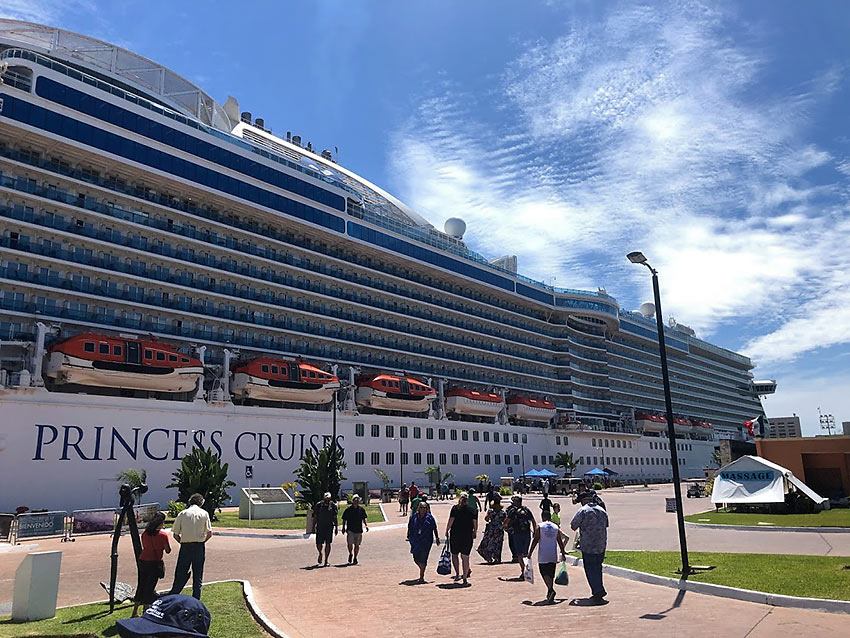 As confirmed Cruise Aficionados going back at least 25 years, my wife and I, along with our daughter and her family, were excited to get on board the ROYAL PRINCESS in mid-April in San Pedro, for our cruise to Mexico. Once settled in our Stateroom we went topside to the SUN-DECK to get a better view of our departure. Oh my goodness, what huge changes have taken place in those intervening 25 years. Cruise ships now look more like gigantic, very tall apartment buildings, with the Royal's highest deck — the Sun Deck — at 217 feet above the water. For ship purists like me, the hard facts are that cruise ships today do not have the same sort of "classical shape or lines," as that of the Pacific Princess, the Princess cruise ship that was the maritime star of TV's hit show "The Love Boat" in the 1970s.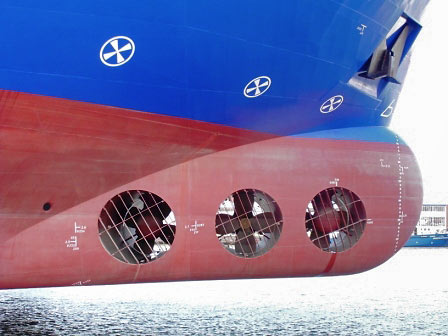 I'd forgotten how much the cruise industry — and ships in general — have changed since then. Today's cruise ships have "Thrusters" (small propellers) built into the underwater part of the bow (front) and stern (back) side of the vessel to make it more maneuverable. Facing outwards on their left (port) and right (starboard) side, the appropriate one's are used in ports if the ship has to move left or right. When we were ready to depart, the huge 142, 714 Gross Tonnage ROYAL PRINCESS carefully maneuvered herself by way of the Stern and Bow Thrusters (with NO tugs to assist her!) away from the dockside. The 1970s Pacific Princess was 20, 636 Gross Tonnage, with a passenger capacity of 750, versus the 3, 560 on the Royal Princess, yet it NEVER seemed crowded!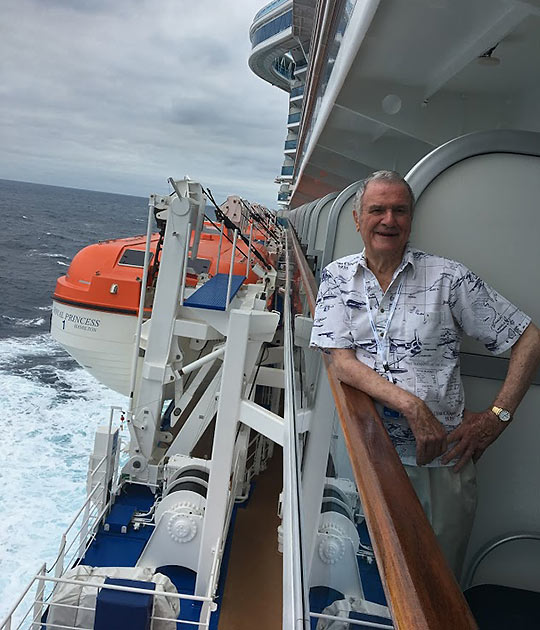 As my wife and I did not want the hassle of flying to some port destination hundreds, or even thousands of miles from Los Angeles to board our cruise, we were delighted to find in our "cruise research," that Princess has a series of cruises from LA to LA that include numerous destinations in Alaska, Mexico and even Hawaii, so we did the 7 day Mexico trip Los Angeles to Los Angeles, with one day stops in Cabo San Lucas, Mazatlan and Puerto Vallarta. Questions to consider when taking a cruise include whether to have an Inside or Outside cabin; An Inside cabin usually means it does not have a porthole or window, and an Outside Stateroom means it usually has a balcony. We wanted a balcony as we've always felt a balcony makes a cruise a hundred times enjoyable. You can sit outside and lazily watch the Ocean slide by or, unwind as you've never relaxed before and, what a treat this is — open the door to your balcony ever so slightly at night, and hear the soothing sounds of the sea as you drift off into Dreamland on one of the Award winning Princess mattresses.
Our dinner every evening, was in the charming and, in our view, elegant Symphony Restaurant, where the service is impeccable, and the wide choices of amazing appetizers, exciting entrees, and delightful desserts, are all out-standing and delightfully delicious. Our waiter Lawrence, and the Maitre'D, Manuel, were the epitome of friendliness with very personal service. For our breakfasts and lunches, we dined in the Royal's Horizon Court buffet and it is easy to see (and taste!) why, it is one of only 5 cruise line Buffets to have been voted THE BEST.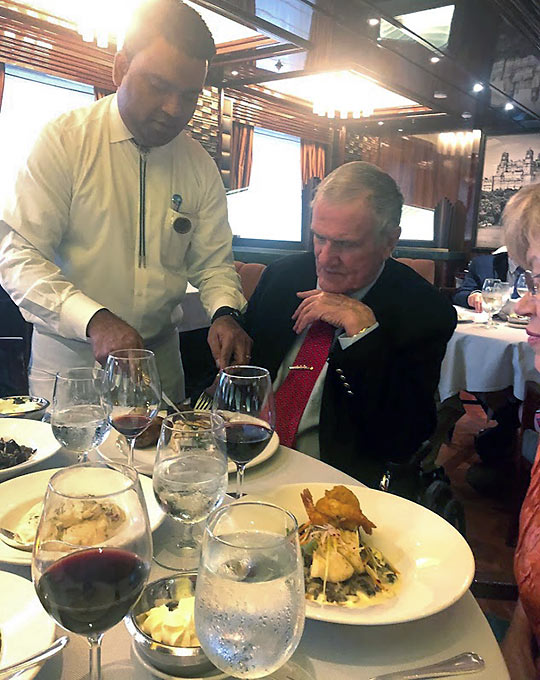 The quality and amount of dishes, fruits, succulent salads, beautiful breads, perfect pies, cereals, meat, and fantastic fish selections are an assortment of truly awesome foods. A marvelous addition to cruising today, and the joy of dining at sea, are "Specialty Restaurants" where you pay a fee and make a reservation. The best way for you, our reader, to know MORE about this option and costs, is go online and type in "Specialty Restaurants on the ROYAL PRINCESS." The information you'll find online covers ALL the wide and varied choices, and makes you realize what an "Eating Challenge" it is, as regards deciding what you'll request. We decided on The Crown Grill. I ordered as my entrée New Zealand Lamb Chops. As our Crown Grill waiter placed them in front of me he said there are 3 types of knives for cutting meat and, would I like to see them? I instantly said YES, and then saw what I can only call an artistic hand ballet on how to use them. It's one thing to see something on a menu, but another when you actually taste what you've ordered. I don't know if it was "auto suggestion, but as I'd asked the aforementioned waiter to carve my lamb chops, I couldn't wait to eat them — yes, each morsel of the lamb tasted better and more wonderful than I'd ever have thought possible.
A Princess cruise IS an escape from reality and the often "routines of daily life," which means life aboard is like floating in a dreamlike environment with many wonderful options. These include doing absolutely nothing except relaxing in, or by, one of the ship's pools or spas and, if you wish, ordering drinks and food. Or, you can also enjoy one of the Royal's almost countess events, programs or "Things" to see and do every day, all detailed in the ship's news and information bulletin called Princess Patter. Here's a sampler. Enjoy a "try out" massage; a Pictionary challenge; watch a feature film, such as "A Star is Born;" A goofy golf competition; a comedy show in the ship's theater; Croquet challenge; Team Trivia; a pain management class; ballroom dance class Cha Cha. I was intrigued by the Trivia event — held on different days, different times, and a wide series of DIFFERENT subjects. One of the one's I went to asked the question "How many Oscars did famous movie director Alfred Hitchcock get?" Do you know the answer? I was stunned, as were the other 90 or so people in the room, by the answer, NONE!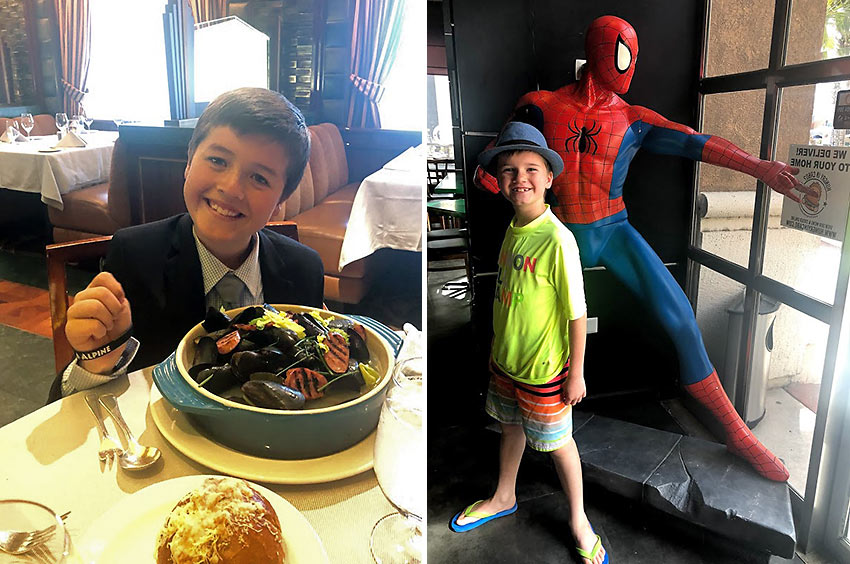 Our two grandsons, Peter, eleven, and Matthew, nine, also found "lots of cool stuff to see and do" aboard the Royal, but the one place they loved most of all, was The Lodge. Michelle, their Mom, said The Lodge, was specifically designed for kids 8-12 by Princess, and is a "safe place and environment where they played video games, got involved in some fun coloring contests, and got to meet other kids their own age." I was delighted to hear she said, "it was evident, and clearly noticeable, that The Lodge was run very smoothly, and that the attentive staff took exceptional care to keep the kids safe." She added that it gave her — and her husband Mike — "great peace of mind knowing where our kids, Peter and Matthew were at-all times, because of the Medallions they had on. What an amazing Princess invention this is, and the security it provides" she said. When going on vacation many people don't have the time to learn more about the places they'll visit. Princess does that for you with a 1 or 2 page overview, including info such as "The Best…" of each town or city, and special Points of Interest. There's also local phone numbers for Tourist Information Centers, Post Offices, Banks, US Consulates, shopping, and tipping. I appreciated the fact that the history of each Port where the ship stops for a day, is entertainingly written and its thought-provoking format makes you REALLY want to do what's suggested.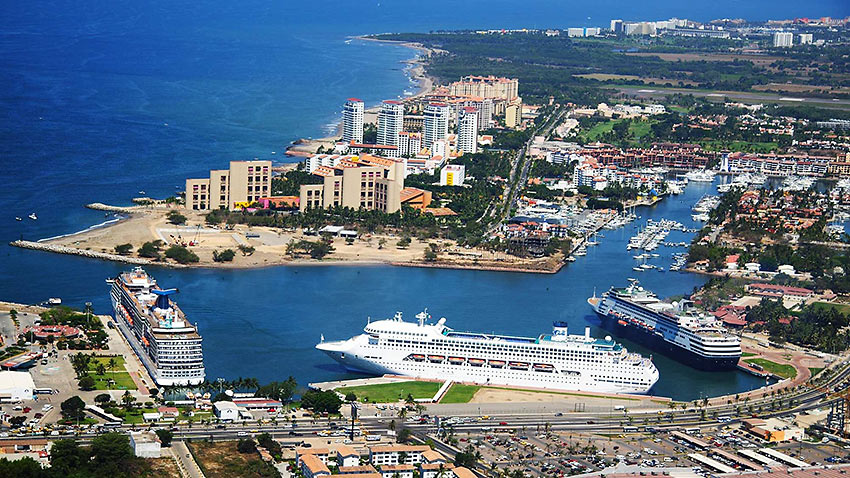 When my wife and I went up to the Buffet for breakfast, it looked as if there was a "traffic jam of ships" in the harbor. The ROYAL was berthed one way, then almost EXACTLY opposite to us — and seemingly only a few yards away — was another huge cruise ship also berthed lengthwise like us and, to the left of us, yet a third cruise ship! How do they get in!
Cruise lines are always on the lookout for imaginative ways in which to add new features that make a cruise even more spectacular. One such offbeat "tourist temptation" is the Princess SEAWALK. Contacting the Princess PR people, I asked them, "What were some of the reasons for installing this pioneering attraction." "Well," they said, "Princes Cruises wanted to create this innovative feature to give guests the experience they were walking on water." Did they ever! Let me explain. When you go up to the Horizon Buffet on Deck 16 AFT (that's the Stern, or "back end" of the ROYAL) there are — on both her left and right side of the deck — the aforementioned SEAWALK. It has 16 glass panels, and each SEAWALK is 60 feet long, and 128 feet above the Ocean, and it extends 28 feet out from the ship. I loved the fact of it being so unusual, and fun. As of right now, June, 2019, it can be enjoyed on three Princess Cruise ships — the ROYAL, REGAL and MAJESTIC.
If you've never taken a cruise, or even if you've taken lots of them, getting aboard a modern, totally up to date cruise ship today is a marvelous way to relax completely, enjoy fabulous and truly delicious food, along with the certain knowledge it IS the best, and most fun, escape from Reality. Period.
Contact John: jdcradio@gmail.com