It's probably the most unusual, even weird, tourist attraction you'll ever come across. The fact that the motivating force that moves it forwards and backwards is about as powerful as a "Made in the West" lawnmower is equally bizarre. Yes, its power (?) plant is a 500cc two cylinder stroke engine. Some have called it a "Relic of the Cold War," while others have referred to it as a showcase for the vast difference between East and West Germany in the bygone days when both were separate countries.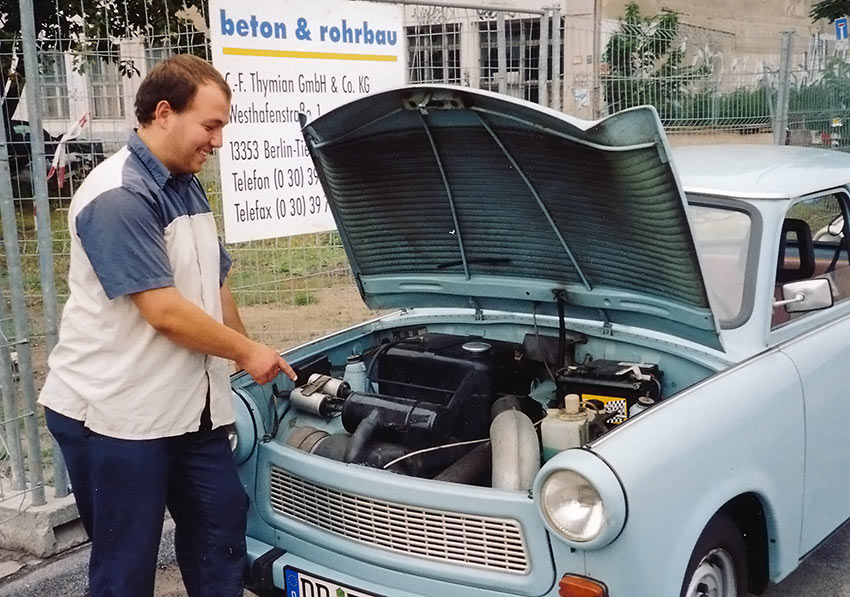 It is the Trabant, and I drove one. Or tried to.
What, you may well ask, is a Trabant? It's the amalgamation of some sort of manufacturing process that produced a car for the citizens of East Germany in the years 1957 to 1990. And I drove one, or attempted to do it in Munich and Dresden, but NOT as an inhabitant of East Germany, but only when the lowly, "Tricky Trabant" became a tourist "Must-drive-one-magnet" after the Berlin Wall came down, and Germany became one country.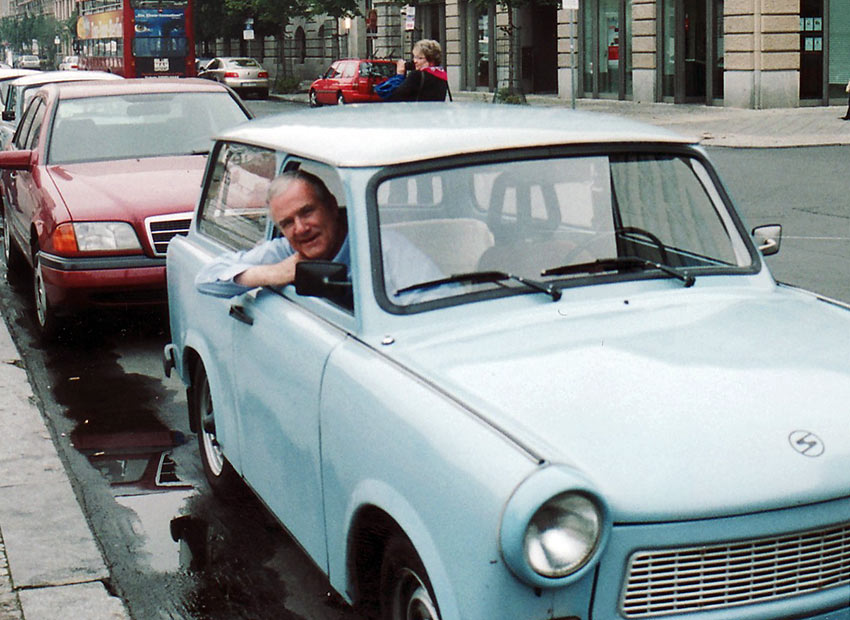 Auto buffs will tell you that it took the dubious title of "The Worst Car Ever Built." There's an old fairy tale about "Old Mother Hubbard" and when she went to the cupboard it was bare. The same might be said about the Trabant – one's suspicion is that it left the place where it was assembled totally unfinished, because its interior is completely devoid of any decorations or design work. Yes, it IS  barren!
Along with a group of fellow American travel journalists on a press visit to (a now unified) Germany one of the first "things" we were shown in Dresden was a group of – as they are more commonly known – "Trabis."
A reality that I found fascinating on this visit, was that whatever we were shown any sort of "tourist related temptation" (!) in what WAS East Germany, every single one was run, managed or owned by a West German! The Easterners had not got used to commercialism, or what was involved in making a profit.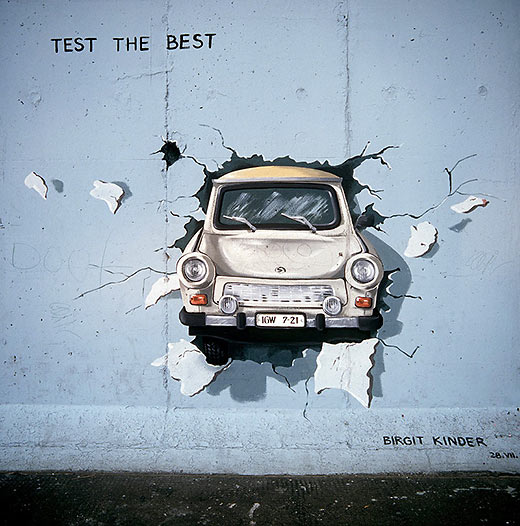 I asked our West German tour guide to give me a briefing on some of the facts about the Trabant. He stunned me by noting that a 10 year wait was involved, because the  State was the only outlet that produced them, and – incredibly – there was no such thing as automobile showrooms. Once you actually got to order it, you were told there would be an additional wait of 13 years before it was delivered. A few moments later a colleague of our guide came over to me, and said "the nearer one lived to Berlin, would make the wait much shorter." He never explained why. Weird!
I didn't  have the courage to drive one in Dresden, so I was delighted to hear when we arrived in Munich, we'd get to drive a Trabant! There are many places and organizations where you can rent or drive a Trabi in Germany, and I highly recommend you go online and type in "Renting and driving a Trabant in Germany."
Putting my courage in my back pocket I knew I absolutely had to drive a Trabant in Munich. However, as I gingerly eased and squeezed myself in, I noticed a huge lack of "Things." Our entrepreneurial West German guide answered my query by saying, "The 1980s Trabi had (now get this!) no tachometer, no indicator for either headlights or turn signals, no fuel gauge, no rear seat belts, and no external fuel opening door."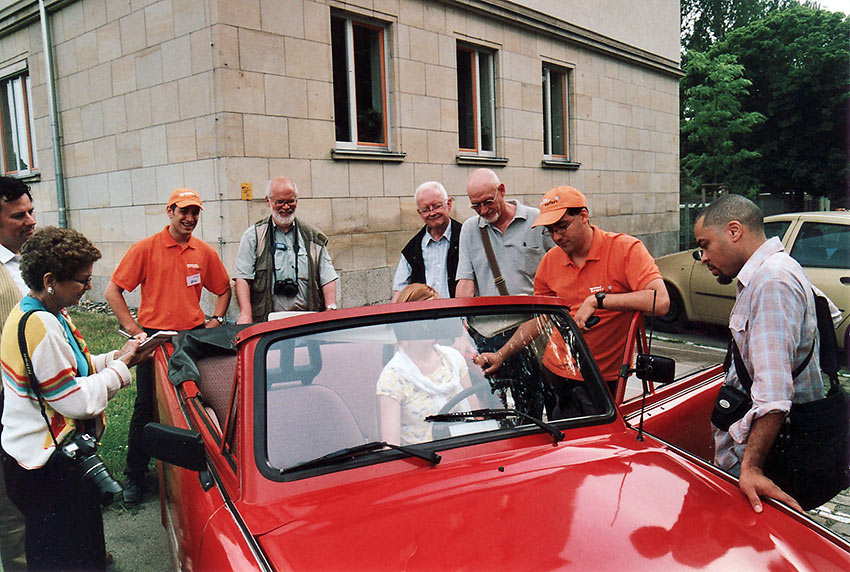 After hearing all this, I instantly realized I could not face the traffic in "Magical Munich," and opted for the Trabant experience of just sitting in one, and looking at them, and finding out more about this strange and peculiar … car? Unit of machinery? Or even automotive joke?
Interestingly, many Americans after seeing and trying the Trabant, wanted to buy one which was – many years ago – another source of profits for West Germans to get involved in. However, locating an ever increasing LACK of original Trabis became a  huge challenge. During their lifetime (one can hardly say BUILT!) from 1957 to 1990, over 3.76 million were made. Or "Produced." Contact John: jdcradio@gmail.com