Ribollita
("Reboiled" Minestrone)
by Wendy Koro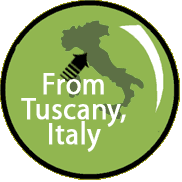 This delicious, hearty vegetable soup featuring beans, kale and bread is a beloved Tuscan staple.

he Tuscan region of Italy is beautiful and picturesque--fertile Chianti vineyards, hilltops dotted with medieval towns and a generous stretch of western coastline. Nestled in this peaceful countryside are the vibrant cities of Florence, Siena, Pisa and Lucca, renowned for incredible art, architecture and historical charm.
Tuscan food reflects this honest mix of sophistication and simplicity. Olive oil, legumes, fennel and unsalted bread are standard, along with lots of vegetables, often fried. Local pig, wild boar, rabbit, pheasant and fish are usually cooked on a spit or grilled.
But for me it's the soups in Tuscany that stand out. Humble, comforting, masterful. I never tire of ribollita, especially, as each Italian cook adds his or her personal touch and no two versions are exactly alike. What sets ribollita apart from other minestroni is the use of bread instead of pasta or rice. Traditionally, the soup sits overnight and the added bread dissolves into the broth as a tasty thickener when it is--ribollita--reboiled the next day.
Ingredients:
1 and &frac12 cups (9 ounces) dried cannellini beans (or white kidney beans or fazolia)
Initial Broth:
2 quarts cold water

1 clove garlic
fresh pork bones (rib bones work well, a too-salty ham bone will toughen your beans)
Vegetables/Bread:
1/3 cup extra-virgin olive oil

1 large onion, chopped (approx. 1 rounded cup)

3 garlic cloves, minced or pressed

2-3 large carrots, chopped (approx. 1-&frac12 cups)
2 large celery stalks, sliced lengthwise then chopped (approx &frac34 cup)

2 medium potatoes, chopped (approx. 2 cups)

scant 2 Tablespoons tomato paste
1 lb. kale, trimmed of all stalks and large veins and then chopped
1 rounded teaspoon good salt
freshly ground pepper
artisan bread (approx. half of a small loaf or 3-4 inch section) sliced or crumbled
Pick through beans while rinsing in colander under cold water, discarding any floaters or foreign objects. Soak according to package directions or overnight for best results. Do NOT add salt. Drain and discard liqiud. ( Approx. 3- 15-oz. cans of precooked beans may be substituted. If using canned beans, skip making the initial broth. Brown the pork bones in the olive oil, then add onions and continue with recipe.)
Combine initial broth ingredients and drained beans only in sturdy large pot. (NO salt or acid or your beans will be terminally tough.) Bring to a boil slowly, reduce heat and simmer gently. Cover pot, lid slightly askew to vent steam and cook 1 to 1-&frac12 hours or until beans are softened.
In a second pot, sauté the onions in the olive oil, stirring occasionally, until they begin to color. Add garlic, salt, celery, carrots, potatoes and stir well to coat with oil. Whisk the tomato paste with a little hot water to thin, then add to vegetable mixture. Cover and cook on medium heat for 10-15 minutes, stirring to prevent sticking.
Add 5-6 cups of cold water to the vegetable mixture and bring back to a boil. Add the kale. Don't worry about there being too much, it will cook down a lot.
Puree about half the cooked, drained beans well and add the puree to the soup mixture. Simmer, covered, for an hour or so. If soup becomes too thick, add more water. Season to taste with salt and pepper. Remove pork bones, stripping off any bits of meat to stay in the broth. Add remaining whole beans and bread...If pressed for time, the hot soup can be ladled over a single slice of bread in each bowl. Otherwise, the bread should be crumbled and added to the pot, then reheated later in the Tuscan tradition.
Most Italians add a drizzle of olive oil atop their ribollita.