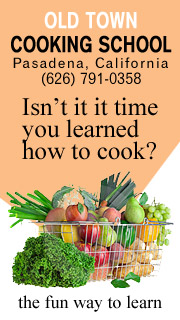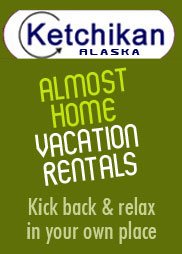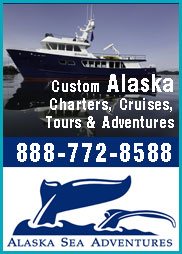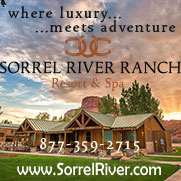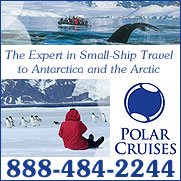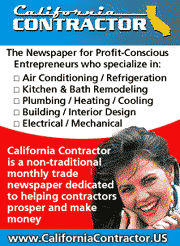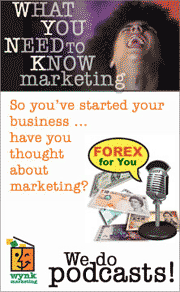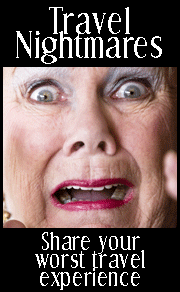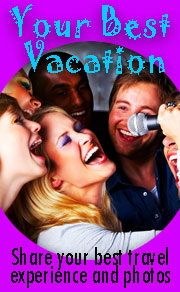 Happy St. Patrick's Day
By Ed Boitano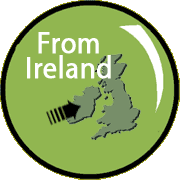 While most of the world considers Corned Beef and Cabbage synonymous with St. Patrick's Day, this popular meal has its origins in America, and is not a traditional Irish recipe. Beef was an expensive food item that was unavailable to most Irish citizens, and was generally exported to France, England and the Americas. As we all know, corned beef is a salt-cured brisket, traditionally packed in barrels with coarse grains, aka "corns" of salt. In the 17th century, salting beef become a major industry in the Irish port cities of Cork and Dublin for exportation. The most similar traditional Irish dish is Bacon and Cabbage, with the bacon akin to Canadian-style bacon or ham. Corned Beef and Cabbage became popular in the U.S. after Irish immigrants used corned beef instead of pork, due to the low cost of corned beef in the U.S.
It's still a great dish, and Corned Beef and Cabbage always graces my St. Patrick's Day table, though I prefer the hard-to-find Savoy cabbage over the popular Dutch cabbage, found in U.S. markets.
We all have our favorite Corned Beef and Cabbage recipes, so here are a few fun side dishes for your St. Patrick's Day celebration: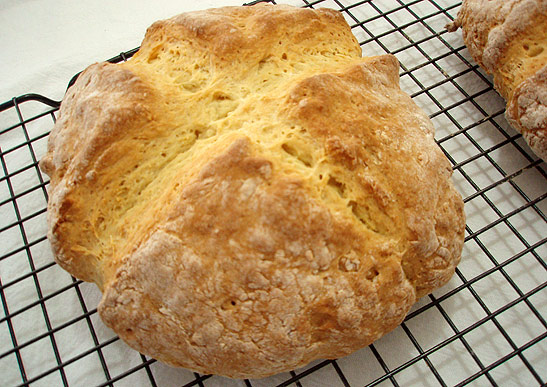 Irish Soda Bread
3 ½ cups all purpose flour
1 teaspoon baking soda
¾ teaspoon salt
1 ½ cups buttermilk
Preheat oven to 425°F. Mix flour, baking soda and salt in large bowl. Mix in just enough buttermilk to form moist clumps. Form dough into ball. Turn out onto lightly flour surfaced and knead just until dough holds together for about 1 minute. Shape dough into a 6-inch-diameter by 2-inch-high circle. Place on lightly floured baking sheet. Cut 1-inch-deep X across top of bread, extending almost to edges. Bake until bread is golden brown and sounds hollow when tapped on bottom. Baking time is about 35 minutes. Transfer bread to rack and cool completely.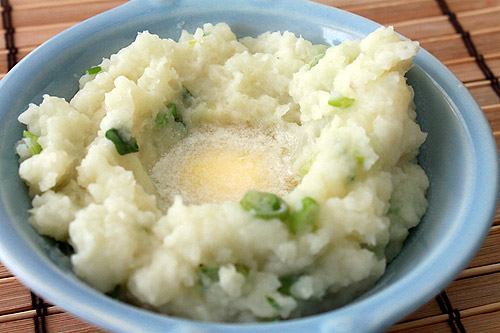 Champ or Poundies – Origin: Northern Ireland
2 pounds standard white potatoes, peeled and halved
1 cup whole milk
1 bunch spring green onions (scallions), thinly sliced
½ teaspoon salt, or to taste
¼ cup Irish butter
1 pinch freshly ground black pepper to taste
Place potatoes into large pot, and fill with enough water to cover. Bring to a boil, and cook until tender, about 20 minutes. Drain well. Return to very low heat and allow the potatoes to dry out for a few minutes. (You can place a clean dish towel over the potatoes to absorb any remaining moisture.) Gently heat the milk and green onions in a saucepan until warm. Mash the potatoes, salt and butter together until smooth. Stir in the milk and green onion until evenly mixed. Season with freshly ground black pepper. Serve hot in bowls. Calories be damned; set out some extra butter to add to their servings.
Colcannon (Irish: cál ceannann, meaning "white-headed cabbage")
3 cups finely shredded green cabbage
1 onion, finely chopped
¼ cup water
6 cooked white potatoes, mashed
¼ cup whole milk
¼ cup Irish butter
salt and freshly ground pepper to taste
Place cabbage, onion, and water in a saucepan or Dutch oven and quickly bring to a boil. Reduce heat, cover, and simmer about 8 minutes until tender. Add mashed potatoes, milk, butter, salt, and pepper. Mix well, stirring often until heated through.

Hi Audrey,
Love your lamb shanks.
--- Paul, Scottsdale AZ

Haven't been called Tad for . . .gee, maybe I've NEVER been called Tad . . . guess I'm the only one with chutzpah enough to mention Bourdain. BRILLIANT?
--- Ken, Shutesbury, MA

I think we must have had an entirely different experience in the UK. (Fresh Food and Real Ale – week 1). We were up in Edinburgh and they served something called 'Neeps & Tatties.' The items were boiled so long that I couldn't even recognize what I was eating. Come to think of it… I couldn't taste them either. Later I found that Neeps' are Turnips and 'Tatties' are potatoes.
--- Lindy, Phoenix, AZ

My mouth was watering as I read some of your descriptions of the fantastic fare of ... England? I had always felt smug about the lowly reputation of British cuisine as this gave us at least one country with a worse culinary reputation than America's. I guess I'll have to change my views. Your article made me actually want to take a CULINARY tour of Britain. Yummy yummy yummy.
--- Sandy Miner, Portland, OR
Thanks for your note. Thanks to Traveling Boy I get to interview a world famous chef this week who is widely recognized as spearheading the Yummy movement in Ireland. Guess I'll have to take yet another culinary tour a little further north and check it out... (I love my job!) --- Audrey

Very interesting, mouth-watering piece by Audrey! (A McDreamy McMeel). Your web site is fascinating!
--- Susie, Victoria, BC

Combining travel, food, and intelligent advice -- BRILLIANT! Your site fills a long-felt need for hungry roamers. Keep it up! It's Anthony Bourdain with reservations and CLASS.
--- Tad, Boston, MA


Eugene Chaplin Introduces Chaplin's World Museum in Vevey, Switzerland

Lake Geneva/ Matterhorn Region and Switzerland Tourism recently blew into Los Angeles with the most esteemed guest, Eugene Chaplin. A man of remarkable lineage, he is the fifth child of Oona O'Neill and Sir Charles Spencer "Charlie" Chaplin, the grandson of playwright Eugene O'Neill, the brother of Geraldine Chaplin and father of actress/model Kiera Chaplin.


Treasures of Ireland: The Burren (Dispatch #14)

The Palladian Traveler ventures back to the days of fearless Celtic warriors to search for some "stones to take you home" as he files his latest dispatch from the monochromatic moonscape known as The Burren.


Buckingham Palace – It's THE Most Popular Tour in Great Britain (Part 2 of a 2-Part Series)

Is it more momentous for a Brit to do the Buckingham Palace tour than say an American or indeed any other nationality? Yes, I know that's an odd question, but if you grow up – as I did – in London back in the 1950s, getting inside Buckingham Palace was the stuff of dreams. Hence my surprise at touring BP in 2005.


Paradise on Earth: The Romance of Tahiti and Her Islands

The first thing you notice is the fragrance. The intoxicating perfume of the tiare flower announces to your senses that you are in a magical place, overflowing with tropical vegetation and soothing trade winds. It is the same fragrance that the English seamen on the HMS Bounty also first encountered; but they came, not for flowers, but for breadfruit, intended as a new food staple for their slaves in the West Indies.


Provence: As Much a Mood, a Spirit as a Destination

"On a Clear Day You Can See Forever" goes the song. Robert Goulet sang it and Barbra Streisand and Johnny Mathis, too, and it surely comes to mind when you stand on a bluff in the Luberon of Provence and stare across at the little hill village of Gordes. The view is the best part; the village's interior itself is not dramatic and stands as a warning of what contemporary popularity can do to the simple homes of 12th century working people.


Exploring Venice: Lost and Found. And Special Finds. Repeat.

Walking home to our apartment in Venice, we share a wave through the window with the owner of Baba, our local osteria. Leaving for a day of sightseeing, a cup of my favorite pistachio gelato awaits me despite the early hour. At the Bar Dugole, we relax after a day of sightseeing and order the regular: vodka for my husband and Amaretto for me.


Traveling with Beautiful Boots and a Bison Backpack

People often asked about my favorite travel apparel and gear. This happened to me at the airport recently. One question came as I was putting back on my clothes after going through the TSA checkpoint striptease. Before leaving the area, I heard a soft voice say, "hey, I really like your boots. Where did you get them?" Looking up, I found a uniformed employee staring at my feet.


Film Review: "My Hero Brother" – A Tribute to the Human Spirit

I just spent five days attending the Santa Barbara Film Festival and for the most part, the features, animated shorts, and documentaries were quite professional and compelling. That said, "My Hero Brother," a documentary that was particularly outstanding, told the remarkable and inspiring story about a group of Down syndrome young men and women who go on a two-week trek through the Himalayas with their non-Down syndrome siblings.


La Paz, Baja California Sur

Photographer Deb Roskamp focuses her camera on La Paz, Baja California Sur. The resort property is CostaBaja, and the boat tours, which include snorkeling at the UNESCO protected site, Isla Espiritu Santo, were conducted by Fun Baja. The photographs are intended to speak for themselves.


Leviticus 20:13
Sent by Tom of Pasadena, CA



It all makes sense now. Gay marriage and marijuana was legalized in the last election. Leviticus 20:13 states
"If a man lays with another man, he should be stoned..." We've been interpreting it wrong all these years!
---
© TravelingBoy.com. All Rights Reserved. 2015.
This site is designed and maintained by WYNK Marketing. Send all technical issues to: support@wynkmarketing.com