Lazy Person's Bell Pepper Sauce-Based Flatbread Pizza
Recipe and photos by Tom Weber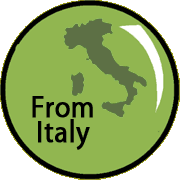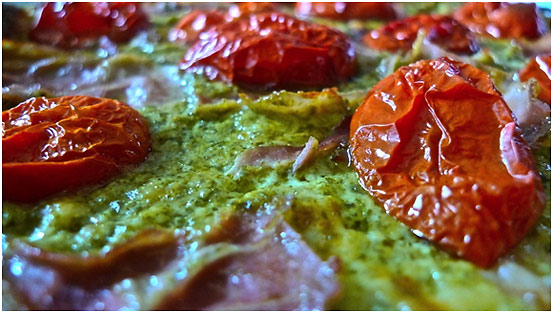 If you recall, a little while back I showcased the easy - let's be honest, LAZY - steps involved in making the Lazy Person's Pesto-Based Flatbread Pizza. That simple recipe was designed to serve as the foundation for a host of different flatbread pizzas, but all employing the Pesto sauce as the primary ingredient. If you missed that primer, don't fret, I've got you covered. Just click on the recipe link here LPPBFP.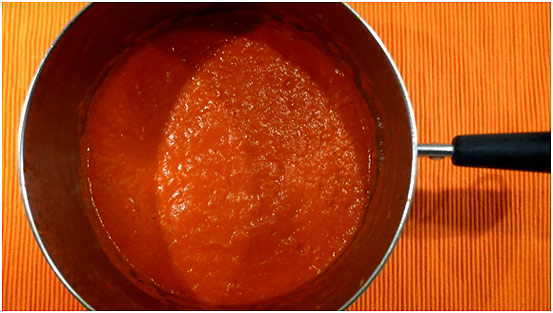 Recently, I posted the steps in preparing the Lazy Person's Golden Rush Bell Pepper Sauce. It's perfect over, around and through pasta; as a great topper/dipper for beef fondue along with grilled meats, fish and poultry; and, as the key ingredient for another series of flatbread pizzas. Remember that recipe? No? HOW DARE YOU! Just kidding. Click here, LPGRBPS, to review it.
Now that we've gotten the "paper work" out of the way, what do you say we head back into the galley and whip up a whole new line of flatbread pizzas using the bell pepper sauce, in lieu of Pesto, as our flagship ingredient? This new line is called the Lazy Person's Bell Pepper Sauce-Based Flatbread Pizza. Hit the light switch, grab an apron, and away we go.
__________________________________
LAZY PERSON'S BELL PEPPER SAUCE-BASED FLATBREAD PIZZA
Ingredients (per person)
1 Piadina Romagnola (or similar large size flatbread)
50 gr (2 oz) of Stracchino cheese (or Crescenza or Robiola)
70 gr (5 tablespoons) of Golden Rush Bell Pepper Sauce
1.25 gr (1/4 teaspoon) Dried Red Pepper (more/less depending on your threshold for HEAT)
2 large, thin slices of Cooked-Roasted Ham
1 dozen medium sized vine-ripened Datterino Cherry Tomatoes (or similar)
30 gr (2 tablespoons) shaved Parmigiano-Reggiano cheese
Prep and Cooking time: 25-min
__________________________________
Step-1: Pre-heat over to 200C (390-400F)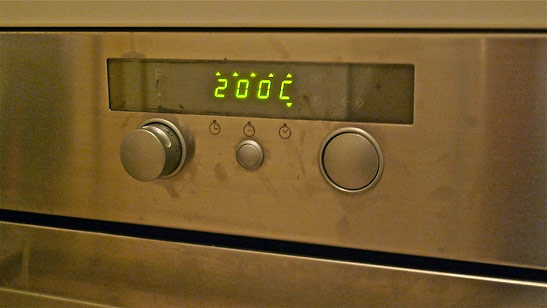 (While the oven warms)
Step-2: Cover oven tray w/ parchment paper or aluminum foil and lay down one Piadina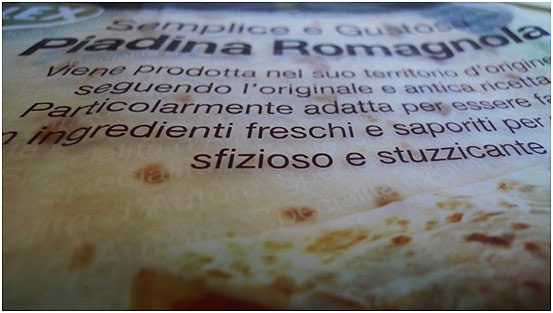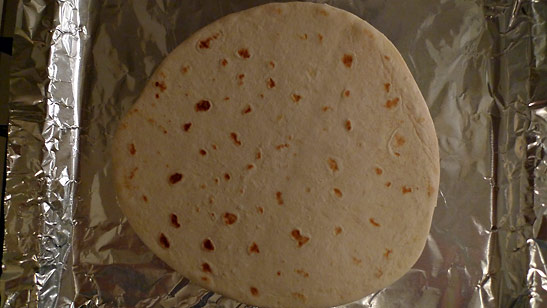 Step-3: Spread the Stracchino cheese around the Piadina/flatbread covering it completely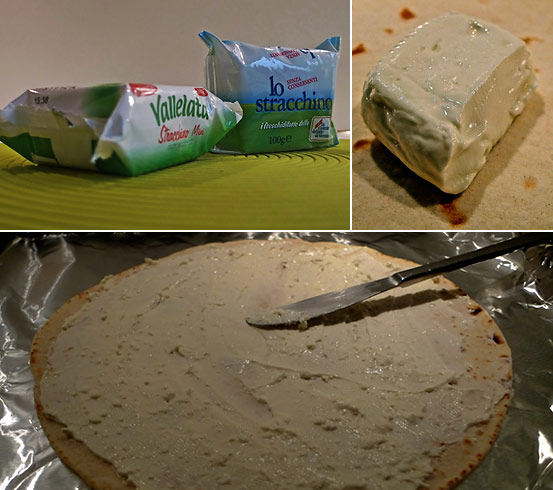 Step-4: Sprinkle Red Pepper all across the top of the cheese spread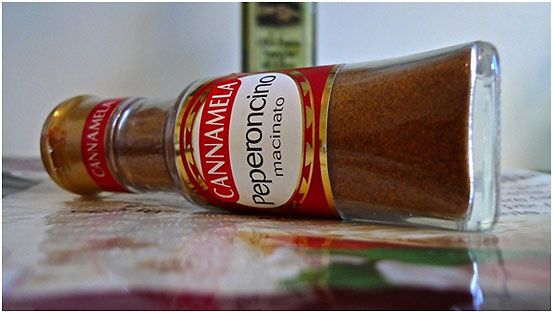 Step-5: Place dollops of the Bell Pepper Sauce atop the Piadina/flatbread and spread evenly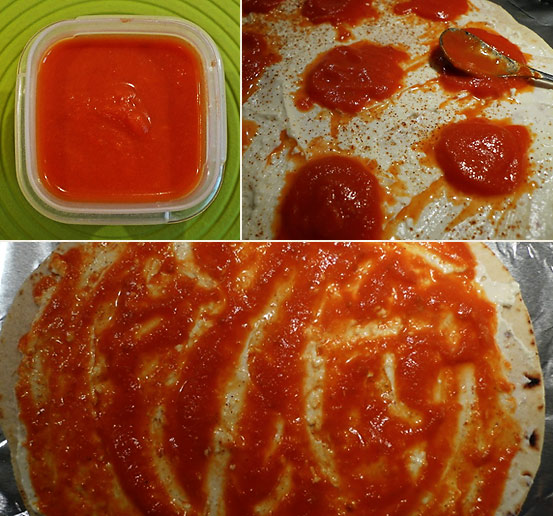 Step-6: Place thinly sliced pieces of Cooked-Roasted Ham around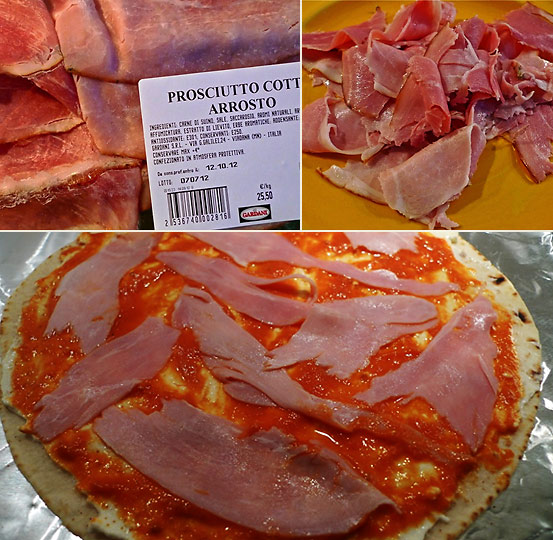 Step-7: Dot with halved or whole Cherry Tomatoes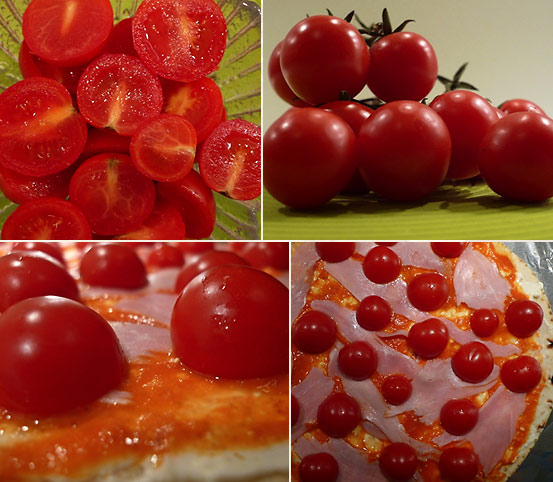 Step-8: Place shaved Parmigiano-Reggiano cheese pieces around and in between the tomatoes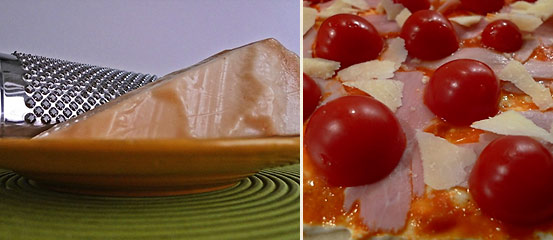 Step-9: Place Flatbread Pizza in the oven, set timer for 15-min, pour a glass of wine, relax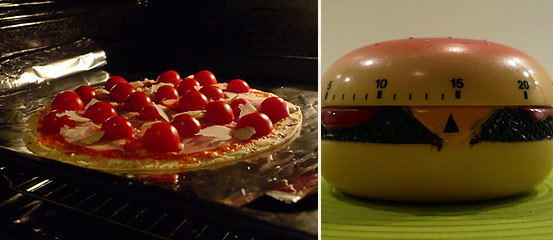 Step-10: Plate the Flatbread Pizza and serve with your favorite Mixed Green Salad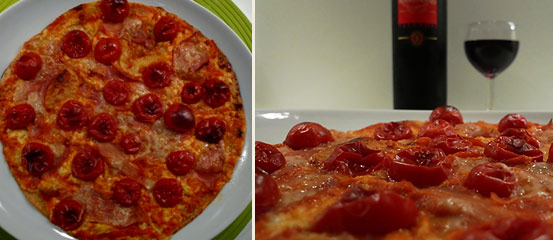 Wine Pairing: Rosso Piceno DOC – Velenosi Vineyards – Ascoli Piceno, Italy -- A brilliant ruby red with a zesty bouquet hinting of forest fruit, strawberries and vanilla. Rosso Piceno DOC has a tangy taste, fruit-forward character and lean flavor. The tannins are slight lending to a fine, aromatic finish in each sip.