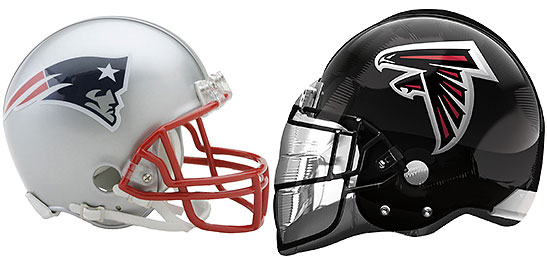 Super Bowl Recipes
The Super Bowl is drawing closer, and tensions are running high between the Atlanta Falcons and the New England Patriots. Stress in the kitchen is also firing up, where watch-party fans are deciding on the appropriate dishes that best represent Atlanta and New England. An Atlanta man has started a trend by refusing to sell Samuel Adams beer at his gas station until after the game has been played. Some liquor stores in Atlanta are now following suit. The staff at Samuel Adams Boston Lager took the high road and tweeted that they will still drink Coca-Cola, which is from Atlanta. Though they added, "Not serving Sam Adams won't be Atlanta's only loss."
But let's get down to the nitty-gritty. The staff at Traveling Boy selected the following dishes and beverages that best showcase the tastes of Atlanta and New England for a mouthwatering Super Bowl party.
New England Patriots
Slow Cooked Boston Baked Beans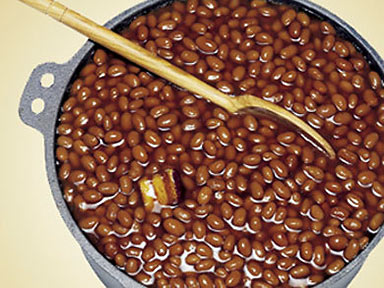 Ever wonder why Boston baked beans are called "Boston" baked beans? It's the molasses, stupid. Boston has been tied to molasses since colonial days, when the city was a trade center for rum from the Caribbean. Molasses is used for rum production, a by-product of sugar refining, and was easily available to the colonists. Baked beans were also popular with the religiously observant Puritans who were forbidden to cook on Sundays. So they made a big pot the night before, and the baked beans were hot and ready the next day.
So why not go for tradition? After all, Boston is the nation's most traditional city. Disregarding basic fire safety, cook the beans start to finish in the oven overnight. All you have to do is combine the ingredients in a Dutch oven, cover it, and bake it for hours upon hours upon hours. Toward the end, if they got too dry, you'd need to add a splash or two of boiling water, but otherwise, that's about it. If you intend to soak dry beans overnight first, the next morning you'll find that the beans have been inflated, so stick to the recipe. Boston baked beans make a perfect accompaniment to hot dogs, submarine sandwiches, and can even be used as a dip. For Bostonians, they are the city's most patriotic dish. You'll make Pats' fans as happy as the first day of fall foliage season.
Ingredients:
- 1 pound (2 to 2 1/4 cups) dry white beans such as Navy beans or Great Northern beans
- 1/3 cup molasses
- 1/3 cup brown sugar
- 3-4 Tbsp Dijon mustard
- 1/8 teaspoon ground cloves
- 3 cups hot water
- 1/2 pound salt pork (can sub bacon), cut into 1/2-inch to 1-inch pieces
- 1 medium onion, (1 1/2 cups) chopped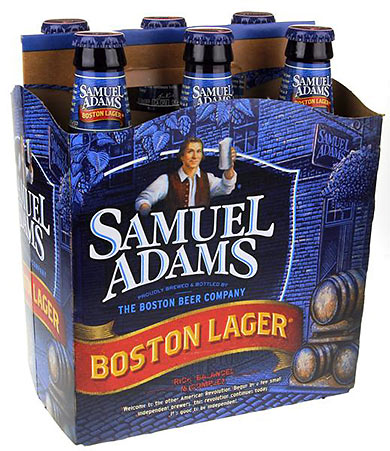 Photo courtesy: Samuel Adams Boston Lager
What to Drink
Is there any question? Samuel Adams Boston Lager helped lead the American beer revolution, reviving a passion for full-bodied brews that are robust and rich with character. A flagship brand of the Boston Beer Company, Samuel Adams was named in honor of Founding Father Samuel Adams, an American revolutionary patriot who was one of the signers of the Declaration of Independence. Now that's patriotic. A second cousin to president John Adams, Samuel Adams inherited his father's brewery on King Street (modern day State Street). Some histories say he was a brewer, while others describe him as a maltster. Established in 1984, Samuel Adams Boston Lager uses only the finest hand-selected ingredients to create this perfectly balanced and complex brew.
Atlanta Falcons
Grilled Peach and Chipotle Salsa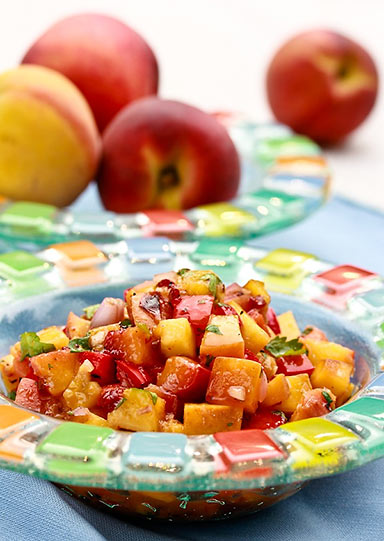 Photo courtesy: A Spicy Perspective
Okay, y'all, Georgia is the Peach State, and Atlanta is its capital. Need I say anymore? The fruit has been part of Georgia history long before there was even a Georgia. Franciscan monks introduced peaches to St. Simons and Cumberland Island in the 16th century. Raphael Moses, a planter and Confederate officer, was among the first to market peaches within Georgia, and is credited with being the first to ship peaches successfully outside of the South. His method of shipping peaches in champagne baskets helped to preserve the flavor of the fruit and contributed to his success. The peach expansion in acreage and production was fueled by the abolition of slavery, which forced farmers to search for alternatives to the traditional labor-intensive cotton crop.
Atlanta is the capital of the New South with a large population of 463,878, which constitutes a bit of civic edginess that defies the term Southern Hospitality. So we selected Grilled Peach and Chipotle Salsa, courtesy of A Spicy Perspective, which combines the sweetness of peaches and the spiciness of chipotle peppers, giving a nod to the heat of the dirty birds for the perfect taste of Atlanta.
Ingredients:
- 6 firm, ripe peaches
- 2 shallots, peeled
- 1 red bell pepper, seeds removed
- 2 tsp. oil 1 large garlic clove, minced
- 1-2, chipotle peppers canned in adobo sauce
- 2 Tb. chopped cilantro
- 1 lime
- 1 Tb. honey (if needed)
- salt and pepper
Pre-heat grill to medium, cut each peach into 4 slices, shallots in half, peppers in quarters. Lay the peaches, shallots and peppers on a baking sheet, tossing with a with a little oil. Place the peaches, shallots and peppers on the grill. Grill the peaches 1-2 minutes per side until nice grill marks have formed, but the peaches are still firm. Grill the shallots and pepper 2-4 minutes per side. Remove and cool. Chop the peaches, shallots and peppers into small ¼ inch chunks and place them in a bowl. Mince the chipotle peppers, then add to the bowl along with the minced garlic, cilantro, the juice of 1 lime and honey. Mix well and salt and pepper to taste.
What to Drink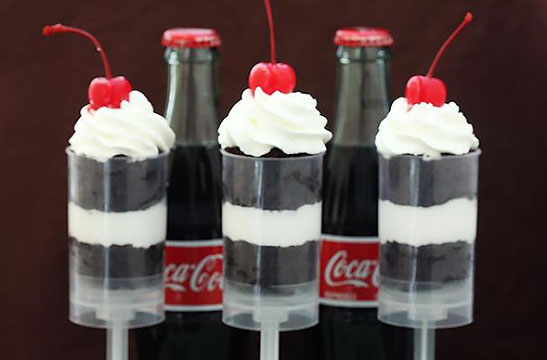 Photo courtesy: Gimme Some Oven
Atlanta is the birthplace of Coca-Cola, which means serving this iconic beverage is almost mandatory when you root for the dirty birds. But if cans of Coke aren't what you had in mind, try Coke Float Push-Up Pops from Gimme Some Oven. It's the perfect way to use Atlanta's magic elixir, and will have Falcon fans whistling Dixie.
Ingredients:
- 2 cups Coca-cola (do not use diet!)
- 1 cup unsweetened cocoa powder
- 1/2 cup (1 stick) unsalted butter, cut into 1-inch pieces
- 1 1/4 cups granulated sugar
- 1/2 cup firmly-packed dark brown sugar
- 2 cups all-purpose flour
- 1 1/4 teaspoons baking soda
- 1 teaspoon salt
- 2 large eggs
- homemade whipped cream
- maraschino cherries (with stems)
Directions:
Preheat the oven to 325 degrees. Spray the inside of two 9x13-inch baking dishes with nonstick cooking spray.
In a small saucepan, heat the Coca-cola, cocoa powder, and butter over medium heat until the butter is melted. Add the sugars and whisk until dissolved. Remove from the heat and let cool to room temperature. In a large bowl, whisk the flour, baking soda, and salt together.
In a small bowl, whisk the eggs until just beaten, then whisk them into the cooled cocoa mixture until combined. Gently fold the flour mixture into the cocoa mixture. The batter will be slightly lumpy – do not overbeat, as it could cause the cake to be tough.
Pour 3 cups of batter into each 9x13-inch baking dish and gently shake so that the batter is even. Cook for 15-20 minutes, or until a toothpick inserted into the cakes comes out clean. Transfer to a wire rack to cool completely. Then once the cake has cooled, use an empty push-up pop as a cookie cutter to punch out 24 cake circles. Set them aside on a piece of waxed paper for assembly.
To assemble the push-up pops, gently press a mini-cupcake or a cake circle into the bottom of a push-up pop. Then add in a swirl of whipped cream and a de-stemmed maraschino cherry. Then add another layer of cake, whipped cream, and then top with a (stemmed) maraschino cherry. You may serve immediately or refrigerate the night before the game.