Article by Richard Carroll, Photographs by Halina Kubalski
For thousands of travelers, the summer of 2022 was a disaster: hundreds of cancelled flights, shortages of pilots, countless flight delays, a deficiency of ground crews and airport personnel, endlessly slow-moving security queues, and images of luggage piled sky-high, gave us plenty of reasons for all kinds of second thoughts about our upcoming trip to Europe. It would be our first major trip following the more than two-year lockdown. Researching airlines, including many we have flown in the past, we came upon Condor, a German leisure line based in Frankfurt, and the only major airline on the planet that did not cancel a single flight during the dreadful travel summer of 2022. Operating a fleet of over 50 aircraft, Condor also maintains their own maintenance facility, an additional bonus for sure.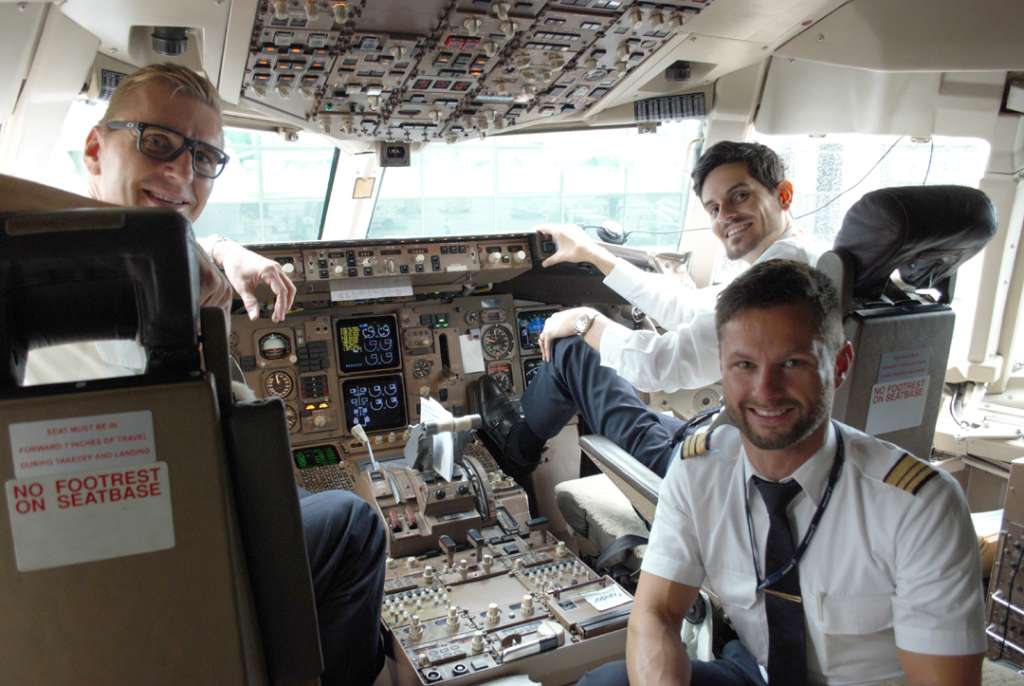 We booked Condor for an early October flight from LAX (Los Angeles) to Frankfurt, both of us with one roll-on each, and added their Rail&Fly package from Frankfurt to Dusseldorf. We would be flying aboard a Boeing 767-300, Premium Economy on our way there and Business Class on the return flight. Our departure from LAX was scheduled for 5:50 p.m. An hour later we were in the clouds, but Condor made up the time with some strong tail winds, and we arrived on schedule. Announcements were in German and English, which was convenient. Walking through the aircraft, we noticed that the flight was nearly full with passengers that ranged from young collegiates returning from vacation in the United States, to couples in their 30's and 40's, and business travelers. Premium Economy seating meant two seats on either side of the aircraft and three seats in the middle. Chatting with passengers on either side of us, we learned that some had flown Condor numerous times, while for others it was their second or third flight with the airline. One commented that Condor could use an additional clerk at LAX check-in. The plane was clean, the restrooms were well-maintained, and the benefit of Premium Economy was adequate leg room and an intriguing menu.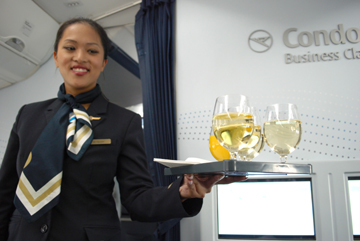 Attractive flight attendants served dinner at 33,000 feet. The LAX chefs had prepared fresh, lightly marinated king prawns with smoked salmon and a dab of horseradish, and chicken breasts strips with a sprinkle of Teriyaki sauce and Asian vegetables on a bed of rice. Before catching some shut eye with a blanket, facemask, and ear plugs, we had a selection of 71 movies and 110 television shows to browse. Breakfast, served by efficient, hard-working flight attendants, was a fresh fruit salad, a warm cheese sandwich and fruit yogurt.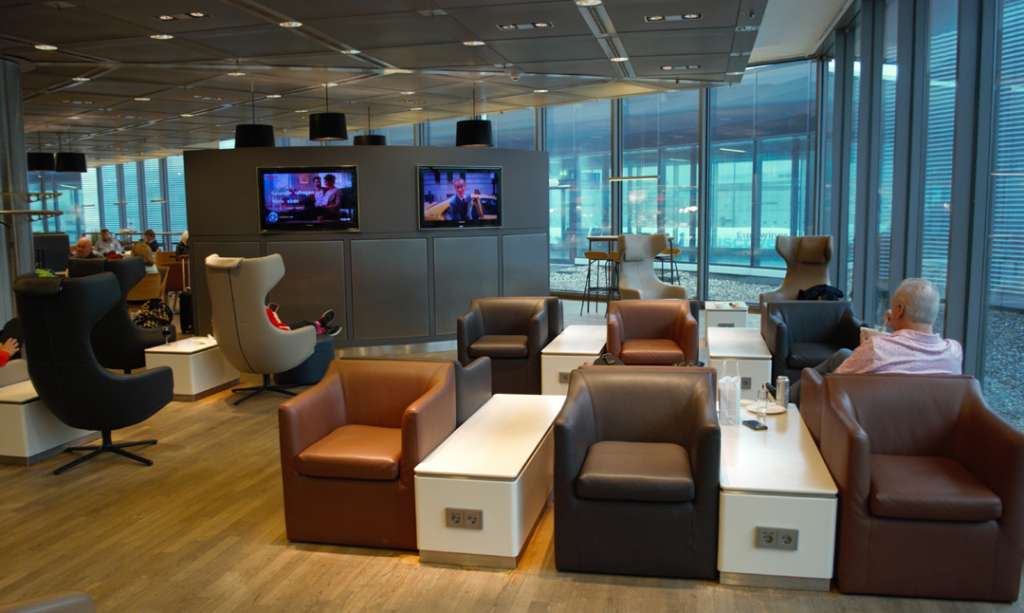 Frankfurt International Airport
Nearing Frankfurt, we dropped down to a landscape that was a brilliant green; Mother Nature seemed unwilling to give up her summer colors. We guessed the captain might be a former Navy pilot because of his smooth landing technique. The Frankfurt airport, third largest in Europe, was bustling with activity with various languages colliding in the background. Lugging our roll-on's, and making a few inquiries, we soon found the train depot and with Condor's Rail&Fly package we boarded a fast-moving train to Dusseldorf.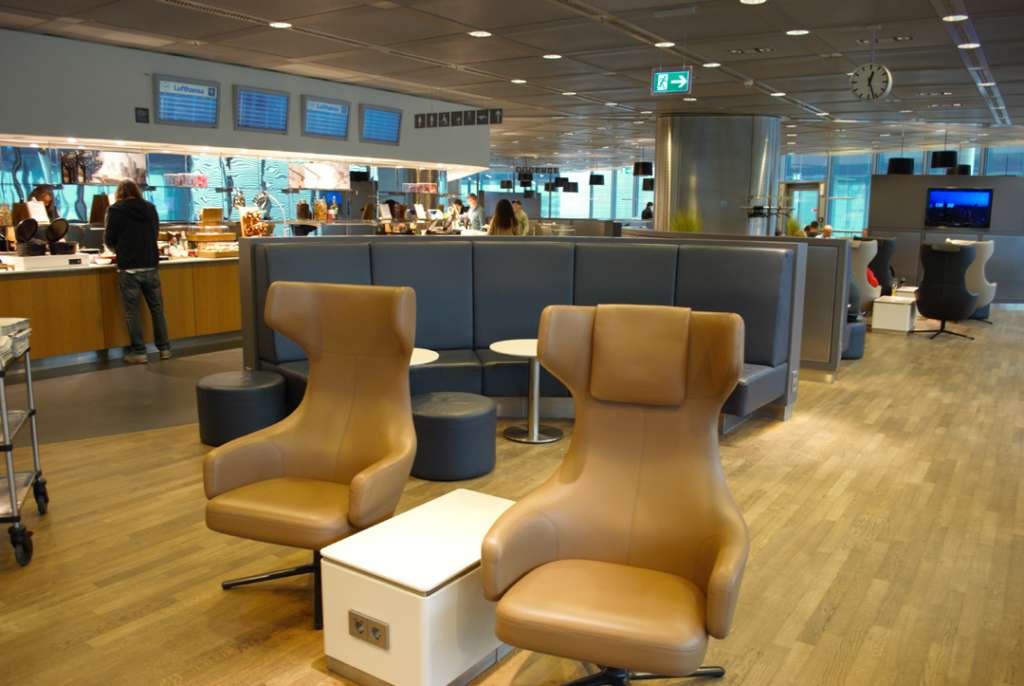 Our pre-flight research revealed that Condor began flying as a division of Lufthansa, orchestrated by former Lufthansa employees; in December 1955, they launched Condor's first flights with a fleet of three British-made Vickers Viking two-engine propeller aircraft, with 36 seats. In 1966, Condor's first long-haul flights were to Kenya, Thailand, Sri Lanka, and the Dominican Republic, and in 1990-92, Condor was the first airline to introduce a separate, more comfortable class into its aircrafts. In 2019, for the fourth time Condor was voted Germany's most popular holiday line, and in 2021, they ordered 16 new Airbus A330-900neo long-haul aircrafts, addressing state-of-the-art technology, paramount efficiency and, best of all, the highest level of customer comfort.

Condor Business Class
Business Class is an extraordinary extravagance, and at the Frankfurt airport, Condor enhances the pleasure, sharing a roomy and comfortable business lounge with Lufthansa. When we arrived before our return flight, passengers were relaxing on a quiet rainy day with tea and champagne. The lounge offered drinks, appetizers and a selection of three steaming soups, and nearby was a small "Chef's Delight" table where local Chef Tamara Seebachter had prepared a tasty pumpkin dish with slices of fresh smoked trout, begging passengers to lift a fork.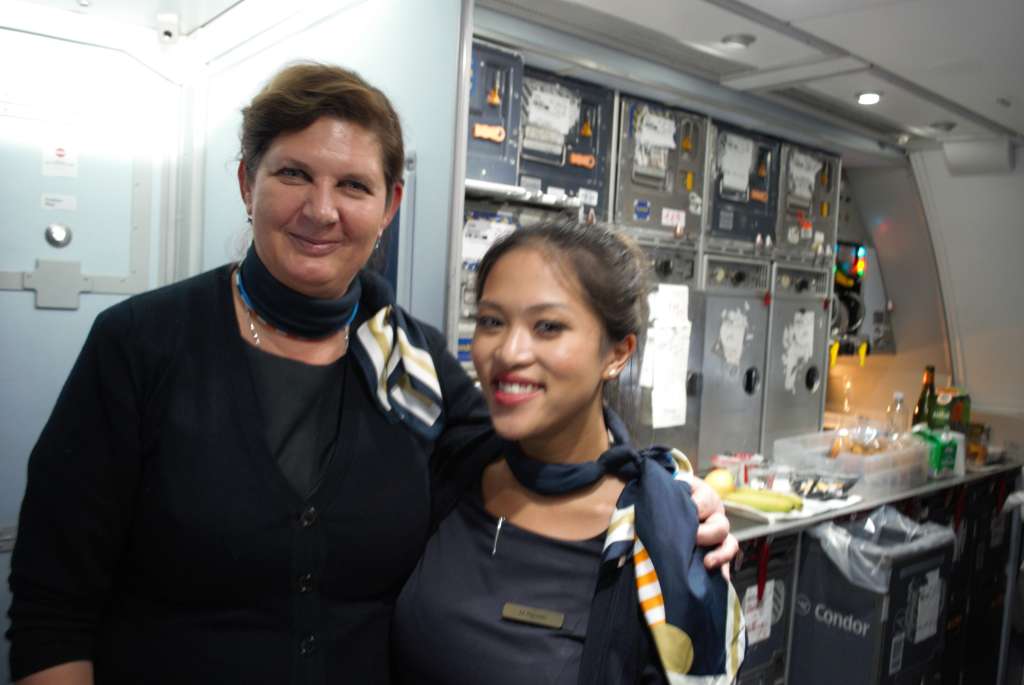 Our return flight departed on time at 2 p.m. Flight attendants served orange juice and champagne, while at each seat were a blanket, pillow, and Refreshment Kit. A large menu listed dinner selections starting with a pastrami tartlet with chimichurri, and a fresh baby green salad with tads of tomatoes drizzled with an appetizing balsamic orange dressing. Our Main Course choices were an organic vegetarian plate with spinach leaves
Red lentil dal, and a chicken breast fillet dabbed in lemon butter with garden-fresh vegetables on a bed of a nicely prepared pea orzo risotto. An assortment of bread was offered as well as a semi-sweet mango coconut tartlet. The wine selection included a brut reserve French Champagne, German Riesling, New Zealand Sauvignon Blanc, and an Italian Sangiovese. A nice touch at the conclusion of dinner was a sip of Port wine with a platter of grapes and cheese. Also available are special menus for children, and vegan, lactose-free, or gluten-free meals. The flight attendant supervisor in Business Class on our flight was Carina Schunk, who has worked for Condor for 24 years. She said many of the employees have been with Condor for more than 10 years. Smiling, " It's the Condor spirit and it's alive and well."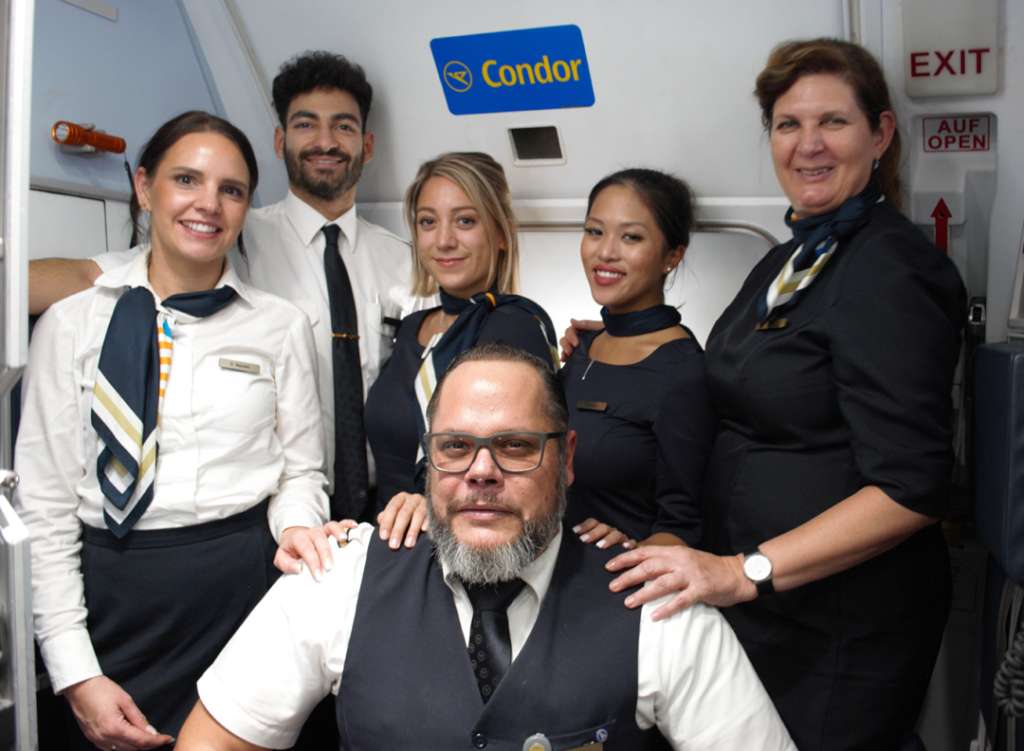 The entire flight attendants on the return flight from Frankfurt to LAX. A number of the flight attendants have worked for Condor more than ten years. They said it's the Condor Spirit. They have stories to tell with more time in the air than most of the passengers.
With lights dimmed, creature comfort comes full circle with seats that allow one to stretch their legs. Before landing at LAX. a snack included a mix of seasonal greens, cucumber and tomatoes with a light raspberry dressing, or a slice of grilled sausage in a savory tomato curry sauce, and lastly a raspberry tart with elderberry and pistachios. This was our 57th flight to Europe on assignment and Condor did not disappoint.
Of Note
From its Frankfurt base, Condor has connecting service to more than 100 destinations throughout Europe along with a network of airline and rail partners. Four North American gateways provide access: LA, Seattle, New York and Toronto. From other cities in the U.S. and Canada, Condor has interline partnerships with Alaska Airlines, JetBlue and WestJet. Condor's Economy Class is value-oriented, but Business Class passengers can check sports gear and skis at no extra charge. www.condor.com.