Ecuador: A Soul Searching Land of Personal Discovery
I feel like I've made it home… but in a strange way. The welcome at the airport lobby, the nauseating drive through the hills, the exhaustion of climbing up only two flights of stairs to my new living area (I like to blame it on the 10,000 ft. elevation), walking up to the roof and seeing patches of clear stars between clouds, waking up to the constant sound of dogs barking and car horns honking through the window, the smell of freshly baked bread from the panaderia up the street, and the long awaited taste of chifles (plantain chips). Since I left this beautiful country I have been excited to return, but I had no idea I would feel so at peace being back. From the first sight of the city lights to the familiar taste of chifles my heart has become so full of joy! I feel at home… and I love it.
The past month being back has been full – full of making new memories in many places which feel like home. Although many of the places and sights are familiar from my previous time here, the beauty never ceases to amaze me. Ecuador has so much to offer in every realm of scenery: stunning snow capped mountains, lush green jungle life, vibrant old churches and buildings in colonial Quito, free flowing waterfalls, and breathtaking volcanic lakes hidden behind rugged farmland. Besides these experienced in the past few weeks, Ecuador is home to a coastline with beautiful beaches and the infamous Galapagos Islands.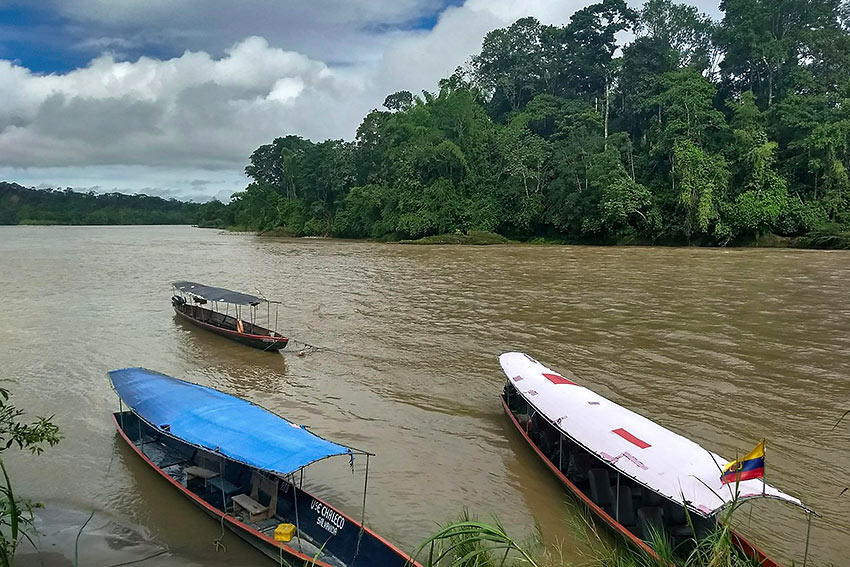 After spending almost five months here in the past couple years, I have had the opportunity to venture to most of the well known "must sees" of Ecuador. As I return to many of these magnificent sites or even walk in the nearby park, many different memories come flashing back. I remember the friends I played soccer with at the park, the meals shared at the nearby almuerzo place, conversations in local coffee shops and the laughter and games played at the hostel in the jungle. In remembering, it's easy to get stuck in comparison or more easily to dwell in the sadness of missing the people I made these memories with. Without rejecting the natural feelings of melancholy, I also have to recognize the blessing and joy of remembering these past experiences shared together. How sweet is it to be back in various places where I can remember joyous times of community and growth? I am so grateful for each one of these people who come to mind: my host mom and extended family, my cohorts and staff from last spring, and my team members and staff from Extreme Nazarene.
It is a joy to be able to create new memories with the students I am with now and to adventure to new places. As much as I love returning to the familiar, Quito and Ecuador always has more to discover. Not only do I have more waterfalls and cities to see, but I always have more to learn of the culture and people who have welcomed me in.
Although pictures never show the full magnitude of a moment, here are some of my favorite shots to hopefully give you a glance into some of these places I have found a home in.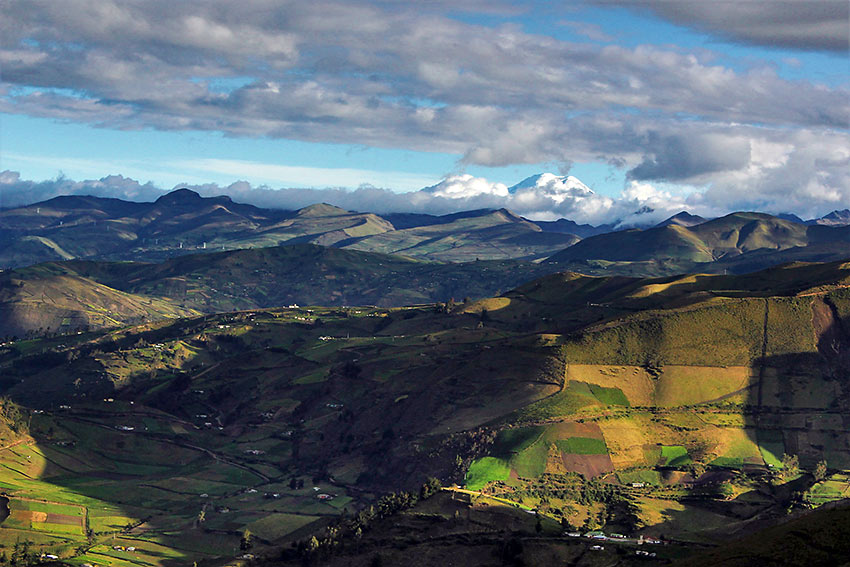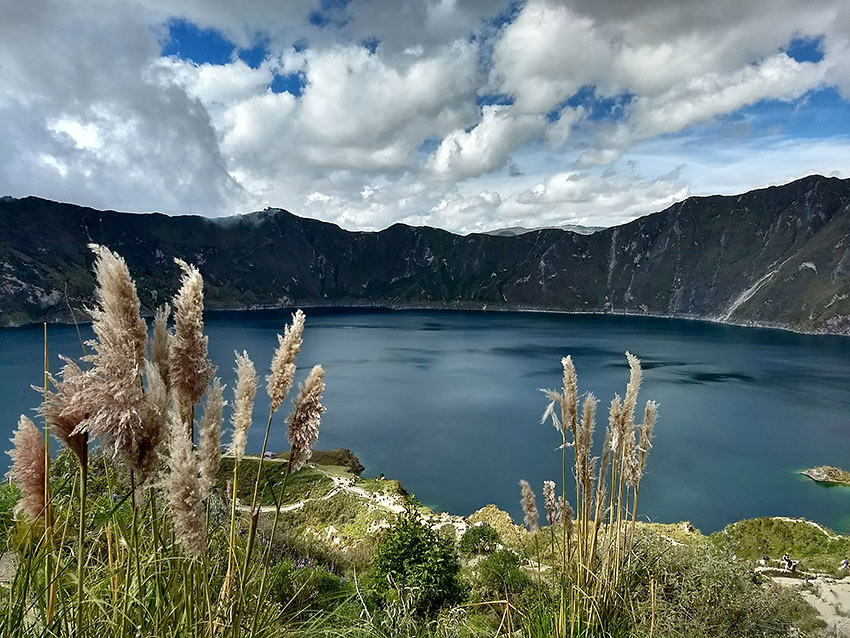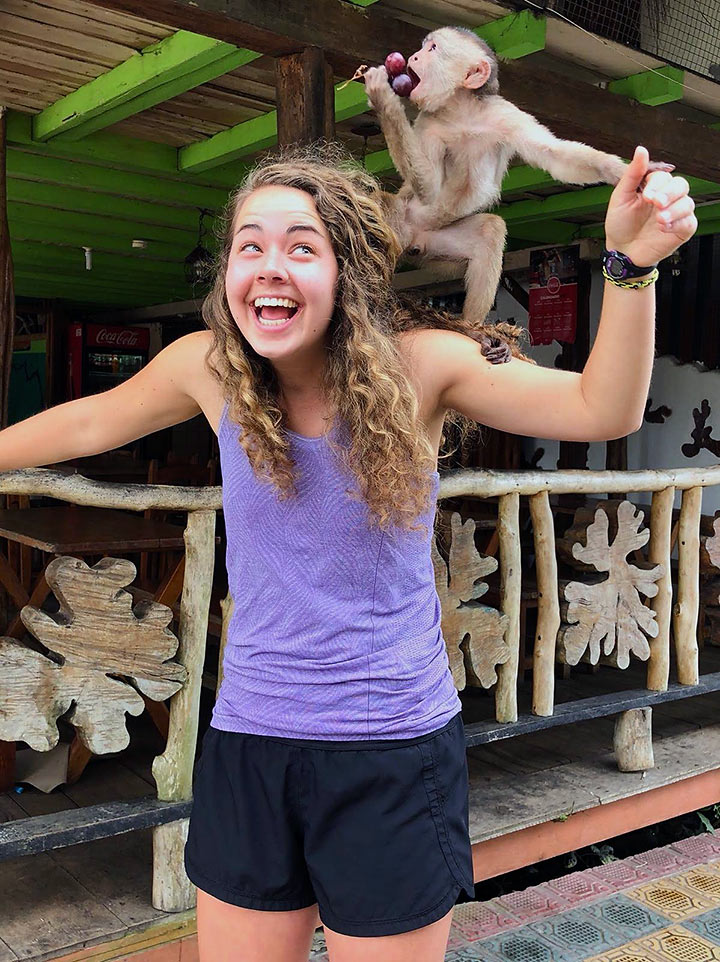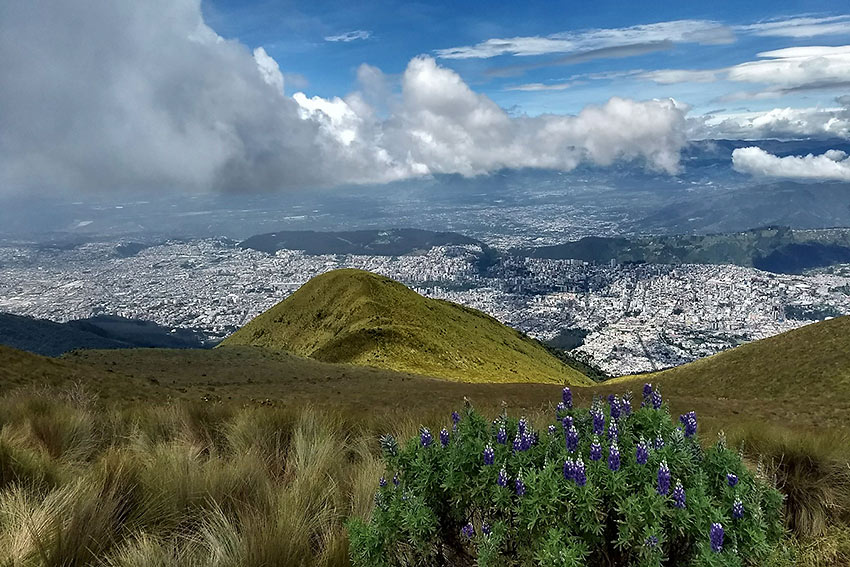 I sense God's presence so strongly here. I know God is here and I feel so at rest in Him. The sights and sounds bring back memories of many hours spent soaking in God's presence on a similar rooftop last summer or long walks up the same jagged sidewalks praying over the city with friends. The surrounding beauty of the hills and architecture remind me of his presence in creation. I am overwhelmed with joy and peace. My brother's words ring through my head, "God's presence is found right now, not in the past or future. So live in it – soak it up!"
"Where can I go from your Spirit?
Where can I flee from your presence?
If I go up to the heavens, you are there;
if I make my bed in the depths, you are there.
If I rise on the wings of the dawn,
if I settle on the far side of the sea,
even there your hand will guide me,
your right hand will hold me fast."
Flashback: A New Life in Ecuador (early Feb. 2017)
The past two days have felt like a week in the amount of excitement and joy held in them. The hours spent in fellowship with the staff and my cohorts makes me feel like we've known each other for many months. I am so grateful for how welcome and loved the staff has already made me feel.
I am humbled to be here… to feel at home. I can't wait for the many days to live and grow with this community in God's presence.
And the last few weeks have been full of learning moments: learning how to breathe walking up and down constant hills, how to shop in a foreign grocery store and fruit market, how to take public transportation, how to dress in layers with the back and forth sunshine and rain, and learning where the best and cheapest panadería is located.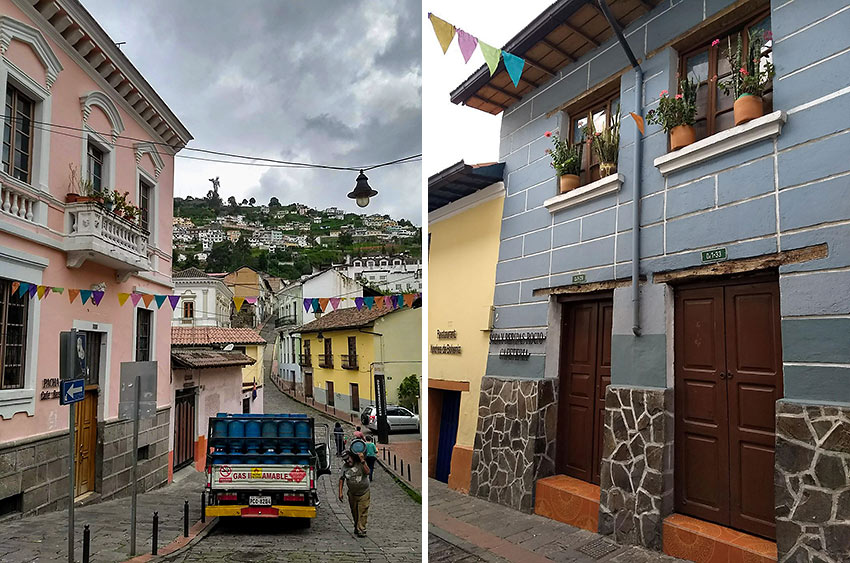 Los gotitas – "little droplets." Every Tuesday and Friday morning a friend and I have the privilege to volunteer at a Extreme Mission Daycare. This organization provides childcare for parents who recycle to earn a living. They noticed many young children ages 0-5 had nowhere to go but to be alongside their parents in the dumps during the day. With little to no expectations I walked through the door Tuesday morning and before I could say "Hola" I felt tiny arms embracing my legs. The next four hours were full of laughter and play with about 15 kids. I was surprised how many words or phrases the children taught me after only two days. Although we don't have a specific project they want help with, I look forward to being able to help care for the children.
Learning to Listen (late Feb. 2017)
I have been at a loss for words recently. The honeymoon stage of the trip has ended and the rhythms of living in a new country have set in. As soon as my house full of new friends became comfortable and familiar, change swept in. I still can't believe it has already been a week since I've moved in with an Ecuadorian family. I am humbled to have been so quickly and lovingly accepted by mí mamá and mí hermana. This week has been full of awkward moments, conversations in Spanish, storytelling to missed friends, and great Ecuadorian food: empanadas verdes, leche con fruta, sopa de chancho, and fresh fruit juice.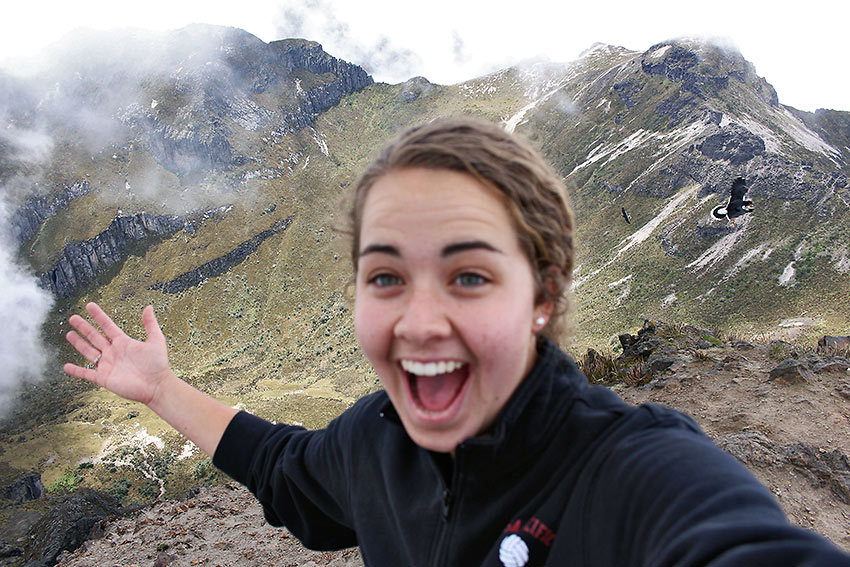 I love talking to people. I love sharing who I am, my opinion, my story. After being here only a week, there have been so many instances where I haven't been able to say what I want to say simply because I don't know how. It's true. I am at a loss for words. As frustrating as this may be I am learning how to listen… and listen well. I am recognizing how often I open my mouth to spill my opinion when all that is needed or wanted is an open ear. Understanding a culture begins by listening. When I stop and listen I hear the flapping of the towels drying on the clothesline, the Spanish music of a novella playing in the house, the honking of gas trucks outside, the crackling of fried empanadas, or the shouting of street vendors selling their goods.
The slower pace of life in this new home has not been easy, but has been much needed. I am beginning to greatly appreciate the ease of how things are done: the slow paced walks with the dog or the leisure of preparing food. So often I go into activities or tasks with the mindset of completing them, never once stopping to listen in the middle. Sometimes it means listening to my own emotions, yet other times it means listening to the needs of others, the Holy Spirit, or others' advice. Listening is not easy and has challenged me to become more humble, more patience and more disciplined.
This beautiful culture has much to say. May I learn to take the time to listen.
Slowing Down (April 2017)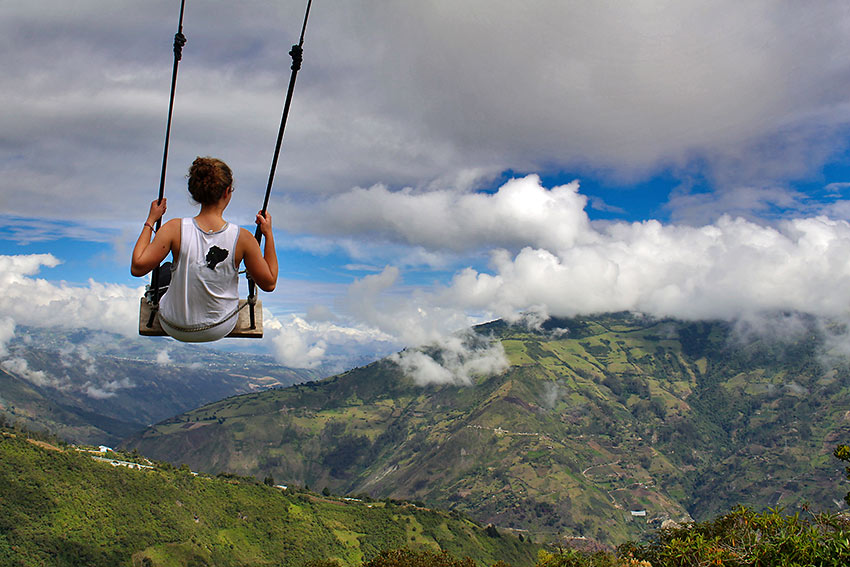 We made it through this week of exams and final papers and are headed to back to the jungle… well half of our 'equipo' anyway. The other half left this morning to the Galapagos until we switch places. At the end we all head to the beach for a final few days as a debrief. There's a lot to look forward to yet my mind keeps turning back reflecting on the past two and a half months, let alone the last few weeks of adventures. We traveled to Baños (no, not to the bathroom) to go white water rafting for a day and swing "off the edge of the world." I also had the privilege of showing my parents a snapshot of Quito and my life here. The blue skies, sun, mountains, and stars, all decided to say hi for a few days and it was so beautiful. After living here for almost three months, I forgot some things weren't normal the first week I was here. I loved reliving the excitement of crossing the streets or getting a taxi, watching my mom's face light up buying a piece (ok. maybe three) of 'suave' bread for 25 cents, walking through mountains of seemingly never ending fruit stands in awe, climbing up one block and being out of breath, or ordering a huge almuerzo for only $2.50. Although the setting was so different to be with family, I loved spending time with my parents exploring.
The past month has been full of laughter being back in the apartment with friends. Clear skies led us to sleep on the roof a few times. April fools started a war of pranks in the house. Coming back to the apartment feels like home. This last weekend I came home one evening by myself and as I opened the taxi door, I immediately heard, "Schmannie!!!!" (my nickname from my house). Walking up the stairs I heard laughter and singing coming from the roof where a huge group of friends were roasting s'mores and dancing. I am going to miss this. The departure date is quickly approaching… and I wish I could stop in time. I want to treasure these next three weeks together without avoiding the fact the semester is ending. I can't believe this semester is ending so soon.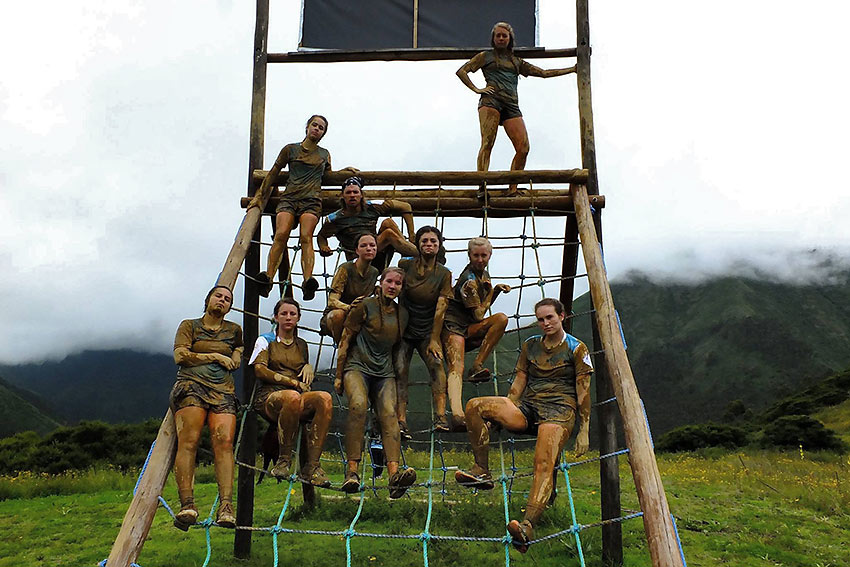 Beauty Everywhere – May 2017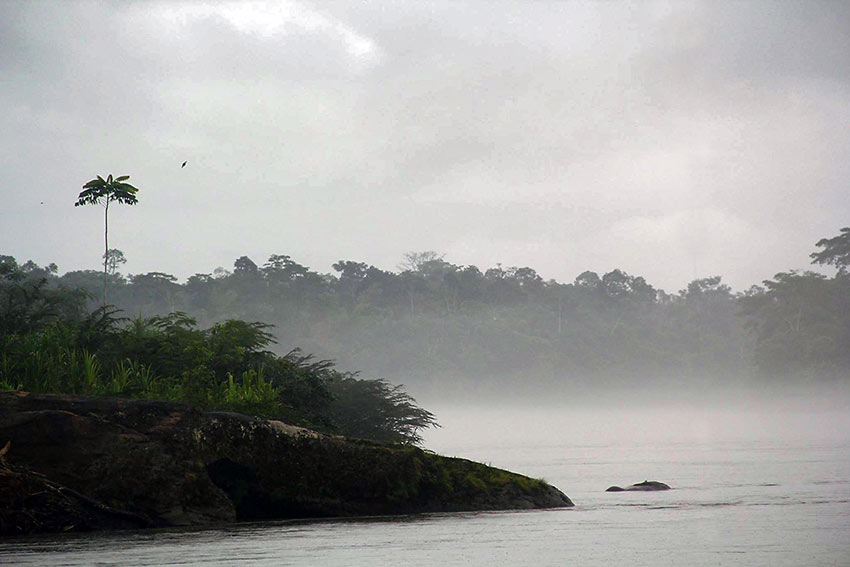 Much dreaming and many words are meaningless therefore stand in awe of God. – Ecclesiastes 5:7.
This verse kept ringing through my head this weekend as I had the privilege of wandering and exploring a tiny part of the Amazon jungle called Misahualli. I am still trying to soak in the reality that I just spend three days in the Amazon jungle. It felt like a dream; the landscape of Tarzan coming to life. I witnessed a beauty I had never seen before in so many different ways. Nature full of new sights: unique birds, trees, insects, landscapes, and colors.  The lushest, most abundant green was everywhere I looked. I understand how it is so green as every few hours we would find ourselves stuck in a warm pouring rain.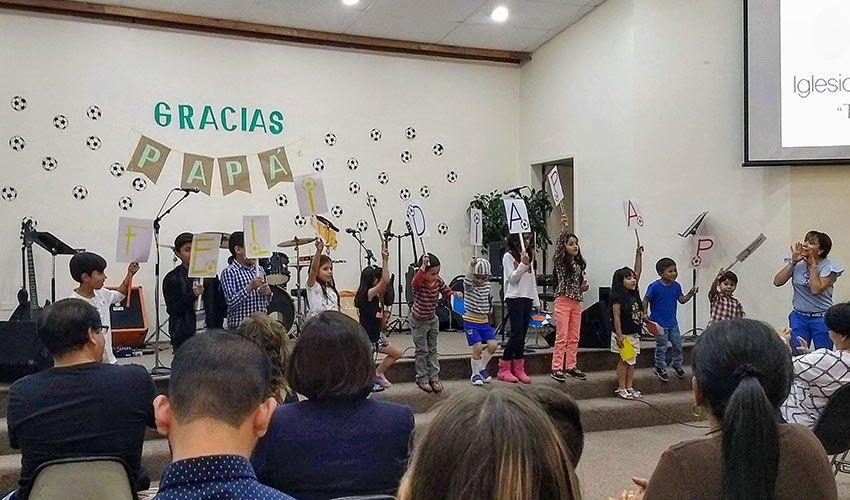 Not only did I find beauty in nature, but I saw beauty in people. The unity in people from differing backgrounds and nations working together, learning from each other, and helping each other. The peacefulness in an elderly man leisurely whistling as he biked his cart down the street or the joy of watching friends hysterically laugh in the back of a truck in the pouring rain. Our group has talked about how there is something about the jungle which allows you to be fully you. An openness and vulnerability was created as we were forced into new experiences. It's hard to hide your true self when you are in the middle of something you are deeply passionate about. I found so much beauty in seeing people's personalities, joys, passions, or values portrayed as they were fully present in a moment. I saw someone dance wildly in front of everyone to lead music for children, someone working hard to stir cement without complaining, someone encourage another in their fear or weakness, and yet another faithfully stand by a friend in pain. You can't hide your sweat and stink after even a day in the jungle and I am so grateful for these moments of truth. It was so beautiful watching people be who God created them to be.
True beauty does not always appear beautiful at first sight. Sometimes you have to search for beauty amidst the struggles and pain. We had the privilege to work with missionaries and hear a part of their stories and passion for this community. Although they have started a thriving Christian school, a farm to help provide jobs, and a girls' home, they continue to pursue more for this community. It was so amazing to see how God is present and has been working in this community. Not only did they talk about previous progress but they talked about their past and current hardships with full honesty. They were not shy in expressing how they were really doing and at first I was taken aback. I became easily discouraged and saddened when I heard how hard it has been for one family in particular. Deep within these struggles and frustration I saw a beauty in their honesty of what they were going through, their humility to ask for prayer, and their perseverance for the future.
It is easy for me to come back from the jungle completely taken by the beauty of nature and the amazing experiences. I was also reminded of the reality that many people are hurting and struggling there just like anywhere else: youth falling to worldly influences, broken families, or lonely missionaries. But amidst this pain, God's presence was evident. Above all, I think all these experiences and emotions helped me glimpse a tiny bit more of God's beauty. God is helping me understand better his great compassion for his children, his creativity and design in nature, his power to enable those who feel weak, and his purpose for every single person's life. All I could do was sit in awe.
It's also easy to see beauty in people or places when it is expected: a close friend, a sunset, or an animal. I want to go searching for beauty: for loveliness in a seemingly rough situation, an excellent quality of an annoying friend, or a pleasurable sight of nature in the middle of a storm. What if we were to treat every person as if we were meeting a king or queen: expecting beauty and ready to accept who they are. I think we would be pleasantly surprised by the amount of beauty we would find.
Chao! – Ecuador slang for goodbye/see ya later.