Auto Mechanic King
I've had it with auto mechanics. What is it with these guys? Every single one I know has a nagging wife, who forces the husbands to seek refuge in their cave garages. There they are kings of their little domains where only their customers appreciate and understand them.
The last mechanic I went to caused my engine to fry.  That car still sits in my garage waiting for my fairy godmother to appear.
Recently, my other car was making strange sounds every time my car was in motion. I know a thing or two about cars and it was rather obvious to me that it was probably the brakes. I've been to a few established shops and they always charge a small fortune to support the air conditioned waiting room ambiance. I'm okay with sweating like a pig. A friend of mine said she knew of Vin, a Laotian weekend mechanic, who was good and charged little — emphasis on "charged little." So I took the bait.
Vin was small in stature but big in confidence and pride on his garage/auto shop complete with a lathe machine and a grinding machine.
So I played the game all mechanics and customers who meet for the first time play — we sized each other up. A little small talk a little hint about how poor we were — me to lower the price, he to raise his. I admit that I was impressed that he knew exactly what to do. He even ground my brake disc down to smooth the surface. About an hour later, he was done and I had new front brakes. We went for a test drive and I said I still heard the same sound as before. He couldn't hear anything and assured me that it was nothing and that it would go away. Reluctantly, I paid him $160. For the parts, the grinding and the quick service, I thought it was fair.
On my way home the sound got louder and louder. I called him and told him about the problem. He said to come back next weekend. The whole week I avoided using the car so as not to make the situation any worse. What an inconvenience!
Saturday came and I went back early. We took a test drive. It was the same sound as the last time but miraculously he could hear it clearly this time. So I'm thinking he must have gone to an ear doctor. He insisted it was coming from under the hood. But I insisted that didn't make sense because the noise only started when we were in motion. He played this little game of upselling until he realized he was dealing with a "professional." He opened the brake system of the rear tires. Sure enough, that was where the problem was. His demeanor changed because he was proven wrong. No one does that to the king. He had to order the parts so I had to return the next day.  I really didn't want to return but I felt sorry for the guy because he already ordered the parts.
The little dork was playing on his smart phone when I drove back. After the initial handshake he went back to his digital game and continued for about 20 minutes. I couldn't believe I, the customer, was waiting for this little gamer to finish his titillating thumb exercise. I realized I had stepped into his kingdom where even the spiders dare not crawl. All chit chat stopped. I should have walked out .
He didn't have to resurface the disk like my front tires so in less than 30 minutes, he was done. The charge? "The same — $160!" A lesser man would have shoved his smart phone down his royal throat but, well … his wife had not arranged for a convenient assassination … yet.
The whole week I've thinking about this little criminal and how I wanted to ram his castle with my car. But I remembered the scriptural verse — " vengeance is mine says the Lord."
Dear Lord, forgive my self-righteousness. I know you will make things right. But would it be too much to ask that your start the vengeance? Like right NOW?!?!
"There is no revenge as complete as forgiveness."
—   Josh Billings
TGIF people!
The Short Story of 4 Mexicans on a Boat
Shared by Chuck of Whittier, CA

Best of Dave Allen
Sent by Art of Sierra Madre, CA
Here are some clips of this funny Brit.

People Drone
Sent by Don of Kelowna, B.C.
This might be the start of a new mode of transportation.

A Doll Just Like Me
Sent by Debbie and Bob of Moreno Valley, CA
This video got me teary eyed. Courtney Bennett's family went out of their way to give Emma a gift she instantly bonded with. Emma has a prosthetic leg. Look her reaction.
Don's Puns
From Don's collection of puns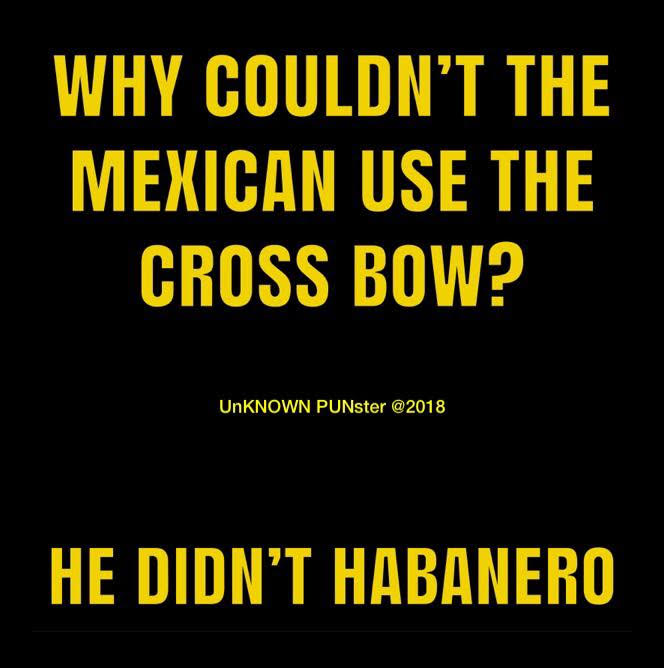 Parting Shot
Thanks to Tom of Pasadena, CA who shared this photo