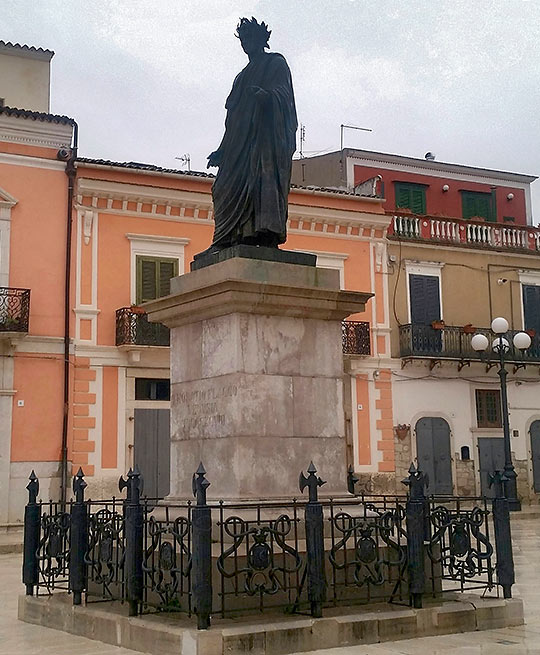 Shards of rain and near-freezing temperatures in the middle of December did not prevent me from making a desperate pact with Horace. As a financially hopeless traveling boy, I often asked dead authors for help. I showed up at their graves and pleaded, "I'll keep writing, you just show me how to pay the bills. Show me how to make a living." That's what I said, or some variation thereof.
Otherwise known in Italy as Quintus Horatius Flaccus, the legendary Roman lyric poet Horace was born in 65 B.C., in Venosa — these days about halfway between Naples and Bari, more or less in the middle of nowhere. Horace left a serious legacy. "Carpe Diem" was his signature phrase, long before Robin Williams popularized it again. Seize the day while you still have time.
As such, our van motored down the road in Basilicata, the arch of Italy's boot, with rural badlands surrounding us in every direction. Heritage countryside cathedrals and ancient ruins were on the itinerary, but on the way, though, our guide informed us that a statue of Horace existed in Piazza Orazio Flacco, the main square of Venosa, in the old part of town. Venosa included an old section and a modern section, she said.
"The modern part is the ugly part," she told us. "That's where I live."
Outside the van, shards of rain continued to plummet from dismal gloomy skies. Everything else along the highway seemed various shades of green, with swaths of hilly agricultural lands stretching as far as I could see through the gray veil of weather.
We were not scheduled to spend that much time in the city of Venosa itself. The small village of 11,000 would be empty, our guide said. Due to the weather, no one wanted to be outside. But as soon as I learned that a statue of Horace awaited me, I became obsessed. I needed to see him. I'd previously visited the graves of Hermann Hesse, Leonard Cohen, James Joyce, Jorge Luis Borges and others, all to make desperate pacts, hoping their spirits could show me a better way to make a living. Horace was not buried here, but his statue would have to suffice.
There was only one problem. The rest of the group did not need to make a desperate pact with a dead poet. They didn't need to walk through empty streets in the dreary cold drizzle just to see a statue in an empty plaza. Thankfully, the group surprised me. They acquiesced. They went along with my ridiculous idea. Carpe Diem. Take advantage of the moment!
The van dropped us off at an entry point to old-town Venosa, since the vehicle was unable to navigate narrow cobblestone streets. Our entire group then had to walk through the rain for about half a mile into the desolate village, with the guide and I breaking away from the group toward the statue of Horace. It was perhaps a few degrees above freezing and the rain was starting to come down even harder. After 15 minutes, we approached Piazza Orazio Flacco, but the rest of the group needed a place to get out of the rain. It was miserable. I felt like a heel for inconveniencing the rest of them.
Thankfully, lo and behold, as we shuffled down Via Vittorio Emanuele II, we passed by a storefront set back a few feet from the road, in a building centuries old. Everything else in the neighborhood was closed for the afternoon, but Eccellenze Lucane, an organic gift shop, appeared to show some signs of life. Inside, the lights were on and we could see some activity, so we banged on the door and a woman came downstairs to let us in. Everyone in the group began to dry off, remove their gloves and rave over the product line.
Eccellenze Lucane featured a curated selection of local products. It was a lovely wine merchant and a place offering cheeses, grappa, sausages, pasta, jams, wicker baskets, gift packages and a variety of artisanal goods from the Basilicata region. Lucania was the ancient Roman name for Basilicata, so the store's title simply referred to local excellencies of the region.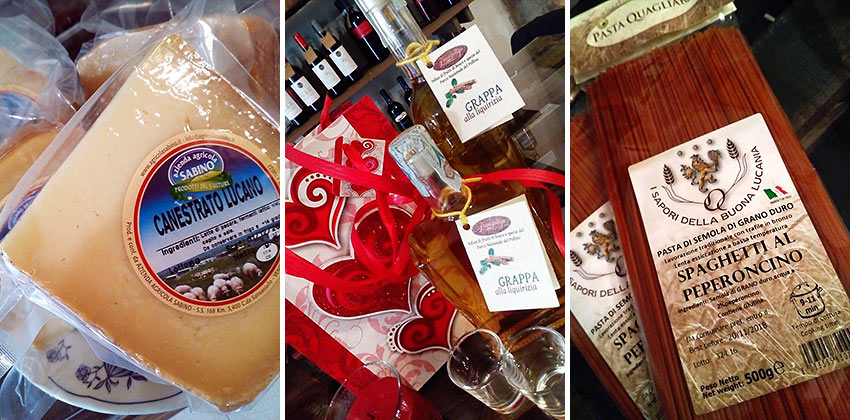 Our visit became an unexpected, instant success. Each person found something to take back home. The shop seemed like every textbook hidden local joint one would want to discover on a chance encounter. We couldn't have planned this visit ahead of time. As the group chatted it up with the proprietor, she opened a bottle of wine and gave everyone a sample. A few members of the group gravitated toward cute wicker placeholders, perhaps meant for carrying wine and cheese, or maybe to hold jewelry. One guy needed to bring home bags of pasta for his friends, so he made a beeline to the pasta shelves, where small packages sold for various prices. The entire group began to whip out their wallets and credit cards. The proprietor was blown away. As the group continued to browse and partake in more product sampling and conversation with the owner, I headed out into the rain to find Q. Horatius Flaccus, as Horace was often abbreviated. Carpe Diem. Live for the day and don't trust tomorrow. I could almost hear Horace in the original Latin piping through my head.
Sure enough, he was down the street and around the corner. The plaza was so empty I could have shot a cannon without hitting anyone, but there was Horace in all his glory. The icy drizzle still poured from the sky and it was hard to get a decent photo, but my jacket protected me enough to stand there and make a pact with the legendary poet.
"Alright old man, I will keep writing. You just show me how to pay the bills." That's what I said to him. Out loud.
But only then did I start to wonder what Horace was really saying in his famous ode that included the words, carpe diem. He was saying, don't put too much trust in tomorrow. Be grateful for what you have today. Who knows what the gods have in store for any of us. Meaning, I didn't even need to be asking him for help. Who cared if I ever made a real living as a writer? Maybe I should just seize the damn day, shut up and get on with it.
And that we did. Afterward, several of us had an espresso inside the only other establishment open at the time, a small tobacconist's shop on the plaza, a place that also sold lottery tickets and other sundries. The guide assumed I wanted American coffee, but I ordered an espresso doppio and some acqua gassata before she had a chance to say anything else.
I was enchanted. Tired, damp and worn out, but enchanted. By sheer chance, we had come to the middle of rain-soaked Venosa during the empty hours of the afternoon. The rest of the group found a spectacular shop to buy just the gifts they'd been looking for, while I found the dead poet I was looking for. Everyone came out a winner in the end. I didn't need to worry about tomorrow. I had seized the moment.
Eventually the van picked us up on the other side of the village and away we went toward the heritage cathedrals in the countryside. I was alive, here, today, and I was grateful to be in Basilicata. Carpe Diem. To Horace, and to Venosa, I said, Arrivederci, alla prossima. Farewell, and see you next time.