Italy has been the backdrop for some of our favorite films, and the beguiling scenery often upstages the acting. Don't Look Now (1973), Room with A View (1985), Cinema Paradiso (1988), Il Postino (1994), Call Me By Your Name (2017) . . . well, we could go on and on. The stars, too, have often been smitten with the settings and la dolce vita, and they've added an allure all their own to the legendary hotels where they've stayed while filming.
Elizabeth Taylor and Richard Burton
Albergo Regina Isabella, Ischia, Italy, The Liz Taylor Suite
"Our love is so furious that we will burn each other out." — Richard Burton
I really don't remember much about Cleopatra. There were a lot of other things going on.— Elizabeth Taylor
The seaside charms and bubbling thermal baths of the island of Ischia have long been a draw for literary types (Henrik Ibsen, Truman Capote, Tennessee Williams), movie stars (Marlon Brando, Brigitte Bardot, Charlie Chaplin, Jennifer Lopez, Leonardo DiCaprio), and other glitterati (Soren Kierkegaard and Prince Charles). None of these visitors, though, has made as big of a splash as Elizabeth Taylor and Richard Burton did when they sailed over to Ischia to film the barge scenes for the 1963 blockbuster Cleopatra. Both were married to other people (she for the fourth time, to Eddie Fisher, who had left Debbie Reynolds for her) and their much-photographed affair was a salacious scandal of which a rapt public could not get enough. The Vatican cited Taylor for "erotic vagrancy" and there was talk that the United States was going to ban entry to the pair. Photos of the lovers sunning on a yacht and swimming in Ischia's clear blue waters pushed the Space Race and other headlines off the front pages.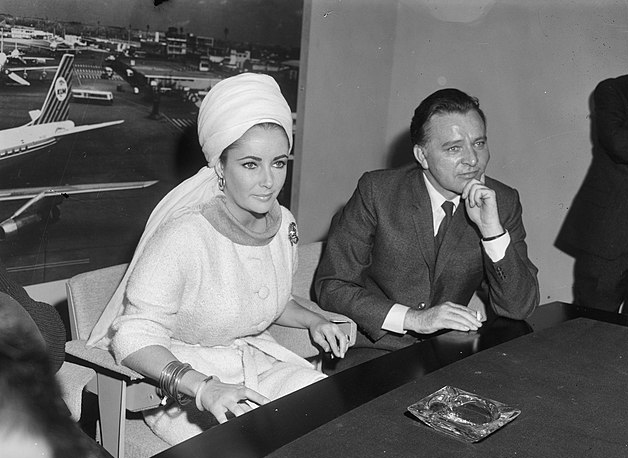 Taylor and Burton escaped the prying eyes and lenses of the paparazzi in a seaside suite at the Regina Isabella, in the seaside village of Lacco Ameno. The glamorous resort was already on the jet-set map as a retreat for the likes of Clark Gable and Maria Callas, and the power couple enjoyed royal treatment in what is now known as the Liz Taylor Suite, a sprawling, sun-filled spread with a regal salon and bedroom, huge terrace, and two marble-clad bathrooms fit for Cleopatra herself. No doubt the lapping waters of the Bay of San Montano and scent of pines was a soothing antidote to the stars' rigorous filming schedule and tumultuous personal lives.
Cleopatra, meanwhile, became the most expensive film ever made (more than $300 million in today's dollars). For all the expense, fanfare, reasonable box office success, and four Academy Awards, many critics found the epic to be mundane and lumbering. Even Liz, who made $7 million off the film, said she found the three-hour-long version released in theaters to be "vulgar."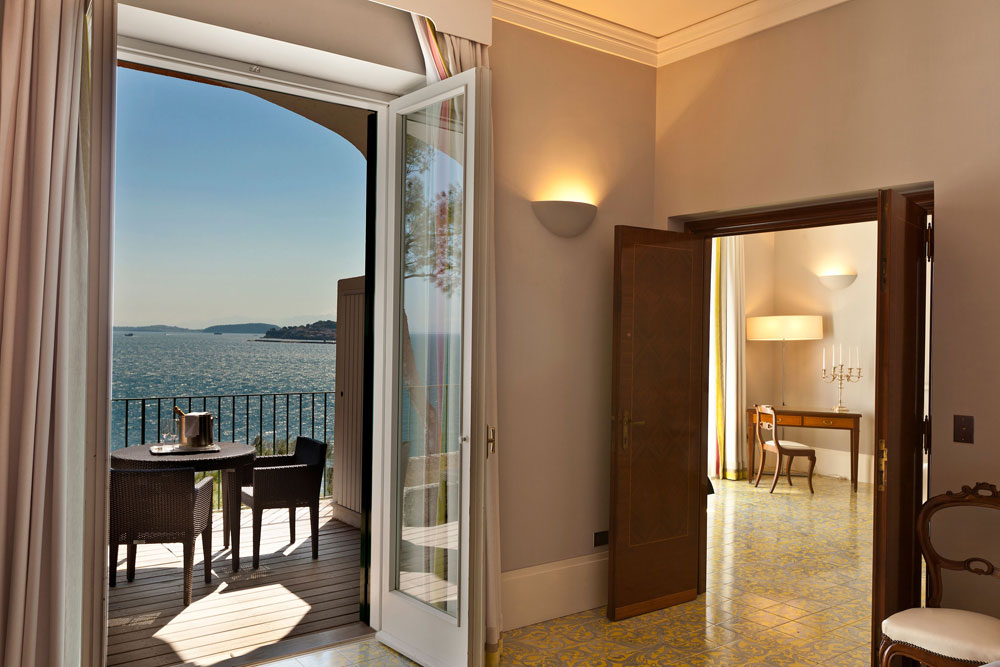 The couple's allure began to ebb as they became notorious for their boozing and fighting and married and divorced each other twice. Most of the star vehicles the pair made after Cleopatra were disappointing, with the exception of the brilliant Who's Afraid of Virginia Woolf? (1966). For many viewers, the story of a volatile, alcohol-soaked marriage mirrors the lives of the stars, and Taylor won her second Academy Award for best actress.
Just around the coast from the Regina Isabella is a tribute to another well-known, much more subdued couple, the British composer Sir William Walton and his Argentine wife, Lady Susana Walton. The pair created a stir when the 46-year-old year old Walton wooed and won Susana, 24 years his junior, annoying her father so much that he spent her entire dowry on Champagne for their wedding reception in Buenos Aires. They settled on Ischia in 1949 and created one of the world's great gardens, Villa La Mortella, filled with exotic plantings and splashing fountains, a perfect getaway from worldly affairs.
For more information, visit Regina Isabella.
Ava Gardner
Hotel Splendido, Portofino, Italy, The Ava Gardner Suite
I was born with good health and a strong body and spent years abusing them. —  Ava Gardner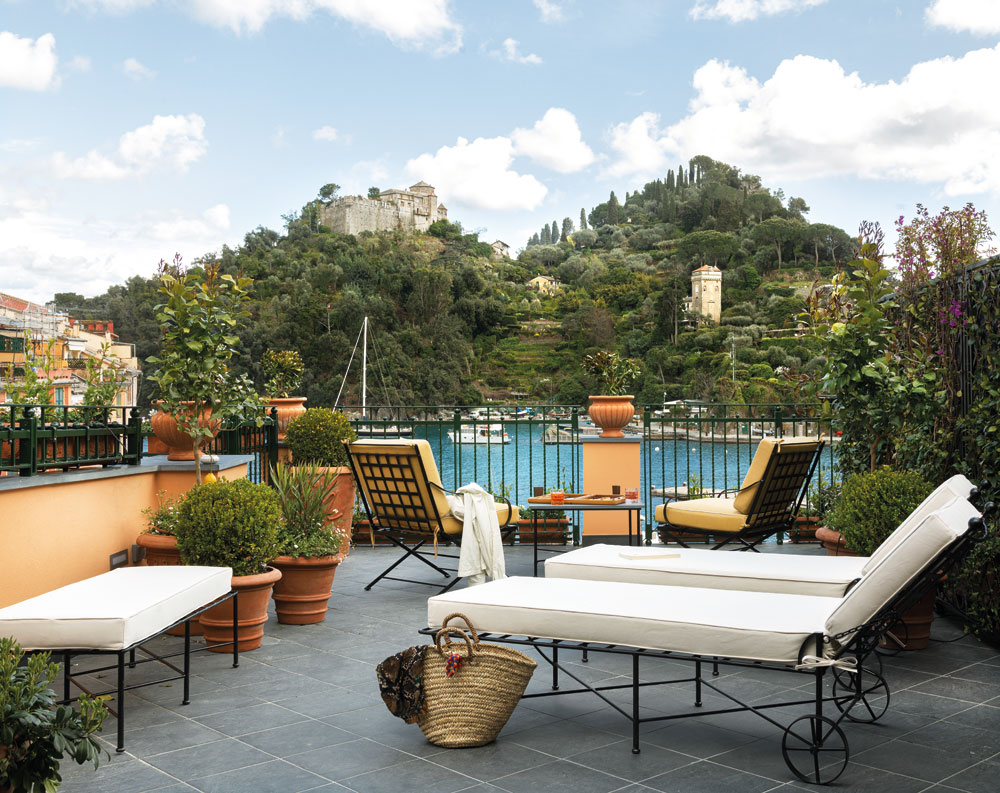 By the early 1950s, residents of picturesque Portofino on the Ligurian Coast had figured out that there was a lot more money to be made from landing movie stars and other beautiful people than from hauling in fish. The man about town in those days was Rex Harrison. He had fashioned a luxurious villa on the remnants of a World War II era bunker high above the Bay of Portofino, where he entertained the likes of Clarke Gable and the duke and duchess of Windsor. So, it wasn't too surprising to see Ava Gardner sail into the harbor and settle into the Splendido, a former monastery turned lavish hotel.  Gardner was at the height of her stardom, having won acclaim for her roles in such hits as Show Boat (1951), The Snows of Kilimanjaro (1952), and Mogambo (1953). The high-living, hard-drinking, chain-smoking star came to Portofino to shoot scenes for The Barefoot Contessa (1954), with the pretty little town serving as a backdrop for her escapades with a Latin American playboy. With Gardner came costar Humphrey Bogart and his wife, Lauren Bacall. Not accompanying her was her husband, Frank Sinatra, from whom the star was increasingly estranged, nor her lover, the Spanish bullfighter Luis Miguel Dominguin.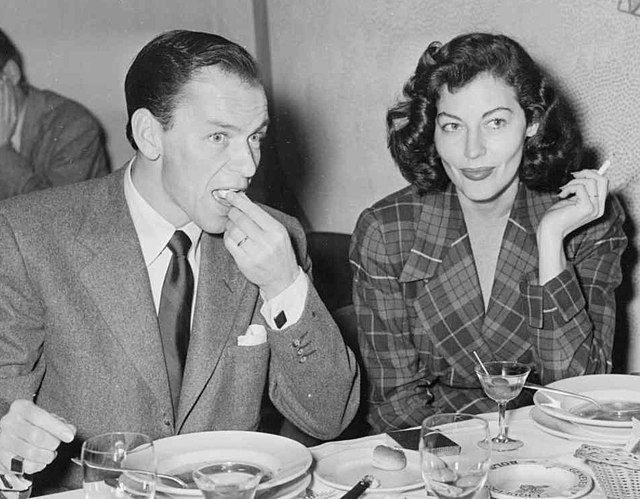 Gardner's role in The Barefoot Contessa, as a beautiful girl who rises from obscurity to become a famous star, was not far from her own life story. In fact, like her character, Gardner preferred to go barefoot, and she could comfortably do so on the huge terrace of the top-floor suite named after her. The views across the water to the pastel-hued houses hugging a snug harbor are unchanged from Gardner's day. You can just about make out the spot in front of La Gritta bar where Harrison staggered onto the wharf after a night of celebrating his best-actor win for My Fair Lady in 1964 and threw his Oscar into the harbor.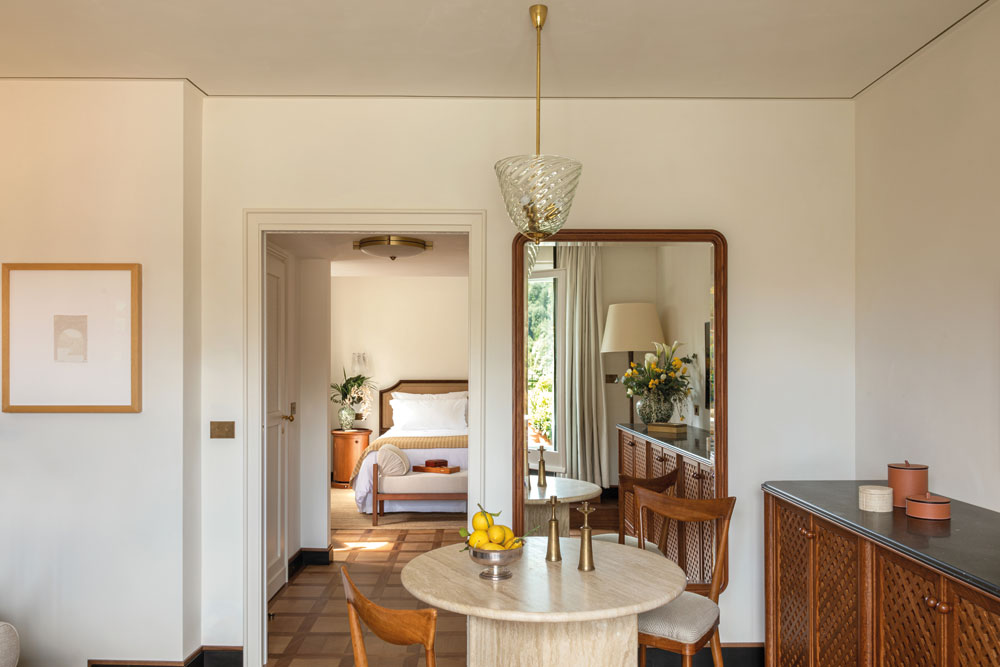 Gardner went on to make several other well-received films, including The Sun Also Rises (1957) and On the Beach (1959). In 1963, she traveled to Puerto Vallarta, Mexico, to film Night of the Iguana. Her costar, Richard Burton, arrived with Elizabeth Taylor, and the trio's off-screen antics inspired a parody by comedian Allan Sherman, sung to the tune of The Streets of Laredo: "They did things at night midst the flora and fauna that no self-respecting iguana would do."  Gardner, Burton, and Taylor had more than their film careers and fondness for alcohol in common—of all the places the stars touched down on their international travels, the Splendido in little Portofino remained a preferred hideaway for the three of them, as it still is for the rich and famous.
For more information, visit the  Hotel Splendido.
Audrey Hepburn
Hotel Hassler, Rome, The San Pietro Suite
The most important thing is to enjoy your life, to be happy. It's all that matters. —  Audrey Hepburn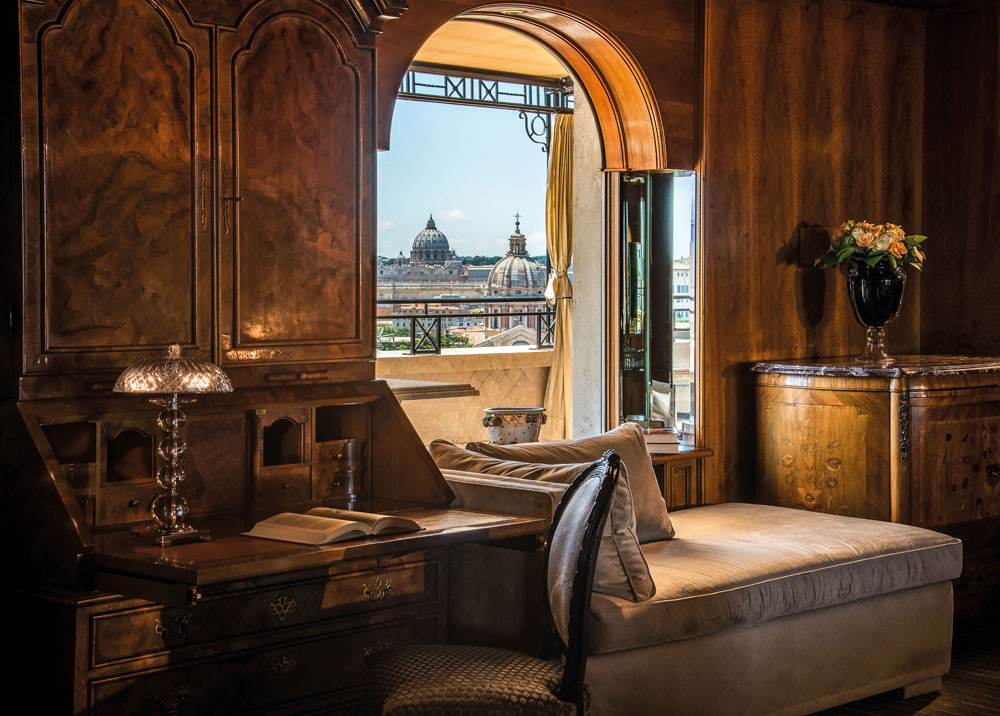 Filmgoers will forever associate Rome with Audrey Hepburn, who buzzed around the Eternal City on the back of a Vespa in the 1953 classic Roman Holiday. Almost 70 years later, it's still difficult to put your hand into the Bocca della Verità without thinking of Gregory Peck (Joe Bradley) screaming in mock pain as a terrified Hepburn (Princess Ann) looks on.
For Hepburn, Rome was synonymous not with ruins and fountains but with the Hotel Hassler, as it has been with generations of discerning travelers.  The star stayed at this hostelry at the top of the Spanish Steps while filming the story of a princess who enjoys a footloose romp with a dashing journalist, and she returned many times until her death in 1993. Managing Director Roberto Wirth, as much of a legend as many of his distinguished guests, says, "Her grace and elegance fascinated me … I remember her as a fairytale princess when she came down the Hassler's stairs."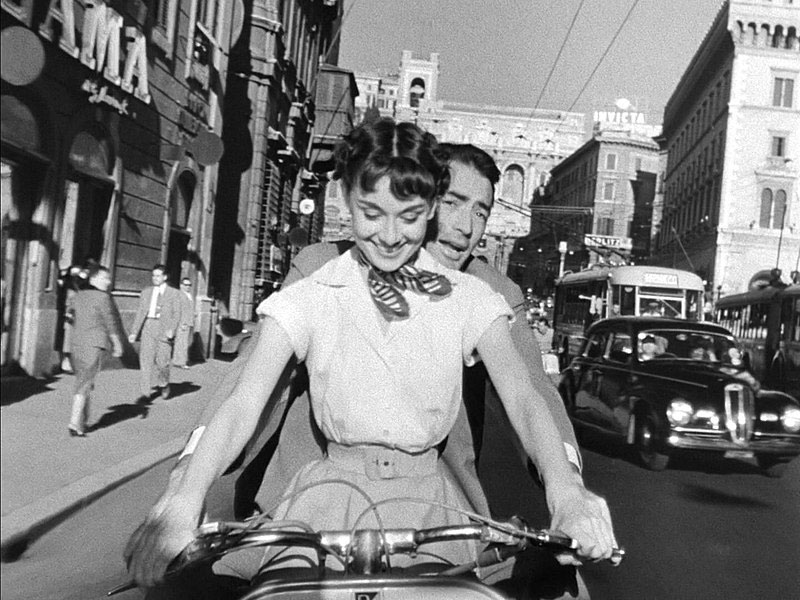 Judging by her films, Hepburn might have seemed most at home in France (Charade, Funny Face, How to Steal A Million, Sabrina, Two for the Road), and she once famously said, "Paris is always a good idea." But for much of the Belgian-born star's life, Rome was where her heart was. Soon after the end of Hepburn's14-year-long marriage to fellow actor Mel Ferrer, she married psychiatrist Andrea Dotti in 1969 and retreated from films and the limelight for a new role as a Roman housewife and mother. That marriage dissolved in 1982 and Hepburn took up residence in Switzerland, where she happily grew roses when she was not traveling the world on behalf of UNICEF.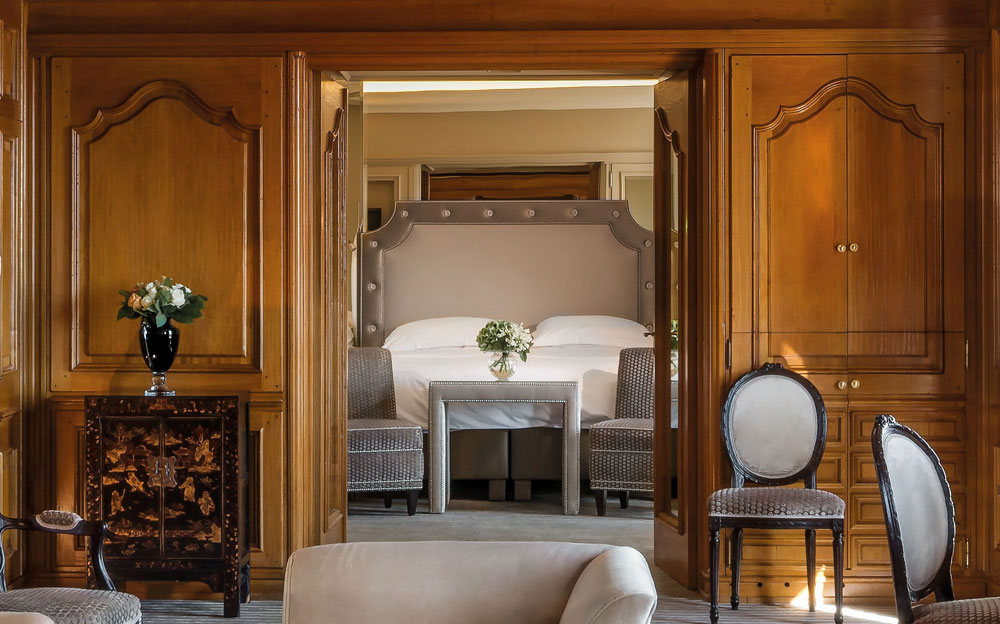 Hepburn frequently returned to Rome to visit her son, Lucca Andrea Dotti, often settling into the Hassler's San Pietro Suite. The rich paneling, Old World paintings, priceless antiques, and acres of marble might have been handpicked for the classy and elegant icon. Anyone, star or not, who stands on the airy terrace and looks across the rooftops toward the dome of St. Peter's might be tempted to quote one of Audrey's lines from Roman Holiday, "I will cherish my visit here in memory as long as I live."
For more information, visit  Hotel Hassler.