---
Susan George on "OUR CITY TONIGHT" TV
---
Watch Screen Legend Susan George's interview on Canada's "Our City Tonight" with host Jim Gordon who offered perinate questions about her career in which few of us were aware of.

---
Random Acts of Canine Kindness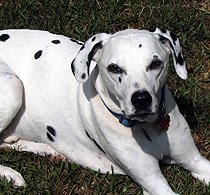 Cedric the Dog takes a well-deserved break after his failure to shut down a puppy mill in Oklahoma City, Oklahoma.
You want a friend in Washington? Get a dog. – Harry S. Truman
MORE Dog Quotations
Together in Spirit – The Best Friends Animal Society
At the core of Best Friends Animal Society's work is the dream that one day animals will no longer be killed in America's shelters.
MORE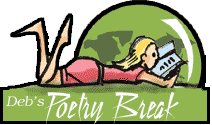 On Raglan Road
By Patrick Kavanagh
On Raglan Road on an autumn day I saw her first and knew
That her dark hair would weave a snare that I might one day rue;
I saw the danger, yet I passed along the enchanted way,
And I said, let grief be a fallen leaf at the dawning of the day.
On Grafton Street in November we tripped lightly along the ledge
Of the deep ravine where can be seen the worth of passion's pledge,
The Queen of Hearts still making tarts and I not making hay
Oh I loved too much and by such by such is happiness thrown away.
I gave her gifts of the mind I gave her the secret sign that's known
To the artists who have known the true gods of sound and stone
And word and tint without stint for I gave her poems to say.
With her own name there and her own dark hair like clouds over fields of May
On a quiet street where old ghosts meet I see her walking now
Away from me so hurriedly my reason must allow
That I had loved not as I should a creature made of clay
When the angel woos the clay he'd lose his wings at the dawn of day.
Learn the history of On Raglan Road and see the beautiful woman who inspired it.
MORE
Send Deb your favorite travel poems
ED BOITANO ON "OUR CITY TONIGHT" TV
Last Sunday, the hit Canadian TV series Our City Tonight interviewed Traveling Boy editor, Ed  Boitano. The main focus of the interview was how Traveling Boy was able to survive during the C-19 pandemic when few people have been traveling.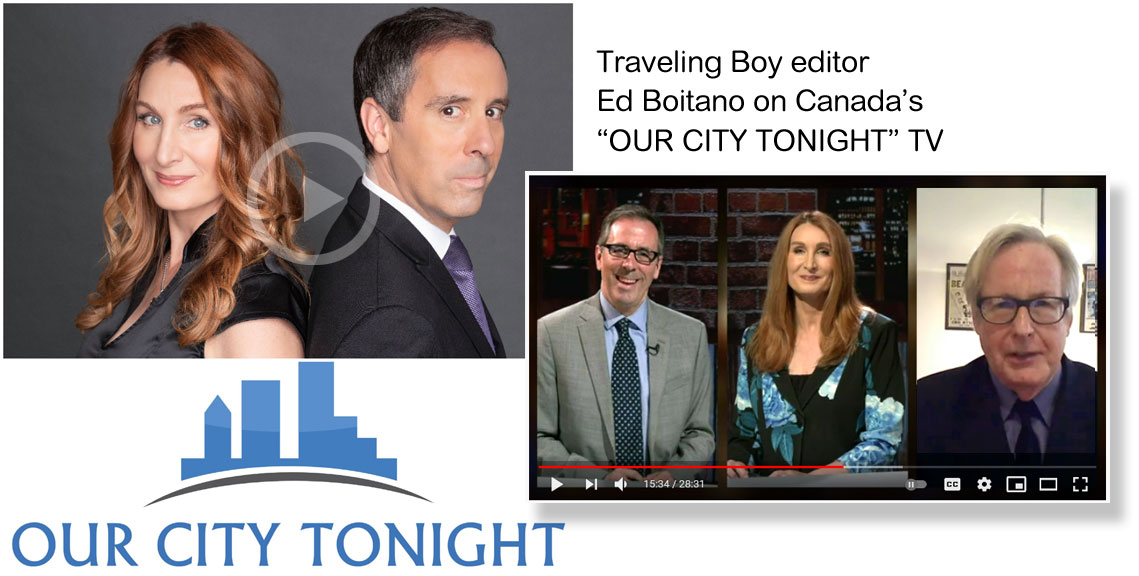 Hosts Jim Gordon and Leeta Liepins offered praise and asked pertinent questions on how Traveling Boy was able to pivot during the pandemic by bringing in new categories and episodes to the site. This includes travel cartoons, international recipes, celebrity suites, travel trivia, foreign film reviews, and travel-themed polls, with the most recent, Places in the Heart; a deeply personal series by staff writers about destinations that dramatically impacted their lives.
MORE
My Corgis and Me: Chords and Lyrics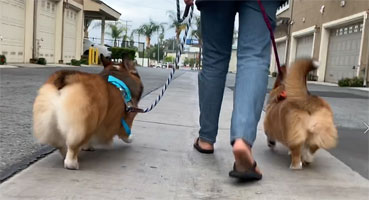 A few have asked for the lyrics of my Corgi song. So here it is with simplified chords. I used this simple chord progression of only 3 chords to teach my grandkids to play the guitar. The chords are in the key of A but the original chords were in the key of C so if you want to play along with the recording, just put a capo on the 3rd fret.

MORE
4 Things to Consider as You Start Traveling Again, According to Rick Steves
The legendary travel writer and TV personality shares tips for ethically returning to travel.
Courtesy Stacey Leasca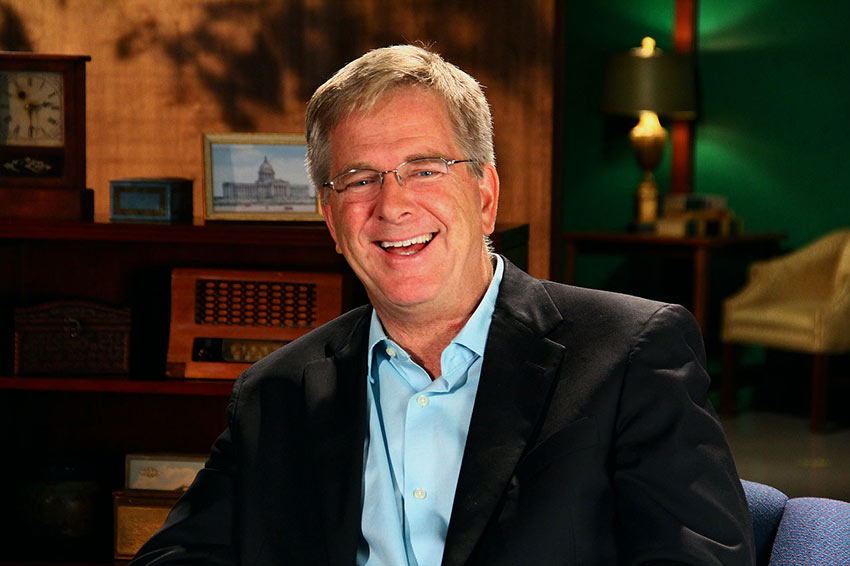 Rick Steves wants you to know that travel will make a comeback, it just might look a little different than you remember.
In April, Steves sat down for a wide-ranging interview about the future of travel with Fund for Education Abroad, an organization that provides scholarships and ongoing support to students who are underrepresented among the U.S. study abroad population. And, as you may suspect, Steves is just as ready as the rest of us to get back out there and explore the world again.
MORE
Covid-19 Direct Relief
Covid-19 Direct Relief addresses the courage of health workers on the front lines, honoring them with meaningful support, and the people most at risk in this pandemic are cared for — regardless of politics, religion, or ability to pay.
DONATE to DIRECT RELIEF
JetBlue Plane with Mint Business Class Suites
Courtesy of Business Insider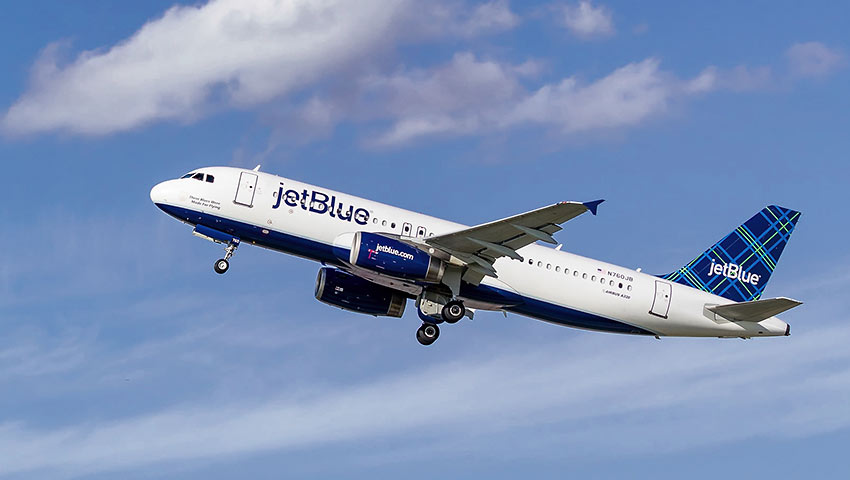 JetBlue Airways' swanky new business class suites have landed.
The New York-based carrier marked another milestone towards launching flights to London having taken delivery of its first Airbus A321neo with the upgraded business class seats that flyers will enjoy on transatlantic flights later this year.
MORE
Airlines Testing Touchless Technologies to Ease COVID-19 Concerns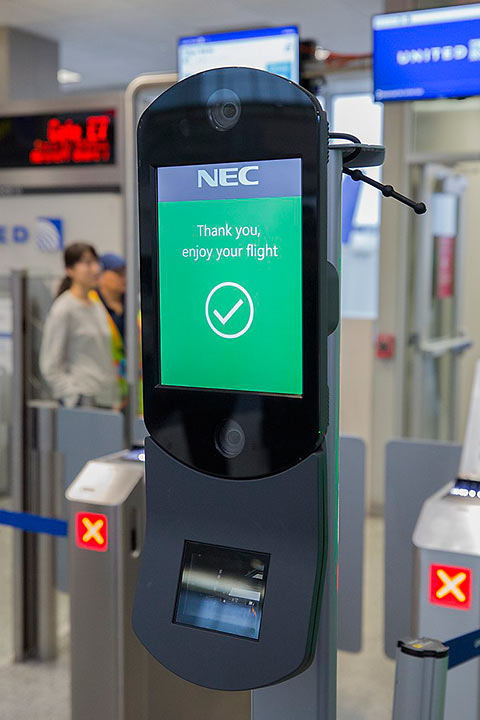 Courtesy: Mina Kaji, Gio Benitez & Sam Sweeney
As air travel hits record numbers since the pandemic began, U.S. airlines are testing and implementing new technologies aimed at reducing contact — both with surfaces and with people.
MORE
Germ Protection: Pack this Next Time You Have to Go Through TSA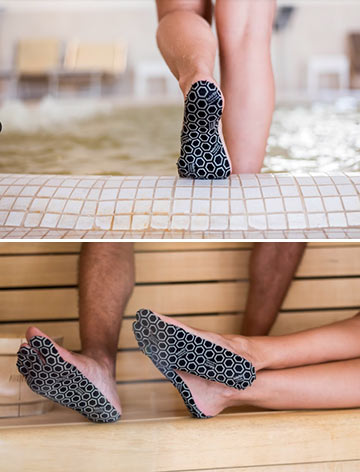 Nakefits are lightweight, waterproof sole protectors that adhere to your feet and stay on for hours to protect you from germs, fungal infections, slipping and hot surfaces. Pop them on before going through TSA to give your feet protection. Or take them on a trip and pop them on before entering the hotel spa or sauna, taking a barefoot yoga class, or using the pool or hot tub. Available in a range of sizes suitable for children and adults, Nakefits can be easily removed without any pinching, peeling, or irritation of the skin. For further information, visit NakeFit USA.
The Complete List of All U.S. National Parks
Courtesy of Madeline Bilis
The United States just added a new national park to its roster of incredible public lands: New River Gorge National Park and Preserve. This West Virginia park runs along 53 miles of the New River and encompasses over 70,000 acres of the beautiful wooded gorge.  Plus, it offers plenty of opportunities for hiking, biking, climbing, and whitewater rafting.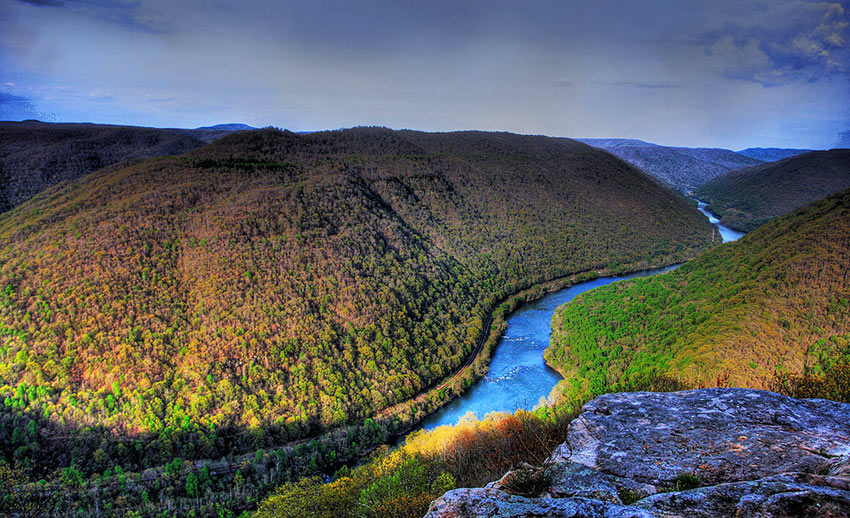 Its addition to the long list of U.S. national parks made us wonder — just how many national parks are there?
MORE
How to Take Your Own Passport Photo
Courtesy: Caroline Morse Teel, SmarterTravel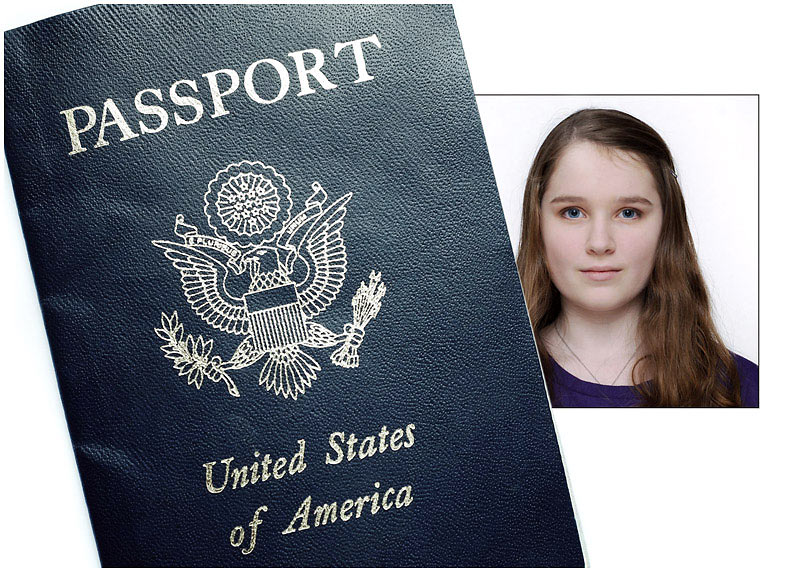 After paying $15 to have an awkward photoshoot in the aisle of a CVS, only to have my passport photos rejected twice (once for being too dark and once for being too bright), I decided there had to be a better way to take your own passport photo. Turns out, snapping your own passport photo is easier, cheaper, and much more convenient than going to a "professional" (a.k.a., the cashier at your local drugstore). Here's a few tips:
MORE
How to Stay Safe While Traveling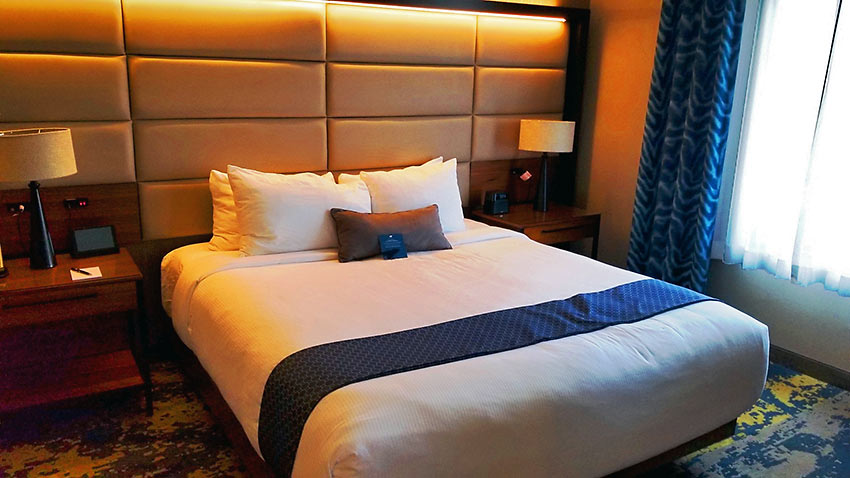 With travel set to resume as coronavirus restrictions ease, travelers should inform themselves about the cleaning procedures at hotels and Airbnb properties before choosing the best option for them. Ask about cleaning protocols, be on the lookout for red flags such as accumulations of dirt and grime, and inspect surfaces in the bathroom and kitchen, recommends Brian Sansoni of the American Cleaning Institute.
MORE
Americans Are Willing to Give Up Love and Chocolate for Travel
We're catching flights, not feelings in 2021
Courtesy of Patrice J. Williams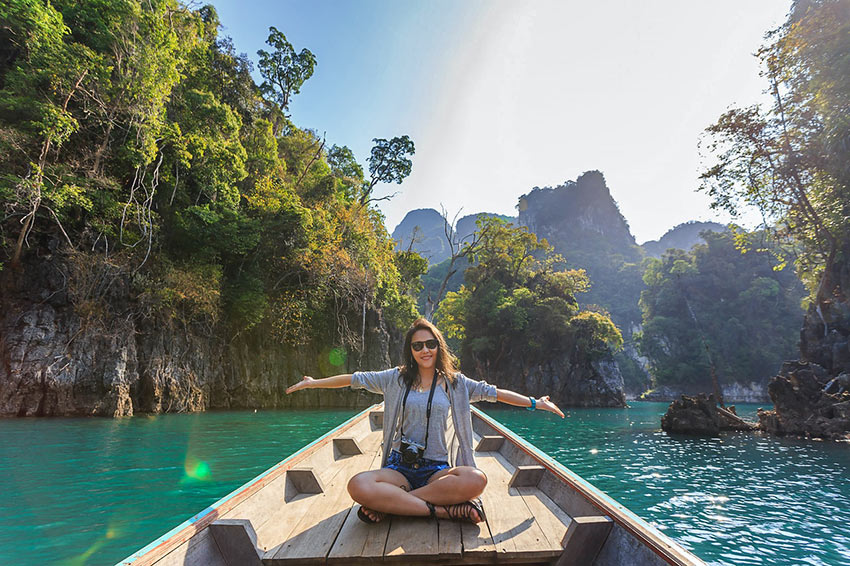 Would you do anything for love? According to a recent study, travel-starved Americans are willing to give up L-O-V-E if it means they can hear those beautiful words: "This is your captain speaking."
A recent survey conducted by Booking.com found that Americans are ready to hit the road and are finally seeing some light at the end of this year-long tunnel. More than 70 percent said the success of COVID-19 vaccines have them feeling hopeful and "optimistic," while just over 60 percent have realized travel is crucial to their emotional well-being. It's clear they're ready; we're ready. But how ready?
MORE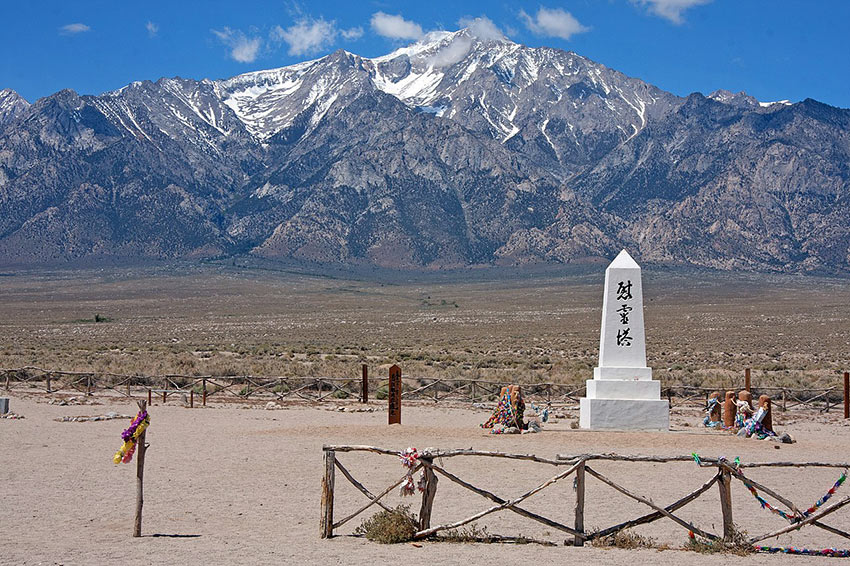 MORE
Less Will be More in Post-Pandemic Travel: Airbnb Chief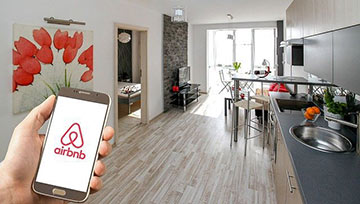 Smaller cities and more family time will gain favor over global tourism permanently in the wake of the pandemic, Airbnb CEO Brian Chesky predicts. "They're not yearning to see Times Square" after months of isolation from normal life, he observes.
MORE
JetBlue Passengers Will Be Able to Take an At-Home COVID-19 Test
No nasal swab required
Written by Stefanie Waldek, Courtesy of JetBlue
With COVID-19 testing restrictions impeding both domestic and international travel, JetBlue is providing its passengers an option that might help them travel more freely. The airline has announced a partnership with Vault Health to provide its passengers with easy access to an at-home COVID-19 test that could be used to enter specific destinations with coronavirus testing policies in place.
9 Tips for Traveling With Kids During the Pandemic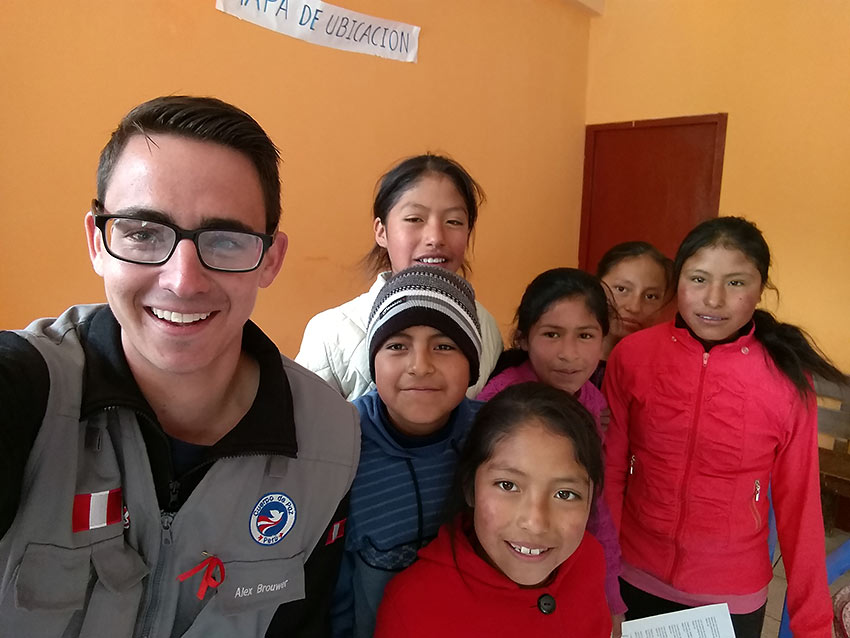 First tip: take a deep breath.
Courtesy of Wendy Altschuler, tripsavvy.com
Traveling with kids is often challenging even when there's isn't a pandemic to contend with. Kids require extra gear, entertainment, snacks, downtime, and a careful eye to make sure they're safe while out and about. Now, more than ever, it's imperative to practice social distancing, good hygiene, and to wear a mask when venturing through airports, getting food on the road, using public restrooms, or where there are groups of people present. Whether you'd like to plan for a road trip, a flight on a commercial airline, or a staycation in your own city, here are tips for traveling with kids during a pandemic.
MORE
Most Stressed States
It goes without saying that 2020 was a year like no other, from COVID-19, to a very tough election season, the US has seen one of its most stressful years on record. With this in mind CT Shirts have analyzed Google Search data and cross referenced it with population and average household income to reveal the most stressed states.
SEE KEY FINDINGS
Health Passports: The Future Of Travel?
Courtesy: Justin Hayward, Simple Flying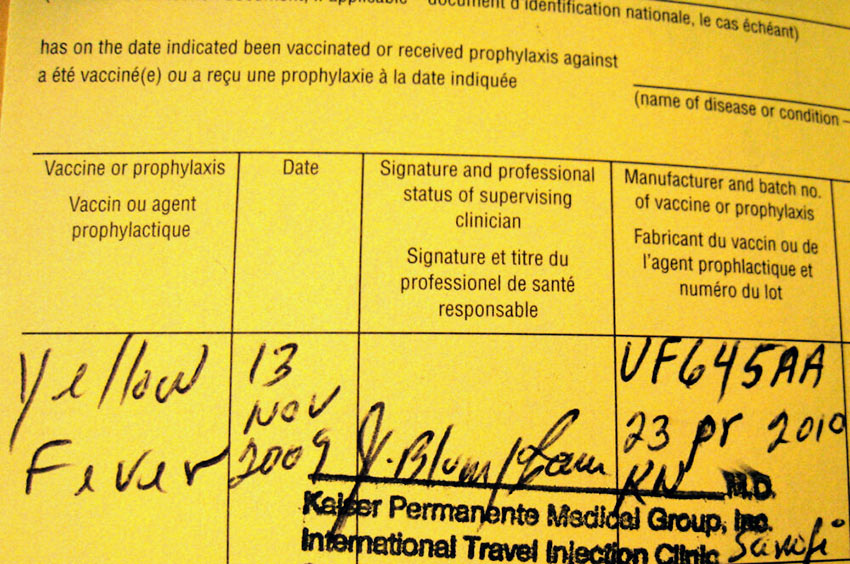 MORE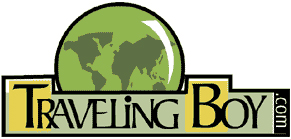 Being on the ground in over 180 countries means you get the full story.