A Compact Camera that Will Crush Your Smartphone
Courtesy Caroline Morse Teel
It's a dilemma for many travelers: You want a better photo than you can take with your smartphone, but you don't want to lug around a big camera. Sony's Cyber-Shot RX100 VI solves your problem by putting a high-quality camera into a tiny, pocket-sized package. Upgrade your travel pictures without adding a big camera.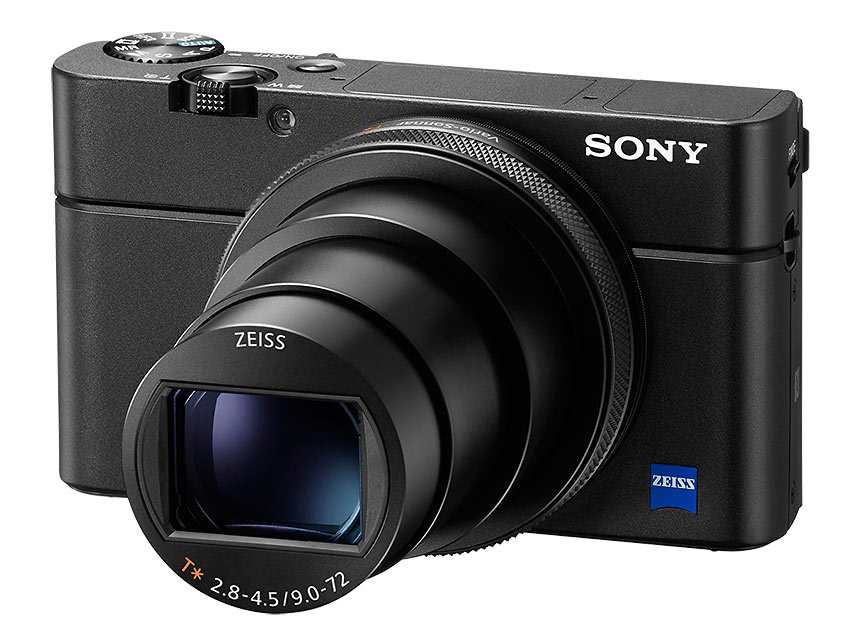 How the Sony Cyber-Shot RX100 VI Rates:
Usefulness: 10/10. There's a saying that the best camera is the one that you have with you, and that's true especially while traveling. If you have to carry around a bulky camera or fiddle with a bunch of equipment, you might miss your shot completely. The Sony Cyber-Shot RX100 VI allows you to point and shoot quickly and easily. This is a great camera for amateur photographers, as it has a very fast autofocus and great auto settings that allow you to just press a button and take a great photo. If you're a more experienced shutterbug, there are lots of features to experiment with, like Advanced Eye AF (a portrait mode setting that focuses on your subject's eyes), Touch Focus (which allows you to set the focus by touching the monitor), and AF/AE tracking (a continuous shooting mode that can capture up to 24 frames per second).
Value: 8/10. The number of features that you get in such a small package make this camera worth the price tag. The RX100 VI has a high-resolution zoom lens that retracts flat when not in use. It shoots photos in 10.1 megapixels and movies in 4K HDR.
Durability: 8/10. The camera has a built-in shutter that protects the lens, and the flash pops back inside the camera when not in use, keeping it safe. I tested this camera in very cold conditions, and it held up well (including the battery life).
Portability: 10/10. The camera is 4″ x 2.37″ x 1.68″ and weighs just 10.7 ounces, including the battery and memory card.
Does it Work?: 10/10. I captured crisp, clear, and vibrant images with this camera. It was very easy to use and fit into a pocket, so I didn't mind carrying it around everywhere I went.
10 Emerging Places to Visit in Europe For a Crowd-Free Vacation
Courtesy Jamie Ditaranto
As the relentless crowds flock to major tourist sites in cities like Paris and Venice, travelers need to face the truth—we're wearing each other (and the cities we're visiting) out. It's a struggle common across Europe, but that doesn't mean all of Europe has been overtaken by legions of tourists. There are plenty of exciting destinations that may not be new, but they are emerging as exciting destinations worthy of a visit. Plus, the crowds haven't gotten to them yet.
Vipava Valley, Slovenia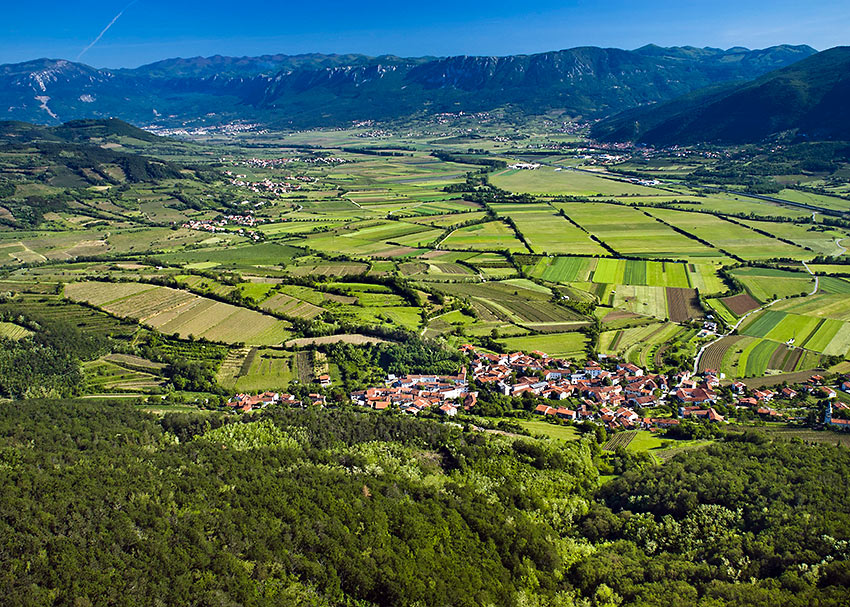 Just two hours from Venice, the Vipava Valley is a haven for adventurous travelers looking for room to explore. This little corner of Slovenia was recently named by Lonely Planet as one of Europe's best destinations, and now is the perfect time to visit the valley before the crowds catch on.
Rent a car and drive through this countryside to find plenty of adventurous things to do, from easy-going bike rides through vineyards to stand-up paddle boarding on the Vipava River. And of course, frequent stops at some of the valley's boutique winemakers like Lepa Vida and the Burja Estate are a must. Pepper your wine tasting with gastronomical stops to try locally produced staples like honey, cherries, and olive oil. For a bit of history, you can stop by the Kostanjavica Monastery and visit the Bourbon crypt, where members of the noble French family were buried following their exile after the French Revolution. Today, the monastery is an art museum and, from the platform outside the church, visitors enjoy clear views of the Italian city of Gorizia.
Where to Stay: In the Vipava Valley, camping and farm-stays are the way to go, but if you prefer a hotel, check out the Majerija. This 300-year old guesthouse has built all its guest rooms underground so as not to disturb the idyllic countryside with new developments.
MORE
Why Are These Hotels Famous?
Courtesy of  Shannon McMahon
You might already know these famous hotels by name, but do you know why they're famous? Here's what earned some of the world's best-known hotels their prominence — and why you should stay there.
Marina Bay Sands, Singapore
Brown's Hotel, London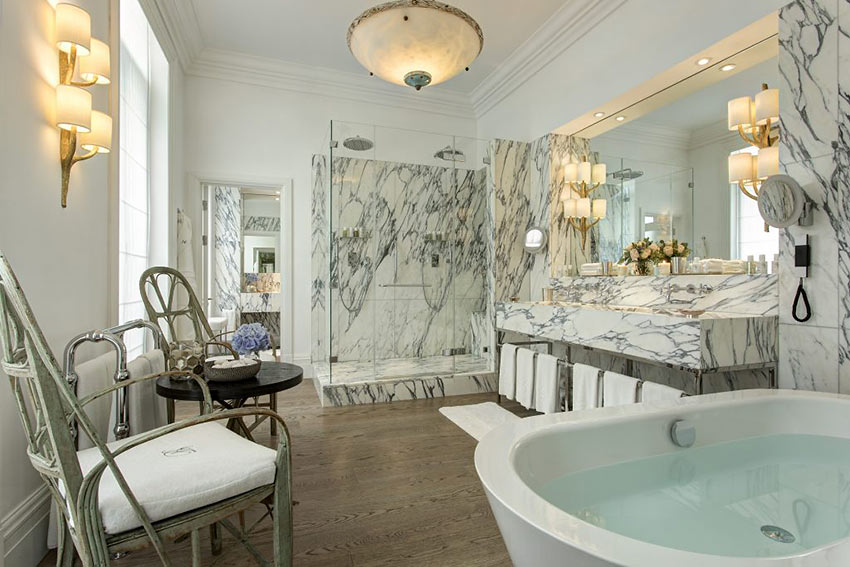 Famous hotels don't get much more "fit for a queen" than the five-star luxury hotel where Queen Victoria took her tea: Brown's Hotel in London's Mayfair district. Instagram-worthy interiors (hello, marble soaking tubs) and an award-winning afternoon tea program make it the ultimate splurge when staying in the heart of London, just a short walk from Buckingham Palace's Green Park and Birdcage Walk.
Atlantis Bahamas, Nassau
The massive resort and casino built around Nassau's Paradise Island, Atlantis is a famous hotel for having the largest open-air marine animal habitat in the world. Named for a mythical underwater empire, the real-life resort's Royal Towers make it looks like a castle. Atlantis is centered around Aquaventure, a 141-acre water park featuring 11 pools, a lazy river, and the iconic "Leap of Faith" waterslide — a tube that passes down a faux Mayan temple and through a live shark tank. And if you're not looking for shark-adjacent thrills, it all sits beside five miles of pristine Bahamian beaches.
The Beverly Hills Hotel, Los Angeles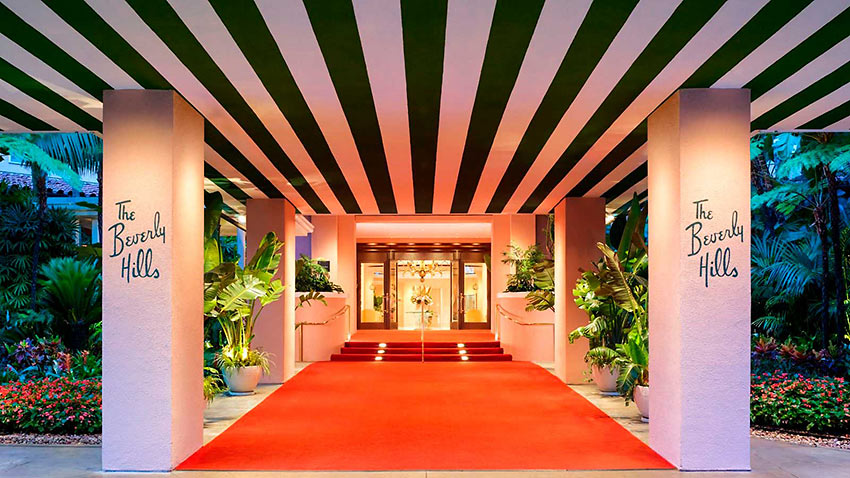 Want to sleep where Marilyn Monroe once lived? Dubbed the Pink Palace, the retro-luxe Beverly Hills Hotel on historic Sunset Boulevard has served as a meeting spot and makeshift home to a slew of movie stars like Monroe while they were working on set in Los Angeles. Elizabeth Taylor and Richard Burton also honeymooned at the hotel in the 1960s, and many more celebrities of Hollywood's Golden Age made the property their go-to hotel. To this day Bungalow Seven, the room which is rumored to have been Marilyn Monroe's favorite, is nicknamed Norma Jeane — the star's real name.
Copacabana Palace, Rio de Janiero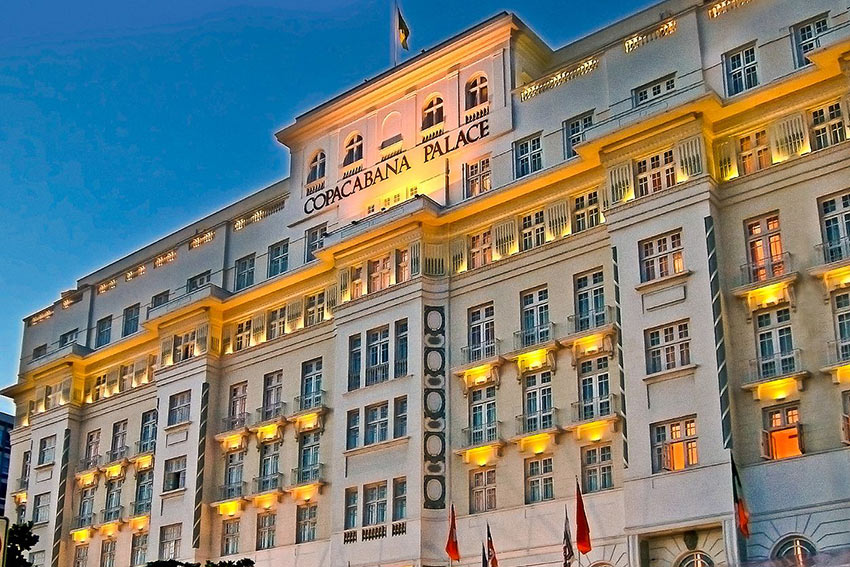 Rio de Janeiro's most famous hotel, the Copacabana Palace is known for its location on one of the world's best beaches. The property's art-deco style dates back to the 1920s and the spacious rooms are an added bonus to the prime Copacabana Beach location, on-site pools, and top-notch customer service — all in the heart of Rio.
The Brando, Tahiti
If visiting the far-off French Polynesian islands of Tahiti aren't enough of a status symbol for you, staying at world-famous hotel on a private island should be. The Brando is named for actor Marlon Brando, who purchased the island after having filmed a movie there.
Brando's exclusive namesake resort sits on a remote atoll that's only accessible via a 20-minute plane ride from Tahiti's capital of Papeete. Made up of private beachfront villas complete with their own outdoor pools, The Brando is billed as a "carbon-negligible" eco-lodge and also supports Tahitian conservation efforts and nature research.
La Mamounia, Marrakech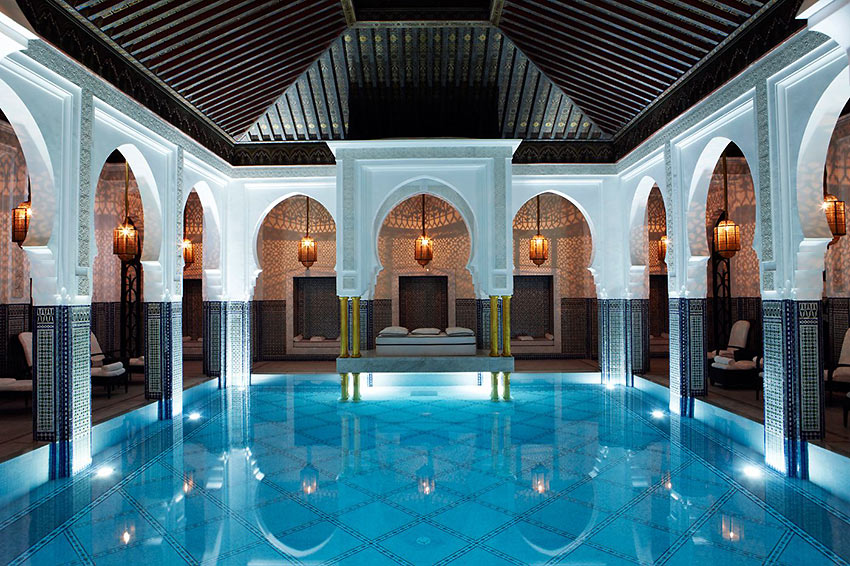 A former palace that dates back to the 12th century, La Mamounia Marrakech is a Mudejar-style luxury hotel that will transport you back in time. Named the Best Hotel in Africa and the Best Urban Hotel in the world, its four restaurants, full spa, pools, and quiet terraces are all within walking distance from bustling historic landmarks like marketplaces, Koutoubia Mosque, and Bahia Palace.
Omni Parker House, Boston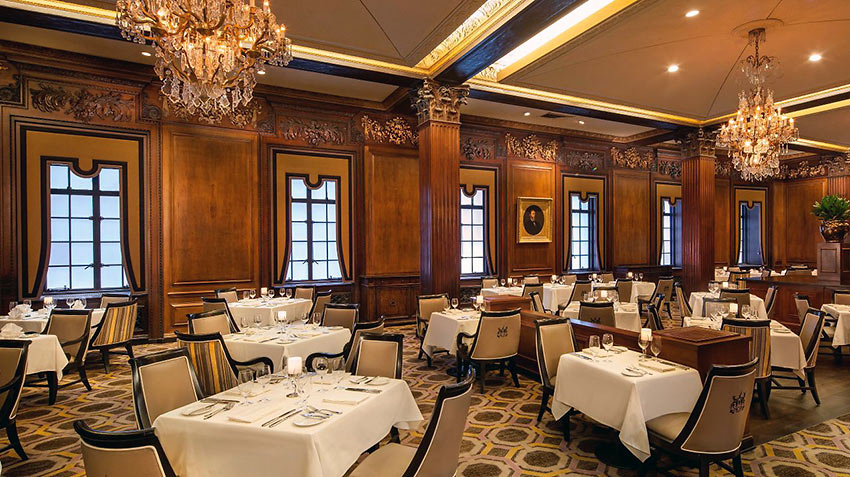 The longest continuously operating hotel in the U.S., Boston's historic Omni Parker House dates back to the 1800s and is also a famous hotel for its high-end restaurant, Parker's, where John F. Kennedy proposed to his wife Jackie in 1953. The table where she said yes still sits in Parker's Restaurant. The restaurant is also thought to be the birthplace of Boston creme pie (circa 1865). Parker's has served Boston's elite for centuries, but packs some lesser known trivia, too — like the fact that it separately employed historical figures Malcolm X and Ho Chi Minh as wait staff and kitchen staff, respectively. And while this famous hotel is super historic, thanks to a recent renovation it's also modern and luxurious.
The Plaza Hotel, New York City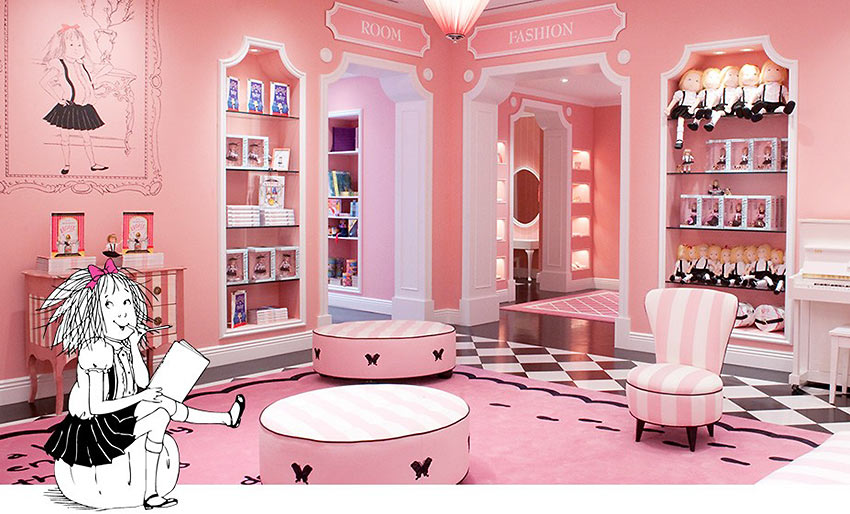 New York's most famous hotel is a French-style historic landmark adjacent Central Park that opened in 1907 and was quickly dubbed the "greatest hotel in the world." The Plaza has served as a filming location for classic movies like Alfred Hitchcock's North by Northwest and millennial-favorite Home Alone 2—and even offers a Home Alone 2 package that will serve you the ice cream Kevin eats in the movie. Because it was the setting of the beloved children's book Eloise at the Plaza, the hotel also offers an all-pink Eloise Suite. And if all that isn't enough, The Plaza has also hosted some of the 20th century's most famous musical names—from Miles Davis to Peggy Lee. To this day the ultra-luxurious hotel staffs a white-gloved butler on every floor and offers traditional etiquette lessons at The Plaza Hotel Finishing Program.
Hotel Resort Fees and Other Hidden Charges
Courtesy Ed Perkins
In a big win for Britain's consumers, the British Competition and Markets Authority (CMA) has told big online travel agencies that they must include any mandatory charges like hotel "resort" fees (which are often applied by non-resort hotels in big cities, as well) in the up-front listed price. It's ok, says CMA, for hotels to break the full price into a base charge plus a mandatory fee, but all mandatory fees must be included in the initially displayed cost.
The CMA order applies to other deceptions similar to resort fees, as well, requiring online booking sites to:
Make it clear how hotels are ranked after a customer has entered their search requirements, for example telling people when search results have been affected by the amount of commission a hotel pays the site.
Not give a false impression of the availability or popularity of a hotel, nor rush customers into making a booking decision based on incomplete information. For example, when highlighting that other customers are looking at the same hotel as you, making it clear they may be searching for different dates. The CMA also saw examples of some sites strategically placing sold out hotels within search results to put pressure on people to book more quickly.
Be clear about discounts and promote only deals that are immediately available. Examples of misleading discount claims include comparisons with a higher price that was not relevant to the customer's search criteria. For example, some sites were comparing a higher weekend room rate with a weekday rate or comparing the price of a luxury suite with a standard room.
So far Agoda, Booking.com, Expedia, and Trivago have agreed to comply, and the CMA says it will keep after the others. CMA is also addressing similar problems with metasearch engines and hotel-chain systems, with a compliance deadline of September 1. Unfortunately, the rules apply only to British versions of booking websites.
And it should stand as an example for regulators in the U.S. about dealing with obvious deceptions. So far, the Federal Trade Commission has abdicated its responsibility to ban deceptive advertising on booking sites, but there's some hope that individual states may take action under state laws banning deceptive pricing.
Maybe it's also time for the big OTAs and metasearch folks to step up to their responsibilities to consumers and adopt the British guidelines unilaterally for their U.S. and Canadian postings. After all, if they've agreed to do it in Britain it's clearly feasible. How about it, Expedia and Booking, and the rest? How about honest price postings?
10 Winter Outfit Necessities for Travel
Courtesy Caroline Morse Teel
These performance pieces will keep you warm from head to toe — but still look so good you'll find yourself wanting to wear them no matter what the temperature.
Ministry of Supply 3D Print-Knit Sweater Dress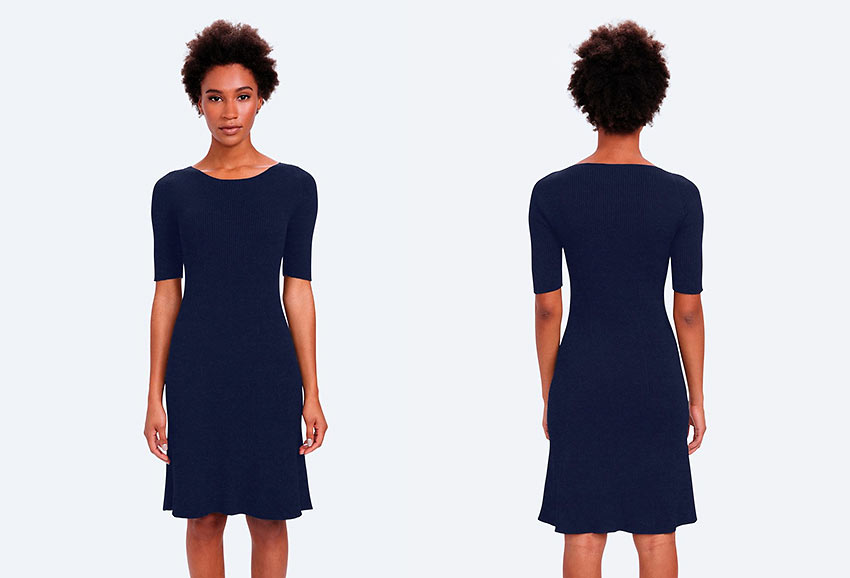 If you think itchy and bulky when you think sweater dress, you need to check out Ministry of Supply's revolutionary winter travel outfits. This sweater dress is made using a unique 3D print-knit process, meaning it's created using one seamless piece (so no annoying seams rubbing you the wrong way). Instead of scratchy wool, the dress is made from a knit acrylic/PBT blend that has stretch, shaping, moisture-wicking, and plenty of warmth. This dress is super stylish and can be easily dressed up or down depending on your day/night plans.
Smartwool Cozy Flip Mitt
The dilemma — it's freezing out but you still need to use your phone, pay for something, or just use your hands. If you've got Smartwool's Cozy Flip Mitts on, you don't have to take off your entire mitten just to use your fingers. This glove/mitten hybrid lets you fold back the mitten top to reveal fingerless gloves so you can use your fingertips when they're needed, without freezing off your hand.
Columbia Powder Keg Jacket
Although Columbia's Powder Keg Jacket (available for women and men) is designed for the slopes, it's stylish enough that it can top off your everyday winter outfits without looking too sporty. The women's version is available in a travel-friendly synthetic version that uses Omni-Heat insulation and a thermal reflective layer that provides warmth without the bulk of down. Even if you're not on skis, you'll appreciate all the built-in features (like plenty of zippered and hidden pockets).
Ridge Merino Pants & Top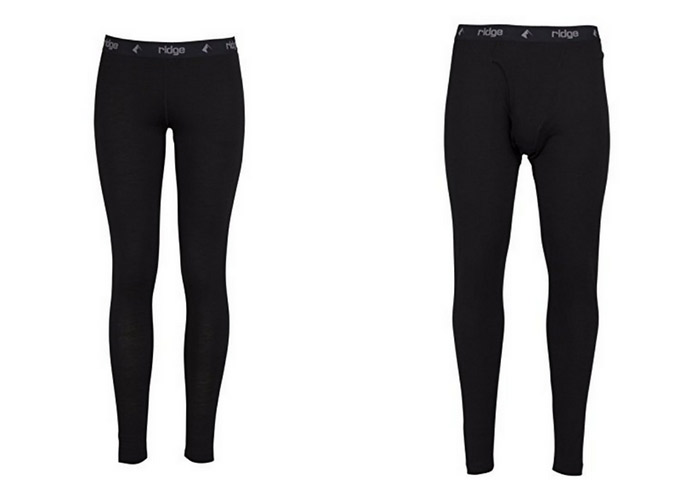 On ultra-cold days when your regular jeans just don't cut it, you need to add in a base layer. I love the Inversion bottoms from Ridge Merino (available for men too) because they are the absolute thinnest leggings I've ever tried, thanks to their 100 percent Merino wool construction. If you plan on wearing them solo as well, check out the cool new Atmospheric River Print, which was inspired by a weather pattern that causes heavy snow. I like to pair it with the matching Inversion Midweight Crew which is slightly heavier than the bottoms, but is still slim enough that you could layer it under a sweater.
Solarsphere Gloves
Solar power isn't just for gadgets — add some natural heat to your winter outfits with Seirus Innovation Solarsphere Ace Gloves, which use solar-absorbing insulation to increase the warmth of your gloves by up to 10 degrees. And, the gloves have a touchscreen-compatible finger-pad, so you don't have to take them off to text or swipe.
Ruth Tundra Boots
The Ruth Tundra Boots go with any winter outfit, from casual to dressy, thanks to their basic black style. The sleek waterproof exterior hides a cozy faux-fur lined interior that will keep your feet toasty all day long. Unlike many winter boots, these have great arch support and a sturdy sole that's practically slip-proof (even on ice).
Vince Camuto Classic Peacoat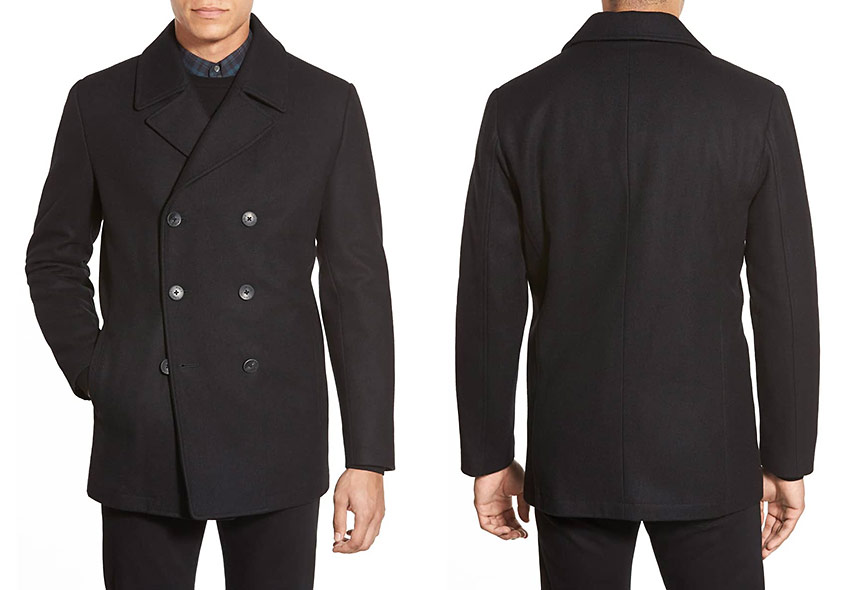 A winter jacket doesn't automatically have to mean puffy coat — this classic peacoat from Vince Camuto is made from a water-resistant melton wool blend, so you can wear it around a fashionable city on a drizzly or snowy day and still stay warm and dry.
Fleece Leggings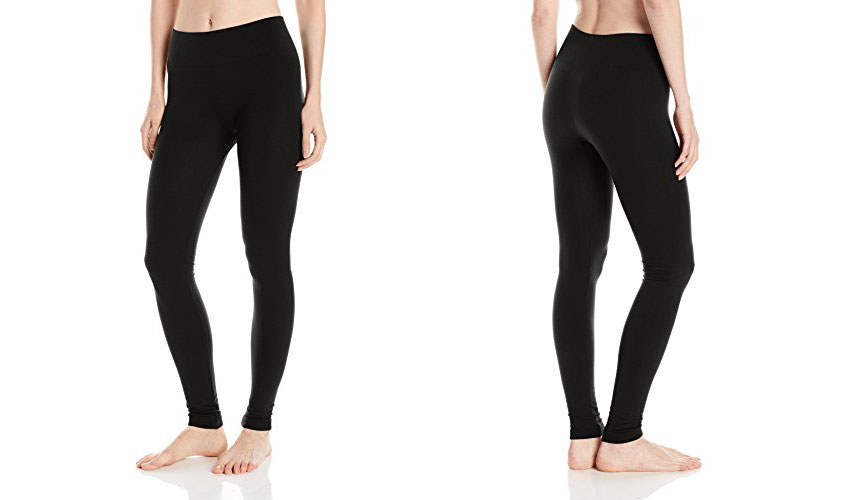 These basic black leggings have a warm secret — an ultra-soft fleece lining that will keep your legs even warmer than pants do. The leggings feel like sweatpants but still look great with dressier winter outfits, so you don't have to consign all your dresses to the back of the closet until warmer weather.
Flannel-Lined Jeans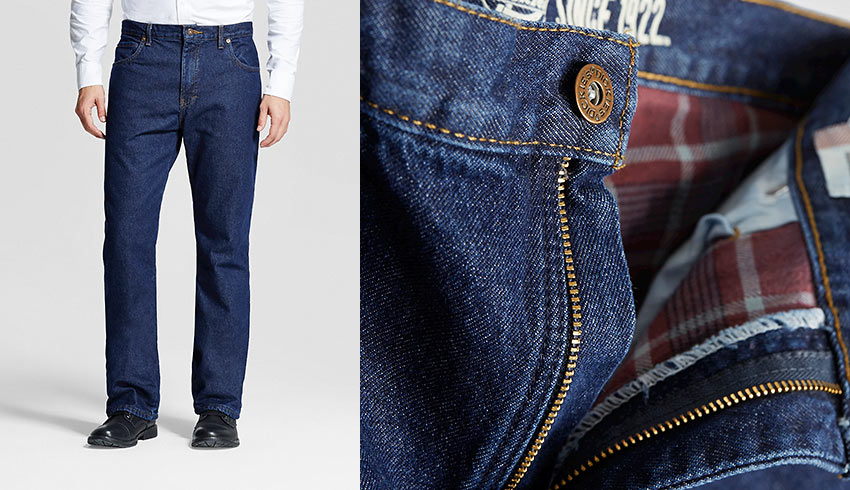 Not into tights? You can still have secret coziness (but with a more rugged look) with these flannel-lined jeans. On the outside, they look like normal, straight-fit denim — but the inside is lined with the same warm flannel as your favorite pajamas.
The Lucy Cardigan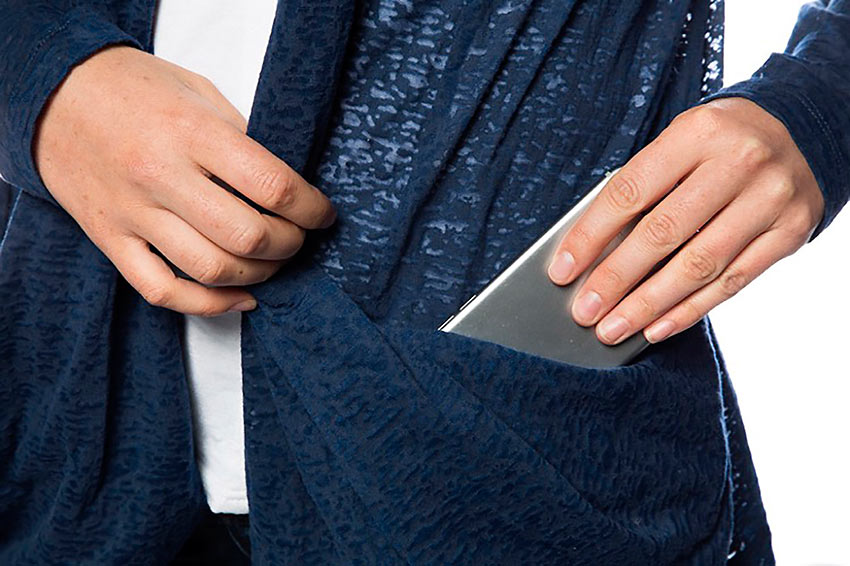 It never hurts to have an extra layer when you travel, and it's even better if that extra layer can pull double duty as a bag — like the Lucy Cardigan from ScotteVest. This sweater has four pockets (including two that are zippered and hidden), so you can use it to carry your phone, cards, and keys, and leave your purse behind.
Where to Stay in Germany: Lodging Tips You Need to Know
Independent Traveler
With so many tempting possibilities, deciding where to stay in Germany can turn into a dilemma. Should you choose ultra-modern hotels or charm-filled historic properties? Should you dream away your nights at country inns, fairytale castles, or pampering spa resorts? Even if you're on a budget, Germany's lodging options include hotels, B&Bs, and hostels that are among Europe's very best. Or, for a change of pace, you can spend a few days on a farm or a countryside vineyard. Can't choose? The best plan may be to mix and match as you travel through the country, sampling some of Germany's best accommodations.
Traditional Hotels in Germany
Germany uses the international rating system of stars for hotels, from modest one-stars to five-star luxury. In one- and two-star hotels, you'll find smaller rooms and perhaps shared bathrooms. From three stars up, hotels will have an on-site restaurant, luggage service, private bathrooms, and a reception desk that stays open at least 12 hours of each day. At four- and five-star hotels, you'll enjoy room service and plenty of amenities, including robes and washcloths.
Don't Miss: Top Tours in Germany
German lodging standards are very high, and you can generally expect clean and comfortable rooms with breakfast included. Better hotels may serve a lavish morning buffet that includes eggs, meats, yogurt, fruits, and cheese. Many hotels in all price ranges have Wi-Fi, though sometimes for a fee.
Europeans still tend to smoke more cigarettes than Americans do, so if you're sensitive to smoke, it's worth requesting a nonsmoking room or floor when you make your reservation. Be aware that in a climate where air-conditioning is seldom necessary, many older hotels may not have it. If you are planning a summer trip, be sure to check.
Keep a copy of your reservation confirmation with you to make sure the promised rate is honored. Always check hotel sites directly for specials and deals, such as low weekend rates in cities when business travelers go home. During major events like Munich's Oktoberfest or the Frankfurt Book Fair, rooms are scarce and rates can double or even triple. You can also find great deals on Germany hotels via TripAdvisor (SmarterTravel's parent company) and Hotels.com.
Germany's Romantik Hotels
While star ratings tell you about amenities, they do not measure charm, and many older European hotels have great appeal. Among the most enjoyable places to stay in Germany are the aptly named Romantik Hotels, found in Germany's major cities as well as in its smaller towns. The hotels in this group are all in historic buildings and owner-managed.
Another romantic experience is to choose a schlosshotel, or castle converted into a hotel. Germany has more of these special accommodations than anywhere else in Europe. You can find many of them listed at TripAdvisor, and at a site called Castle and Palace Hotels.Note that some of Germany's older hotels do not have elevators, so if stairs are a problem for you, make sure to request a room on the ground floor.
Germany's Country Hotels
The German countryside has so much beauty and so many attractions that it is well worth your time to plan part of your itinerary in Germany away from the cities. This will give you the chance to experience delightful places to stay such as gasthofs and gasthauses, atmospheric country inns that also serve good local food.
For a different experience, spend time at a countryside bauernhof, a farm that offers rooms for travelers. These are great fun for families, especially for city dwellers. You can also stay amid scenic vineyards at a winzerhof, a winery guesthouse. A site called LandReise is an excellent source for these types of lodgings (though it's only in German; use the Chrome browser for translation). Bavaria alone boasts more than 1,000 farmstay listings, along with its own association and website to help find them: Farm-Holidays.com.
Germany's Spa Hotels
Ever since Roman times, visitors have been coming to Germany to "take the waters" in health spas surrounded by hot mineral springs said to have healing properties. "Bad" means bath, and hotels in cities such as Bad Reichenhall, Wiesbaden, and chic Baden-Baden share access to the coveted spa waters. Many of these cities also have diversions like casinos and fine eateries. Hotels vary from modest to super-luxurious. Check listings in each town to make your choice, as well as Booking.com.
Germany's Budget Hotels, B&Bs, and Homestays
For those who are looking for a well-priced hotel in Germany, booking services like Expedia and Hotels.com offer good values in all price categories. Another good source is Best Western. The chain's listings in Europe are not motels as they are in some parts of the U.S., but rather small hotels that have been inspected and are reliable. If you're willing to stay outside the city center and take public transportation to get around, you can often find lower rates in better hotels. Just be sure that quick connections are near the hotel.
At the lower end of the lodgings scale in Germany are zimmer, meaning simply "rooms," in private houses, offered by families that have a spare bedroom or two. These can be especially handy if you're looking for an overnight while touring the country by car. Watch for signs that say "Zimmerfrei" (room available), check with the local tourist office for locations, or try Homestay.com.
Germany Vacation Rentals
Apartment and home rentals provide more spacious quarters and can be less expensive than booking multiple hotel rooms when traveling with family or a group of friends. The agencies and websites that specialize in offering these types of properties have listings ranging from studios in the city to villas in the country. Among the sources to try are Airbnb, HomeAway, and TripAdvisor's vacation rentals page.
Ask for references or read reviews from people who have previously rented the property that you're considering. Be sure that someone will be on call to help in case of emergency, like a lost key or a plumbing problem. If you're hungry for more information before making your reservation, read up about what you need to know about booking a vacation rental.
If you're planning to stay in Germany for a week or longer, you could consider a house swap. A German family might be delighted to trade their home or apartment for yours, saving each of you a lot of money. Specialized agencies such as HomeExchange or Intervac have listings all over the world, including many in Germany. As with rentals, references from others who have stayed in the property are invaluable. Not quite sure how to arrange this type of accommodation? Read more about how to set up a home exchange.
Hostels in Germany
Germany helped pioneer the idea of youth hostels, and today has more than 500 hostel properties that are among Europe's most modern. While they still offer the bunk rooms that are popular with thrifty students, many hostels also offer private double rooms and family-style rooms that appeal to budget-conscious older travelers. Rates are modest and often include breakfast.
The best hostels book up fast, so reserve well in advance. Find listings at the German Youth Hostel Association or via Hostelling International, an organization that covers countries around the world. You may also want to consider investing in a Hostelling International membership, as this will allow you to stay worldwide at deeply discounted rates.