On a recent trip to Curacao I had the good fortune to taste Chef Taco's African Peanut Soup on two occasions. The first was at the local restaurant, Trio Penotti, on the west side of the island. It is an unassuming place, typical for a local's country place in that it had open-air seating in a rustic outside pavilion. It looked like a southern roadhouse only open-sided. We sat at picnic tables set on a gravel base and had an unbelievably good meal. The second time was a lunch stop at the new Cactus Café. That place was more like a concession stand, with the same type of seating and food, which the Trio Penotti staff had just taken over. We were lucky to stumble upon that in our beach-hopping exploration of western Curacao!
I'd never had peanut soup before visiting Curacao, even though it is a familiar, mostly Southern dish here in the States, so this was a revelation. I was still waxing rhapsodic about the peanut soup at Trio Penotti the evening before when I saw it on the lunch menu and had to have it again. What an amazing flavor!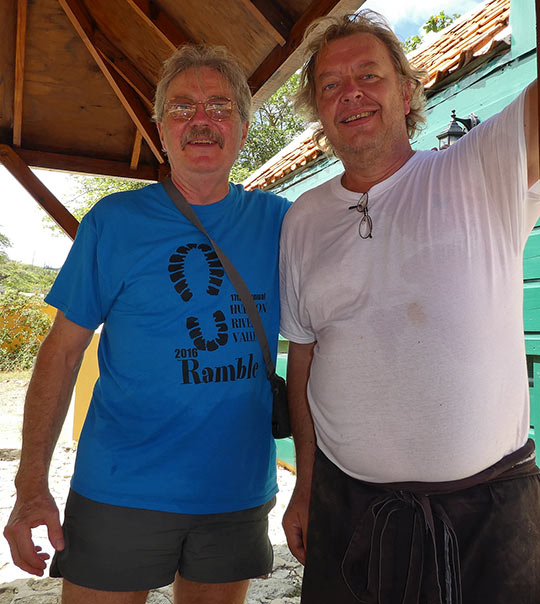 I raved about it so much that Chef Taco came out and gave me his recipe. He's a great guy and the recipe is unlike others I researched since I came home. First, Chef Taco's (his real name) version is vegan – no chicken or stock, no cream and no butter. And still he created a rich, creamy and flavorful soup! I dunked a good crusty chunk of bread in my lunch serving and happily settled for just a bowl of soup as my meal.
When I recreated this soup at home I guessed at the seasonings because Chef Taco's recipe did not include measurements for them. He said "an experienced cook will know how to balance the flavors to suit their palate." I balanced mine to replicate his original taste, but you can go all over the spectrum with your own version.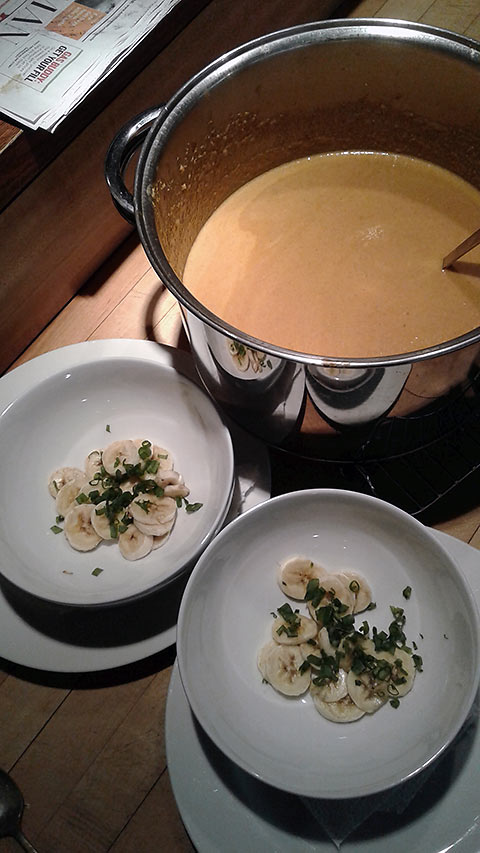 Anything in parentheses () is my addition. (Serves four – six as a meal, or eight – ten as a soup course.)
1 yellow pepper
1 onion
1 carrot
3 garlic cloves
½ chili pepper
Chop and sauté above over medium heat in 2 TBS sunflower oil until vegetables are soft. Season with: (1tsp) cinnamon, (1 tsp) cumin, (1 tsp) cardamom, (1/4 tsp) nutmeg, (1/2 tsp) salt, (hot sauce to taste) until spices are fragrant
Add 4-5 oz tomato puree to veggies and stir in 2 quarts water.
Bring to boil and simmer for about 10 minutes.
Use an immersion blender to combine until smooth.
Stir in 20 oz peanut butter, (I used all natural, no salt, smooth) reheat.
Adjust flavor with (1 TBS) lemon juice, salt and sugar.
Pour hot over fine cut leeks and sliced banana (I used half a banana for each bowl and one green onion)
This is a filling and very tasty vegan soup that easily reheats for another meal. And, if you use half the water you'll have a delicious peanut sauce for stir-fry, ribs or bbq chicken!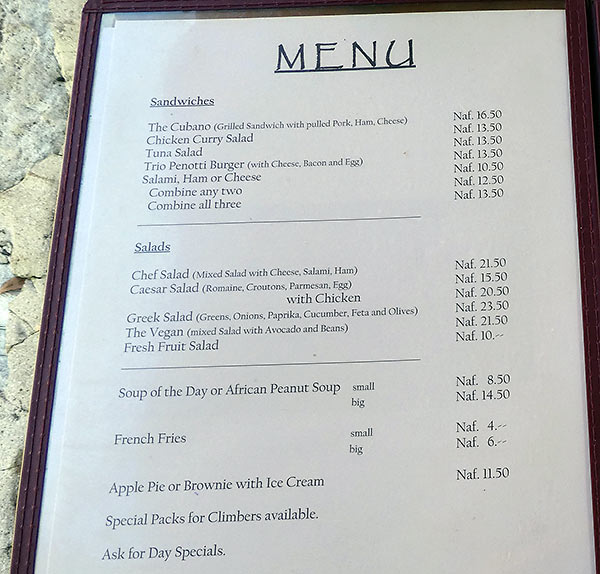 The other dishes at Trio Penotti are definitely worth a taste as well. I had their goat stew, which was savory and delicious. The traditional funchi (like polenta) and almost cole slaw sides went perfectly with it. While I was there I shared my no-stir polenta recipe with a local because they eat a lot of what our waitress described as corn meal when I asked what funchi was. It will save them almost an hour of stirring every time!
Trio Penotti – Closed Monday, reservations suggested.
Trio Penotti https://www.facebook.com/triopenotticuracao/
Curacao Tourism https://www.curacao.com/en/
Oasis Coral Estate Beach, Dive and Wellness Resort https://www.oasisparcs.com