Raoul's 2 Cents
Funny Guys
Gary Lising was a Filipino comedian — the Rodney Dangerfield of the Philippines. What he lacked in beauty he certainly made up with his fertile wit. Someone shared a story about Gary this morning that really made me laugh. It wiped some of my stress away. So I dug up some of his jokes which I share with you today. Hopefully, the punch lines don't get lost in the translation.
Gary said he wished he would die peacefully in his sleep just like his grandfather … who fell asleep behind the wheel and not like the passengers of the bus.
When it was time to introduce the keynote speaker, Gary walked up to the podium and introduced the [simple-minded] president and said, "President Estrada is a man who does not know the meaning of the word fear. He does not know the meaning of the word corruption. He does not know the meaning of the word dishonesty. There are many words he does not know the meaning of."
Gary is proud of his very Catholic upbringing: "I'm very close to the Cardinal," he said. "Even as a boy, the Cardinal was very religious because of the influence of his father … who was also a priest."
"I feel fulfilled when I see my son," Gary confides. "He's very handsome. He looks like my driver."
"I've been married for years and I'm still in love with the same girl. My wife will kill me if she finds out."
"My wife has a Supreme Court figure – no appeal."
Gary's Definitions:
Conversation: Conversation is when three women stand on the corner talking. Gossip is when one of them leaves.
Cosmetics: Cosmetics are a woman's means of keeping men from reading between the lines.
Courtship: I like her because she doesn't "No" much.
Gold diggers: Some girls will only go out with a man who is tall, dark and has some.
Showgirl: More show than girl.
Stingy: He orders asparagus and leaves the waiter the tips.
Ugly: With a face like mine, I could sue my parents for damages.
Thank God for funny guys like Gary. They certainly color our world.
TGIF people!
Raoul
Joke of the Week
Thanks to Peter Paul of South Pasadena, CA for sharing this joke.
Don's Puns
Sent by Don of Kelowna, B.C.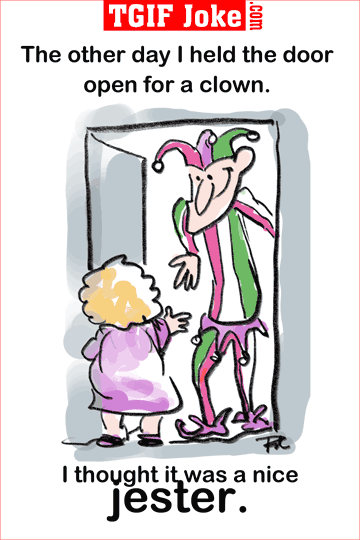 VIDEO: Pinoy's Got Talent
Thanks to Art of Sierra Madre, CA for sharing this video of Marcelito Pomoy's unusual audition. This guy's been going around the entertainment circuit. He's pretty popular.
VIDEO: Beach Ball
Thanks to Tony of Southern CA for sharing this short and funny clip.
Parting Shots
Thanks to Naomi of North Hollywood who shared this: