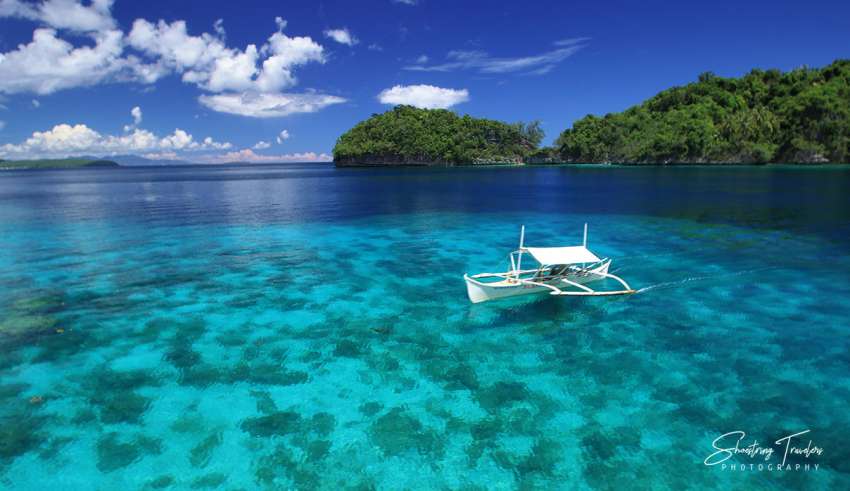 Photo courtesy of Leo & Nina Castillo
Disembarking from our motorized outrigger boat, we crossed over the wooden pier spanning the crystalline turquoises waters of the cove and into an island of colossal karst rocks and cliff walls. Just slightly beyond the white sand beach of verdant Pangabangan Island where we had landed lay one of the most remarkable sights we've come across in all of our island-hopping adventures.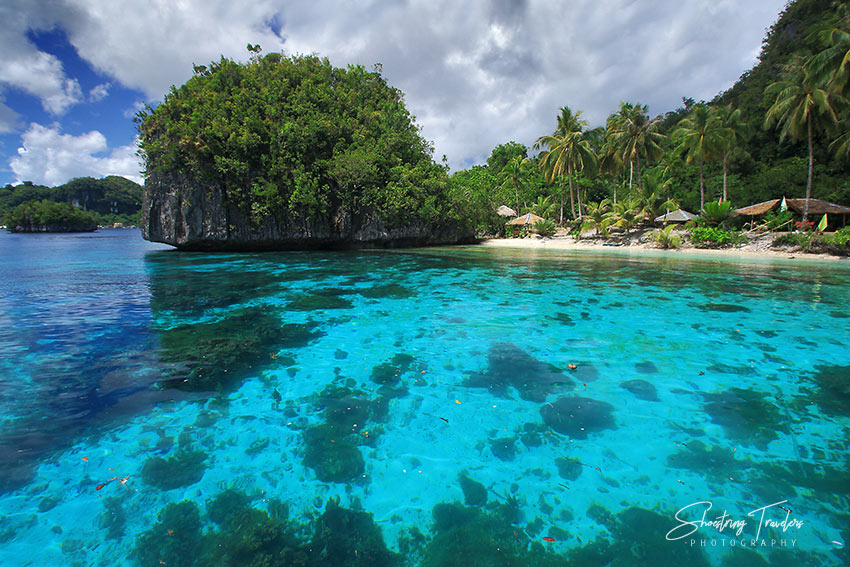 We were about to explore a tidal pool just a short distance from the beach when our boatman hurriedly motioned for us to join him up a flight of steps carved into the rock surface of a limestone cliff. Halfway through the rugged pathway we stopped at a view deck and stared below into the Blue Lagoon, the shallow tidal pool that plunges abruptly down into a subterranean hole, forming a deep blue-green color at its far end. We stood there in a long collective gasp before the obligatory photo shoot.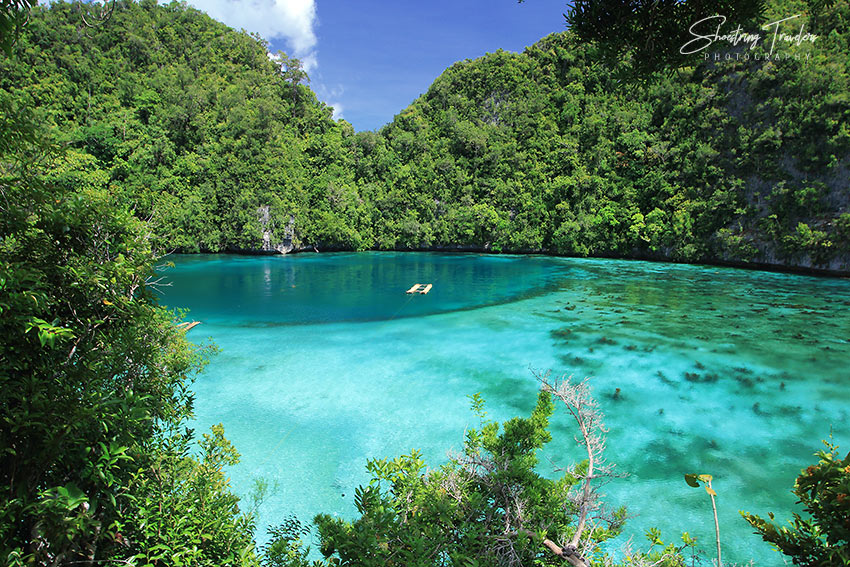 But we weren't finished yet. Or at least our boatman-turned-tour guide thought so. He was soon leading us up another steep flight of steps towards the apex of the cliff. It now became a dangerous climb as we had to literally crawl on our hands and feet to balance ourselves on the uneven rock surface with a fall down a precipitous cliff not a distant possibility. We were beginning to think whether the risky effort was worth it but it was too late to go back. Once we reached the top however, we were rewarded with a view that made us momentarily forget the precarious climb we had just made.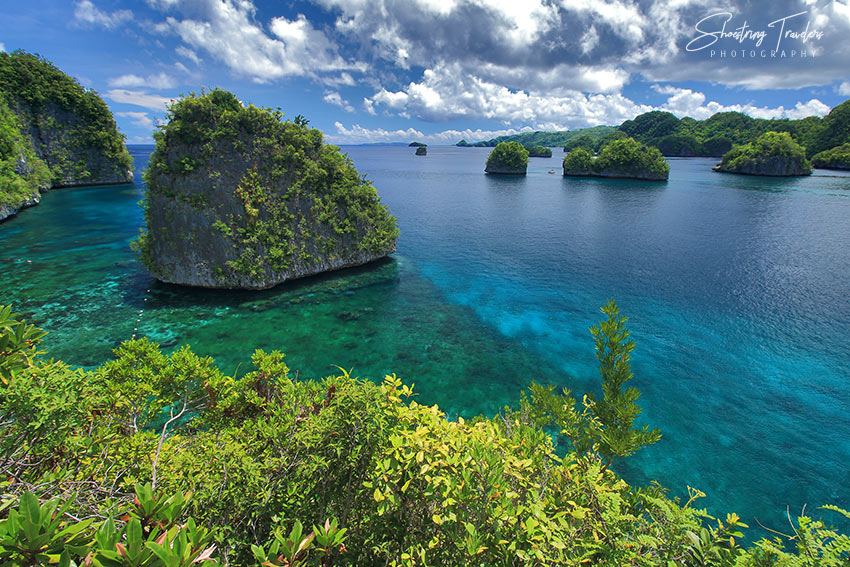 A little-known island province, Dinagat has countless deserted coves and lagoons, immaculate white-sand beaches and verdant islands wrapped in seemingly impenetrable jungle foliage and mammoth rock formations. It possesses an abundance of minerals such as nickel and chromite yet it is also one of the poorest provinces in the Philippines. And despite being a neighbor to internationally famous Siargao Island, it rarely gets visited. So when we toured this underrated province last year we were looking forward to relishing relatively undisturbed natural destinations while having many of them practically all to ourselves.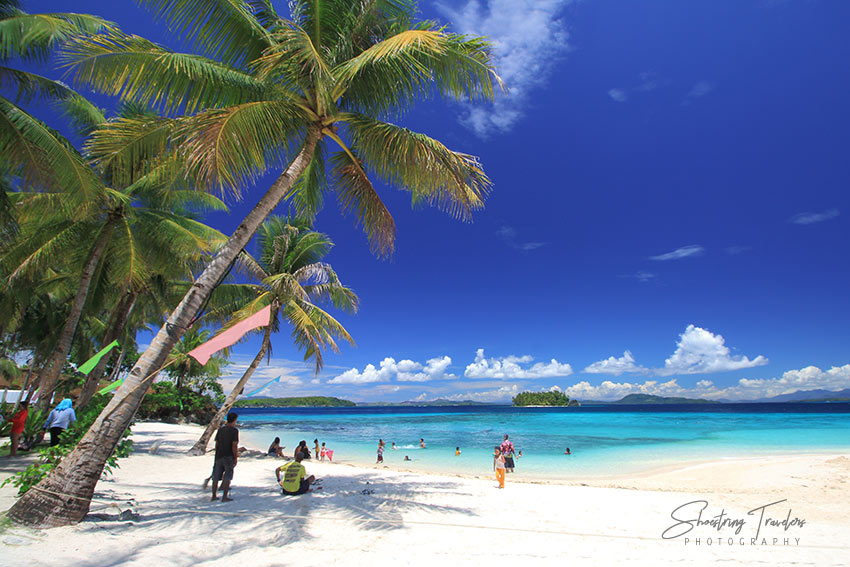 One day after arriving in the capital town of San Jose by ferry boat, we were off to an island-hopping tour of the western side of Dinagat. Just off the pier at San Jose is Unib Island, more popularly known as Lalaking Bukid, translated as "male mountain" in the local dialect (we never found out the reason for this interesting moniker). Unib Island alone has 5 gorgeous white sand beaches and although it's difficult to select the best from among them, Bitaog Beach with its fine white sand, towering karst cliffs and crystal-clear waters is often touted as the best of the lot. Duyos Beach is classified as a public beach which means it's often brimming with local visitors out for a picnic. But it's as clean and stunning as any in the country.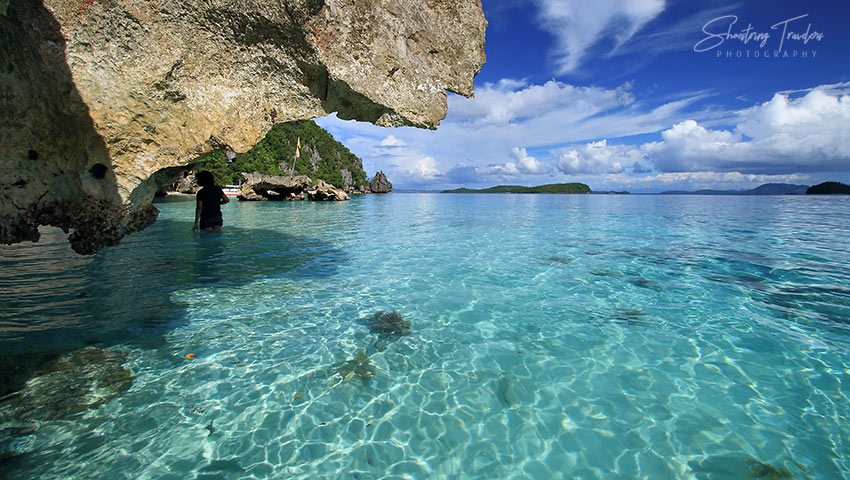 Two other beaches – Gealan Beach and Pagkawasan Beach are located close to Bitaog and to each other. One of our boatmen narrated the story of a local treasure hunter who discovered a cache of gold on the island – some say it was part of the fabled World War 2 Yamashita treasure – and who subsequently built the grotto on Pagkawasan Beach as a thanksgiving. We would have wanted to treasure a visit to fascinating Cabacungan Cove instead with its imposing karst cliffs and a lush forest which sea eagles and horn bills had made their home. But it was off-limits at the time either due to questions regarding its ownership or the beach manager's violation of government regulations.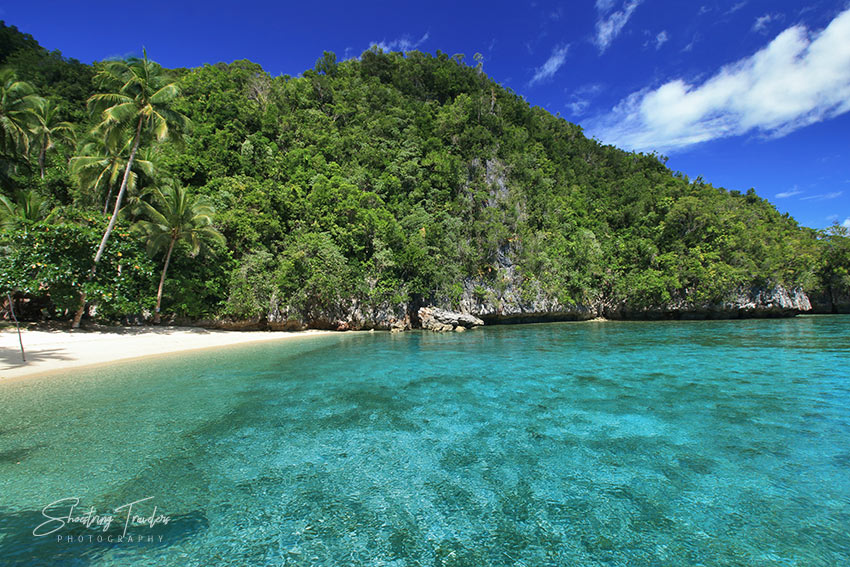 The boat ride back to the main island of Dinagat took us along a coastline studded with magnificent rock formations and into tranquil Babas Cove. This cove features a picturesque beach and lucent aquamarine and turquoise waters revealing corals and marine life underneath. We climbed up another karst cliff – thankfully a less perilous climb – and had a grandstand view of more beaches and coves in the peninsula jutting out from the mainland (see also top photo).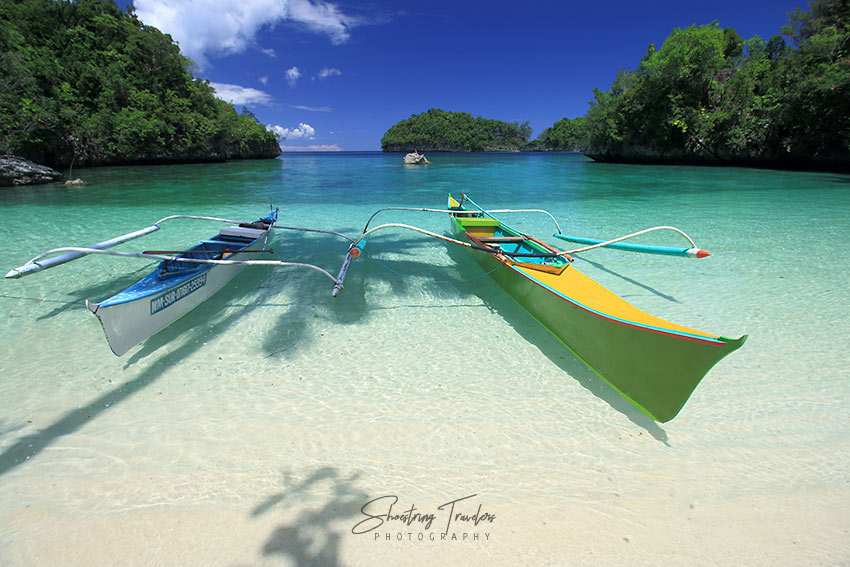 To a first-time visitor Babas Cove and beach look to be the main attractions of this part of Dinagat known as Basilisa town. But the beach is just the starting point of a trek to enigmatic Lake Bababu, an emerald body of water nestled in the forest inland. The trek to this lake was certainly no walk in the park – at least for us. The demanding hike required negotiating steep 45-degree inclines and sharp coral rocks scattered along a large portion of the trail, at times made slippery by ground soaked from previous rains. After 45 minutes of an arduous trek we arrived at the edge of the lake – a body of dark green water framed by a lush forest and white limestone walls.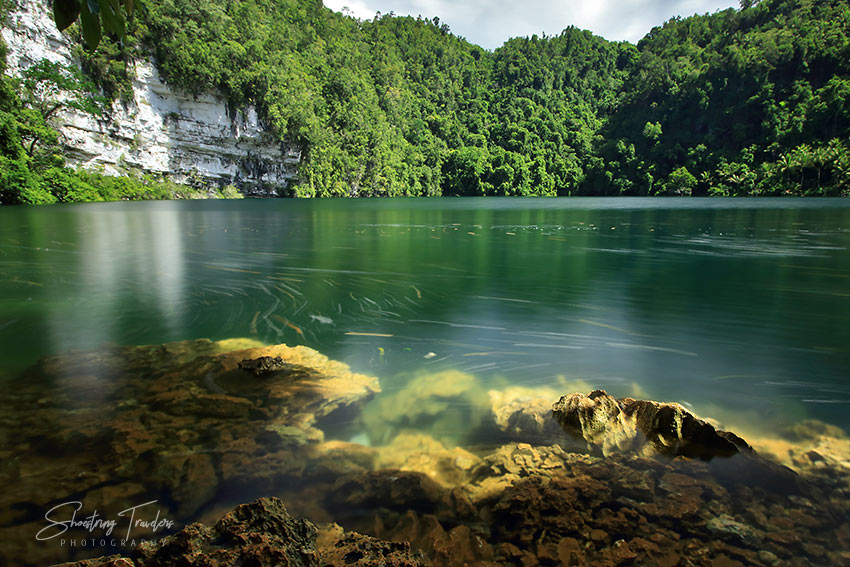 Lake Bababu is a unique lake with a combination of fresh and salt water with the former occupying the upper 20 feet layer. The two layers do not mix. Our tour guide encouraged us to drink directly from the lake – the waters are said to be that clean. And it did look very clean. But we stole a glance at another group of visitors playfully gliding along the water near us and politely declined. We could also see several colorful reef fishes in the water – proof of the 650 meter long underwater tunnel that connects the lake to the sea – the longest underwater cave in the country.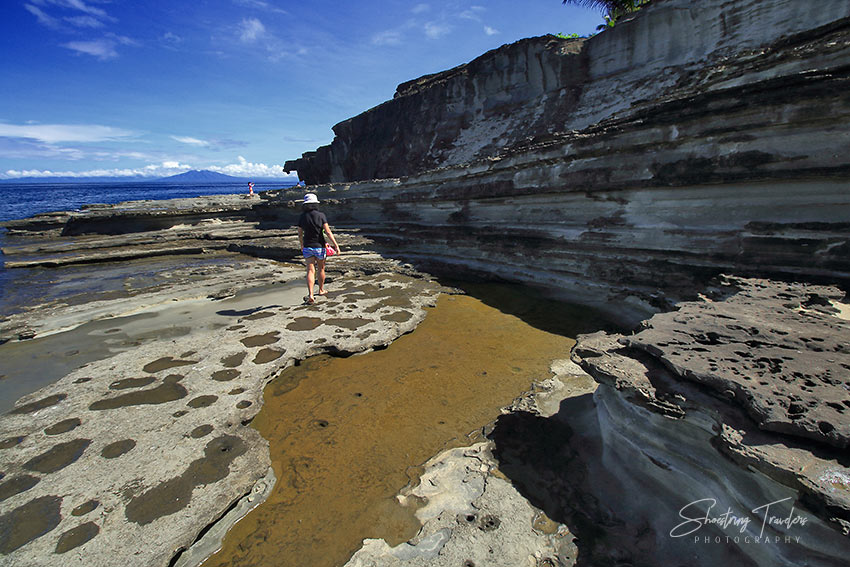 The following day another island-hopping expedition took us to a cluster of islets northwest of Babas Cove. Part of our itinerary included Sundayo Beach at Hagakhak Island with its long white sand beach and beautiful rock formations but it was disappointingly closed to visitors that day like Cabacungan Cove. But with a profusion of natural attractions around us we simply headed off to Little Hagakhak Island to explore its colossal sedimentary rock formations and later to Isla Aga, a cluster of karst cliffs with a small white sand beach on its western face. You can actually spend a whole day just touring the cluster of islands, beaches and coves around Isla Aga but there are more destinations further north that clamored for our attention.
These islands and coastal spots are part of the town of Libjo. The collection of numerous coves and white sand beaches, karst cliffs and islets in this town is very much similar to the landscapes of Coron and El Nido in Palawan, destinations that are now quite popular outside the Philippines.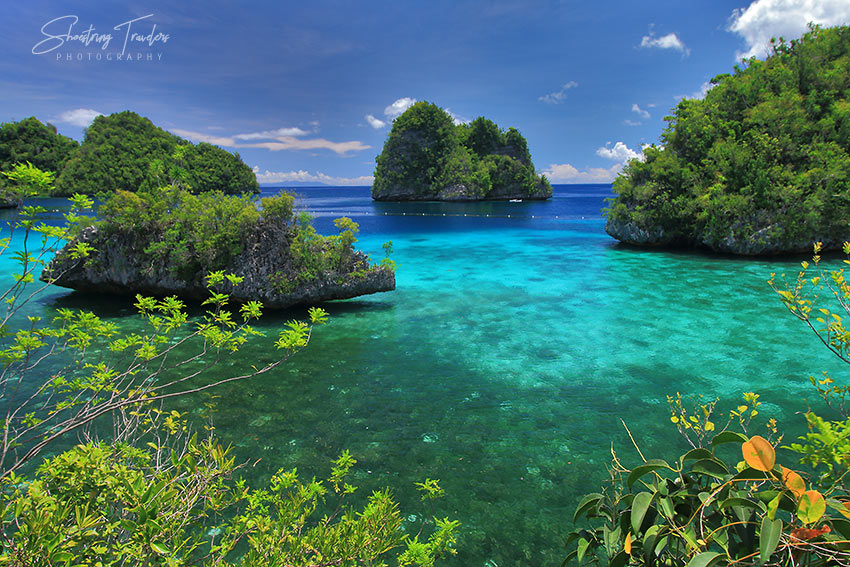 We could have explored the largely unspoiled coastal landscape of Libjo at leisure but we could only pass by the stunning scenery and head straight for Pangabangan Island and its Blue Lagoon that we described earlier. From there our little party sailed back towards the shores of Libjo town and into Punta Villa. This resort is better known locally as the starting point for the trek to Quano Cave, a massive cave housing a large number of bats within its limestone formations. But with a limited amount of time on our hands we just chose to enjoy the sights around the resort – its fine white sand beach, several karst islets lying just offshore, beautiful corals easily visible through crystal-clear waters and a panoramic view of nearby islets from a villa on a hill that was open to visitors.
Two other destinations in Libjo are worth mentioning even if we did not get the chance to visit them: Jelmar Resort which is often called the Maldives of Dinagat for the stunning colors of its crystalline waters and Punta Buena Suerte for its remarkable marine life including sea turtles. And on the eastern side of the island lies the town of Cagdianao with more beaches including the sprawling, powdery white-sand Hinabyan Beach and beautiful Sayaw Island.
Our tour of the province was restricted to its western coastal areas and only later did we learn about a worrisome reality that has hovered over Dinagat for some time now. The province, as previously mentioned, is rich in nickel and chromite. Consequently there is widespread mining in the province resulting in environmental damage involving wide swaths of formerly green areas. Some of the mining operations were ordered closed 3 years ago but using Goggle Maps' satellite view one could easily see scarred surfaces on the northern and southern sections of the island province as well as in the town of Cagdianao on the east coast. The situation at the northern portion of Dinagat is particularly alarming since it holds several environmental gems including a bat sanctuary and the largest bonsai forest in the country. We could only hope and pray that the province would be able to limit the environmental destruction already inflicted and preserve the beauty of its natural wonders for generations to come.
(At the time of this writing the Philippines remain closed to most foreign travelers. Filipino nationals, spouses or children of nationals, and residents returning from abroad are exempt from the ban, and may be subject to quarantine for a maximum of 14 days or COVID-19 testing upon arrival.)