If you grew up in New England in the 70s and 80s, you were exposed to an incredibly diverse music scene. Chart rockers abound, Aerosmith, J. Geils and the Cars filled the airwaves. Radio playlists were laced with alternatives like the Mighty, Mighty Bosstones, Pixies, Til Tuesday and Watermelon Slim. Now imagine, you're a guitarist living in Boston wanting to see your favorite players, like Duke Robillard or Ronnie Earl, but clubs consistently throw you out because you're only 14!
Never-the-less you are determined and focused, and find yourself in a band full of grownups "playing lead" guitar and you get gigs opening for the very players you so admire. Suddenly, you're hanging backstage with Johnny Winter, Joe Perry, and Elliot Easton. Your band releases a regional hit and local radio WBCN invites you in to talk about your music… sounds like a fairy tale, something that only happens in the movies, right? Yet, that is exactly what happened to San Diego guitarist, Jimmy Zollo.
Although he is rarely thrown out of clubs anymore, Zollo's resolve and 'never say die' attitude is still apparent. He continues to play with different musicians in multiple bands and actively generates new music and original material. So, when we finally had a chance to sit down and talk, we started with those early years.
Was your family musical? "My dad played saxophone a little bit." Jimmy says. "And my mom was an artist and she's responsible for all my musical influences. She was actually a graduate of UC Berkeley and was double promoted from high school. She went to college really early and was up there during the Monterey Pop festival. Her main thing was abstract art but she did all of it and then became an art teacher in the school system. Once we were old enough to go to school, she went back to work and became an art teacher in the high school that I attended. She used charcoal and paint and she sold a lot of her pieces in La Jolla.
She took me to my first concert; Boz Scaggs, the Eagles and Fleetwood Mac back in Foxboro. Thanks to her I got to see Queen six times, Thin Lizzy and there were many concerts I missed because by that age I had already been playing and had a band. She tried to get me to go see the last tour that Bon Scott did through Boston and I said, 'Mom, I'm playin' a party.' Even though I wanted to go… I missed that, and then he was gone. She took me to go see Prince on his first tour, and then she told me about this guitar player from Texas that you need to see… Stevie Ray Vaughan! She was a major influence on my direction and my biggest supporter."
How about siblings? "My younger brother Drew is a great bass player. We've played together in the past. When growing up he would snatch my guitar away from me." (laughing) "I would beat him." (laughing) "I finally got hip one day and said, 'if you're going to keep doing this, then you're going to play bass.' I gave him my guitar and showed him some bass lines and got him going on that. And I have a sister, too. She never played professionally, but she can play the drums."
************************
"That's the thing about blues music, it's all based on the love of the music
and the people we revere the most."
– Jimmy Zollo
 ************************
Originally from the East Coast, you must have known early it would be music? "I grew up in Boston and left when I was twenty. When I left that area, I was already a veteran of that scene. I played professionally from the age of fourteen and I opened up for Johnny Winter, Gregg Allman, Frank Marino, Metallica… Hanoi Rocks and a lot of others I can't remember. I was in a little band and playing with some guys from high school; 'Scorcher' and we had our own little regional hit song, 'Dreamers' and 'Let the Nation's Burn.' It was kind of hard rock stuff and we got airplay on WBCN-Boston and did interviews on that station."
WBCN is nation-wide exposure… who else were you running into around Boston at that time? "When I was young, around 1978, I got to meet the Aerosmith crew, the Cars… I met Elliot Easton, Joe Perry and Steven Tyler. Where I grew up, there was a super high bar for guitar players. Even as a kid, you knew there were kids that were already pro players."
The Northeast is known for its outstanding guitarists. Did you ever run into Duke Robillard? "Yeah…Roomful of Blues! They used to play within walking distance of my home so I would go over and stand outside and listen and then sometimes sneak in and get thrown out… Ronnie Earl, too!"
So you leave the East Coast in 1985… "I went right to Hollywood! It was a great time to be in your twenties and be in Los Angeles. I had just turned 21 and was just kicking around in a couple of bands with some of the guys that I moved out there with, and then eventually my brother and I stumbled into some other guys that came from the Pittsburgh area and we formed the group called 'the Betrayed' and we got picked up by EMI. It was a rock band and we were really into the Stones and blues stuff. Basically what happened, we got signed to a big record deal with all these plans and 'Nirvana' came out and everything changed!" (laughing) "That was the story for a lot of bands during that time, everything shifted towards that. The people that signed us… they were gone! The next thing you know, we just have a deal on a label with people that don't know us or have any background with us… and that's how that went."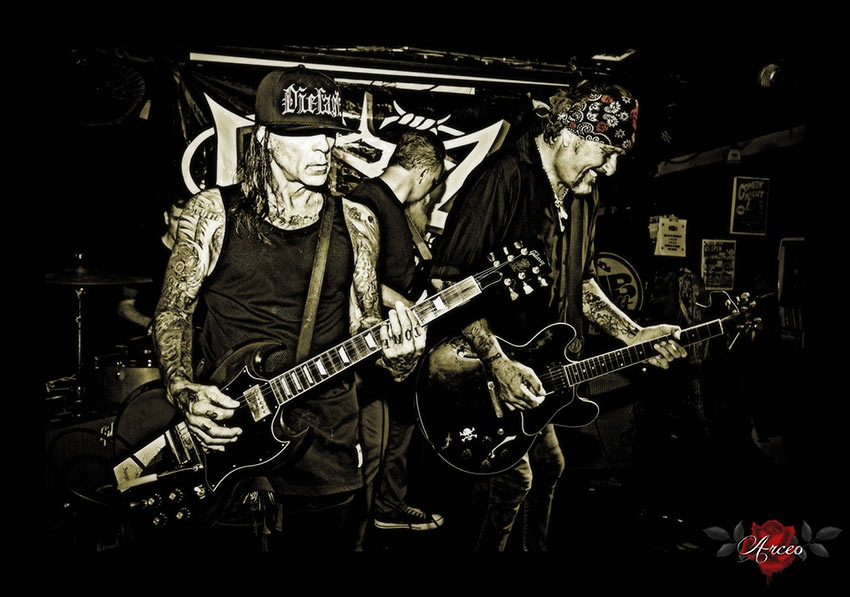 You started playing professionally so early, it sounds like you really didn't play in that many garage bands. "Well, at 14 I started playing and about six months in, I was in a band with grown-ups… playing lead. It was pretty wild because I didn't know keys or chords, I just played by ear and nobody could understand how I could learn and play. When I tried to go back and figure out what I was doing, it just ruined it!" (laughing) "You know what I mean? It stopped me from growing, because I started thinking about it instead of just playing intuitively. I could watch friends play… I had some neighbors and their dad was a Bluegrass and Dixieland Jazz musician, so they had instruments. And his son was my age and the drummer. We would play and I'd get tips on how to tune it up, how to make bar chords and cowboy chords and stuff. So that was kind of how I started."
Your music is so diverse, all the bands you play in… styles and genres, you literally play a little of everything? How did that come about? "Well, I'm glad you noticed that!"(laughing) "It basically goes back to my mom, because she had her record collection and I learned all the stuff in it. From Van Morrison, Rod Stewart, Fleetwood Mac, Janis Joplin… I mean everything that everybody had out in the late 60s and early 70s, Creedence Clearwater. And then my things; I was listening to Sabbath and Zeppelin, and Queen, you know? The Beatles, Rolling Stones."
Who were some of your blues influences? "Oddly enough, it would have been the second generation of players, Jimi Hendrix, the rock stuff. Some people might not associate that with a blues thing, but then I worked backwards."
Bet mom had something to do with it? Jimmy smiles. "She was the one who told me to go back and listen to Howlin' Wolf, Robert Johnson, Muddy Waters and all that stuff, Chuck Berry. I'm like, 'who are these people you're talking about?' And she would get me the records and that's how I got into it."
I think most musicians have been influenced in some way by Wolf and Robert Johnson… Muddy. "Clapton is a good example, he plays everything. He plays hard rock, pop and deep blues and all that stuff and she (mom) literally told me 'if you can emulate Clapton's career as far as the range of music…' I was 14 but it didn't take long until I realized what she meant and just how much Clapton and the Stones did for the blues and for all those people."
Sounds like you followed her advice? "You realize everything came from that (blues). All the roots of everything rock & roll was laid in that era. Take Johnny Shines who traveled with Robert Johnson and Johnny could emulate Robert's playing and singing and the next thing you know it's virtually like Robert Johnson had a band because there's a drummer and a piano player and now there's a back beat… and it's rock and roll!"
The first band I remember seeing you play in was the Red Lotus Review with Karl Cabbage, Pete Fazzini and Kurt Kalker. How did that band come together? "I had been out of the music scene for a little bit because I had recently been married and had a child coming, so I kind of dropped out to concentrate on that for a minute. And then my wife at the time told me, 'you know you can go back and start playing music again if you want.' After my daughter was a year or two old, I started playing with Chillboy (Raffesberger) and he had a little cast of revolving musicians who were available and always great. A woman Charmaine Tam, a bass player was playing with Karl in another band and she mentioned that I should meet him because he would love my playing. In Chill's band we were playing blues and I was playing a little more traditional style. He was great at what he did but I had a different style, maybe more primitive compared to what he was doing. Charmaine thought that would fit in with what Karl was doing. The first thing I played for him was a Robert Johnson song and he was hooked."
After Red Lotus Review you started another band with Karl, 'Holla Pointe.' "When Red Lotus was like six or seven years in, we actually had a record deal with the Rip Cat label. I was putting together material and we were getting ready to record and a couple of the guys didn't want to continue in that direction, unfortunately. It was a great lineup and very unique: two guitars, no bass, drums, harmonica and vocals. We wanted to inject original material into that format. I decided to still do these songs and I asked Karl, 'I'm going to do this band, 'Holla Pointe' if you want to be a part of it and he was like 'Yeah, I'm in!'
Musically, how was it different from the RLR? "It was similar but what happened, we added a bass player and a few different rhythms and I tried to incorporate a hill country and more of a Delta feel, amped up a little bit. Trying to save that traditional vocabulary but adding a twist to it."
You're playing with so many people and in so many bands currently… Joe Wood and the Lonely Ones…"It's basically the same lineup as 'Change Today.' It's Joe's nightclub act, his working band. I wasn't really interested in doing more night club acts. I've been in maybe 20 bands over the past 10 years and worked hundreds of days a year. But I said I was really interested in getting in to his (Joe Wood's) back catalogue and maybe writing some new stuff, so we agreed on that and that's where we are…with 'Change Today.'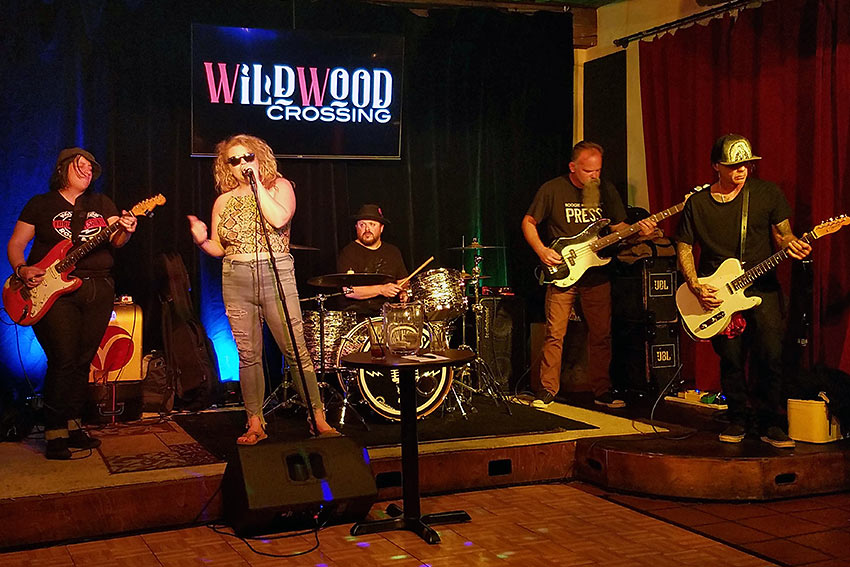 You also played with vocal dynamo, Casey Hensley. "At that time I was playing in the Six-String Outlaws and that's where I met Evan Yearsley. He and I clicked musically and we had the same interests… so let's do something together, you know? He said, 'Well, I've got this girl singer, Casey.' At the time I didn't realize, but I had met Casey four or five years before when she was like… 14! She sang on a concert that I was playing with Chill (Raffesberger) for 'the Best of San Diego' or something. She came in and sang an Aretha Franklin song and I was all, 'this girl's good!' So, I ended up being in the first rendition of her band."
Are you spending any time in the studio? "Yeah, I'm making this 'Change Today' record right now which is really great. It's a pretty wide-ranging sound, Joe's a great songwriter and I got to contribute. It was a chance for me to collaborate with someone who's a proven, great songwriter."
How did you meet Joe? "Well, it's funny I met him in '89 and he says he remembers… but I know he doesn't." (laughing) "But I'd been working for different record producers as an assistant in the studios. When they make recordings, I would go in and basically take care of all the guitars; insure they're strung up and intonated, tuned up and working properly. I would go to the studio at nine in the morning and stay till midnight. I worked on a lot of sessions while I was pursuing my own career. I worked in every studio in L.A… Capitol, MCA. Everything from Rod Stewart, Robert Palmer, hard rock records, I was very busy and made a lot of money. Most musicians don't make a lot of money when they're struggling. What was nice is that it didn't interfere with what I was doing. After doing that for a couple of years, I ended up being in those same studios recording my own stuff. Most of the people working there said, 'Wow! It's great to see you here and now you're working on your own thing.' And that's how I met Joe. One of the producers working on one of Joe's last records with his band TSOL, caught wind of me and was interested in hearing me play. So, when he did and I introduced myself to Joe and he said, 'You can join my band, anytime!' We did a couple of gigs together and I pushed the 'Change Today' thing and that's really taken off."
I remember seeing you play with Rod Piazza at one of his birthday bashes in Riverside. "Rod Piazza" Jimmy says. "I look at him with the same amount of reverence that I do with all the blues originators because of his dedication and the purity of what he does. He recognized something and took me aside and gave me this heart-to-heart about what I was doing. I just gained so much respect for him because he encouraged me… who am I, to him? But he heard something in me and gave me some wind in my sails to believe in myself. It's hard to explain to people who don't know who he is or the genre and express the feeling and the depth of what that meant to me. That's the thing about blues music, it's all based on the love of the music and the people we revere the most."
It seems blues is more personal; the music and stories handed down generation-to-generation. "I was just watching a Muddy Waters interview and the man interviewing him was Pete Welding. He was a record producer and blues/jazz historian and was very close with Muddy." Jimmy says, and as to prove a point. "I was taught Robert Johnson songs by Pete Welding, who learned from Muddy, who learned directly from Robert."  
Details! This was in your studio years in L.A.? "Yes, I was very young when I met Pete, he heard I was into the blues and took me into his office at Capitol and gave me a music and history lesson that day. That was huge in my life at that time. I also had a chance to meet Les Paul there and had my picture taken with him. He was a very nice man and made me feel like I was his friend, even though we only talked for a few minutes."
Let's talk about 'Change Today' and collaborating with Joe Wood. "Joe isn't a kid anymore and he's fully aware of that. And the songwriting that he's doing now is very deep and he's really gifted at it. When you hear this record… there's a couple of edgier tunes on it that will make his fan's of earlier material feel good and there's some darker stuff that they're gonna' love too. But there's also some stuff that can stand next to Merle Haggard and Willie Nelson, its real songwriting. Roots-y, pure soul music, and it's all originals. I just add my texture and color to it. I get credit for arranging some songs but for the most part all the stuff was there. I did contribute two tracks and Joe put it in his blender. Anytime you write something, it's always a better result when there's other minds involved that are creative and add to it."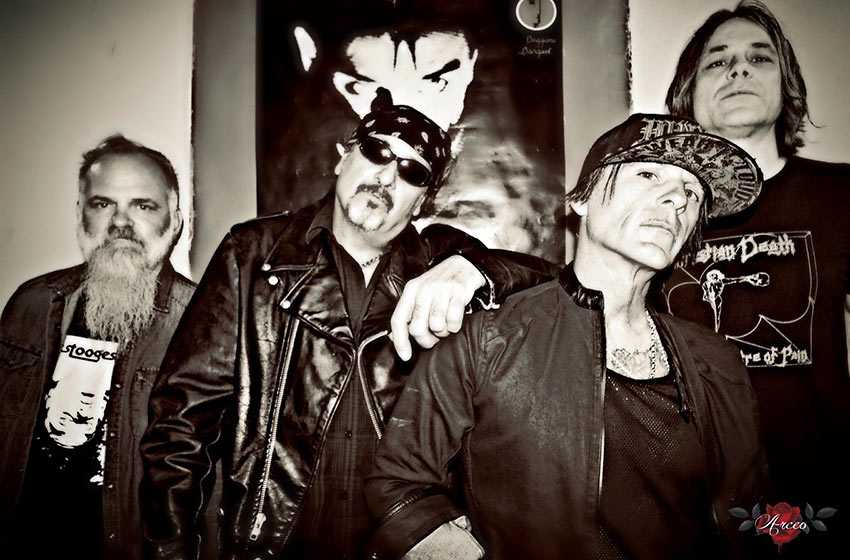 Sounds like a fun environment. "These bands with Joe Wood and Mark Campbell and Chris Ogard… we all get along so well, it's almost comical. I've never been travelling with a band ever, where it was so light and easy. It's so much fun because we just laugh all the time and we can't wait to play. Everywhere we play people are just like, 'Wow!' they feel the energy because we're so excited. We're finishing up this record, we've got all the basic tracks but I have to put my stuff on it and the vocals and we're trying to put May 30th as the release."
Any reflections about life or the road you travel, to this point? "I just go where the music tells me to go." Zollo says. "I've never pursued or pushed myself; I just do my part and make sure I'm ready when that intersection comes. I've had the opportunity to play with so many people; I got to play with Jimmy Bain before he died. A bass player and songwriter, he wrote 'Man on the Silver Mountain' he was in Ritchie Blackmore's band with Ronnie James Dio and he wrote all the Dio stuff for 'Holy Diver.' I got a call to do a session and I'm standing in the control room with him… didn't know that was gonna' happen!" He smiles and shakes his head. "What am I doing there?"
So your message is be prepared and try not to freak out? "I met Cash McCall last time I went to Memphis and he actually performed two songs with me and shook my hand and goes, 'I really like your playing.' I was like, 'That's enough for me!'"