Raoul's 2 Cents
Today is Good Friday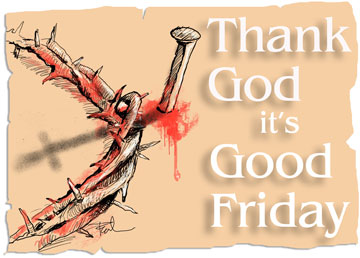 As is our tradition, no jokes today. I'm sorry. And I also apologize if I will be speaking about my faith. Good Friday is the most solemn day in Christiandom; for today, Jesus, the Christ, was wrongfully accused and crucified. They decorated his head with a crown of thorns and nailed his hands and feet on a wooden cross. He paid for a debt he never owed and for a price we (all of us) could not pay.
Of course, the story didn't end there — because in three days, on Easter Sunday, they found His tomb empty. A resurrection had taken place.
I trust you and your family are safe and keeping your social distance. I have been praying for all of you who are subscribed to this email. I hope you don't think I am disrespectful of your beliefs but I've been praying that you would join me to the Easter celebration in my church this coming Sunday. Like most churches, Grace EV Free church will be broadcasting its service online on Youtube Live so you can watch in the comfort of your home. Yes, you can even wear your pajamas. 😉
During these times of Covid 19, the future of our family, our finances, our careers and even our mortality are uncertain. No other time in history have we all been so unstable. It is my prayer that you and I might find comfort and answers to many questions this Easter Sunday. Have a Good Friday! TGIF!
Grace EV Free Livestream
April 12, 9:30 am PST
CLICK HERE
Raoul
" Do you now believe?" Jesus replied. "A time is coming and in fact has come when you will be scattered, each to your own home. You will leave me all alone. Yet I am not alone, for my Father is with me. I have told you these things, so that in me you may have peace. In this world you will have trouble. But take heart! I have overcome the world."
These were the words of Jesus on the night he was betrayed. Rather than seeking comfort for the trial ahead, he was comforting others. — John 16:31 -33
Video: It Is Well With My Soul
Thanks to Don of Kelowna. B.C.
This song was written by Horatio Spafford who had lost everything yet found peace in his savior and managed to thank God for it.
Video: The Window Washer
Thanks to Don of Kelowna, B.C. for this heart warming video of a window washer touching the lives of strangers. Don sent me this video just over a year ago.
Video: German Kindness
Thanks to Michael of Whittier, CA for sharing an uplifting video of German citizens leaving food out for those in need rather than hoarding like some in America are doing.
Parting Shots
Thanks to Peter Paul of S. Pasadena, CA who sent these quotations