Traveling is the experience of knowledge
Visitors can indulge their every desire in the ultimate expression of sensuality along Mexico's West Coast, while enjoying a shimmering sun and the pulsating rhythm of Mazatlan. For those who wish to focus on one another and put the world aside Mazatlan has delightful pleasures that will keep the travel passion on edge.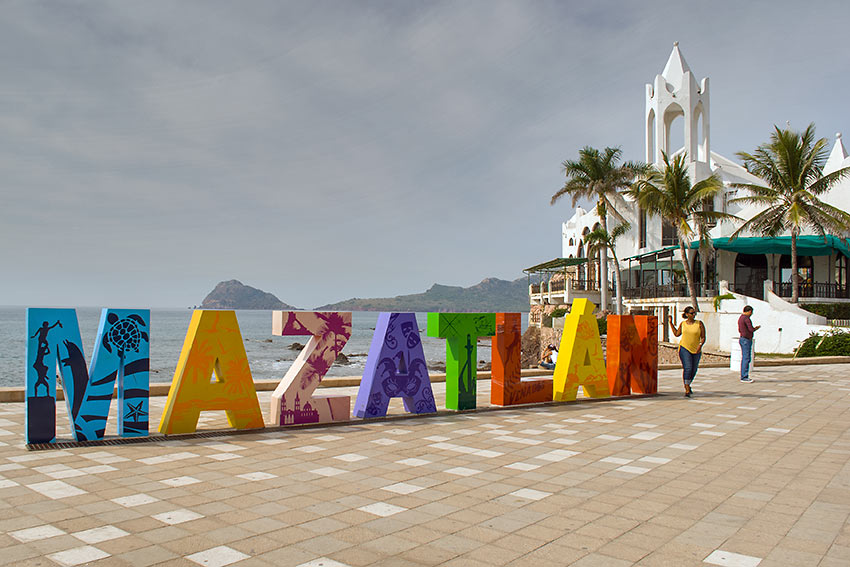 A proud working city, long noted as the largest port between Los Angeles and the Panama Canal, Mazatlan finally decided she was tired of playing second mariachi to flashy Cancun, artsy Puerto Vallarta, and the upscale demeanor of Ixtapa/Zihuatanejo. Without a touch of pretension, the city stopped pouting, dabbed on a new shade of ruby red lipstick, bought a stunning shoulder-length brunet hairpiece from Mexico City, and picked out the latest in casual fashion from Los Cabos.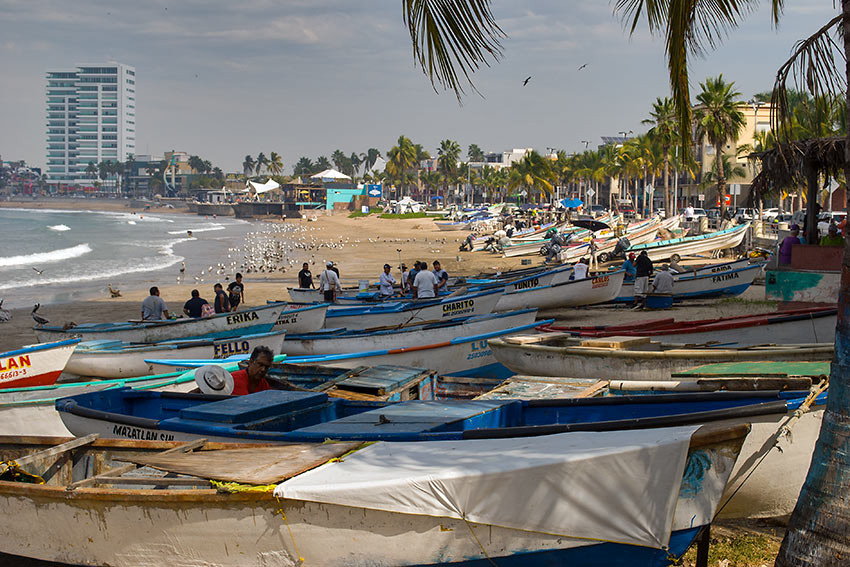 A diligent and often overlooked city is strutting her stuff and turning heads with newly landscaped streets, detailed renovations of cathedrals, theaters, and the UNESCO designated Historic District, along with a stunning malecon artistically enlarged with fluttering palms, benches, art work and a bicycle path, adjacent to the Bay of Banderas that stretches over five miles, nearly the entire length of downtown.
Lovers stroll in the cool of an evening, edging past families with enough progeny to fill a bus, cyclists are out for a spin, while clever street entertainers amuse or astonish in exchange for a few pesos, and a blaze of colorful art work in search of a new home stands tall on a forest of easels.
A Mazatlan visit offers a bright new look at the Mexican Riviera making aficionados of Mexico wonder why they waited so long to become acquainted. Located on a splendid peninsula, on the same latitude as Hawaii, 1,000 air miles from Los Angeles and 200 miles north of Puerto Vallarta, the city is brimming with energy and the spirit of fiesta. Mazatlan's long and endearing sweep of bay is unchanged featuring some 15-miles of picture-perfect beach where the blue Pacific eternally laps against the sand, fishing boats are stark on the horizon, and surfers play in the salty foam.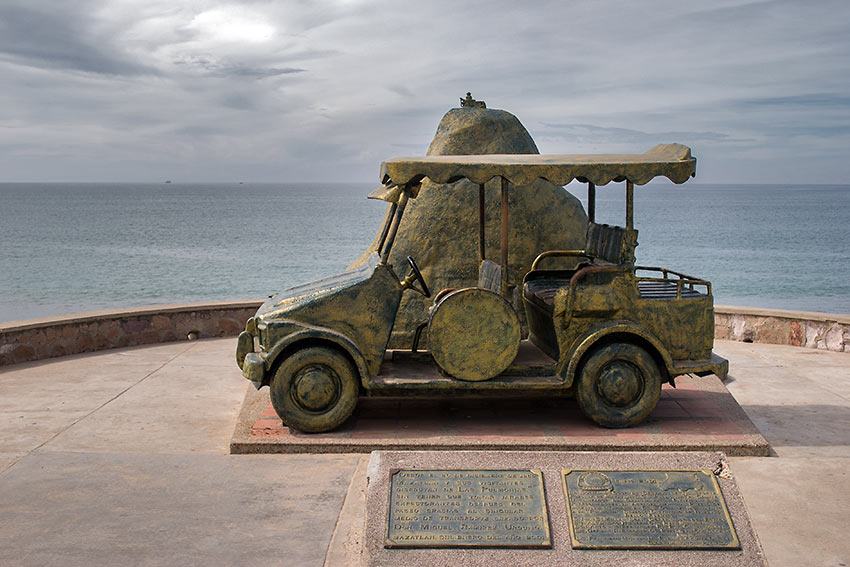 Open-air Pulmonias, clever versions of a golf cart that are always entertaining and a bit eccentric, first appeared on the malecon in 1965 much to the chagrin of the cabbies. Like busy worker ants, they haul visitors to beach resort hotels, stylish boutiques, restaurants, and bars where they can listen and dance to everything from Mazatlan's classic Banda Sinaloense, the sonorous tambora, the brass of the Mariachi's, and the ubiquitous salsa.
English speaking waiters, hip to the latest north of the border lingo, keep drinks flowing. The Pulmonias, occasionally with singing drivers and excellent suggestions, can maneuver visitors to Plaza Revolucion the main square with its classic Victorian-style wrought iron bandstand, and the adjacent, twin-steepled Baroque-revival-style cathedral, built in 1875 with an organ from Germany.
Historic Old Town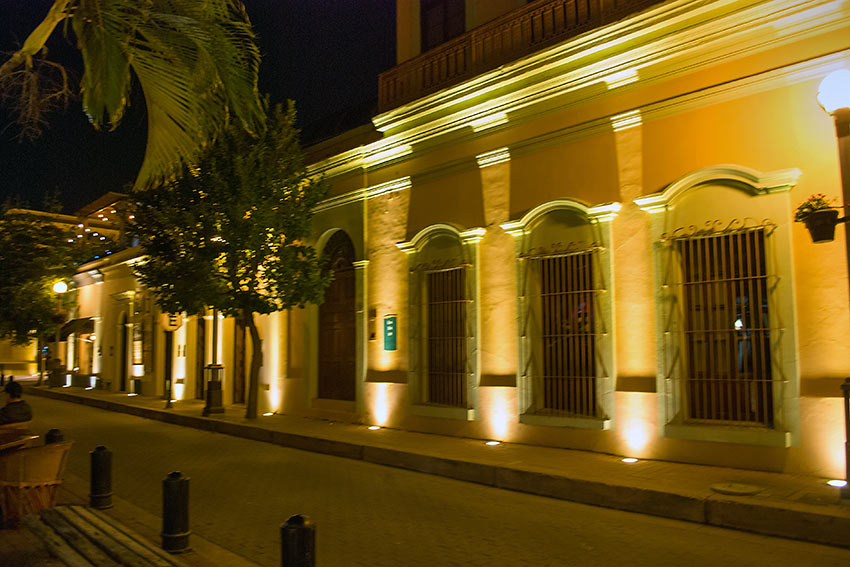 Two blocks south of Plaza Revolucion is a celebrated showcase unique to the entire West Coast of Mexico — the stunning 20-block Historic District or Old Town surrounding the restored Italian-style Angela Peralta Theatre. Built between 1869 and 1874, this venerated National Historic Monument presents opera, jazz, symphony, and ballet performances, and is the home of the noted Conservatory of Music and Dance. The theatre, restored to its original 1900's finery, fits perfectly with the narrow, cobbled streets once designed for horse and carriage, lined curb-to-curb with structures each with their own character, and all holding tight to a by-gone age.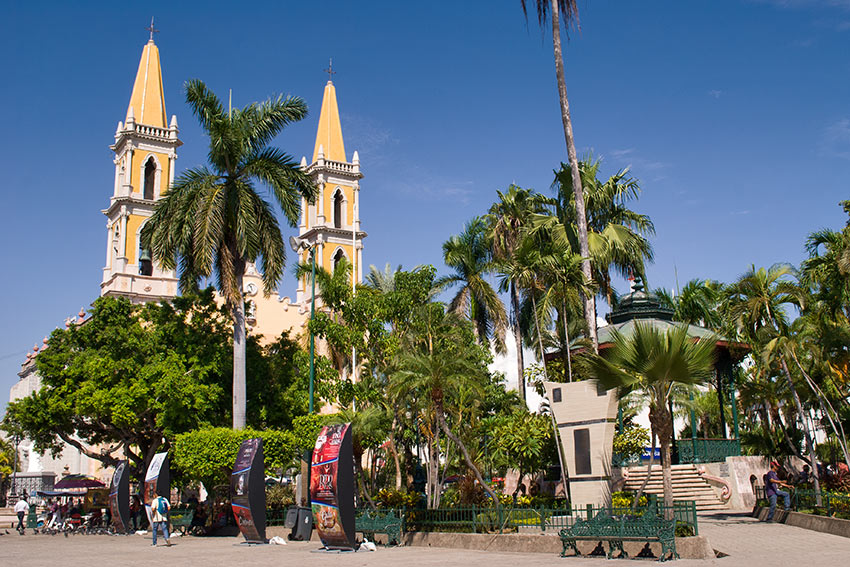 Renovated edifices with classic iron grills and balconies wrap around Plazuela Machado in a timeless surrounding, setting a blissful mood. On the north side of the plaza are a medley of restaurants with sidewalk tables and chatting diners including Pedro & Lola's named after two renowned singers, Pedro Infante and Lola Beltran, serving Sinaloa regional dishes and live music.
Retirement Mazatlan-Style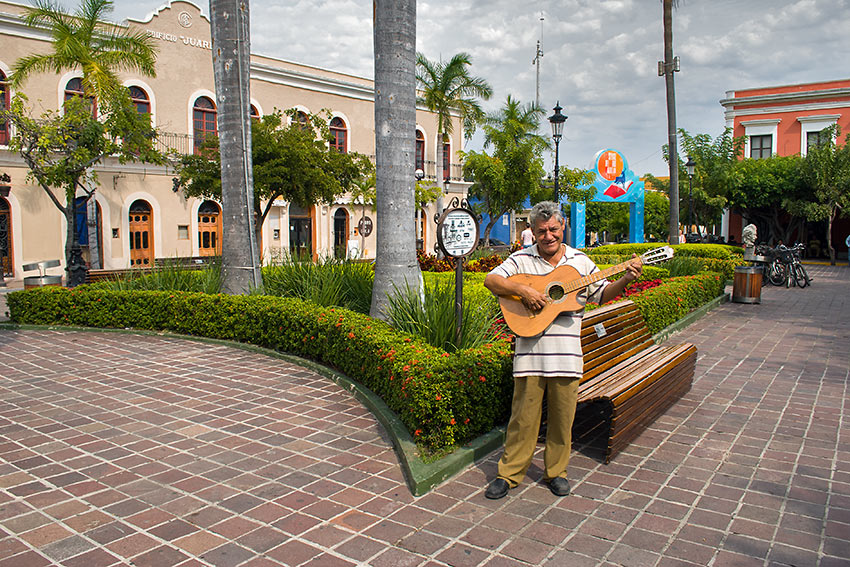 With all the outside gloss, the city has a powerful inner strength. A Forbes article named Mazatlan the world's #3 Destination for North Americans to Retire behind Portugal's Algarve Region and Valletta, Malta. Long before the article some 10,000 Canadian and U.S folks discovered the city and moved in, forwarding address no problem. Many of these retired North Americans or Mazatiecos serve their new home as tourist aide volunteers, helping visitors with directions and information.
El Cid, The Best of The Mexican World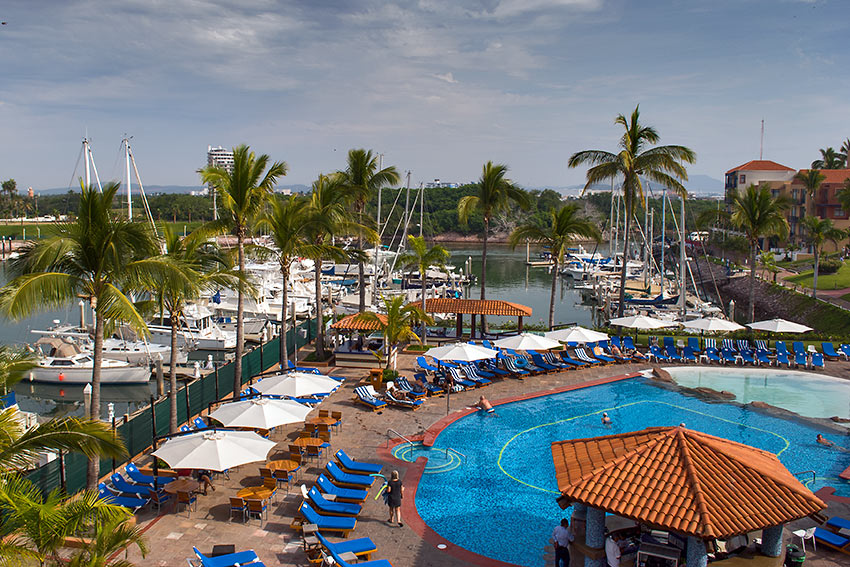 The private sector, always on the move, contributed greatly to the city's face-lift when family owned El Cid opened their first hotel in 1972 led by founder Julio Berdegue Aznar. El Cid has developed, full-fledge, to four Mazatlan properties and a personal community of over three thousand families. Visitors discover a splendid Marina and Yacht Club, a fleet of sailing and charter boats, an on-site dive center, bird watching and nature tours. The La Marina El Cocay Spa and Fitness Center opened in 2017 and for golfers a prestigious golf school, along with 27 challenging holes of golf designed by Lee Trevino.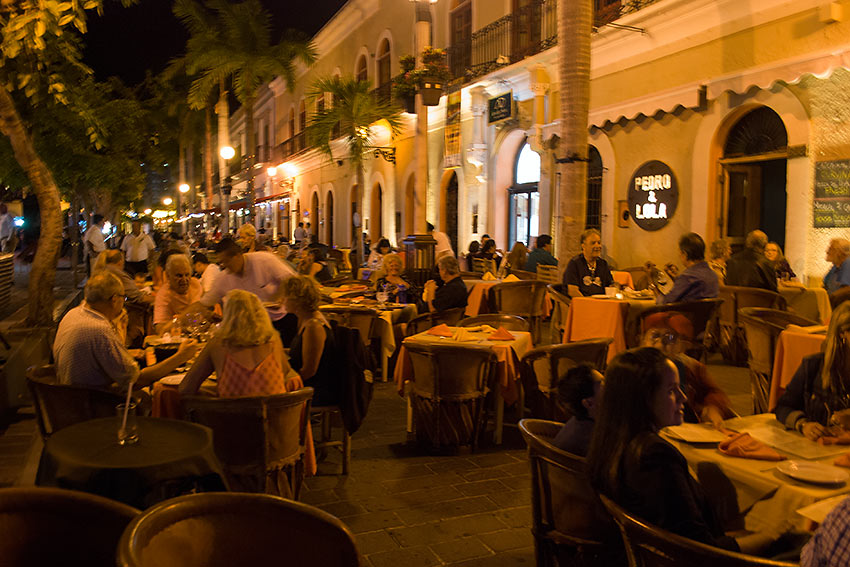 For those on the go, pop up to the top of Cerro del Vigma or Lookout Hill for a spectacular view of the city and sprawling coastline, or take a 45-minute hike to El Faro lighthouse, the second tallest in the world, 450 feet above the sea, for another great view. On the way to El Faro divers can be seen performing a version of the Acapulco cliff diver's swan dives from El Mirador and the steep rocky cliffs at the south side of the city.
With one of the world's largest shrimping fleet, Mazatlan offers a catch and release sport-fishing center for anglers who crave to test their skills. Surfing is best at Lupe's Point and at Los Pinos. Snorkelers should try Cannon's Point and Cerritos. A popular Mazatlan memory is an excursion to Deer Island, located a mile offshore where the day is spent snorkeling among coral reefs, kayaking, hiking, lounging on the beach and slathering on sun block.
Dining Mazatlan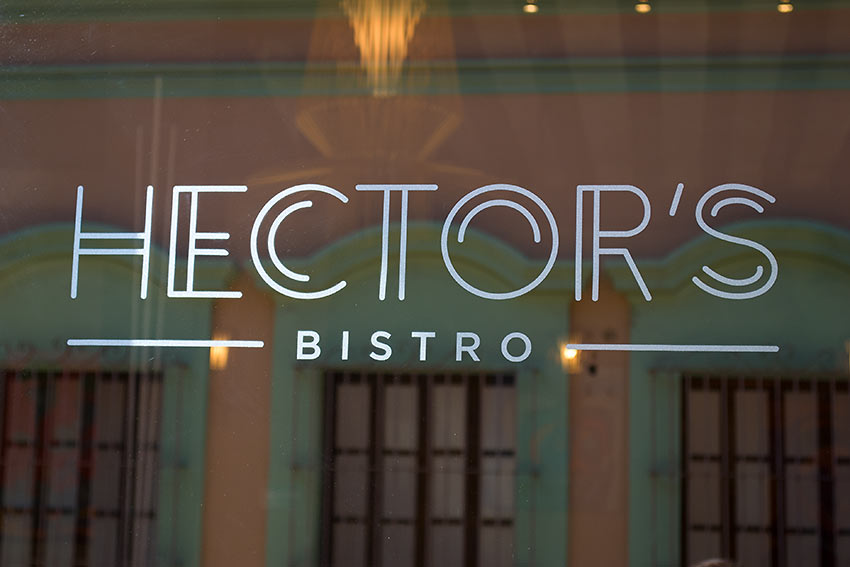 A suggested culinary visit to Hector's Bistro includes a chat with Chef/Owner Hector Peniche who in 2014 opened his French-Italian influenced Bistro in the Historical Center to rave reviews and quickly carved a deep niche in the Mazatlan dining scene. Personable Peniche, raised in Mazatlan, honed his culinary skills working for Four Seasons in London, Mexico City, and Punta Mita.
He said, pointing to his kitchen, "I came from a poor hard-working family and attribute success to my father's advice to be the best. I brought a mentality from Europe, not recipes." Peniche makes his own bread in his adjoining Via Condotti restaurant and works with an open fire and cast iron cooking pieces. Reservations advised.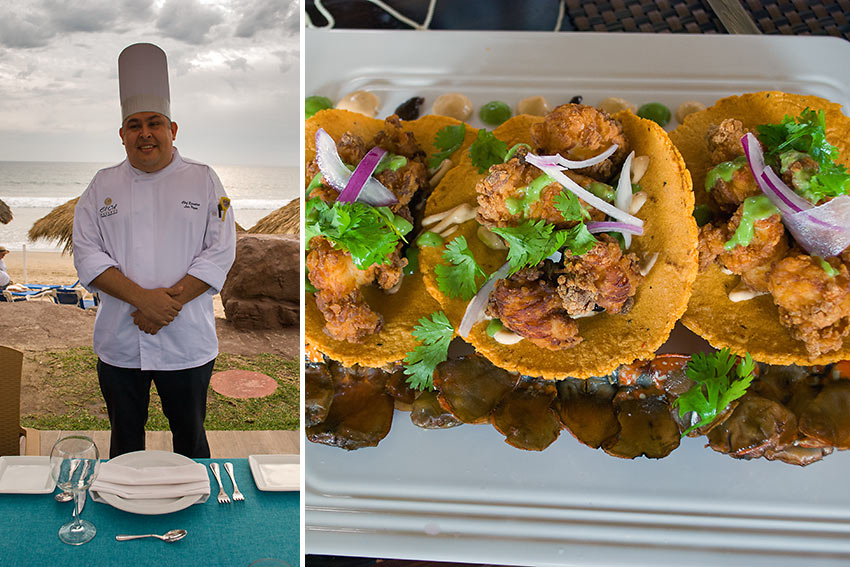 El Cid's Executive Chef Luis Ignacio Pazos Garcia, born and raised in Mazatlan, inherited his love for seafood from a family of fishermen, and the kitchen from his Grandmother. Cooking in some of the top hotels on Mexico's West Coast, Pazos works with 44 kitchen staff and cooks, and four Chefs's including Chef's Pedro Rios Millan, and Luis Villa, who collective have been honored with a basket full of El Cid dining awards with their authentic Sinaloa cuisine featuring a keen bond to shrimp and Mazatlan locale seafood.
Mazatiecos' Dining Suggestions
To truly know Mazatlan is to dine at Panama bustling with energy and passion offering the flavors of Sinaloa and with their own bakery. Cenaduria Chayito with three restaurants, one in the Historic District, all noted for regional cuisine. Mariscos EL Beto is a little "carreta" with award-winning seafood. El Presidio, located in an old plantation in the Historic District, family owned, designed around towering trees, and a central patio, has the longest bar in Mazatlan, live music, and regional cuisine, perfect for evening dining.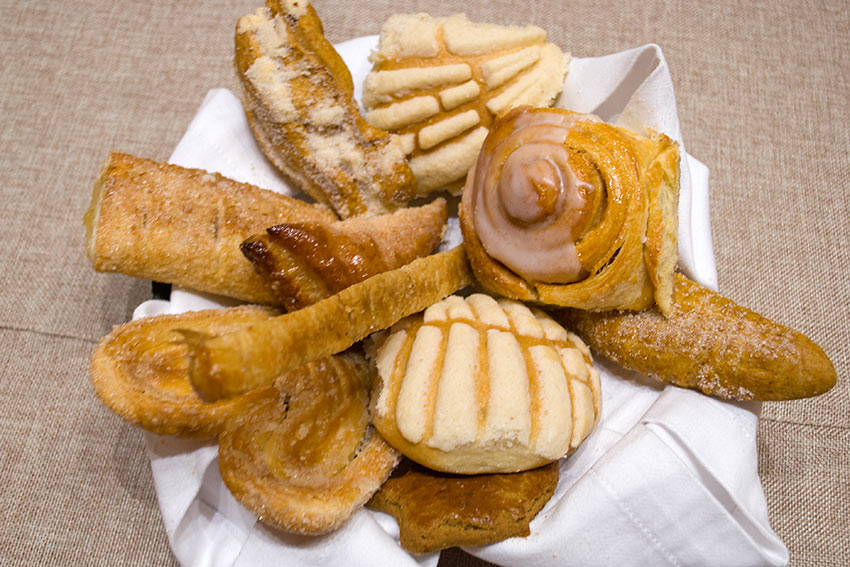 Where else in Mazatlan than El Cid's La Marina Restaurant would you enjoy three talented, hard-working, guitarists lighting up the room on Saturday morning at 9:30 a.m. setting a festive mood, the nicely dressed servers moving to the rhythm. El Cid then hosts the trio to a large breakfast, a rarity indeed in Mexico and Latin America.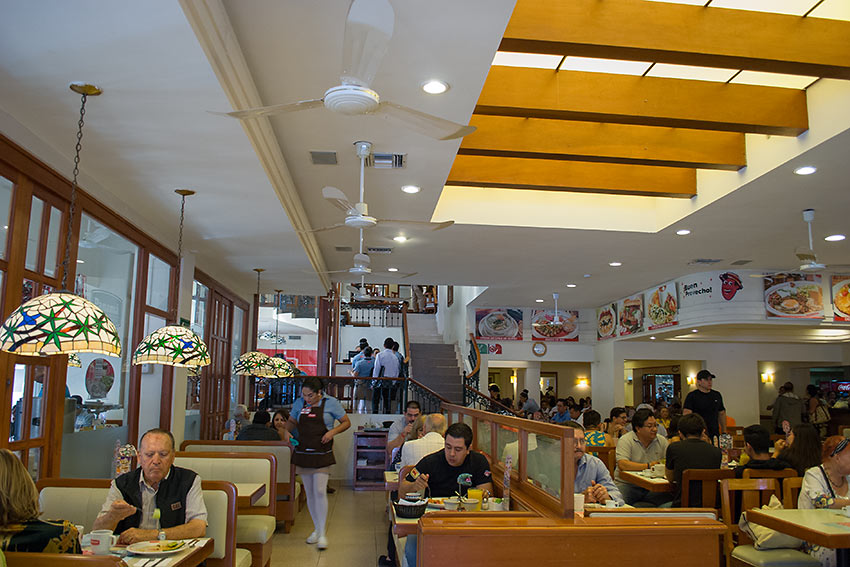 For all the changes Mazatlan has the feel of discovery retaining enough charm to suit the most jaded traveler.