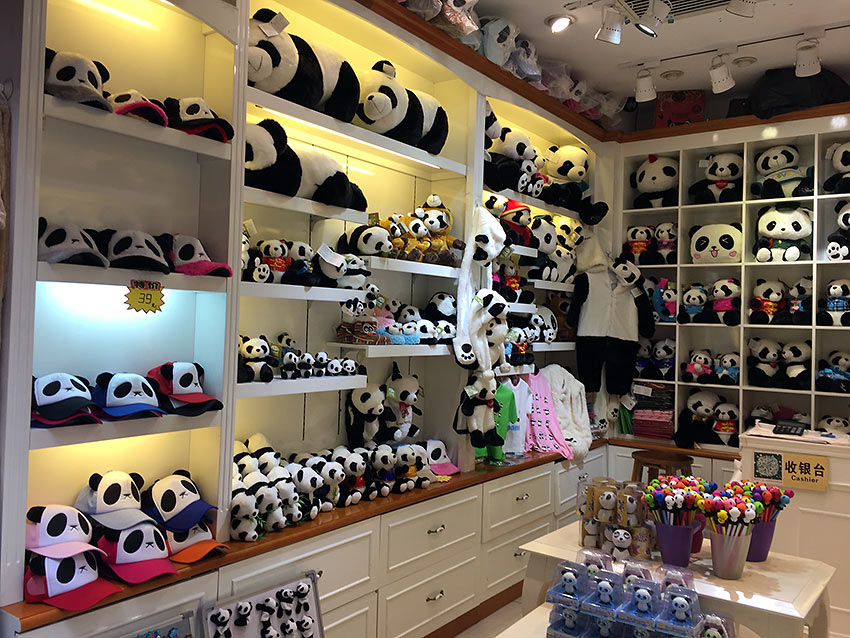 The line "Made in China" was synonymous with cheap, poorly made, disposable junk for
many years. Today, as the world's largest economy, the country produces and exports a
vast range of goods, from Apple computers to
Trump neckties
.
As a traveler to China, what's worth buying when you visit? Americans are permitted to
bring in $800 worth of goods
duty free
, and there are a surprising number of places
to shop and unique souvenirs to collect.
Follow this journey from a superstore in Beijing to the Terra Cotta Warriors of Xian to the priceless
gems of Hong Kong and discover the riches of China along the way.
(Photo by Susan Breslow)
Perhaps your first foray into shopping in China takes place inside one of Beijing's humongous
SOGO
department stores. This Japanese chain offers a quick study into what China's exploding
middle and upper classes covet.
Photo by Susan Breslow
Promptly at 10am, employees open the doors to a world of luxury heretofore unknown in China.
International brands, from Armani to Zegna, tempt shoppers to part with their Yuan. There's
a pharmacy and grocery in SOGO's basement and a food court on the top floor.
Photo by Susan Breslow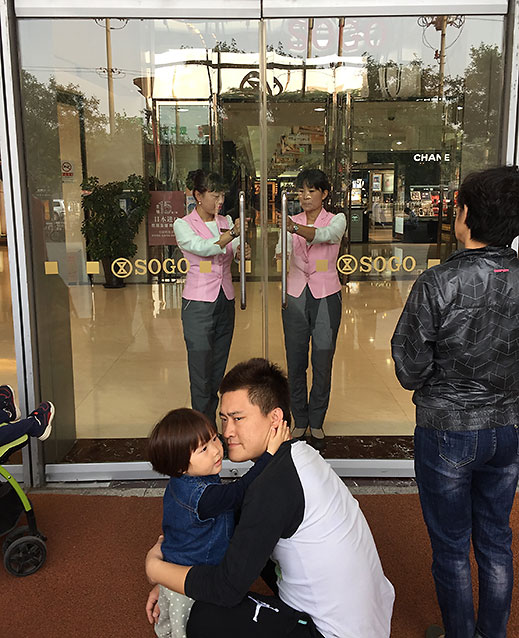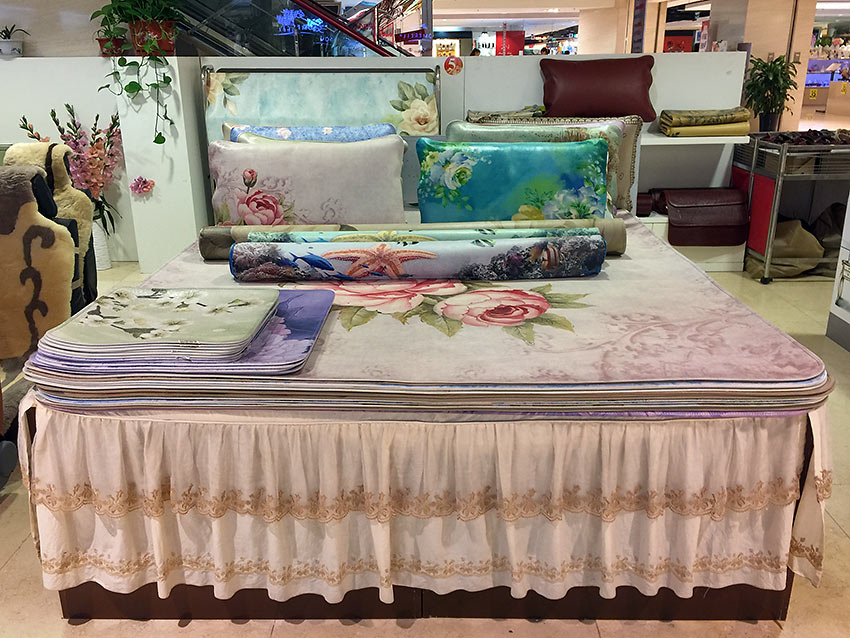 In addition to clothing, cellphones, and computers, the many levels of SOGO Beijing feature
household goods. Items such as this bed pad, unfamiliar in the West, shed a light on how
Chinese households decorate. Photo by Susan Breslow
The Chinese have a tradition of being generous gift givers, and SOGO offers a large selection of
giftware. Many items depict animals that represent the 12 signs of the Chinese Zodiac.
Photo by Susan Breslow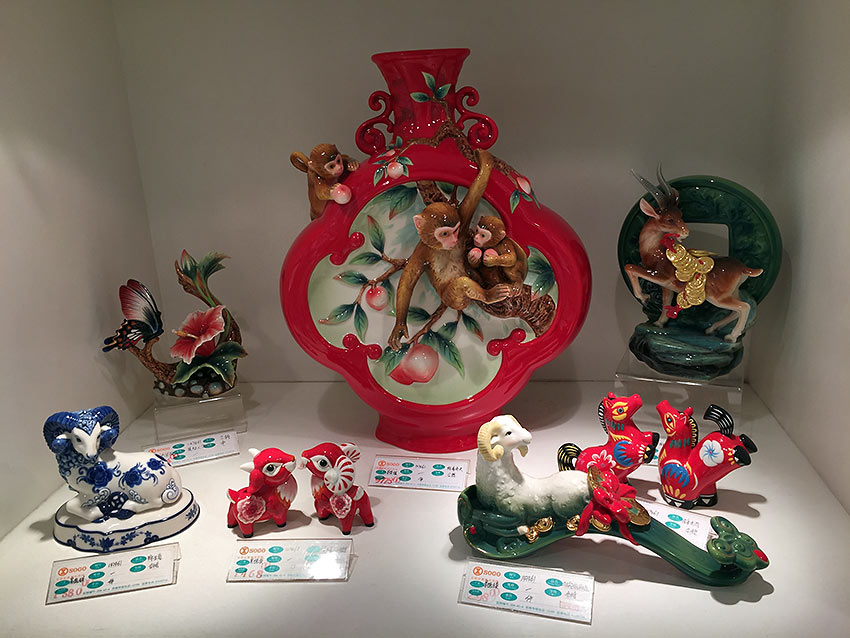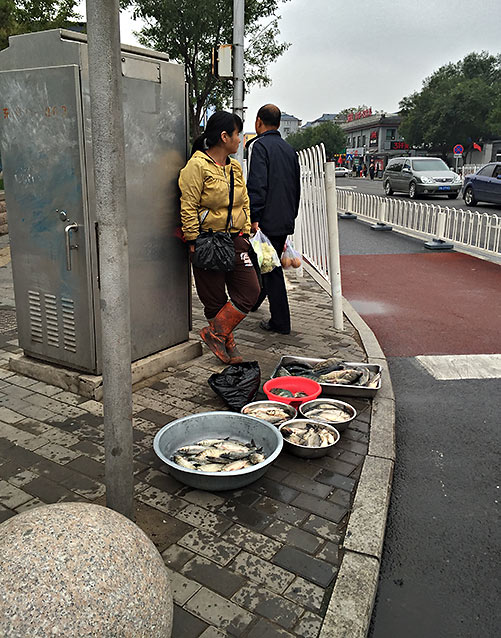 Not all commerce takes place in skyscraping towers. On the street level, entrepreneurs display
their wares. Photo by Susan Breslow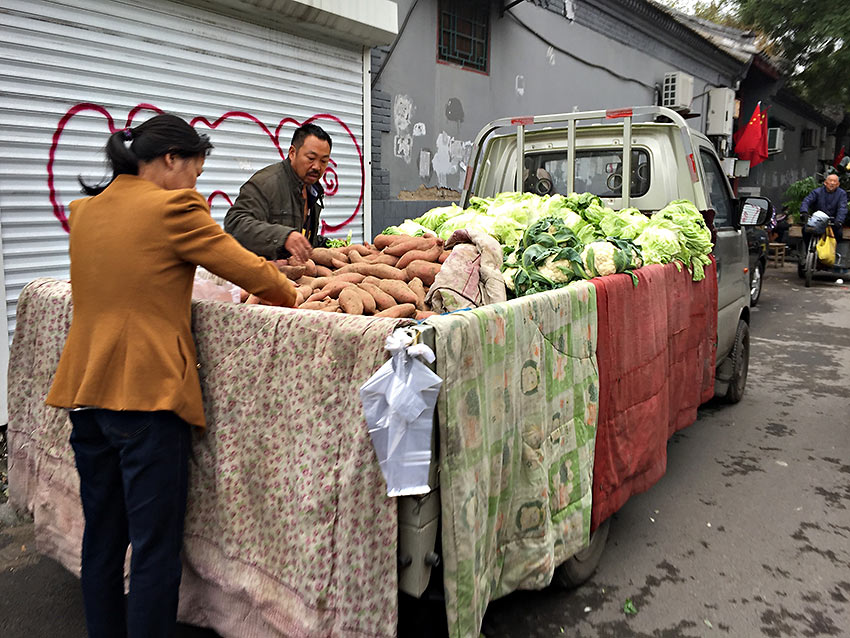 Sweet potatoes, cauliflower, and lettuce are driven directly from a farm and sold from the
back of a truck in one of Beijing's ancient rundown
hutongs
(connecting courtyards).
Photo by Susan Breslow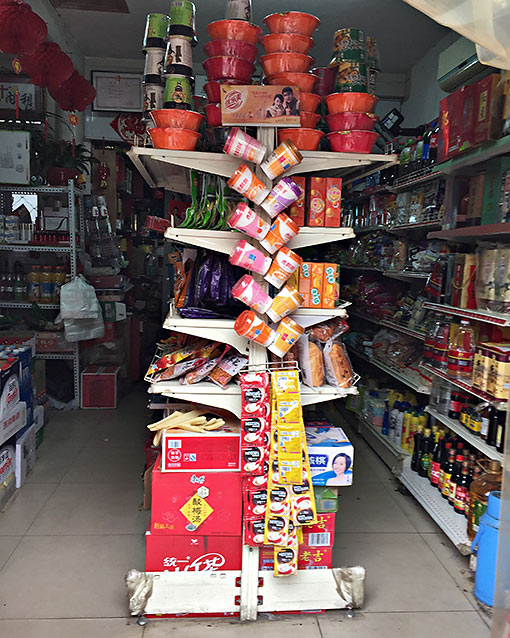 A variety of convenience foods and just-add-water items fill the shelves of this small store inside
the hutong. Photo by Susan Breslow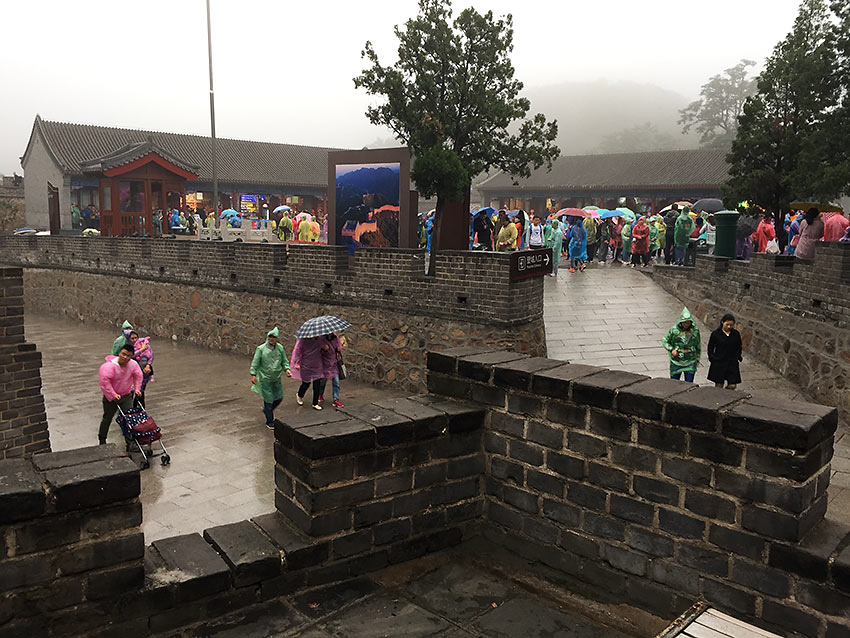 They say no trip to China is complete without a visit to the Great Wall. I say: When it's teeming
rain and you discover that this UNESCO World Heritage Site is more like the Great Slippery
Staircase of China, take shelter in a nearby café and souvenir shop and wait until the rest of
your party come to their senses. Photo by Susan Breslow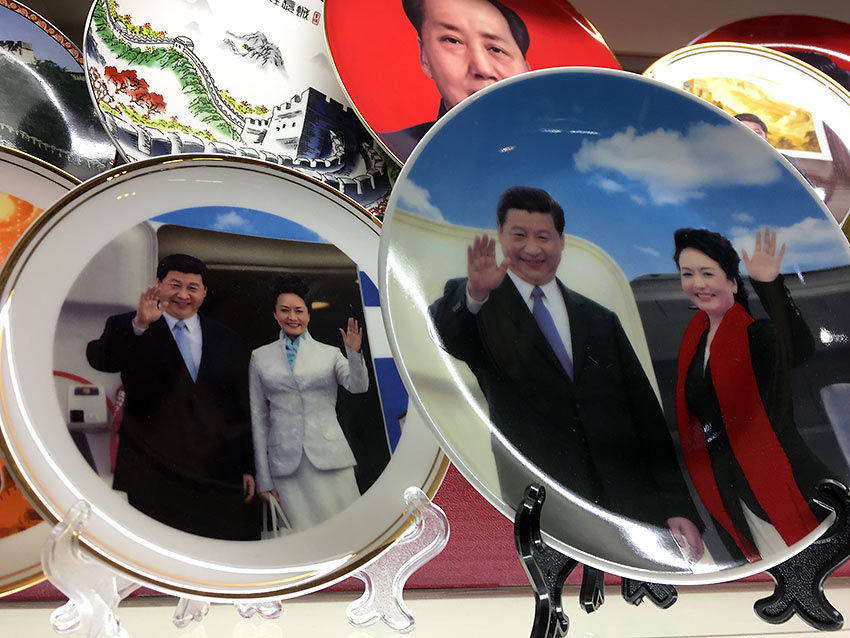 Plate collectors who buy a disk that depicts Xi Jinping and his wife could get a lot of use out of it,
as now he can be president for life. Photo by Susan Breslow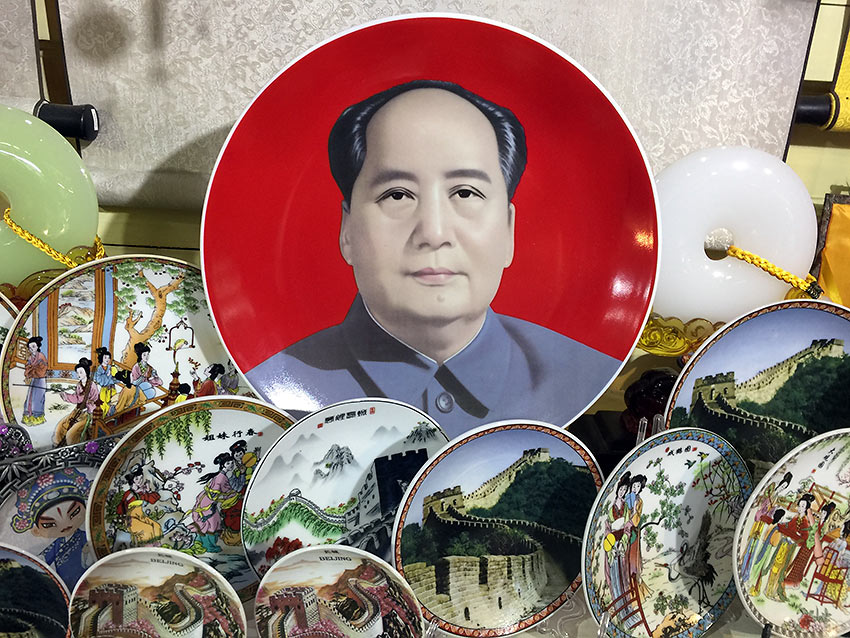 Retro-traditionalists can add a Chairman Mao plate to their collection, or one that depicts scenes
of ancient China. Photo by Susan Breslow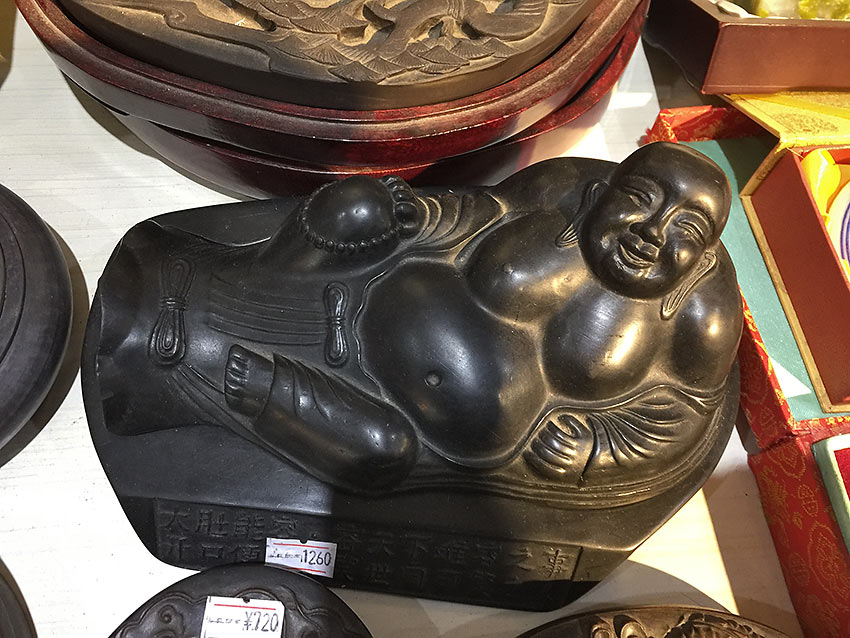 And would any trip to China be complete without a relic of the Buddha? A fishtail enhances the
cover of this small box. Photo by Susan Breslow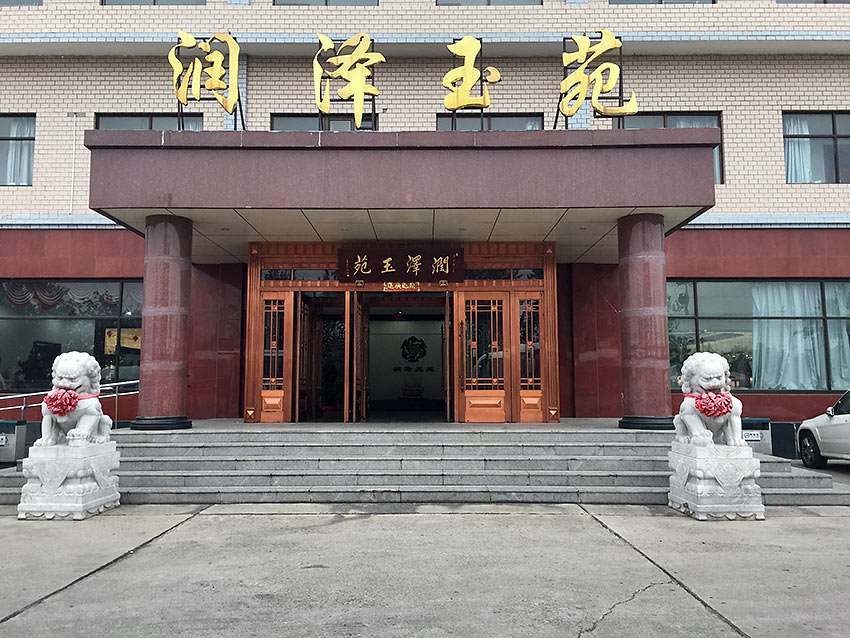 If you are on an organized tour, it's likely that you will be taken by bus to large craft shops. This
building is a gateway to a mini-course in jade, teaching just enough to create the desire to
possess some. On the top floor there's a restaurant where your group can be served
a traditional Chinese menu.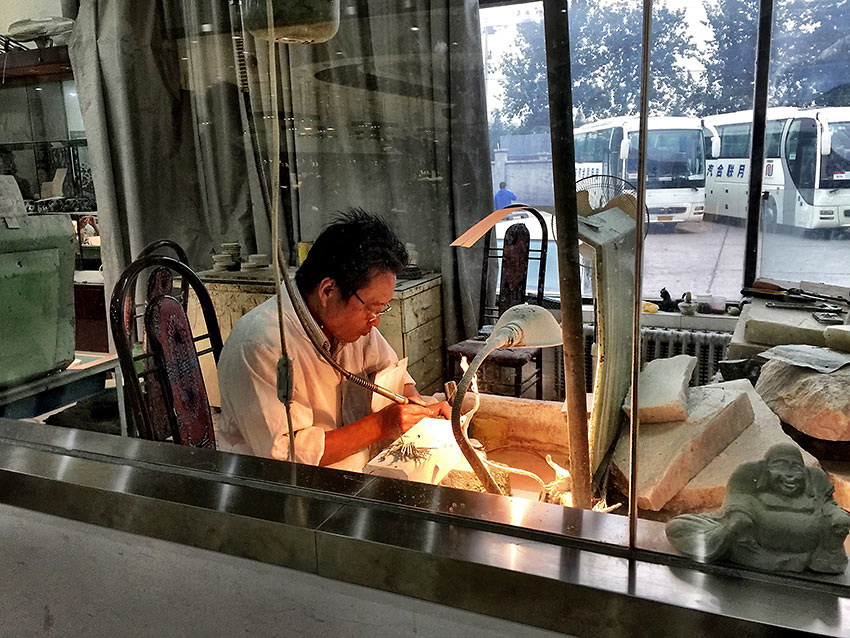 Although much for sale in China is mass-produced, artisans in traditional crafts continue to turn
out work of astounding beauty. This tour leads past jade carvers at work and into a room
where the varieties of the treasured mineral are on display and described.
Photo by Susan Breslow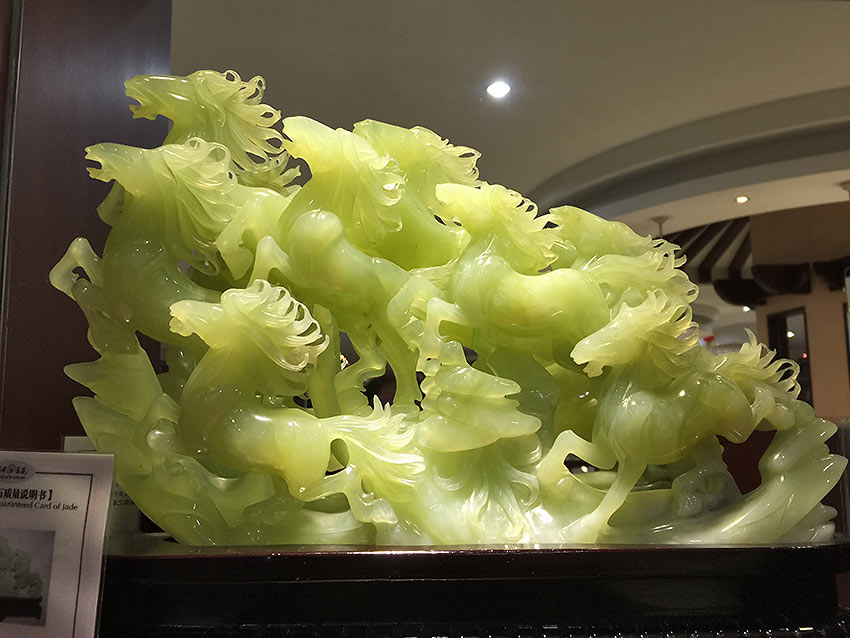 Talented artisans create sculptures of astounding beauty and skill, such as this herd of wild
horses. Photo by Susan Breslow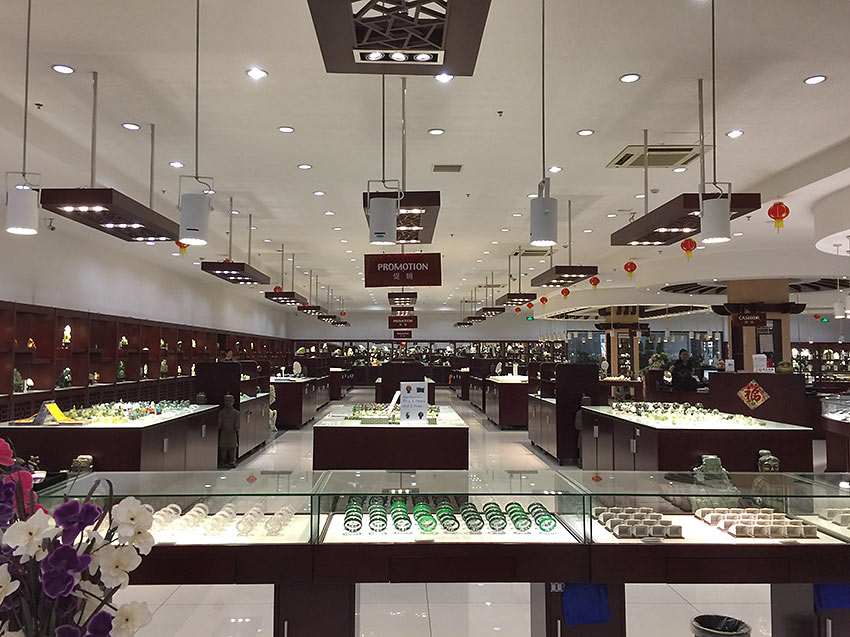 Think you can leave without buying a bangle, a bauble, a bead? This large jewelry store features
a massive selection of traditionally styled bracelets, earrings, and other bijoux.
Photo by Susan Breslow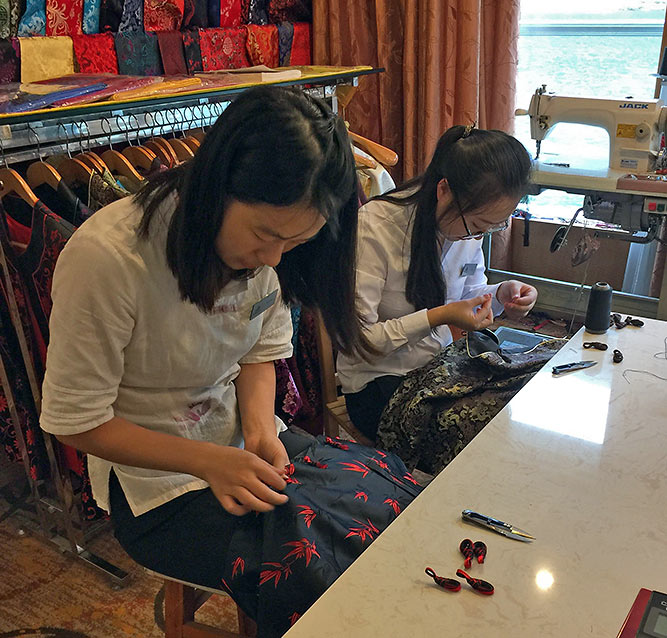 If you visit China on a
Viking Cruise
, you will have the time and luxury to shop aboard. Tailors can
custom-make a
silk
garment to your size and specifications, a jeweler can help you pick out a fine
strand of pearls, and the tea shop can acquaint you with the varieties of the beverage and the
beneficial effects of each.
Photo by Susan Breslow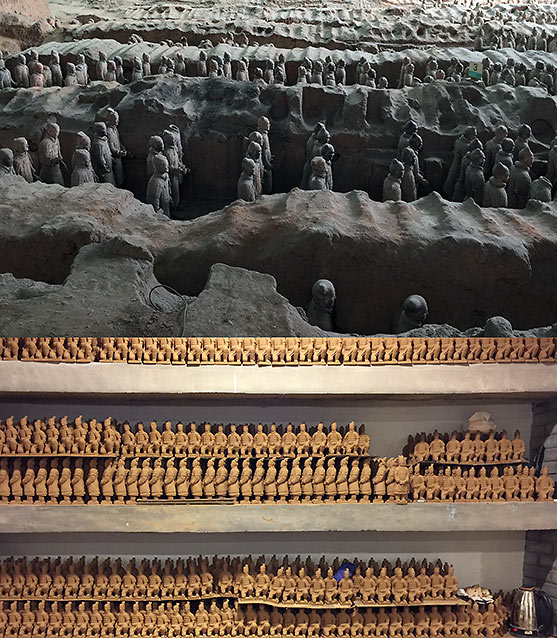 In 1974 a group of farmers outside of Xian stumbled upon a few Terra Cotta Warriors. It turned out
that there were thousands of them, and each soldier was unique. They had been created more than
2,000 years ago and buried with Emperor Qin Shi Huang to ensure he would rule in the afterlife.
Bottom: Today you can amass own your own private troop, although mass-produced ones
lack individuality. Photo by Susan Breslow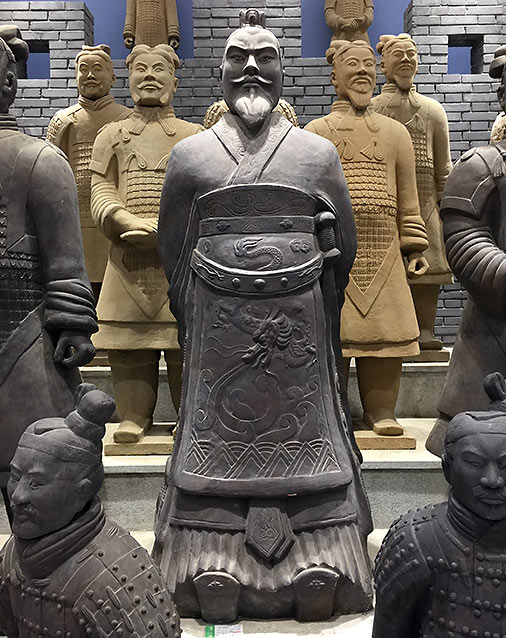 Should you desire a life-size Terra Cotta general or another statue modeled on a long-ago officer,
this shop outside the dig will gladly package and ship one to your home overseas.
Photo by Susan Breslow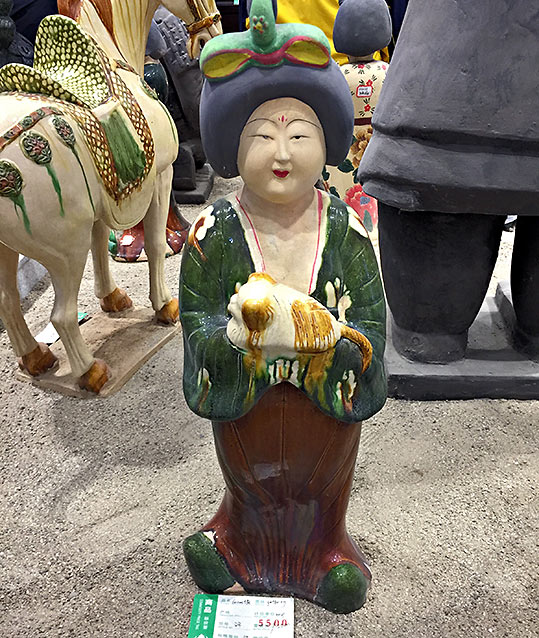 Almost lost among the warriors and cavalry was this little lady with her pet dog, an enduring
reminder that if you find something and fall in love with it, buy it on the spot. You will not
pass this way again. Photo by Susan Breslow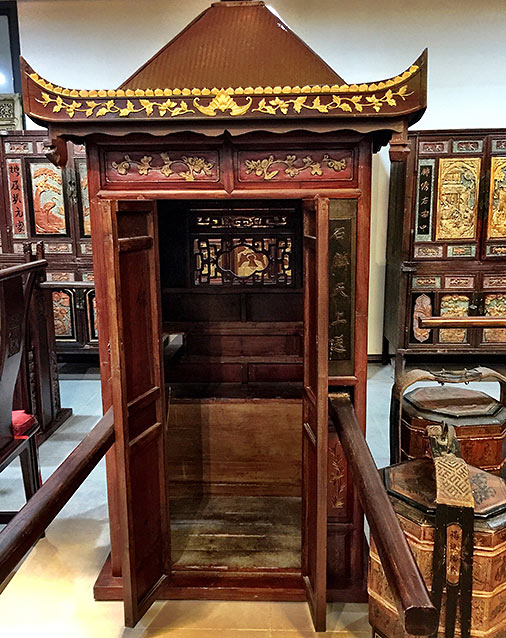 However, if you do pass this way again, make sure it's in a palanquin, a private chair designed
so you can be carried upon the shoulders of four strong people willing to indulge you.
Photo by Susan Breslow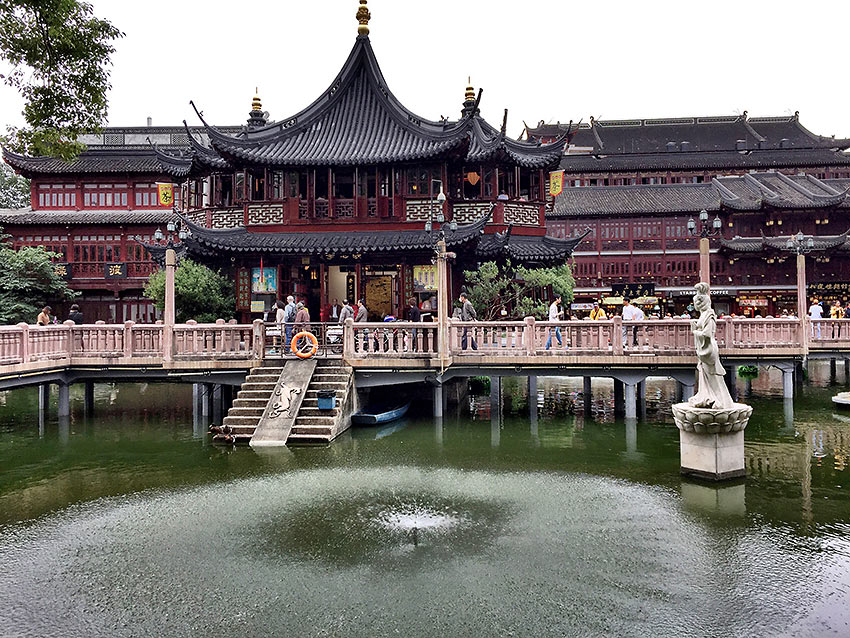 If Shanghai is on your itinerary, shopping in this open-air agora near the Ming-era
Yuyuan Garden
is a pleasant way to browse a variety of products, from silk scarves and bed linens to chopsticks,
porcelain bowls, teas, and toys.
Photo by Susan Breslow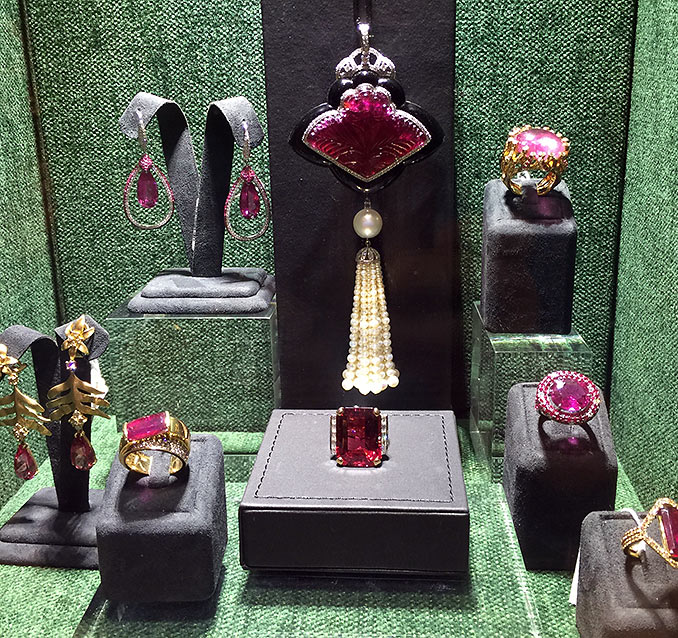 When you come all this way, it's a shame to not see Hong Kong. This magnificent city on Victoria
Harbor is simply dazzling — and the countless jewelry stores everywhere from the Bund to the
airport are intended to separate you and your remaining cash.

Unless, of course, you're like my friend, who announced on the first day of our journey:
"I'm not buying anything. As soon as the plane lands in New York, I'm heading to Chinatown
and getting all my souvenirs there." Photo by Susan Breslow