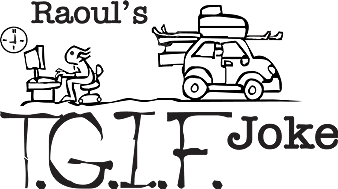 October 6, 2017


Lousy Accounting
This isn't funny.
Like many of us, I am saddened by the events in Las Vegas. One selfish, wealthy, gambling accountant killing so many young people … and then ending his own life … what a cowardly fool! He got away from justice in this temporary life. What a shock he must have felt when he opened his eyes to his prison for eternity. To look at the lopsided balance sheet between his short wasted life compared to his suffering forever — man! he must have been a lousy accountant.
I'm sorry for this anger towards him. I can't help it. I'm human, and whenever I see his face in the news, I cry for justice for all those people.
Let's continue to pray for the families of the victims. Let's pray for calm despite the strees of the world. And (hate to say it but) let's pray for the gunman's soul"
"Death is the eternal key that frees you to a joyful palace or the shackles of a miserable dungeon."
TGIF people!
Naming Puns
Contributed by Don of Kelowna, B.C.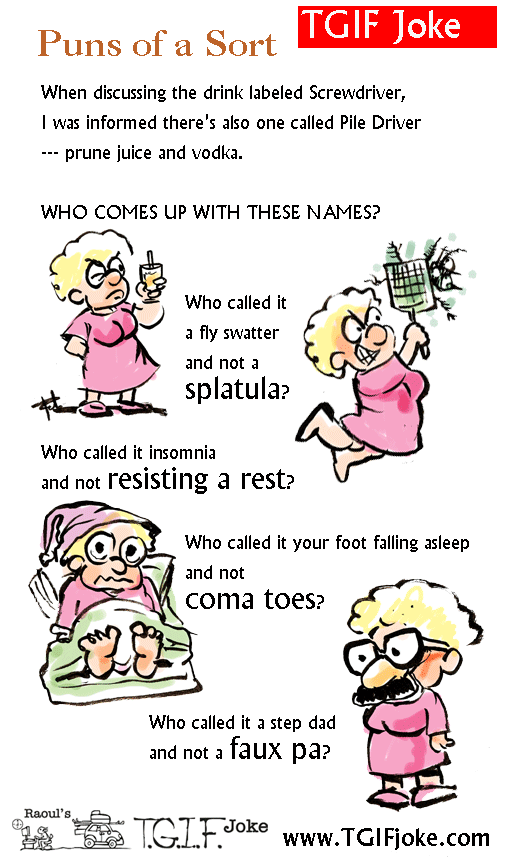 TGIF Videos

Send in the Clowns
Sent by Tom of Pasadena,CA
There's so much stress and sadness in the world today. I think it's time to send in the clowns. Nostalgic and funny.

But Can She Putt?
Sent by Don of Kelowna, B.C.
Golf tricks that makes you wonder — "how is she really in the golf course?"

Road Rage Turns Into Demolition Derby
Sent by Tom of Pasadena, CA
This may upset you so skip if you're sensitive about violence.
Why can't we just get along?
Parting Shot

Thanks to Mike of New York who provided this photo